Meet Yumi Zouma, The Summer's Best Band For A Sunny-Day Drive
These New Zealanders conquered dream-pop via email, and they'll slay your beach playlist too.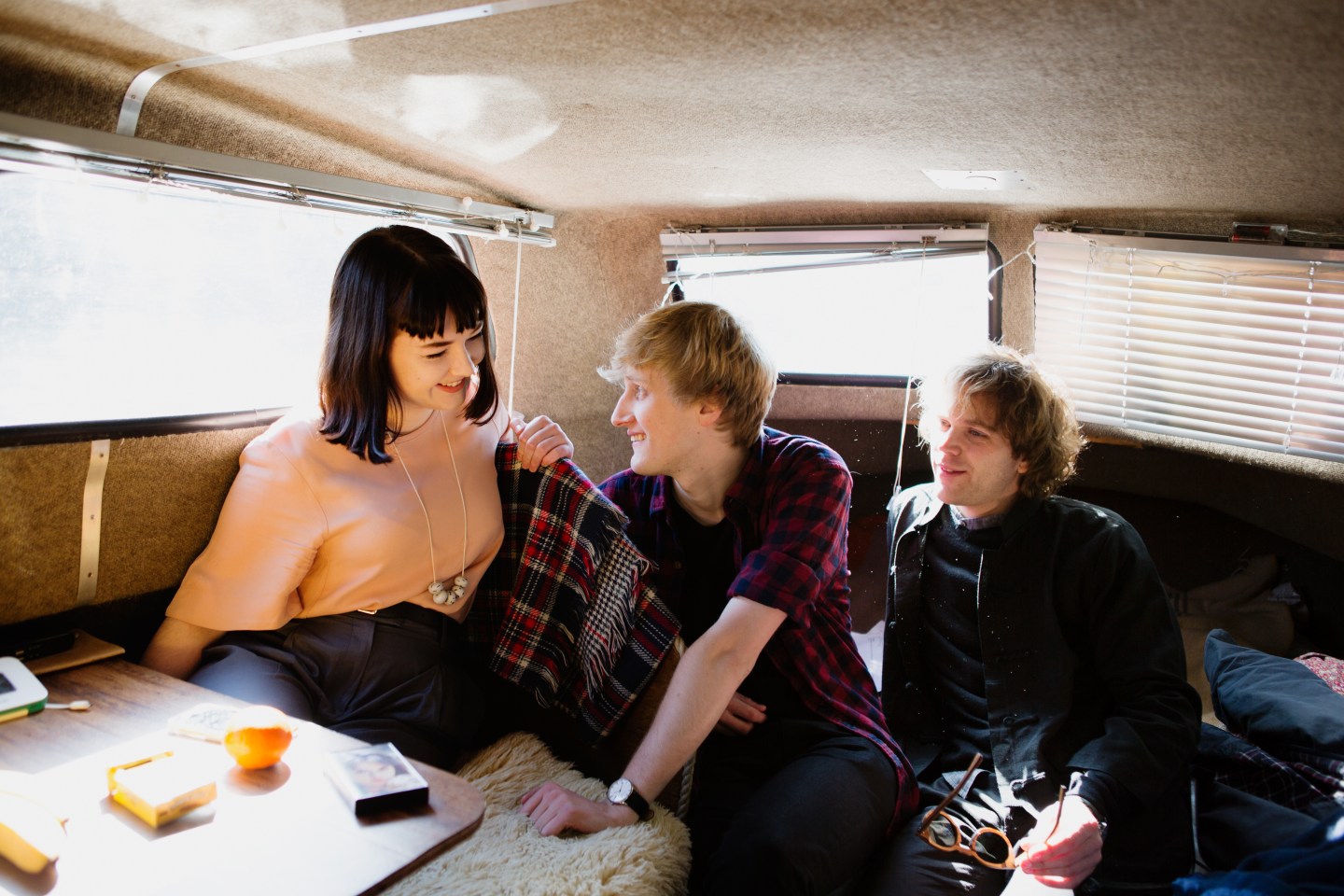 Josh Burgess is sitting alongside his two bandmates on a crumbling log in London's Victoria Park, not far from an old lady eating a sandwich. "Pretend that you're in an airport waiting for your lover to arrive after six months," he says, giving an example of the inspirational spiels he comes up with to focus everybody's moods. "And you realize it's all gone downhill." Here, though, the sun shines gloriously—unseasonable fantasy weather for April and a climate fitting for Yumi Zouma's pretty pop.
It's unusual to find the band all in one place. After a 2011 earthquake in their native Christchurch, New Zealand, they spread apart, starting Yumi Zouma partly as a way to keep in touch. Burgess went to New York to work for the indie label Flying Nun, and Charlie Ryder went to Paris to study economics, while Christie Simpson, the band's gracefully low-key lead singer, stayed in their home country. But being apart has served them well. "It keeps me well-balanced and happy because I'm not putting all my creative energy into one thing," says Burgess, who shares bass, guitar, and keyboard duties with Ryder. "I have ADD, so I think it's pretty stressful for everyone. But sometimes you get these amazing fits of productivity, and everything comes together." Ryder likes how space helps their beats grow: "Living in different places with different time zones, you can send someone something and then when you wake up the next day it can be completely different."
For a group that says they never intended to play live, Yumi Zouma has come a long way in a year: releasing two EPs on Cascine, supporting Chet Faker and Lorde on New Zealand tours, and now playing a string of European headlining dates of their own. The first proper Yumi track, "A Long Walk Home for Parted Lovers," offers a window into the creative process that got them here. It began as a guitar riff sent by Burgess to Ryder, which then pinged between bandmates through a succession of experiments and revisions, before blossoming into a beautiful cross of nocturnal jazz and '90s pop. "I remember I played a bum note on the keyboard, and that's why there's that weird discordant kinda thing," remembers Burgess, with a chuckle. This back-and-forth technique contributes to what he calls "maybe a trademark" of the band: layering. "It's nice that things just kinda build up," he says, before pausing for comic effect, "...organically."
Yumi Zouma's lyrics arise as part of a collective process, too. "If we have a melody for something, we just try to find words that fit," says Simpson. At 20, she's the band's youngest member; Ryder and Burgess are both 25. When Ryder calls her Miss Dependable, saying she "always hits the right notes, always comes up with the right thing," she hesitantly agrees. "I'm solid. And giggly, apparently," she says, clearly a bit squirmy to be talking about herself.
But that changes when she sings. Depending on the song, her voice can be slightly fractured and faltering, or gutsy and kinetic, or cool and spaced-out—but it's always clear and sweet. "I'm good at playing characters, I suppose," she says. Now the band is channeling its dreamy fictions for a new release, potentially a debut album. Between shows on tour, they've also been trying something new. "This past week we've been in my apartment in Paris, sitting around and trying write songs together," Ryder says. "It's very strange to us, but it's been cool."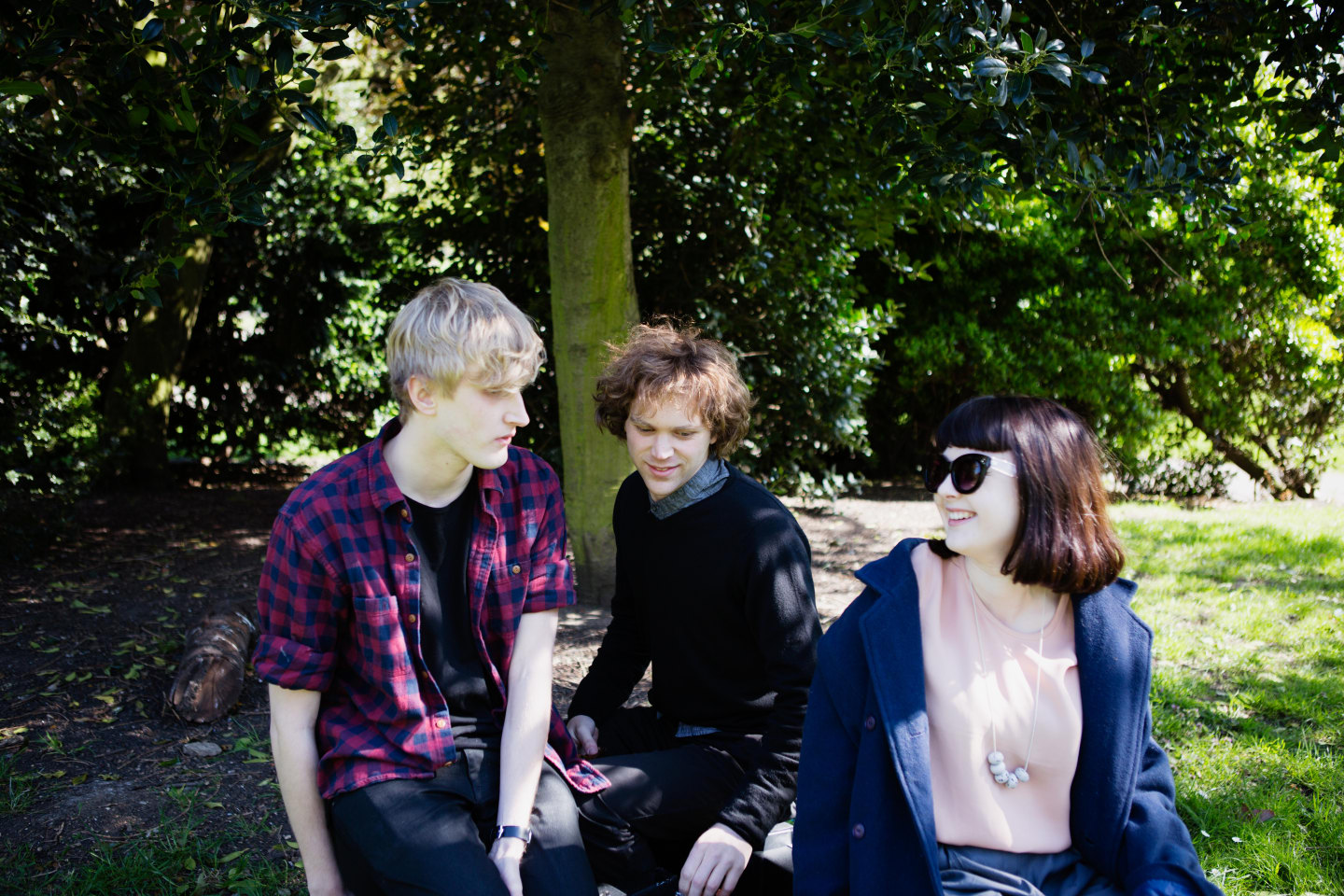 And check out Yumi Zouma on tour this summer
Thu-Jul-23, Vancouver, BC, Electric Owl
Fri-Jul-24, Seattle, WA, Capitol Hill Block Party
Sat-Jul-25, Portland, OR, Holocene
Tue-Jul-28, San Francisco, CA, Rickshaw Stop
Wed-Jul-29, Los Angeles, CA, The Echo
Fri-Jul-31, Dallas, TX, Granada
Sat-Aug-01, Austin, TX, Mohawk
7/28 + 7/28 - w/ Jaakko Eino Kalevi
7/31 + 8/1 - GvsB V - w/ Jamie xx, Lower Dens, Tei Shi, and Prince Innocence
From The Collection:
GEN F