There's a great view of Burger King from the window of Kehlani's apartment, one of hundreds in a resort-style complex in downtown Los Angeles. The building feels like a hotel that's only half-full. The guests are staying way past check-out.
Inside, Kehlani's place looks like any typical 20-year-old's starter home. There's a small sectional couch and no TV; empty Hennessy bottles decorate the top of the kitchen cabinets. A bag from a trip to the Louis Vuitton store sits in the corner like furniture, proud and out of place.
"I am Mother Theresa!" Kehlani shouts from her bedroom. She's joking about last night, when a friend showed up needing a place to crash at two in the morning. No one here—not Effie, Kehlani's roommate and backup dancer, nor Edward, her personal assistant and childhood best friend—is sure how the girl got in.
But it's no big deal: their guest has already departed and everyone else is humming around. Kehlani and Effie debate whether or not they remember how to find a waterfall they once hiked to. Edward is researching sugar gliders, the tiny, exotic marsupials that Kehlani wants to buy as pets before she leaves on her first headlining tour in a couple of weeks. They'll need to get two: evidently, sugar gliders crave companionship and are prone to depression when left alone.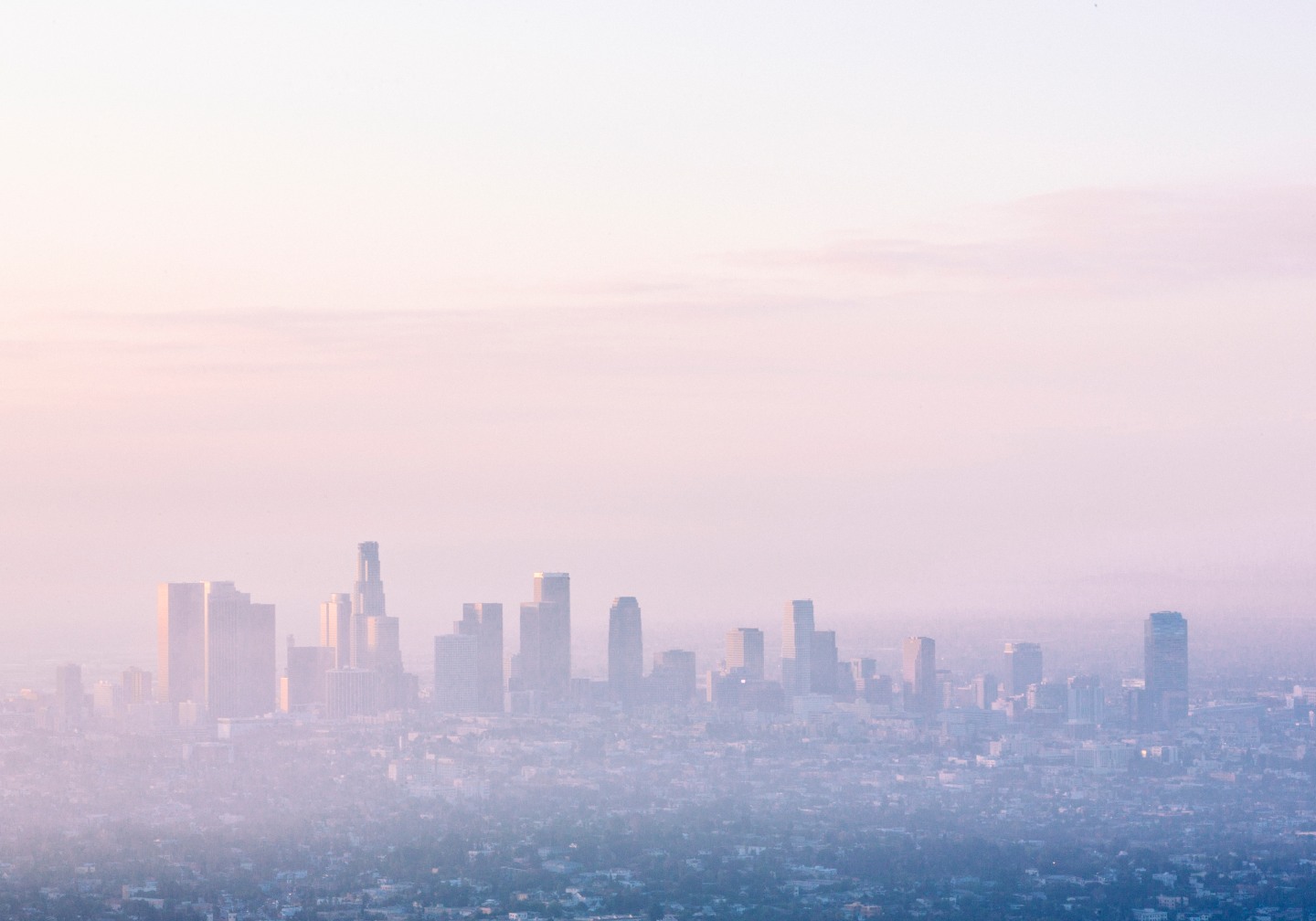 Kehlani pays her rent with money from her label, Atlantic, which is priming her as a crown-jewel "mindie" act—a major artist with indie bonafides. Now that streaming has become more popular and grassroots Vine memes have started breaking actual hits, it's an increasingly common strategy. A label provides studio time and marketing budgets to an artist who has already found some success independently, taking care not to disturb the existing (and profitable) direct relationship the artist has with their fans. In some cases, these partnerships are kept quiet so fans don't feel like their favorites have changed course; for example, the rapper Logic has said he worked with Def Jam well before announcing his deal.
So far, most mindie artists make rap music; Kehlani is a gifted singer. Aspects of her inspirational R&B are familiar—she nods to the neo-soul of the early 2000s, she's earnest like Frank Ocean and louche like The Weeknd—but she combines them in a way that sounds disruptive on the radio today. After Kehlani released her debut mixtape, Cloud 19, independently in 2014, it landed on critics' year-end lists and attracted attention from other artists. Chief Keef offered to sign her over FaceTime; The Game sent her a gym selfie over DM; Rich Gang reached out to make her their first lady.
Kehlani resisted these temptations and, by the start of 2015, had taken meetings with "every label there is, more than once." She started recording at Atlantic's studios and "clinked glasses," as she puts it, with them in January, while continuing to court other offers. She says her deal was finalized just before the April 2015 release of You Should Be Here, which was billed as a mixtape but is not meaningfully different from an album. Comprised of new songs with original beats that don't use illegal samples, it was seemingly recorded with an awareness that it would be put up for sale. By July, it had sold 23,000 units, according to Nielsen Music. On SoundCloud, its songs had been collectively streamed more than 26 million times.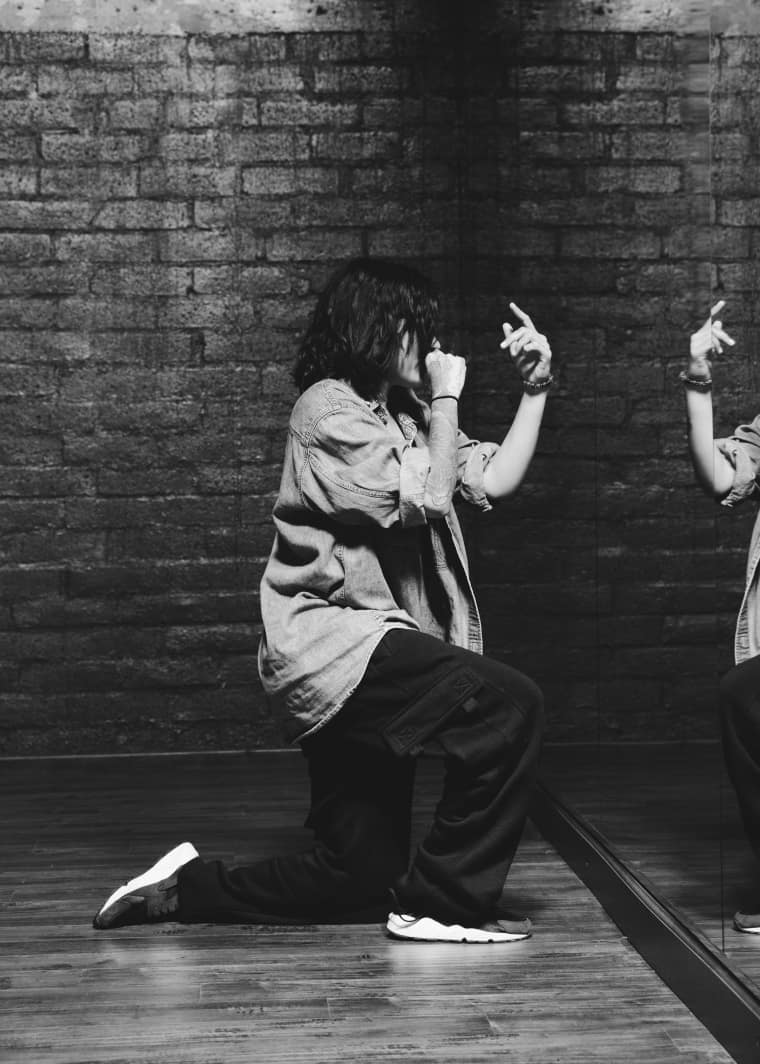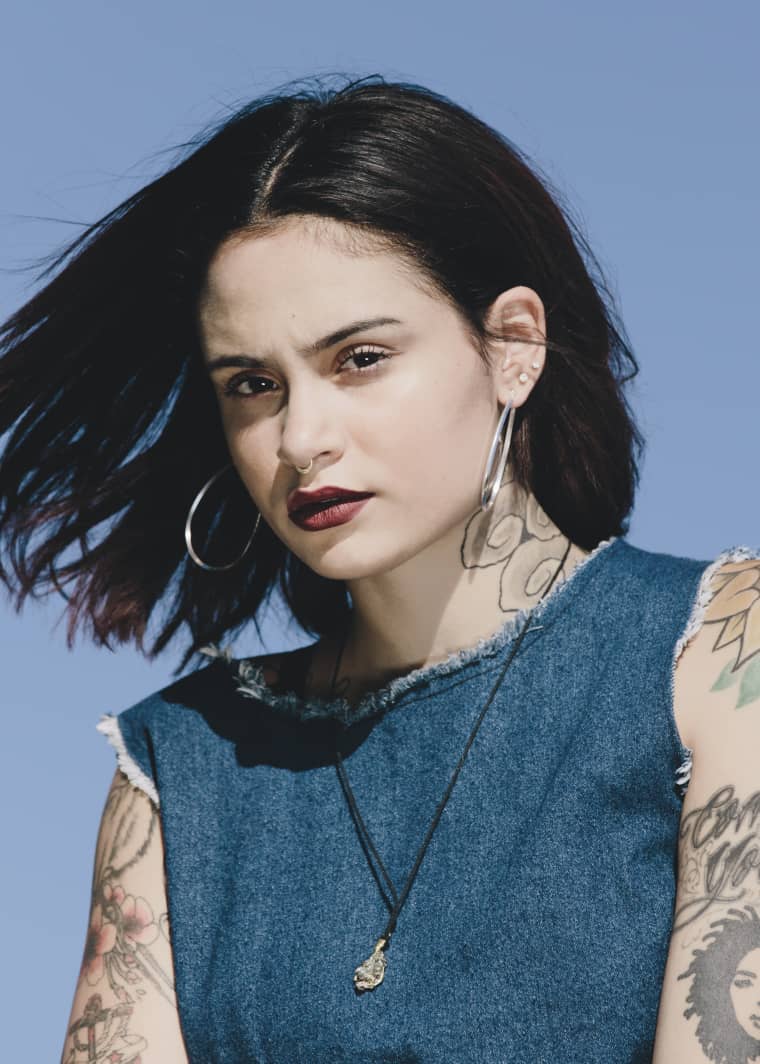 One of the key architects of the tape's sound was Jahaan Sweet, a 22-year-old producer from Florida who's also a classically trained pianist. In Jahaan's arrangements, filtered samples brush against spare, modern drums, all in symphony with Kehlani's raspy, strong vocals. Kehlani calls him her "musical soulmate." They met in 2014 when he was interning for Swagg R'celious, a New York producer she was working with at the time. "The first time I heard her," Jahaan remembers, "I walked in and I said, 'Who is that singing? That's the best voice I've ever heard in here.' She had good technique, but her voice wasn't over the top; it was subtle and honest. Then I found out she wrote her own songs. I was like, man, she's killing!" Recently graduated from Juilliard, he has ditched his life in New York, at least temporarily, to work on her debut album, set to be released next year.
Between rehearsals for her upcoming summer tour, the pair are chipping away at the LP at Atlantic's studio, set back on a nondescript block in Hollywood. What the place lacks in vibes—there's no smoking allowed inside—it makes up for in people to bump into. One afternoon, Akon, the repeatedly multi-platinum singer and producer, cruises down the hallway of dorm-room-style studios while a couple of women wait for him in the communal kitchen.
A few of Kehlani and Jahaan's collaborations have picked up radio spins—the slow-burning "The Way" and jazzy "Down for You"—but both artists are conscious that they've not yet made an Akon-sized, capital-H hit. "Factually, hits intrigue me," Kehlani explains. "As a songwriter, I break down a song's melody, hook, timing, patterns, wordplay. I study Max Martin and shit. But now, I just focus on making what I make." For her, crafting a distinctive sound and brand trumps any one big single. "Some people's whole objective is to make money, and you can hear it in the song," she says. "That's never my objective."
Not long after the pair have settled in for the day, they're visited by one of the Atlantic A&Rs that recruited Kehlani. Jahaan says the guy has been nudging them to try some uptempo records, but today he seems genuinely content to go with the flow. For good reason: Kehlani is a pro, remarkably prepared for a career in music. She can write six songs in a session and sing them without Auto-Tune—and before she could do either of those things, she could dance. Her abs are the result of a fast metabolism that may never let up, and she's gorgeous. She is black, white, and Native American. As a kid, her mom told her there was also some Filipino in her mix, but no one else in the family says that's been proven. In her typical uniform of sneakers and cropped tees, she may look like you—or, sometimes, you with a better weave on. Above all, she doesn't give up. "Hard work always beats talent," she says. "That's always been my thing. Girls pop up singing raw every day. But how many of those girls write their songs? How many of those girls spend this many hours in the studio? If I'm singing like they're singing, but I'm putting in work too, it's going to happen."
From behind the mixer, Jahaan queues up a verse Kehlani recorded the night before, just hours after the Golden State Warriors won the NBA Finals. Originally from Oakland, she wanted to celebrate the victory by releasing the song today, with guest features from her Bay Area homies Iamsu!—the rapper and producer who co-founded HBK Gang, a positivity-focused crew with which she is affiliated—and G-Eazy, the white rapper who she says "doubled" her fanbase when he brought her on tour last year. But after scrambling to finish her part, she's the only one done, so she and Jahaan shift their attention to another song-in-progress, which sounds as gloriously navel-gazing and heavy-breathing as Drake was before his tone turned tougher. In just five minutes, Kehlani types a new verse on her laptop that reflects on budding fame, then goes into the booth to toy with its melody. When she returns to her computer, she tells no one in particular, "The world should be very afraid when I start producing. That's all I gotta say."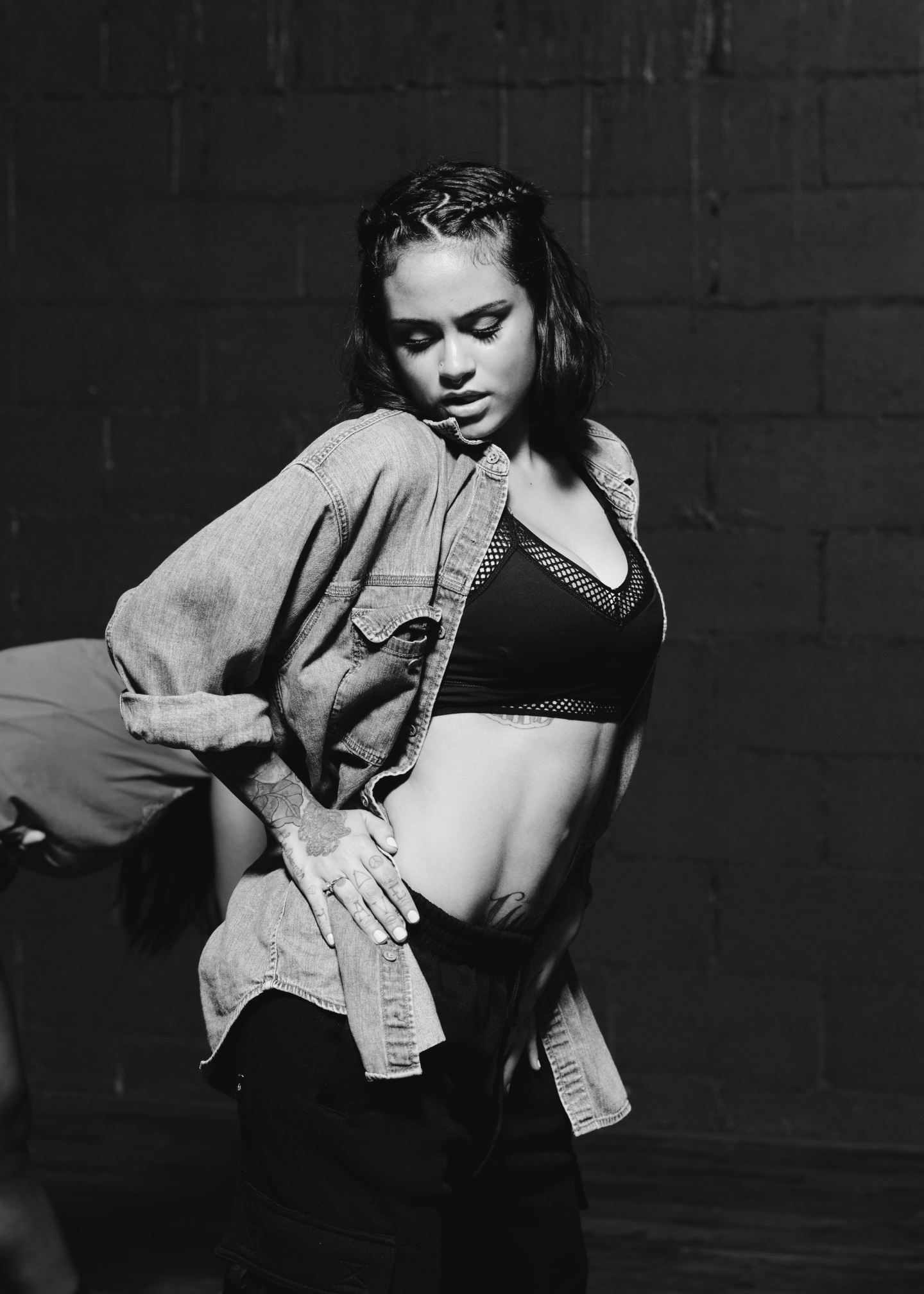 Kehlani was born some 350 miles north of here in a south Berkeley apartment. Her mother was on the run from the police at the time; Kehlani's father talked her through labor over the phone. Both were addicts. Born premature and "like, not breathing," Kehlani was sent to the hospital. Her mother was sent back to jail, and Kehlani did a brief stint in foster care before her mother's sister adopted her. (Her father died when she was "one or two.")
Growing up in north Oakland, Kehlani helped look after her aunt's two younger children. "We lived in this little duplex until everything started breaking," Kehlani says. "It was getting really cold, and the heater broke, and then the sink broke, then the washing machine stopped working." Even as a child, she says she aspired to find the bright side of bad situations. "I've always been a little light. Something bad would happen, and I'd be like, 'Well, this is happening, but we're lucky in these other ways.'" But things got more complicated when her mother reentered her life—though not as her guardian. "At that point, my mom had two other kids. I just couldn't understand why I was the only child who couldn't be around her. She would be doing her shit, then get clean for two months, but I was never allowed to stay with her, and I couldn't grasp why. They would be literally dragging me out of my mom's crib, holding-on-to-the-walls type shit. Screaming like, 'Why am I the oldest and I can't be here? Don't you think I'm the most mature?'"
At school, Kehlani's talents were acknowledged. She danced seriously from childhood through junior high, until, after an injury, she switched her focus at Oakland's School for the Arts to singing. "Everybody was gay as hell," she says of the school. "It was like Glee in that bitch." As a teenager, she had girlfriends and boyfriends. "I got my first girlfriend in ninth grade. Then I told her I didn't know what I wanted and broke up with her. I think I was always just, like, you have to be gay or you have to be straight—that those were conflicting. I learned that there's really no wrong or right, that it was cool to like everything. But it was a lot for me."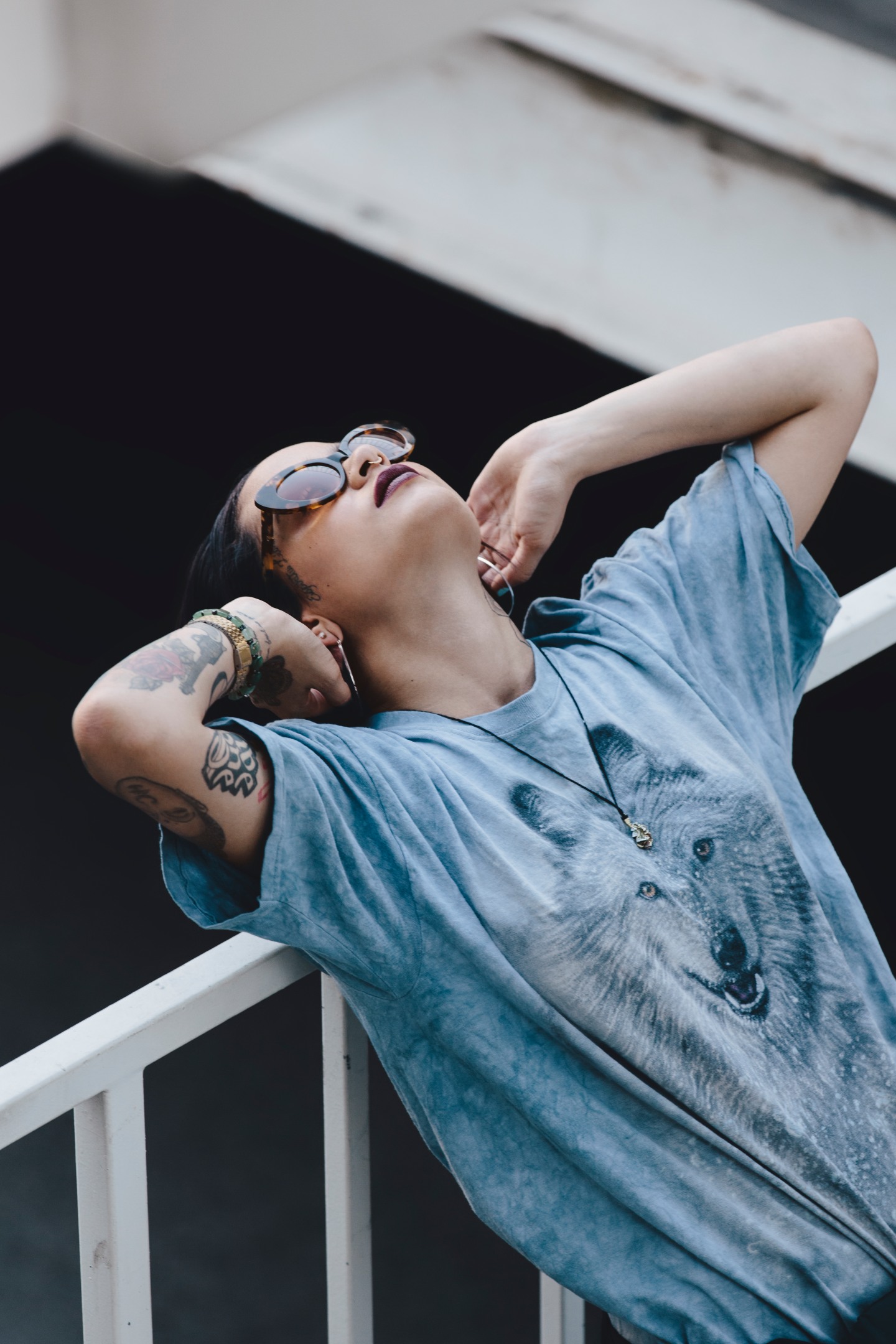 "I've always been a little light. Something bad would happen, and I'd be like, 'Well, this is happening, but we're lucky in these other ways.'"
Things went best when she focused on music. At 14, she was recruited as the vocalist of a local cover band, PopLyfe. They gigged aggressively and, in 2011, successfully auditioned for the competitive variety show America's Got Talent. Finishing in fourth place, they missed out on the prize money.
Watching the show brought back old, negative feelings about her body. As a kid, she hadn't felt feminine; an umbilical hernia made a "lump" in her stomach and she hated her naturally muscular build. "My body wasn't proportionate like a girl's, so I never showed it," she says. On TV, she'd been chubbier, with her hair in a short mohawk and gauges in her ears. "Everyone was saying I looked like a dyke," she recalls. "I would watch my episodes and be like, 'Why do I look like that?" At 17, Kehlani lost her virginity, started drinking, and went out a lot. Looking back, she calls this her "glo up" period. "I was literally sleeping on whoever's couch, and I got tattoos real fast," she says. "At first it was like, 'This is changing me into what I really want to be!' I'd always wanted tattoos, but I think I actually got so many because I hated myself."
During her senior year, Kehlani left the Bay for Los Angeles, trying to get back into music. Not yet 18 and with no legal guardian, she enrolled at Hollywood High but was pulled from the building in handcuffs days later and temporarily placed in a group home. She returned to Oakland without any money to her name, and eventually graduated. She remembers these years with a mix of pride and shame. "There were times where I really had to do shit like wait outside of a train station and snatch iPhones out of peoples' hands and run and sell them," she says. "I went through people's houses. I ran through cars—all type of shit that I feel like made me grow up so fast. I've been banned from Walgreens. I've been banned from Walmart for stealing fucking clothes and food. Lucky's caught me with a box of Wheat Thins and some bread. I was like, 'Can't you tell I'm stealing because I'm hungry?'"
At this point, Nick Cannon, the host of America's Got Talent, reappeared in Kehlani's life, presenting himself as her miracle route out of Oakland. "Nick Cannon got back in touch with me. He was just like, 'Yo, I remember you. What are you doing now?' I'm telling him, 'Nothing.'" Cannon brought her back to L.A, where he tried to place her in a rap group he was forming. "The morals were twisted," she says. "I was up there rapping shit that I didn't write. It wasn't something I wanted to be involved in." She returned home, feeling defeated, but a few months later he called again. This time, he set her up with an apartment in the Valley and arranged sessions with producers. He sent her to New York, where she met Jahaan and slept some nights in the studio, before returning to L.A. to finish her Cloud 19 mixtape. When she signed with Atlantic the following year, Nick Cannon got a nice check. "Of course he did!" Kehlani says, a smile of gratitude igniting her face.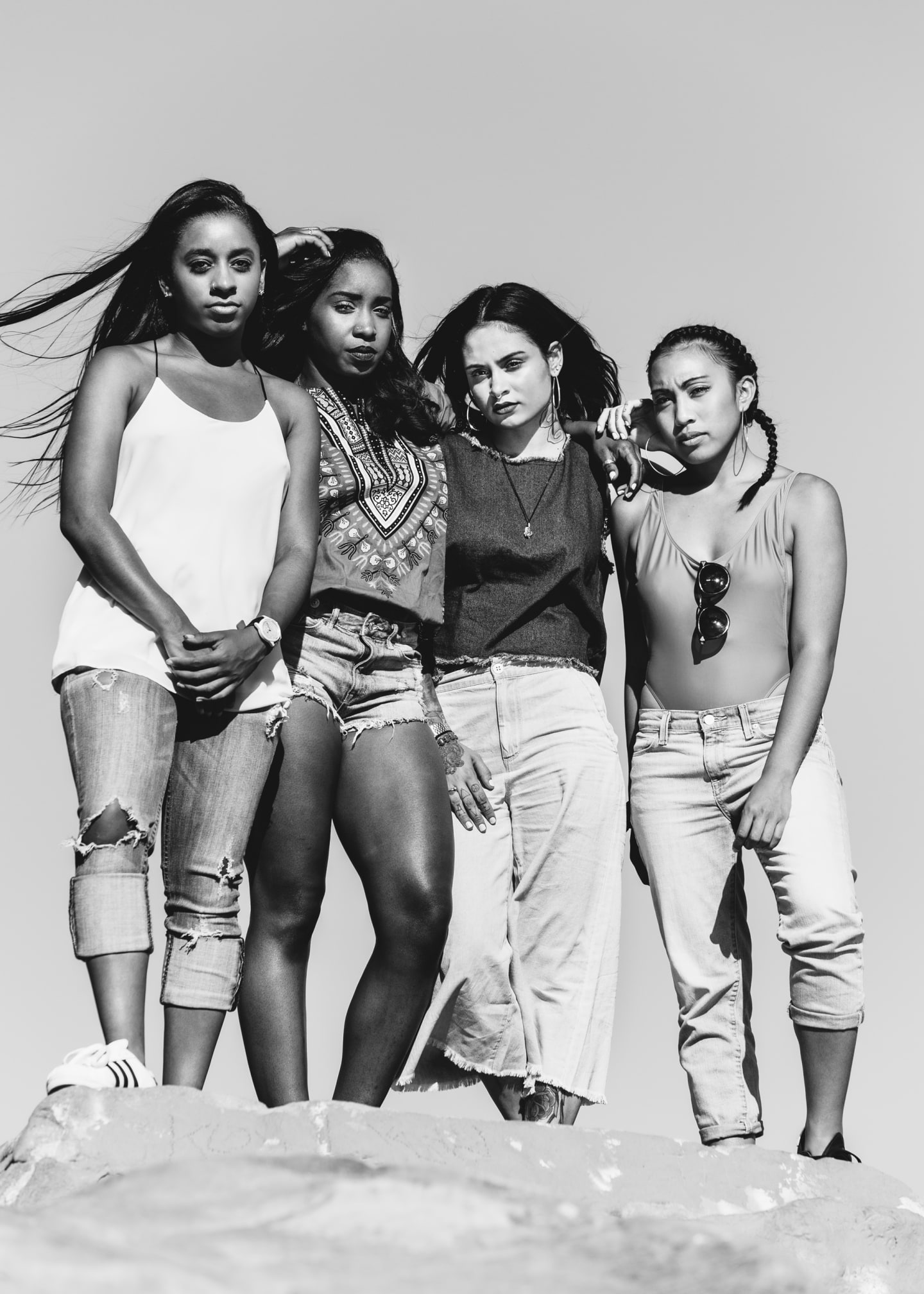 David Ali, Kehlani's manager, is sweating in L.A.'s dry heat as Kehlani coaches him up a hill at Griffith Park. "Eliminating candy is so easy, bruh," she tells him. "Just find the alternatives. Fruit has so much natural sugar in it. That's like a serving of candy itself."
They're hiking with the two dancers and the DJ who comprise her touring act—along with Kehlani, this group is known as the Tsunami Mob. DJ Noodles, whose real name is Micah, is turning the walk into shareable content, taping everything on a tiny camera. Everyone is climbing and talking about their goals. On tour they want to start a lifestyle blog—dancer Yani will write about food, dancer Effie about hair, Kehlani about "healing crystals and protein shakes," and Noodles about style. Closer to the summit, the conversation drifts. Kehlani imagines a studio with a treadmill in it, then describes her dream home: an "ultimate bad girls clubhouse" with bedrooms that look like tree houses, multiple pools, and enough space for everyone in her immediate squad to live.
Over the past year with the Mob girls, Kehlani says she's grown to be "more of a woman." Yani has made her more confident when negotiating business, Effie has helped her become more self-reliant with makeup, and in relationships, she feels more valuable than ever. "I've realized that I'm like, 'Damn, I'd be lucky to have me if I was a guy,'" she says. "I got my head on straight. I got somewhere to go. I'm not a house rat. I'm nice." Talking about choreography on the hike, the girls decide that by the next time they tour, they'll be strong enough to perform their routines in heels, not sneakers.
Kehlani's communal mindset extends well past her inner circle; it's not just her dancers and DJ that she calls the Tsunami Mob but all of her fans too. She's open with them, using her songs to disclose specifics about her life: If you weren't gonna guide me, why bring me into the light? she asks her mother on You Should Be Here's "The Letter." For Kehlani, confessing vulnerability is a show of power: she's a motivational figure who's also relatable. "The girl that needs me is the outspoken, awkward tomboy," she says. "She looks hard, but she's very soft. She's misinterpreted, coming into herself, openly growing." Sometimes, Kehlani's lyrics talk to these fans directly: You are what you choose to be, it's not up to no one else, she offers in a crescendoing vocal showcase on "Bright." She's just as sincere on social media, where she blankets her audience with text and photo dispatches, enveloping them in her life. "Even if I didn't drop a song," she says, "my fans would pay attention to my content, what I post on Instagram or what I tweet. They genuinely care about the entire thing."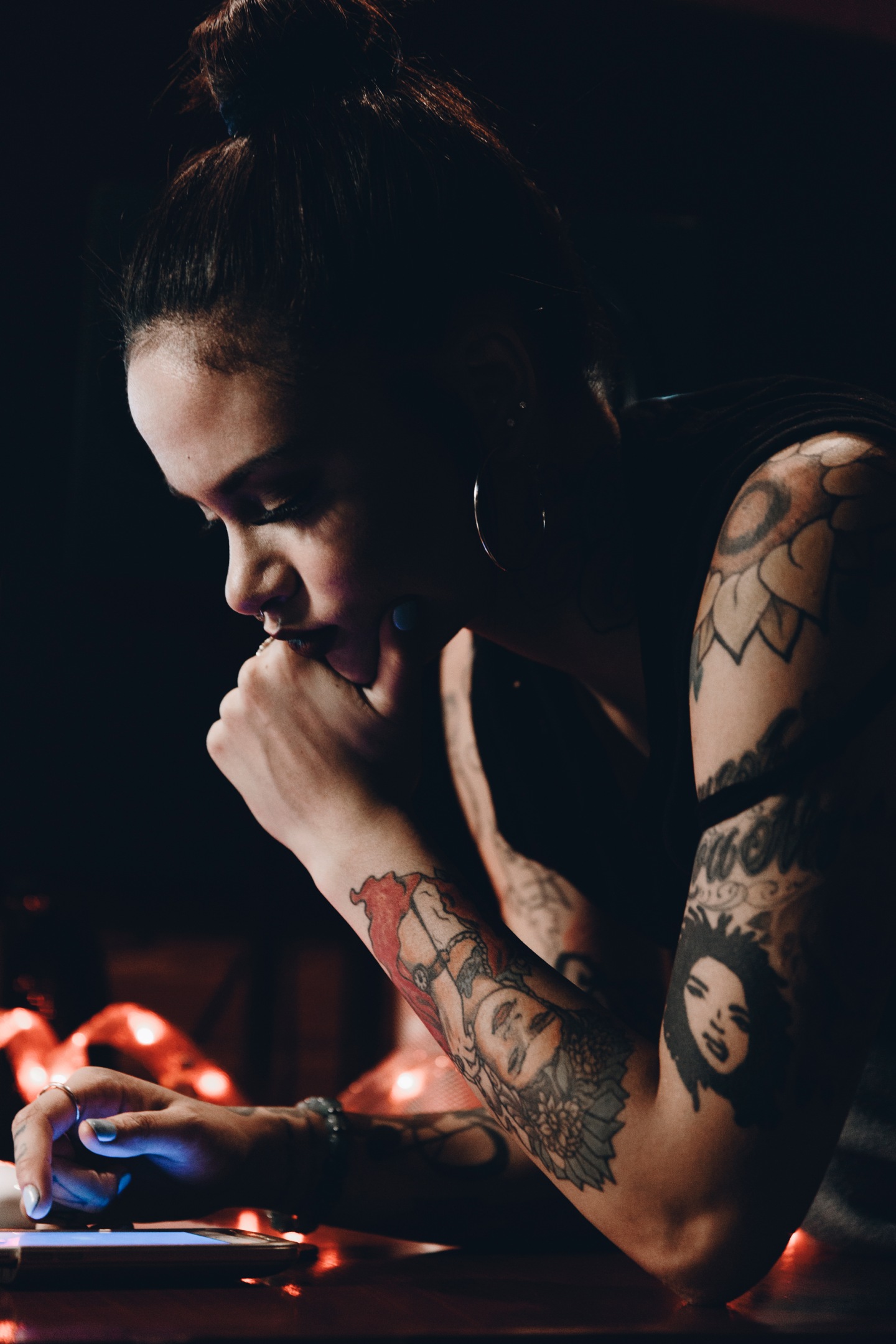 Throughout the hike, Kehlani stays accessible, carrying her phone since her outfit has no pockets. On the way down from the summit, she receives a text message that puts her in terrible mood. When the Tsunami Mob heads to a restaurant, Kehlani picks at a plate of whole grains and veggies as she texts back and forth. Eventually, she's agitated enough to leave the table and walks down the block to be alone. While she's away, she writes to her nearly 200,000 followers on Twitter: "whenever im not ok at least im aware that in a matter of time i will be. and that alone keeps me going."
Attentive Kehlani fans could speculate that her difficult conversation had something to do with PARTYNEXTDOOR, the singer and producer with whom she's rumored to have shared a romance. Prevailing gossip says he wrote 2014's "Girl from Oakland" about her, and she's teased moments of their friendship online. On his 21st birthday in July, Kehlani posted photos of her and Party together and wrote on Twitter, "Happy birthday grizzly bear. Crab & bull is forever." That tweet and those photos have since been deleted.
Weeks later, Party released a song called "Kehlani's Freestyle," opening with the line: Gin got me feeling real honest, now that me and shawty platonic. But "Freestyle" is not really a breakup song; the relationship it lovingly alludes to is both noncommittal and life-changing. For Kehlani, defining the affair appears to be an unwanted burden, and she declines to speak about Party on the record. "Whether or not I'm in a relationship, I never want that to be the focus of what I'm doing and what I'm trying to accomplish," she says. "I prefer to focus on myself."
Kehlani seems to draw strength from knowing people are looking to her for advice, but always being there for others, whether as a good friend or rising artist, can be stressful. Throughout the summer, she intermittently deletes and reinstates her Twitter account; in a statement posted on Instagram, she explains the first deactivation as being "for the sake of my mental health." While pop titans like Taylor Swift feign approachability by liking their fans' Tumblr posts, for actually approachable public figures like Kehlani, reality is trickier.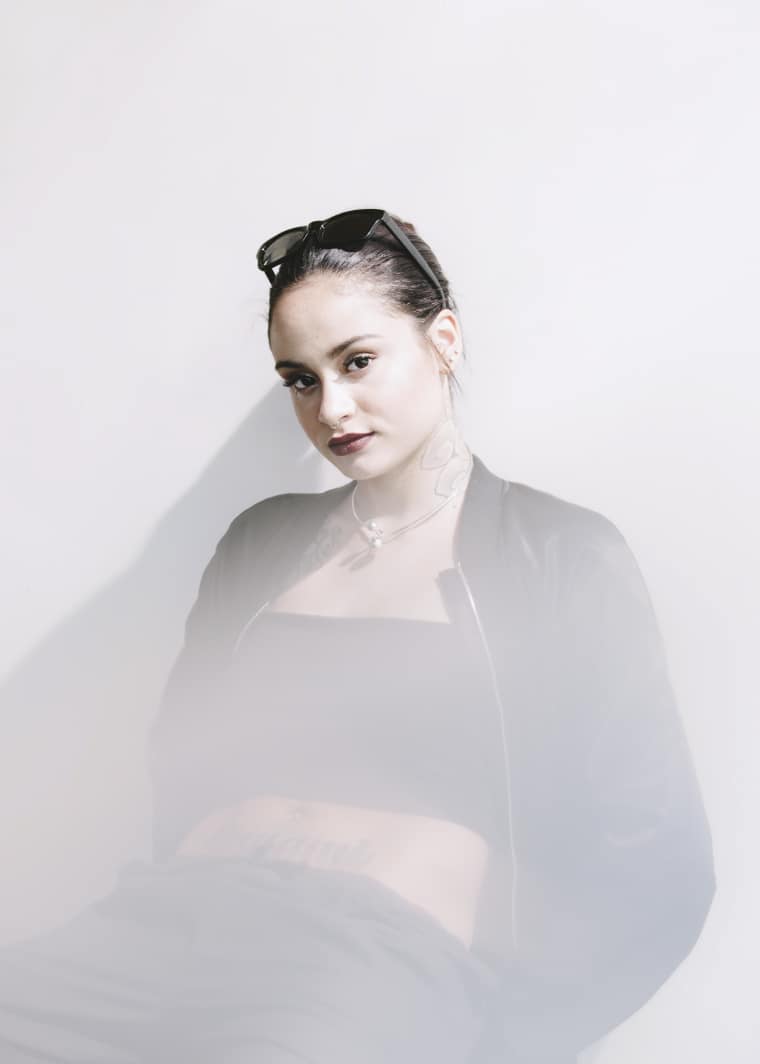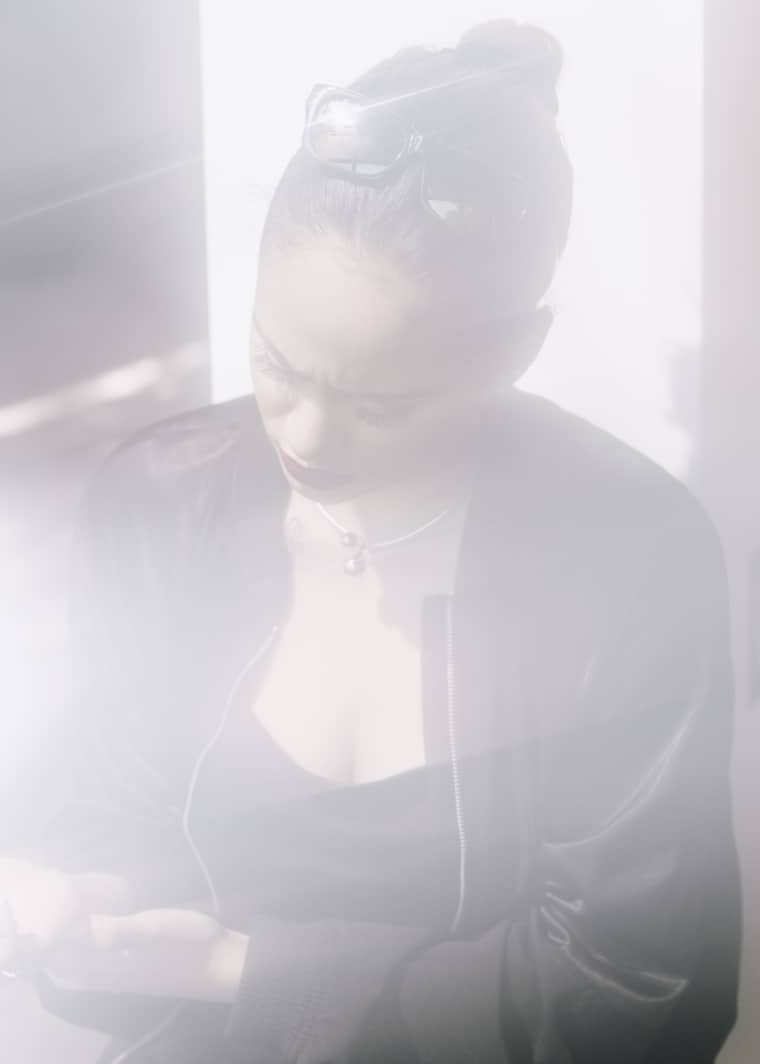 "The girl that needs me is the outspoken, awkward tomboy. She looks hard but she's very soft. She's misinterpreted, coming into herself, openly growing."
The morning after the hike, back at her apartment, Kehlani shows no signs of the previous day's pain. A teenage Vine star named Destin Conrad is hanging out. After Edward calls an online seller to make sure they're legit, he finally orders the sugar gliders. David shows off some new merch while a new song plays and the house buzzes with positive energy. Everyone here is sure Kehlani will be a star.
In Kehlani's bedroom, fan art hangs near some decorative branches that have Christmas lights wrapped around them. It's not a dream treehouse mansion, but it's nice. In our final conversation, she leans on a pillow and reflects on how sweet life has become. "Years back, you couldn't pay me to call my family," she says. "Now I'm like a parent. I want to get my family a crib. I want to be able to send my brother and sister to college. I'll be clapping at my granny's house when I get home like, 'Look at this. We did this.'"
Kehlani says she doesn't know of any member of her immediate family who has been married, and she seems to hold herself responsible for changing that too. "The type of music I make is based around love," she explains. "I think I function better in a relationship because it gives me things to write about. As I'm learning somebody, I'm able to learn myself." Her ideal relationship is mutually character-building and monogamous. "I want to be with someone who makes me work harder and keeps me on my toes, where I'm enjoying watching them grow and they're enjoying watching me grow," she says. "I don't want to be fucking with a bunch of people. I don't want to carry that much around with me—in my energy, in my career, in my music."
On "Runnin'," an interlude comprised of a single, extended verse, Kehlani defines a desirable head-of-household as someone who's honest and able to protect others. I know every man has a fear of a strong-minded woman, she sings. But I say she's a keeper if she got it on her own and keeps it runnin/ If she can keep it all runnin. That's what it was like back at Kehlani's aunt's house in Oakland: even when all the appliances broke, life went on. For a pop song, "Runnin'" has an uncommon, middle-ground mood. Neither overwhelmingly bright or gloomy, it sounds like perseverance with a positive outlook. This is an under-served emotional range; if she can keep exploring it, listeners will respond.
After I leave her apartment, navigating my way through a city I don't know well in a cheap rental car that handles like a golf cart, I find comfort listening to You Should Be Here front to back, over and over. At one point, I graze against a curb and scrape the car's side. I keep driving and try to put it out of my mind, but the mistake nags at me. I'm older than Kehlani but more easily thrown off my game. When I return the car to LAX around midnight, the employee who checks me in slaps a huge label on the car's back window, which I'm sure is some kind of terrible bill I will inevitably have to reckon with. We're outside, and the car is running with its windows down; Kehlani is still singing out from the stereo. The guy starts to say something, then interrupts himself. Gesturing to the music, he asks, "Who is that?"