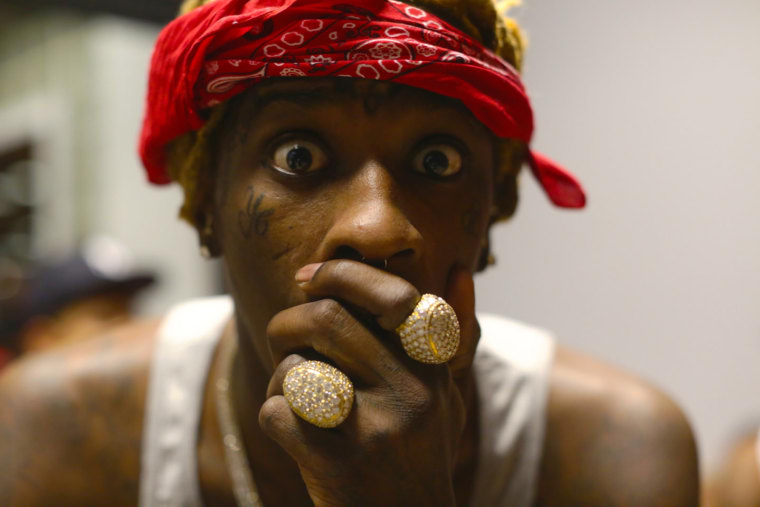 Young Thug is the subject of the latest Dazed cover story. While the rapper doesn't reveal much about his upcoming album, Hy!£UN35, or his recent legal troubles, he did suggest that he has his own version of the Jamie xx/Popcaan collaboration "I Know There's Gonna Be (Good Times)" that he's planning to put out as a single.
"I did a whole song," the MC told Dazed. "I sent it to [Jamie xx] and then he put another Jamaican guy on it. I want to meet them both. I was supposed to perform it at Coachella, but I missed, like, two or three planes. And I was like, 'Awww.' I don't know what I was doin'." (Thug likely met Jamie last night when the two performed the track live at the Good Room in Brooklyn.)
The rapper also shared some impressive details about his songwriting process. "I can't remember 16 bars," he noted. "I just do it bar for bar. I did a song in eight minutes. I thought everybody could write songs that fast. But working with a lot of them, they don't. Wayne and Drake, it takes them so long to do a song. I understand why, because they want it to be perfect. But I think I can do a perfect song in ten minutes. I did 'Danny Glover' in eight minutes. 'Stoner' took me almost an hour."
Much of the rest of the article focuses on Thug's style. Notably, his sister does not approve of his occasional habit of wearing dresses, though the MC seems impervious to her complaints. He compared his own sartorial habits with those of former tourmate Travi$ Scott. "We played 29 shows, and I brought, like, 32 Balmains," Thug declared. "I switch clothes every set. He don't. That nigga wear the same shoes, boxers, pants, every fuckin' day. I'm like, 'Bro. Hell no. I'm a man. I have a girl. I have kids. My girl notice.'"
Revisit Thug's FADER cover.