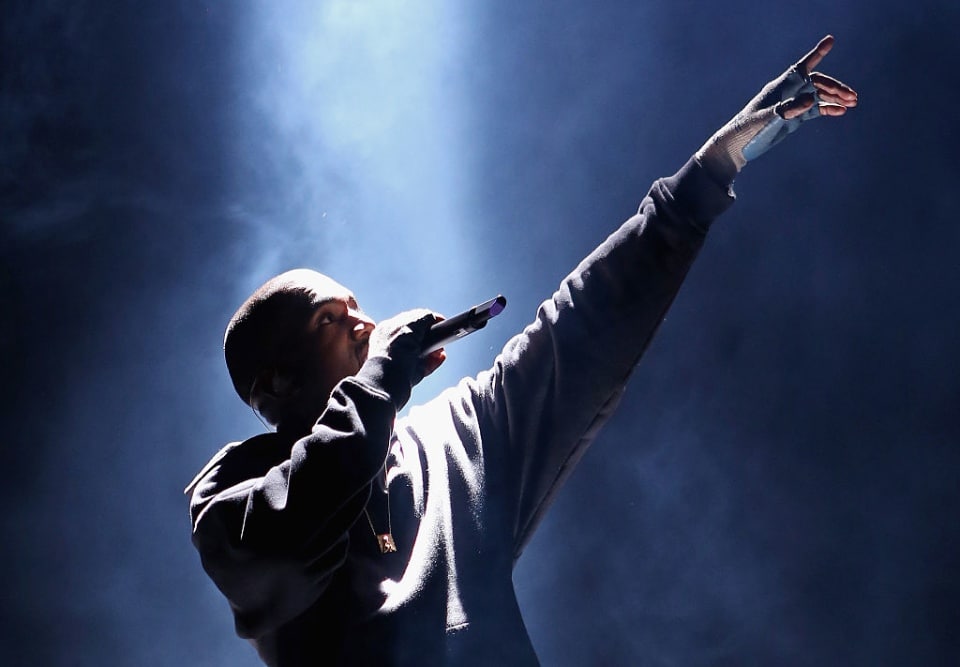 Before Kanye West released his perhaps still-in-progress album The Life Of Pablo to the world, with a campaign that included name changes, memorial T-shirts, and a fashion show at the world's most famous arena, he described the project on Twitter as a "gospel album."
If some interpreted that comment as bombastic, its validity was confirmed when the album's opening track, "Ultralight Beam," debuted at Madison Square Garden. A five-minute sprint that was also performed on Saturday Night Live, the song starts with the sampled voice of a pious child from Vine, continues with assists from Chance The Rapper and R&B powerhouse Kelly Price, and concludes with a full choir and a prayer from gospel legend Kirk Franklin. Speaking to The FADER earlier this month, Price called the song a "street parable." She explained: "I can listen to it and hear messages of hurt, shame, anger, and fear, and then I can turn around and see hope, faith, redemption, compassion, rejuvenation, forgiveness, and getting up from a fall."

Price and Franklin's contributions to the song, it turns out, are thanks to none other than Derek Watkins, the man better known as Fonzworth Bentley. Over the past 15 years, Watkins' parasol-toting alter ego has watched over many important hip-hop moments, and made a name for himself in the gospel community as the host of BET's Lift Every Voice. Watkins currently lives in Los Angeles with his wife and two kids—his second child, a son, was just born this week. He is credited as one of six producers on "Ultralight Beam."
Over the phone from his house, Watkins told The FADER the full story of how "Ultralight Beam" was made, and what a finished album means to Kanye West.
DEREK WATKINS: I get to the studio [in L.A.] and Mike Dean was playing the chords that you hear on the record. That was about after 10:30 p.m., 11ish. The chords just felt thick. Very thick and anointed. Swizz Beatz was there. Swizz would typically come at around 3 a.m. Swizz and I were the nocturnal ones. When I say that, understand that Ye stays longer and later than anybody. But Swizz would come through at 3 and stay until about 9 and we'd end up always being the last people there.
We were on shift as engineers at this point because we were trying to get this album done. Also we were doing G.O.O.D. Fridays. Swizz started playing with the drums, and it felt so anointed, and I heard tambourine. So I asked if we had any and he said no. So I asked Drew [Dawson], who by the grace of God has a studio around the corner, two blocks away. He said, "I got percussion over there, I got tambourines." So me and Plain Pat walked over there. It worked double because we needed to scope out another studio because we were just running out of space. DJ Dodger Stadium was using a corner of one room, we had Charlie Heat using the lounge in another room. We were really using every inch of this studio.
So Drew handed me five tambourines and I walked back [into our studio]. Swizz was still programing drums. I walked in with five tambourines and Ye's like, "Oh, you got percussion?" He starts checking them out. At this point, the drums are in there, so they're playing [the track] from the beginning again and then I hear the tambourines and I start shaking them. And Ye's like, "Record that now. Get in there." So I put on headphones and I do eight-bar intervals of that. Chance [The Rapper] was there too. I called Poo Bear, who's from College Park and wrote a lot of Justin Bieber's album. And he was with Justin at the time. I'm from Atlanta, Poo Bear is from Atlanta—so Poo Bear comes up and catches the vibe. Justin hops on the phone and is like, "Tell Yeezy whatever he needs I got it." So Justin comes through and we vibed on that. And then Ye went right in. Ye was like, "Let's all catch a freestyle."
"Ye had a bed set up at the studio and so he would usually take a nap for an hour or an hour-and-a-half, go to the gym, and then come right out."
In his freestyle he said, "This is an ultralight beam." He sings that and was singing the melody. Then Chance catches the vibe. A lot of what ended up in his verse was from this freestyle—as far as his patterns and some of the words. There weren't that many words, more so vibes and patterns. Then Justin got on the mic and sang some a capella. It was free flow. It was creativity. It was about 8 in the morning at this point. Ye had a bed set up at the studio and so he would usually take a nap for an hour or an hour-and-a-half, go to the gym, and then come right out. I was walking out [that morning] and he was walking to his room where the bed was, which was also where all the people designing merch and all of that kind of stuff. It was a real DONDA creative hub at that point. Kanye's the master orchestrator of all of it. They put the bed out and Ye was like, "Before I leave can you edit the freestyles and put them in order?" I was about to go to bed but I was like, "Sure, I got you."
So I sit there and I begin editing. I put Kanye at the top and put the other pieces in, doing what I do. Arranging is one of my strongest gifts as a producer. I get excited because I hear Kelly Price and Kirk Franklin in the choir. Clear as day, I hear that. I run out the room and I'm like, "I got to tell Swizz." And then Kanye is up. He only slept like an hour. So Ye is up—not like kinda up, he's up-up. I'm like, "I heard Kelly Price and Kirk Franklin in this choir." And he's like, "Oh, you got all the colors now." He trusts me with that. I had already sent the freestyle that I edited to [Price and Franklin] as soon as I heard it. Then Ye said, "Send them the track but put my freestyle on it." So I had to resend the email, like, "By the way, disregard anything!"
This was about 10 in the morning. I go home and sleep for a couple of hours. By the time I woke up, Kelly had called me. I'm in breakfast mode and it's about 2 p.m. and she's in Atlanta. She tells me she had recorded something. I had given her some direction: Here's the ultralight beam, here's what it means. This is that connection that goes straight to heaven. This is the thing that people say is intangible, that people try to wrap their heads around. A lot of different people articulate it in different ways, but it just made sense in the way that Kanye said it. So I sit there and play [what she sent me] in the kitchen and my wife's there. And bro, what you hear on the record is exactly what she sent. Both of us burst into tears because it was so right on. It was perfect.
"This is that connection that goes straight to heaven. This is the thing that people say is intangible, that people try to wrap their heads around."
Normally I'd do my normal day: get through everything, put my daughter to bed, and then get to the studio. But I could not wait for Ye to hear this. At the time, ["Ultralight Beam"] was going to be a G.O.O.D. Friday thing. We had all kinds of stuff for that initially. But we get to the studio and I'm like, "Stop everything, you've got to hear this right now." I play it for him and he closes his eyes and he's like: "Kelly. Dope. Call her in. Call Kirk in. Let's go."
I was so excited to call Kelly. I've got to add this one thing in there—last fall, Kelly came to my church. After services, she went to see my bishop. A lot of times when people go to see the man of God, it's very private. But she was like, "Ah, Derek can stay." I was in there and he prophesied over her life: "You've been hidden, it's time for you not to be hidden." Very specific, prophetic words. A prophet is really someone who is hearing, and then saying, what God is showing them. It's not someone who sees in the future or is a mystic or anything like that. Everything that he was saying to Kelly, was like, "This is going to be a significant season of increase. You're about to go into a season of renewal." It was so powerful. The word of God says that if you receive a prophet, you receive a prophet's reward. A lot of times somebody may be speaking to your life, but you must receive it before you see it. It was just unbeknownst to me that I would be fulfilling what was prophesied to her.
Then I called Kirk. I host every Sunday a show on BET called Lift Every Voice, which is essentially an inspirational talk show. I had just interviewed Kirk Franklin three weeks earlier and I had all of his numbers. We had talked about a lot of stuff so when I called him, I knew it wouldn't be foreign. Kirk and [Kanye] already had a relationship. I think it was over the Christmas holiday in Texas a year or two ago, Ye went to Kirk's house and hung out.
"A Kanye album is like a working document. He's never married to anything. The best idea wins."
Originally we were going to record the choir in Texas, but Ye said, "Let's just get them out [to L.A.]." He flew Kirk out. Kirk had to speak on a Sunday, so I had him fly in on a Friday to just vibe, Saturday to record the choir, and then come back on Monday in case there was something that we weren't hearing, so we'd have a day to work on what we had done. Friday was the day the image came out from the studio. Kirk Franklin was a top trending topic globally for 10 hours after that.
Kirk Franklin is a staple and a juggernaut of the gospel community. We got a studio for him on Saturday for the choir. How many people in the choir? We'll keep that private, we'll call that secret sauce. So we begin to have a conversation in the studio. Kirk's in there with headphones and he said, "What are you hearing?" I told him that we wanted to amplify what was already there. He began to teach the choir the parts and he taught it in seven minutes, bro. And I'm talking one-one-thousand, two-one-thousand, he taught all the parts to every choir singer in seven minutes. It was like watching a master at work. It was phenomenal. He taught all of the parts and just went into it. I brought my bishop in—the same bishop that prophesied with Kelly—for him to be there in case he was hearing something else that needed to be said. We produced the choir as Ye was shooting the Rolling Stone cover with Tyler. I said, "Let me go over and grab Kanye." I wanted him to hear what we had. Kirk said, "Hold on, let me put the prayer on there."
So we came back on Monday. That's when Kirk told me about this fire and brimstone stuff he's been getting from the gospel community. It's very indicative of what was happening in the Old Testament with the Pharisees and Sadducees and this religious hierarchy, which was very critical of this new idea of grace that was coming through. Kirk looked at me and said, "I'm getting beat up." I said, "Jesus, when he presented himself in heaven, he had scars." I give a lot of credit to Kirk Franklin. His first album came out in 1993 and he has been doing it at a high level since then. To have the courage to say now—"You know what? I'm going to take a couple whips from this community because once they see the idea they will understand." Obviously after SNL happened, a lot of that stuff shushed. There's always going to be people who don't get it. That's always going to exist but I think where the arc is now is very different from where it was.
When Kelly put her stuff down, that's when Chance was like, "I know what to write to this." He put on headphones, he locked in, and penned it out. That's when I knew that this was not going to be a G.O.O.D. Friday record. This was going to be something for the album. This was a pinnacle record that really helped shift the project to the kind of project that it is. By the time we did SNL, I don't think the record was 10 days old yet.
A Kanye album is like a working document. You don't hear the final version of it until it is available for purchase. That's just the way it works. Every producer knows that, every friend knows that. That's just the way it is. I really admire that about him: his ability to strip down a genius idea and chase another genius idea that's come to light. That's one of the biggest things I admire about his creativity. When I meet any artist in any genre, what I like to talk to them about is their editing process. People don't really see editing as an art.
We have the Academy Awards coming up—I'm going left here, just bear with me. We understand sound design, we understand the significance of the picture, but people don't give enough credence to the editor, who is such an amazing artist. That is one of Kanye's greatest gifts: his ability to hear and see and to execute editing. He's never married to anything. The best idea wins. You've got to understand, everybody wasn't completely on board with the choir and all this stuff. Some people thought it might be too literal, but again, like I said, the best idea wins. Kanye allowed me to see the fullness of that vision out. So now we can see the gumbo. Then we can decide like, "OK, we don't need okra in there, maybe we should have used Italian sausage."