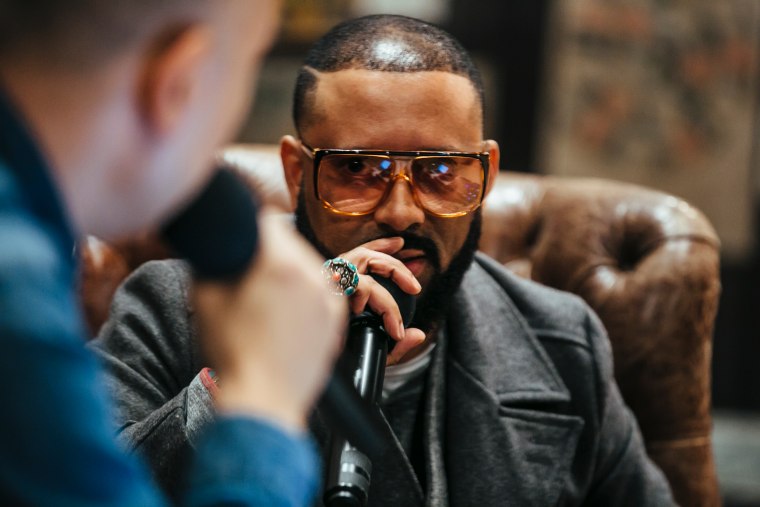 The sticky soul thumps of Champion Sound, the joint album from Madlib and J Dilla, have, since its issuing in 2003, always called to me. In the decade-plus since its release, I have returned to "The Official" most often. The brilliance of the song, on which Madlib plays producer and Dilla takes a turn as rapper, is found in its anatomy: it flips Gap Mangione's slow-burning, horn-heavy "Diana in the Autumn Wind" from 1968; it features fragments from jazzman Dizzy Gillespie's 1969 "Stomped and Wasted"; and it recycles lyrics from "Take It Personal," a head-nodding Gang Starr cut from 1992. Taken in full, the song spans 35 years and at least three genres. It is a music lineage brought to the fore, and just one of the many dimensions that personify the extent to which Madlib—born in Oxnard, California under the name Otis Jackson Jr.—has created a distinct, noncategorical sound over the course of two decades.
This past weekend at The Grolier Club—what is said to be America's "oldest and largest society for bibliophiles and enthusiasts in the graphic arts"—Madlib spoke with writer Chairman Mao in a rare public conversation. The 42-year-old producer touched on his reclusive persona ("I don't talk in front of people"), his relationship with Stones Throw CEO Peanut Butter Wolf ("he allowed me to do what I wanted to do"), the art of beatmaking ("I like some human mistake in my shit"), and why he has to constantly create music ("it's for my health"). The conversation was part of Red Bull Music Academy's New York series of events, which also featured talks with Atlanta producers Zaytoven and Metro Boomin and film director Spike Lee, among others.
There is a particular strain of humor Madlib deploys in conversation. He'll offer a plain-spoken missive—something like, "Fuck Egon"—in response to a question about, say, working relationships, only to recoil seconds later, but not before you begin to question his sincerity, even if only for a brief moment. "Nah, just kidding. That's my brother," he'll counter, a visibly slight smirk spread across his face. (Eothen "Egon" Alapatt is Madlib's business partner and helps oversee his Madlib Invazion label.) This guise is just one of the masks the producer has learned to wear in public.
For years, Madlib has evaded the spotlight with the same deliberate stubbornness he approaches beatmaking. It's why when Kanye West—whose The Life of Pablo was still weeks away—tweeted a photo of him and Kendrick Lamar in the studio in late January, with the caption, "We just wanna thank Madlib for these 6 beat CDs he sent over #scary," it felt good. Madlib, it seems, would certainly be content with producing beats below the radar for the rest of his career. And it's that realization that made Kanye's announcement so fulfilling: the gospel of Madlib might now spread farther and wider than it ever had, finding new disciples among Kanye's 22 million Twitter followers.
As you now know, what came of those six beat CDs was the providential "No More Parties in L.A.," a magnetic inversion of Junie Morrison's "Suzie Thundertussy." "I wanted to make it dirtier than it was," Madlib said of the original sample, before confessing: "Actually, that beat was made off an iPad." Though Pablo would only feature one Madlib track, the beat CDs did not go to waste: "[Freddie] Gibbs took all of them, [he] rapped over everything. Kanye waited too long." Those songs, Madlib said, will comprise the bulk of Gibb's forthcoming project, Bandana, the duo's second album together (the two collaborated on 2014's Piñata).
In the years since his inception as a producer and sometimes rapper, Madlib has had a multitude of conspirators; Gibbs is his most recent creative vehicle. "[Gibbs is] like my cousin—he might shoot you, he might hug you." In 2004, Madlib partnerned with masked rapper MF Doom to release Madvillainy, a soupy collection of elaborate rhymes and vivid beats. "He's like Bird to me," Madlib said of Doom, referring to legendary saxophonist Charlie Parker. Finding inspiration in forefathers like Marley Marl, DJ Pooh, Dr. Dre, and Public Enemy, Madlib's oeuvre reads like an abridged history of black music: in addition to Dilla, West, Doom, and Gibbs, he's worked with Erykah Badu, Mos Def, De La Soul, Blu, Guilty Simpson, Tha Alkaholiks, Georgia Ann Muldrow, J Rocc, Talib Kweli, and others. This is to say nothing of his own Beat Konducta album series—which traverse disparate sounds and histories from across the globe—his Quasimoto recordings, or his four rooms worth of beat CDs that fans might never get a taste of.
Madlib's is a catalog so profound that it can be difficult to quantify in logical, human terms. His output is immeasurable in a way that seems to defy physics. His work spans genre and artistic statement: from rap, R&B, and soul to more radiant categorizations like electro-Brazilian, psychedelic-rock, and post-jazz. It is a rare body of work that exists in the infinite: there is no end, only a beginning.
As for what's next: his Invazion label will release the collaboration effort with Gibbs, as well as respective projects from rappers Evidence and RJ of Slum Village. Madlib also said he has recorded some 10 hours of music with his "idols," Embryo, the German rock cabal; still, he remains unsure what will come of their musical fete.
"I get bored with music so I try to listen to things in different types of genre to see what's possible," he told Mao. But it wasn't until later that the Madlib Mystique came into full view. For years fans and critics have, more or less, tried to pin the producer down; we have tried to capture his essence and dissect every aspect of his life. Saturday, I finally realized why we never would. When asked about his prolific output and the desire to ceaselessly produce music, he said: "I just keep moving on."