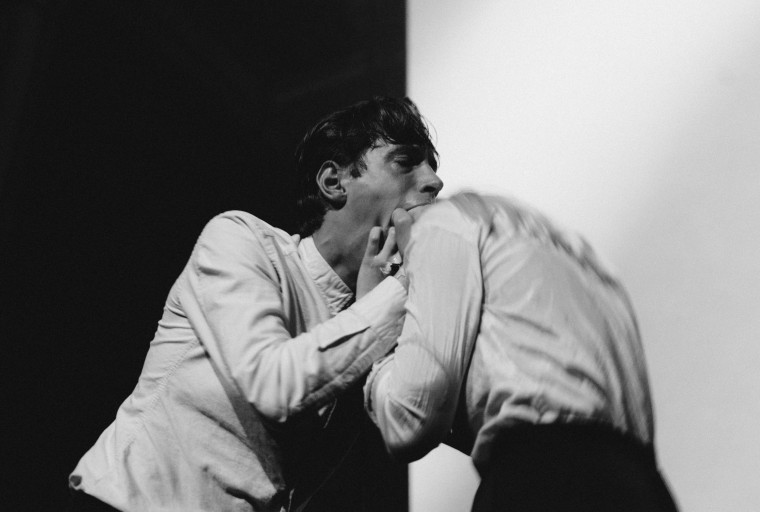 Posh Isolation, the Copenhagen noise and punk label, has been around for seven years now. In that time, they've ushered cult releases from artists like Iceage, Puce Mary, Lower, Lust For Youth, among others. Today, a pair of new songs prove that they're still going hard—still dedicated to shepherding interesting sounds and nurturing projects with specific, immersive aesthetics.
First is this song by Body Sculptures, a new supergroup with a roster that reads like a who's who of Scandinavian electronic experimentalists. The cast includes Swedish composer Erik Enocksson, Puce Mary mastermind Frederikke Hoffmeier, Vit Fana's Ossian Ohlsson, Varg's Jonas Rönnberg, and Posh Isolation co-founder Loke Rahbek, who also plays in Lust For Youth.
The title track from their debut full-length, A Body Turns To Eden, is impressively stark considering the breadth of collaborators. Its synths are static and squelchy, but it never quite unfurls, maintaining an unnerving composure that's almost romantic. The album's out June 3.
Body Sculptures's A Body Turns To Eden tracklist:
A
1 Breath of Wind Sows the Seed 3:06
2 A Body Turns To Eden 4:04
3 Feet Into Soil 5:19
4 On the flowers Face 4:52
B
5 The Pyre 4:03
6 Turning Field 4:40
7 Turning Field ll Sunflower 3:19
8 Scorched Earth 4:22
9 A Collection of Ceramic Vases (Yves Saint Laurent buried in the Garden of his Marrakesh home) 3:23
Second up is this new track from Yen Towers, the project of Lower and Age Coin member Simon Formann. According to a press release, his new 12-inch, also dropping on June 3, "tracks the mechanisms of global exchange." New song "BID I (Bug)" blends traces of dub, techno, and garage in a minimal, agitated-sounding package. It's corroded club music, inspired by everything and nothing.
Yen Towers's Bidders Must Justify Their Price tracklist:
A1 BID l (Bug) 5:34
A2 BID ll (Trench) 4:14
B1 BID lll 7:08
B2 SV22.33+V1 4:44