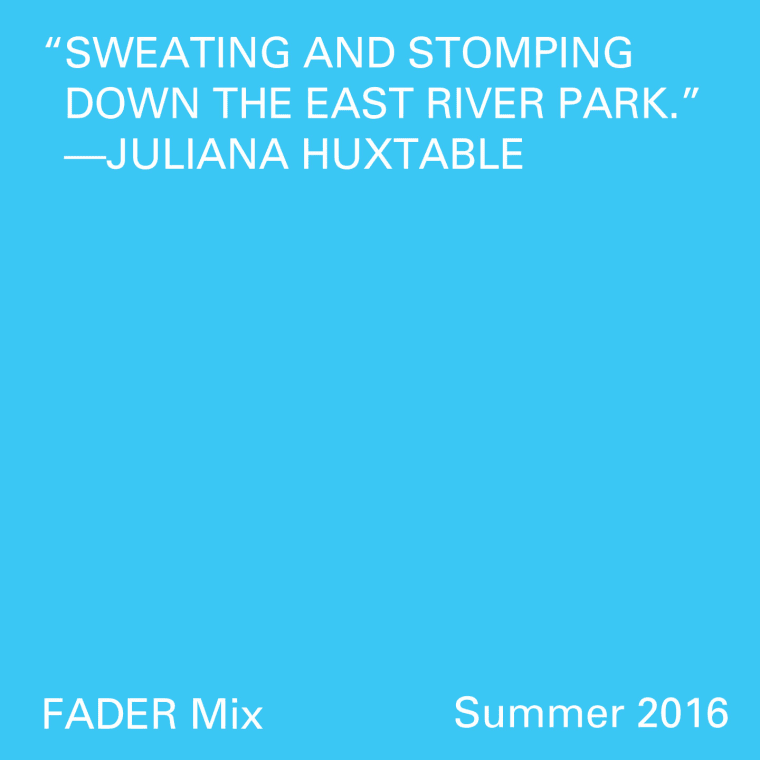 Music might not be the solution to America's pain, but it is an answer — one that can provide strength and sustenance when nothing else makes sense. For this week's FADER Mix, we hand the reins over to New York poet and DJ Juliana Huxtable, an artist well-versed in the power of sound. Recorded live and titled "She's Manic," the mix opens with rumbling, glitchy dissonance over which the airy voice of Syd Barrett floats, only to be buried by big-bellied drums and yawning bass. Then, like the sun breaching the horizon, the voice of Mary J. Blige rises from the fray via her 2003 song "Ooh." Later, there's Tory Lanez's punchy flow, Princess Nokia's fearless bars, and a stirring spoken word piece by Huxtable herself. Listen to this essential mix below, and scroll down for a chat with the artist ahead of her set at MoMA PS1 Warm Up this weekend. If you're not in New York, you can catch Juliana Huxtable on tour this summer (dates below).

Where are you right now? Describe your surroundings.
IN A SMALL ALL CREAM BEDROOM IN GREENPOINT WITH THE AC BLASTING ON ME.
Tell us a bit about this mix — what do you imagine people doing while listening to it?
SWEATING AND STOMPING DOWN THE EAST RIVER PARK.
What's your earliest music memory?
FANTASIA.
There's some really exciting things happening in club music right now; it feels more radical than so many other types of music. Why do you think that is?
IT'S A SOCIAL SPACE THAT HAS BROUGHT A LOT OF DIFFERENT SUB CULTURES TOGETHER AND HAS BECOME A PLACE TO DEAL WITH COLLECTIVE EMOTIONS — BE THAT ANGER, DESPAIR, SELF LOVE, ETC — AND THE MUSIC NATURALLY REFLECTS THAT.
Beyond Warm Up this weekend, what other Juliana Huxtable events or projects can we look forward to this year?
MY BOOK COMIN OUT THIS YEAR!
What's the last book you read that had a big impact on you?
What's your favorite dish to cook and how do you make it?
BAKED MACARONI AND CHEESE — WITH SMOKED GOUDA IN THE MIX.
Juliana Huxtable tour dates
9 July - MoMA PS1 - Long Island, NY
16 July - Afro Disco Party - Stromboli, Italy
18 Aug - Fields Festival - Baltimore, MD
1 Sep - Pop-Kultur Festival with Fatima Al Quadiri - Berlin, Germany
8 Sep - PICA Opening - Portland, OR
1 Oct - Queer Fashion Week After Party - Oakland, CA
2 Oct - Swagger Like Us - San Francisco, CA

Warm Up lineup: July 9
Brodinski / Bromance / Paris, France
Louisahhh / Bromance / Paris, France
Virgil Abloh / Bromance / Chicago, IL
Remy Banks / World's Fair / Queens, NY
Juliana Huxtable / House of LaDosha / New York, NY
Celestial Trax feat. Roosevelt Rozay Labeija / Rinse + PTP / New York, NY