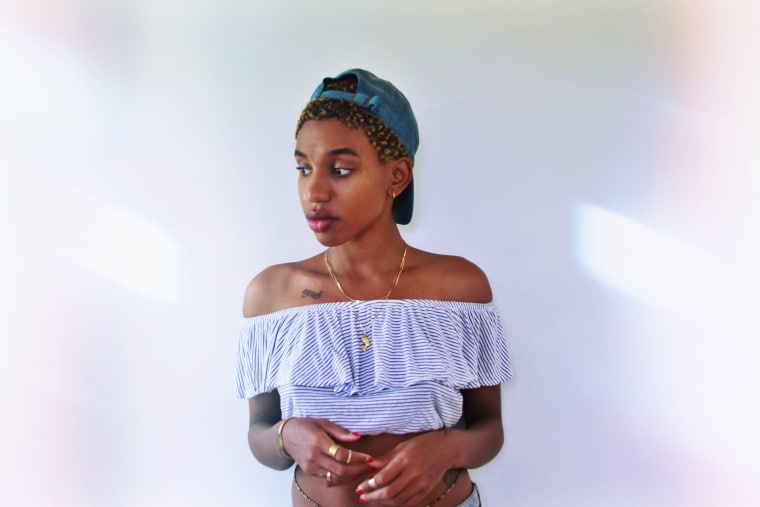 Aware singer and poet, Yaya Bey sings about the journey to black liberation in her latest song, "Buck McDaniels." In a low register and in and out of hums, she supports revolution and won't back down in the fight for justice. Bey's unapologetic about her resistance but honest about how taxing navigating oppression can be. The song is also a track from her upcoming The Many Alter-Egos of Trill'etta Brown EP, where Bey celebrates and advocates for the greatness of black girls and women.
Over email, Bey told The FADER, "I spent some time in Ferguson protesting and there was this one night the police were tear gassing and you could hear bullets off in the distance and so everybody takes off running in the opposite direction and this one white guy is running towards me but I was so scared it took me a minute to realize what was happening. Before I knew it he punched me in the face. He literally ran towards bullets and tear gas just to hit me in the face. Later that night I met my friend Dre, he's the voice you hear in the beginning and middle of the song. He helped me and my friends to safety that night and by safety I mean he took us to the trap house. It was the safest place to be."
She continued, "Dre was a brilliant and beautiful soul and he was murdered a few months later and I made this song with that night in mind. If you ask me, Mike Brown didn't deserve to die and neither did Dre. We really have to start looking at blatant white violence and systemic white violence as one in the same, because we're using systemic respectability politics to justify murder and just complete chaos. We can't be afraid to hold all of it responsible. That's why in the song I say This ain't your grandma's revolution, because we don't all have to be doctors and lawyers. We know now that's not the answer and the trap house isn't the problem it's so much bigger than that."