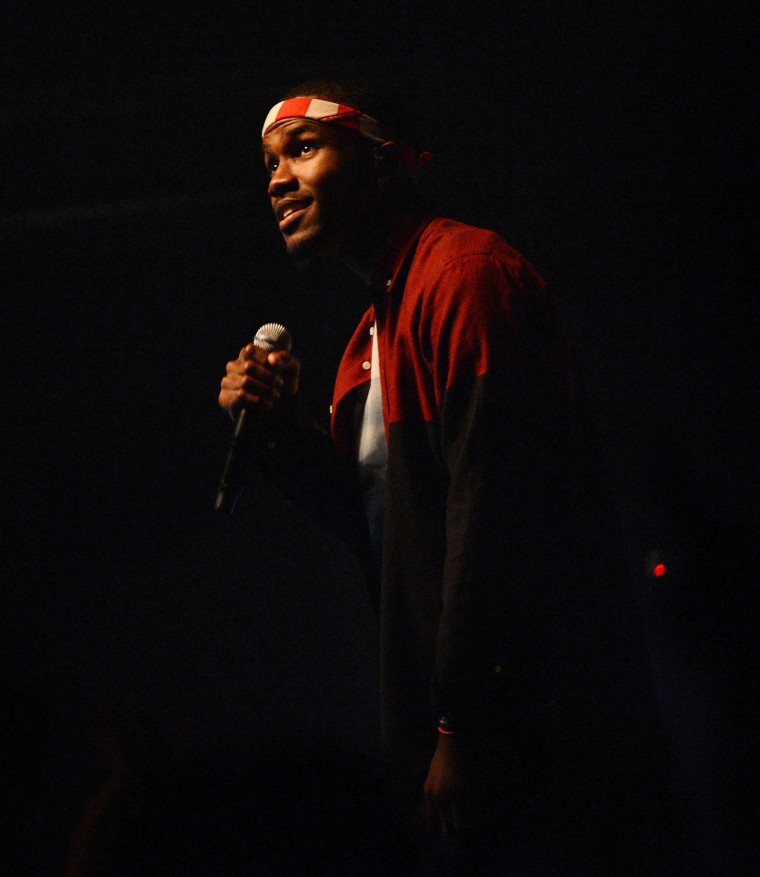 There's no hook on "Seigfried," the 15th track on Frank Ocean's Blond. There's a lot of other stuff going on, though. There's some warped, Bandcamp-grade guitars and lyrics about crying while high on shrooms. There's some dewy Old Hollywood strings and a visceral patch of spoken word poetry. And there is, maybe most surprisingly, an allusion to Elliott Smith, the Omaha-born singer-songwriter who died in the Echo Park neighborhood of L.A. in 2003, exactly one week before Frank Ocean turned 16.
On "Seigfried," Ocean borrows a lyric from "A Fond Farewell," a track off From a Basement on the Hill, Smith's posthumous final full-length. This is not my life, it's just a fond farewell to a friend, Ocean sings, his low voice doggy-paddling around orchestral swells. "A Fond Farewell" is about heroin addiction, which Smith struggled with during his years in the spotlight. The song's narrator is a strung-out alter-ego saying goodbye to his "friend," who is heading off to dabble with sobriety — taking up with the enemy, as Smith's inner addict calls it. "Seigfried," which Ocean performed live without the Elliott Smith nod as early as 2013, feels less bleak but equally conflicted. Instead of a life-ruining drug addiction, he's dealing with pressures to conform to other people's expectations, and the general highs and lows of life in Los Angeles.
Frank's interest in Elliott Smith's hushed storytelling can be felt across Blond's strummier songs, as well as on his Def Jam-released visual album Endless. The latter found him collaborating with a young Philadelphia songwriter named Alex G, who is arguably Smith's closest living predecessor. There are echoes of Smith's melodic guitar playing and general raw, sweetly sad aesthetic throughout G's work. It's no surprise that Frank feels connected to these kinds of songwriters — gifted, inscrutable poets who are concerned with the traumas of growing up, who sometimes use invented characters and alternate personalities to gradually reveal deeply personal details of their own inner lives. Ocean even toys with pitch-shifting all over Blond, a known trademark of Alex G's manic home recordings.
Across their vast discographies, there's often a lingering feeling that Smith and Alex G would be happier if they could just drop out — of school, of the music industry, of conventional society altogether. Well I don't know where I'll go now/ And I don't really care who follows me there, Smith sings on "Let's Get Lost, which stings a little to listen to now, years after his premature death. With "Seigfried," the most existential song on an album fraught with existential angst, Ocean joins the ranks of songwriters who may never really fit in, self-critical humans who grapple with finding the balance between being their true freaky genius selves and, like, making their mothers proud.
I can't relate to my peers/ I'd rather live outside, he belts out over a ghostly, barely-there guitar melody. I hear a kind of optimism in Ocean's version of this struggle, though, and I can't really figure out why. Maybe it's because his queer, black, challenging R&B has been embraced by so much of the world — a million singing fans reminding him he's not the only one.