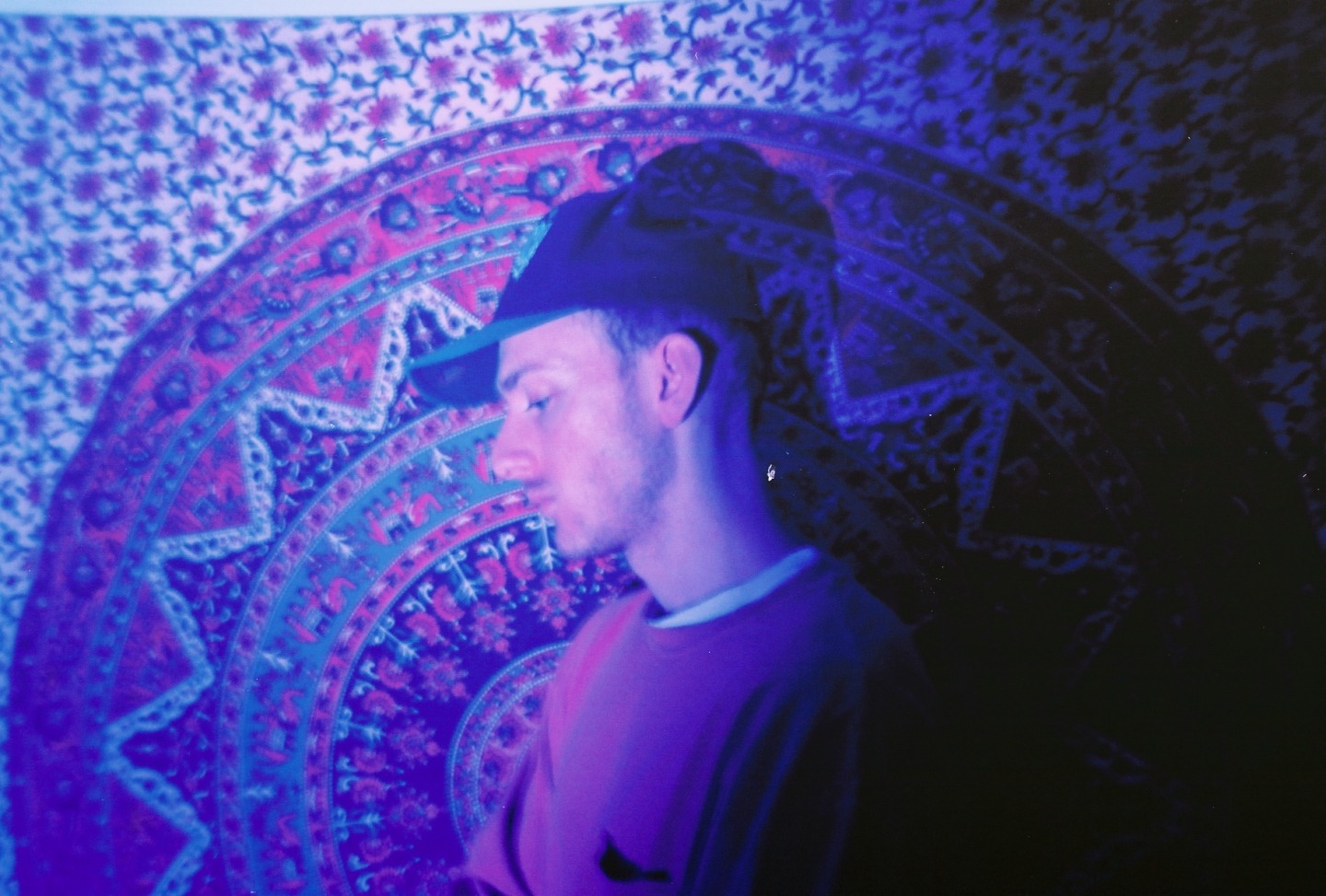 Tommy Paxton-Beesley, the multi-instrumentalist, songwriter, and producer known as River Tiber, is helping forge the next evolution of Toronto's sound through intense collaboration. He's a contributor to Frank Dukes's Kingsway Music Library, a vault of samples recorded live in studio that show up in songs around the world (this is how vocals on the River Tiber song "No Talk," were sampled for Drake's "No Tellin,'" from 2015's If You're Reading This It's Too Late). Last year, Paxton-Beesley contributed cello, guitar, organ, violin, and trombone to BADBADNOTGOOD and Ghostface Killah's spaghetti western rap record, Sour Soul. Other collaborators include names you've heard: Jazz Cartier, Daniel Caesar, Kaytranada, and Charlotte Day Wilson. And this year River Tiber took these shared learnings and funneled them into his own debut full-length, Indigo, a self-produced and intimate, psychedelic soul album.
We spoke on the phone as Paxton-Beesley wrapped a short European solo tour, which began just after he spent two weeks in Montreal as a participant at this year's Red Bull Music Academy. 2016 feels like the heartening continuation of a journey that began at an arts high school in Toronto, where Paxton-Beesley played cello in the orchestra and began creating beats. "I remember trying to fill this gap of what I had imagined but what didn't exist out there," Beesley said of his early production work. "I was trying to make my own favorite music."
The FADER talked to River Tiber about trusting your collaborators, and transitioning from producer to songwriter.
---
What were some significant life events that occurred while recording Indigo?
If I were to keep it about the music, linking up with Frank Dukes and BADBADNOTGOOD; that was pretty big in terms of my whole concept of what I was doing musically. Really big.
How so?
Working with Frank Dukes revolutionized the way I think about production and sampling. Going to BADBAD's studio and seeing how they were doing everything was a direct influence for how I ended up building my own studio. They record everything off the floor. Also, the records that they were referencing; trying to go to the source and get those sounds by doing it the way people would in the '70s. Like, using an actual tape machine, for example. There's a lot of tape recordings on Indigo. Every single song has some shit that was sent through tape, and that's a big shift in methodology, where you're getting away from the computer and letting the sound happen in the room.
What was the longest it took you to finish a single song on Indigo?
There's a few that took awhile to get right, but "Acid Test" in particular, just because that song is such a vibe to me. It's my favorite song on the record. By the end it was nitpicking between the smallest details in a few different mixes; I was obsessively listening to those differences and trying to make sure that it hit the right way, that the kick had enough power and the bass was fat enough — that it was just chaotic enough. When you go from system to system, speaker-wise, the whole perspective changes on the mix. It kind of sucks now because people listen to music on such shitty speakers most of the time. You kind of have to find a middle ground where it sounds powerful enough on a wide range of systems.
When you have so many ideas how do you pick a dozen and say, "OK, this is one project?"
It's almost a process of elimination, and it's also a matter of letting time distance me from the novelty of something. My first instinct when I'm in the studio is to create something new because I just want to get excited. Trying to finish a project that's been sitting around for awhile...it often feels so stale, even though, to someone else's ears, it would be as fresh as something you just cooked up. The songs that get through sort of maintain a little bit of that freshness over time. The type of music I create is not necessarily as beat-based or loop-based, so it takes a lot of different steps to bring it to completion. Inevitably, when bringing something to completion, it's going to drive you crazy listening to it over and over. Stepping back helps me get a clearer perspective on what really excites me.
When it comes to collaborations — and you're coming off high-profile ones, with Pusha T, and Kaytranada — you might not have the luxury of letting songs simmer.
That's actually a case where it's much easier because you have double the perspective, or more. If you're working with someone who you trust, who you've built up a working relationship and a rapport with, it becomes a lot easier to skip the stage of creating distance. They're a mirror. If I'm working with Charlotte Day Wilson and there's something that gets her excited that bounces back.
"Sound is a lot like language. The way you find out what you agree on is by talking about the music you love."
Does building a rapport come easy to you?
It really depends. I have a really small and tight circle of people I work with regularly. We all feed off each other's ideas and have helped to build the sound. Everybody who I fuck with, we all have music we agree on and that's how we communicate. Sound is a lot like language; it's a like a totally separate language and you have to be able to navigate it indirectly. The way you find out what you agree on is by talking about the music you love.
As you become more in-demand, is there any room for spontaneous collaboration outside of these parameters?
You can't build a blueprint for a vibe. When you demo a song, sometimes it has that magic you can't recreate. That first statement is usually the most powerful or intentional. When you're recording vocals you can record 10 takes but most of the time it's the first three takes where you nail the vibe. I've found that pretty consistently. You can hear the pretense in later takes. Getting that honesty on record is really hard to do when you sing a song, like, a hundred times. But people have different approaches. I feel like it's pretty obvious that I love Radiohead; I read that with OK Computer most of those vocal takes are first or third takes. When you're doing something for the first time it's the most present you can possibly be.
What role do vocals play in the composition of your music?
It's been evolving pretty quickly. With Indigo, a lot of the instrumentals were finished first and then I worked on the vocals. But lately, I've been working on the guitar, writing without recording a single note and trying to finish the song before I demo it out and write it down on pad and paper. That's what's really rewarding to me right now and it's a traditional way of writing songs, but it feels good. I think that's the result of me getting more confident in my voice from playing more shows. When you're working on records and you're not even out there really as a singer, it's almost like you try and hide a little bit. You're not as confident isolating your voice. On Indigo you can see the transition: some of the earlier songs that I did, the vocals are more in the background, some of the newer ones I come further to the foreground.
So you've progressed to prioritizing vocal melody?
As soon as you come up with a vocal melody that carries, it's like, that is the song. The melody is so important; the melody is the song, really. That's even reflected in copyright law where chords are copyrightable but melodies aren't. The melody is the layer that penetrates the other ones; it carries the rhythm and the harmony. It's the top layer and the skeleton, it's everything. What I've been working on lately is so much more direct, clear, and concise. I've been trying to trim away everything else and go right to what I'm trying to say. I mean that sonically, and in terms of subject matter.
I saw you tweeted there are no samples in any of your songs. Is that ideological or if it's because copyright law is so contentious?
It's not really an ideological thing. So much of my favorite music is sample-based: J Dilla's one of my top influences. Because of the current 'music economy' it's not really practical to use samples as an independent artist. It's fucking brutal. Then again, getting into production I've chopped up samples and stuff. That's what everybody does. It's such a common way to get into beat-making and production in general. Even though I say there are no samples in any of my music and that's true, I use the concept of sampling non-stop. I sample myself and flip my own music, to get the same effect and feeling as when I listen to J Dilla and there's that layer of music that's been filtered or manipulated in an interesting way.
But your song "I'm A Stone," interpolates a melody from Young Thug's "Stoner."
That's not sampling though, that's just inspiration.