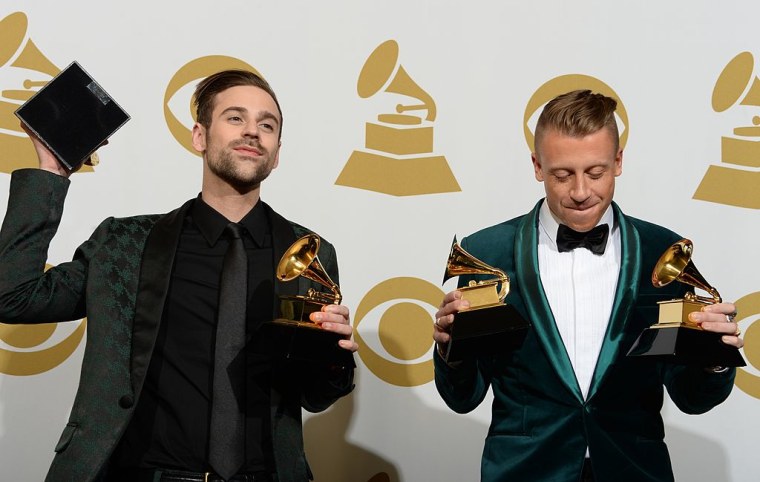 Macklemore & Ryan Lewis withheld their 2016 album This Unruly Mess I've Made from consideration at the 2017 Grammy Awards, according to a report by the Associated Press. Grammy reps could not confirm the story to Pitchfork.
The duo won four Grammys at the 2014 awards, most controversially for Best Rap Album, beating Kendrick Lamar, Drake, and Jay Z. Macklemore stoked further controversy when he posted screenshots of apologetic text messages he sent Lamar after the ceremony. "It's weird and sucks that I robbed you," he wrote. Lamar called the win "well-deserved," while Drake was not impressed by Macklemore's correspondence: "That shit was wack as fuck… I was like, 'You won. Why are you posting your text message? Just chill.'"
According to a previous report in the AP, the rap committee for the 2014 Grammys did not want to nominate Macklemore & Ryan Lewis but were overturned by the general Grammy committee. "Famous people tend to get more votes from clueless Academy members, regardless of the quality of their work," journalist Rob Kenner wrote in an essay titled "Hate Me Now: What It's Like To Be A Grammy Voter."
The nominees for Best Rap Album at the 2017 Grammys are Chance The Rapper (Coloring Book), De La Soul (And The Anonymous Nobody), DJ Khaled (Major Key), Drake (Views), ScHoolboy Q (Blank Face LP), and Kanye West (The Life of Pablo).
The FADER has reached out to Macklemore for comment.
The 2017 Grammys will include performances from Beyoncé, Chance The Rapper, and A Tribe Called Quest with Anderson .Paak. Kanye West, Drake, Justin Bieber, and Frank Ocean will all reportedly skip the ceremony this year.