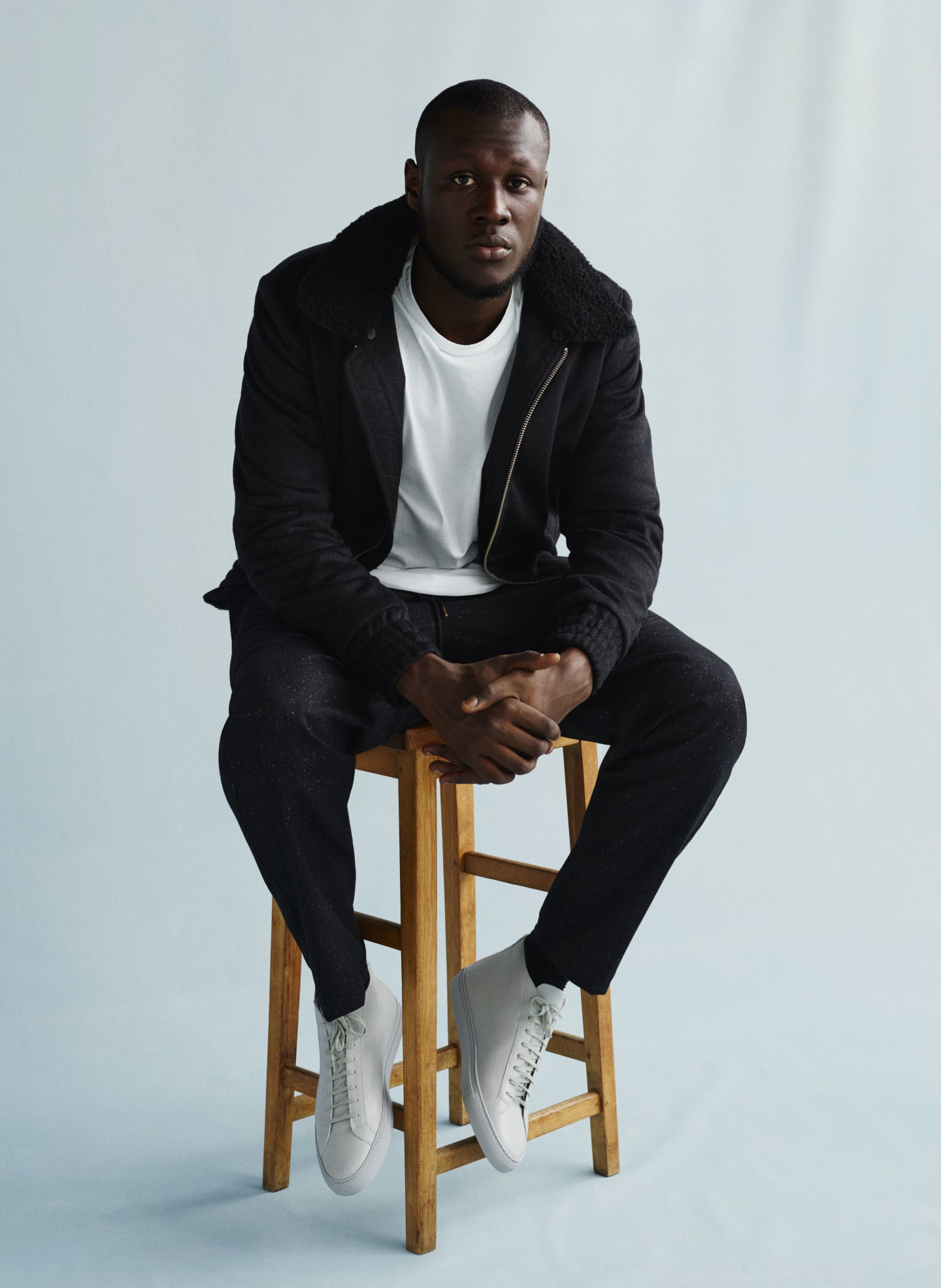 Stormzy's debut album opens with the rumble of a storm. The distant throb of thunder lays the stage for an album that's full of contrast and nuance: Stormzy reveals more about himself than ever before, but he's not taking any prisoners, either. The juxtaposing imagery at the heart of the title Gang Signs & Prayer says it all.
"I needed to make an album that represented me, which was always going to be a struggle," he explained in a phone call to The FADER. "I wanted to touch on the gospel side of things, and my faith, because that's so integral to my character. And the other side of my life — growing up in the streets, doing the things I've done with the people I was with, that is also a very integral part of me. I'm not a one-dimensional character."
From huge, brass-assisted grime bangers like "Cold" to silken R&B jams like "Velvet," Gang Signs & Prayer is Stormzy at his most fun, even when he's going deeper than ever before. Ahead of the album's release on February 24, Stormzy leaked a couple tidbits about the credits (one track features Lily Allen on backing vocals; another samples NAO) as he explained the process and motivation behind all 15 tracks.
1. "First Things First"
I needed to start in a way that is so unapologetic and so raw. I wanted it to be a punch in the face. There's things that I wanted to address. Loads of fucking idiots and people that wind me up are not worth a whole song, but I still need to address all these things, so I called it "First Things First" as if to say, Okay, I'm going to deal with all these people chatting shit. That cleared up? Alright, cool, let's start the album.
2. "Cold"
My favourite line is: "All my young black kings rise up/ Man this is our year/ And my young black queens right there/ It's been a long time coming I swear." I just love the fact that I can say that on the tune, and it can resonate. "Cold" was a turning point for me, because I figured out how to approach grime differently. It isn't a political "conscious rap" song — it's a bubbly, fun, vibrant grime track. But with that one message, it becomes bigger than a song, it becomes bigger than me.
3. "Bad Boys" f. Ghetts and J Hus
I've been a Ghetts fan since I can remember. I'm very uptempo; I don't really like slow beats, so every time I went to write to this one, it was like I'd got this Ghetts attitude in my head — like I was carrying Ghetts's spirit. I'd use my voice to be more high-pitched and more sharp. I was thinking, Nah, I've got to get the actual Ghetts on this! I wanted a legendary, old-school Ghetts verse to just come and fuck this up.
J Hus is one of the greatest musicians in the country. Hus is an artist who, like myself, is comfortable outside of his comfort zone, and sometimes he performs even better outside of his comfort zone. "Bad Boys" ain't no normal Hus party banger, this is dark — more in Ghetts's lane. But I knew — that's gonna be the reason Hus sounds sick on it. I just added up the ingredients for a mad recipe.
4. "Blinded by Your Grace Part 1"
I wanted to make a beautiful gospel song. But there's a psychological thing that happens when I go into the booth [to sing]: when I'm listening back, I'm judging the song based on my vocal range. I said, "I'm not a fucking singer, I'm not Frank Ocean." So I told [producer Fraser T. Smith], I want to record this in the studio, just on the sofa, live on the mic. I was able to do it without judging myself. "Blinded" reminds me of that Kanye West song, "Only One," which is one of my favorites. The world loves that song, and we're not judging Kanye for not sounding like fucking Usher. You can hear the sincerity of it, and it works. I needed to do that on my album. I was hellbent on getting all my emotions out in whatever way they needed to.
"I want to push things forward. But there's a certain level of nostalgia that works. I think we caught it."
5. "Big For Your Boots"
The album is so new school, [but] I'm someone who's come up spitting on old-school grime instrumentals. I needed to have something classic on this album. I was like [to producer Sir Spyro], "Bruv, the old school grime instrumentals that I loved the most were the ones with the female, pitched-up vocal samples. If we can pitch up a vocal and put it in 'Big For Your Boots,' then I've made a riddim that I wanted to make." You know with Spyro, because he's so fresh, it'll never be too old-school. Sometimes I worry, I don't want to get stuck in the past, I want to push things forward. But there's a certain level of nostalgia that works. I think we caught it. I feel like every artist has their thing that they do — when I spray on a riddim like "Big For Your Boots," that's my ting. I am the sensei there.
6. "Velvet"
I loved NAO's album, and I remember hearing the intro, thinking, Oh my gosh, this is the most beautiful thing I've ever heard. I messaged her like, "Firstly your album's incredible." Then I said, "I want to sample this." I wanted to make a R&B banger, and what better way to do it than with an artist that I love? And also she's a British artist. That's sick — we're not sampling some fucking Mariah Carey or something. It's someone who's in my generation, someone happening.
7. "Mr Skeng"
I'm so carefree, and I'm very chilled. I'm someone who doesn't like to be negative. I'd rather try and be a nice person, basically. As an MC, that can often be taken in a weird way — because I don't particularly act gangster in the way I carry myself. So with "Mr Skeng," I was like, "I've got a bone to pick with any person who feels like I'm not in my rightful spot." I've got to always remind people, I'm not in the position I am for no reason. I can really spit. I'm an MC first.
8. "Cigarettes & Cush" f. Kehlani
I was trying to make a slow jam, and this beat felt very free-spirited and lazy and nice. It sounded like Sunday. It just reminded me of being with a female and smoking bud and being mad chilled. Our generation know about being with your partner and having weed, and that being, not the basis of your relationship, but a very integral part of it. I was like, that's something I know a lot of people can relate to, I would just love to make a tune that resonates like that.
I was like, This just needs the simplicity of a beautiful vocal. And who has a beautiful vocal? Kehlani. She's a friend of mine, and someone I'm a big fan of. Lily Allen's on the song as well, but no one knows it because we weren't allowed to credit her. But she sings the hook with me; she's the high-pitched vocal. The riddim sounds like L.A., the sun shining — but it sounds so British, because of the way I'm saying the hook. And Lily has that — I love it when singers sing in British accents. I feel like our accents are so nang.
9. "21 Gun Salute" f. Wretch 32
When I heard this hook [in production duo S.O.S's studio], I was like, Oh my fucking days. I called Wretch like, "Bro, this is incredible — the chords, the energy, the voice. I love it." I was like, "This ties perfectly into my album." I wanted it to almost sound like you're in heaven. Which sounds so corny and so cheesy to say, but it's got such a float to it. It sounds like being a free spirit. It sounds like church.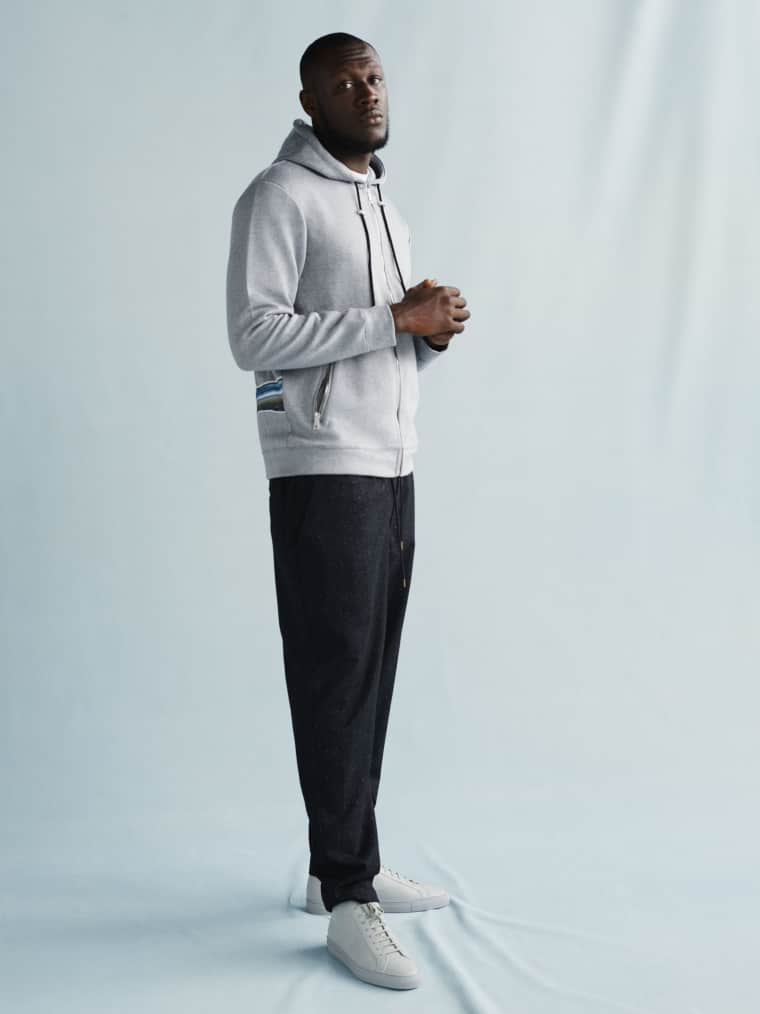 "We all knew Michael Jackson, we all knew Amy Winehouse, because they told us everything in their music. To be the artist that I want to be, I've got to be vulnerable."
10. "Blinded by your Grace Part 2" f. MNEK
You know when you're watching churches, and a lady or a man in the choir just takes it away, and it's just like, Flipping heck, and everyone just feels it in their soul? I was like, "I want someone to do that. I want someone to come and take this tune where I can't take it." I listen to a lot of radio, and a lot of pop and R&B. I've always clocked with MNEK, he's got such a voice. I was like, I know he can go to church with it. He came round to the studio, and it was like watching a magician work. He was able to record his riffs and his [backing vocals] and his harmonies all at once without hearing them back. He took the tune exactly where I wanted it to go.
11. "Return of the Rucksack"
I needed another banger on the album, and Spyro's my guy for that. This is my favorite tune. The reason why it's called "Return of the Rucksack" is because back in the day when I was younger, I'd always have a rucksack. The mandem knew me for that. It was like my little thing.
12. "100 Bags"
I always wanted to do a tribute to my mum on the album. An album is very personal, and my mum is very important in my life. Obviously everyone loves their mum innit, it's a universal thing. But with me, that was always my long-term goal: to make my mum proud. So it's only right that I talk about it on "100 Bags."
13. "Don't Cry For Me" f. Raleigh Ritchie
This tune's got some beautiful strings, some big orchestra strings. We done a whole live day for the album; we had a lady called Rosie Danvers who does strings for loads of amazing people: for Jay Z at the Albert Hall, for Kanye. She's amazing. We got brass and woodwind instruments and string instruments, and we got them on loads of different songs. Then after, I went through and said, "Okay, that doesn't work, that kinda works, that kinda works. With "Don't Cry For Me," it's got some strings on there that took the riddim to the level. Rosie smashed it.
14. "Shut Up"
With this album, I've made it a very very integral thing to show I've grown as an artist. This is a body of work, and I've worked hard on it. But then, I can't just [ignore] the fact that "Shut Up," that part of my run, is me. That's too important, you get what I mean? I needed to make sure that people know that it's still Stormz.
15. "Lay Me Bare"
"Lay Me Bare" is like, "Before I finish, I need to let you all know this…" Because that's what music is all about: the best musicians that have ever lived gave everything. We all knew Michael Jackson, we all knew Amy Winehouse, because they told us everything in their music. In life, the rule is you kind of keep yourself to yourself, and you don't let the world know everything. But music is the total opposite. To be the artist that I want to be, I've got to be vulnerable. I know I have to do this.