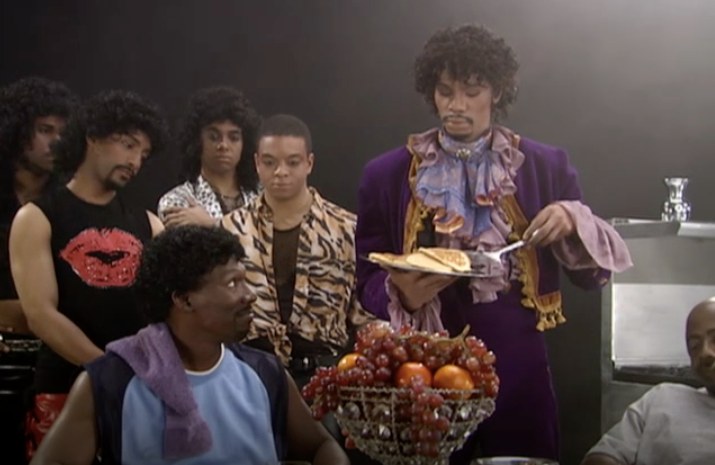 In the beginning of Chappelle's Show, it was the little things that drew you to Charlie Murphy, who passed away today at the age of 57. His face of disgust and embarrassment as Buc Nasty, in response to the comment that Silky Johnston was en route to put water in his mother's dish. Walking past Chad's father in "The Mad Real World" sketch, stabbing him, passing off the shank, and then quickly walking away. Or, in "Calvin Got a Job," following a comment about how proud people were for Calvin's newfound success, pulling a ski-mask over his face while saying, "Let's rob that nigga, man."
Charlie Murphy was the perfect supporting actor in a show whose inescapable magnetism was often the direct product of its star, Dave Chappelle. Murphy's lines, while initially few and far between, always hit. His delivery dripped with authenticity — expertly playing a tough guy, since he was legitimately a tough guy. And he was effortlessly comfortable in his own skin alongside Chappelle, the heir to black comedy. But it made sense, he was groomed for it. Because not only did he grow up next to his younger brother, Eddie, during his rise to superstardom during the 1980s, but he genuinely loved making people laugh.
For two weeks in February of 2004, however, everything changed. For most people, the Rick James and Prince skits — titled "Charlie Murphy's True Hollywood Stories," fall in the Rushmore of Chappelle sketches. They are classic, unquestionable works of art. But what is easy to forget: they aired back-to-back weeks, the first two Wednesdays of the month. And for those two weeks, everyone took a backseat to Charlie Murphy, including the two legendary comics that he spent his personal and professional life supporting — Chappelle and his brother Eddie. For this brief moment, Charlie was the funniest man alive.
At the time, Chappelle's Show was already must-see television. The references, the characters, the jokes were all required viewing for Thursday morning conversations with friends, classmates, and colleagues. But following Charlie's back-to-back storytelling epic, it wasn't even worth coming to school or going to work the next day if you weren't ready to call back every single moment from the previous night's episode — a trend that reflected the show's deep cultural impact, and lasted for the duration of the it's three-season existence. Chappelle laid the groundwork, but Charlie proved he shined the brightest in the presence of legends, which spearheaded the show's pivot toward greatness.
Chappelle laid the groundwork, but Charlie proved he shined the brightest in the presence of legends, which spearheaded the show's pivot toward greatness.
It would be shortsighted to think of Charlie Murphy's career as something that began and ended with Chappelle's Show. Before the Comedy Central hit, he was involved in many notable films: from writing the screenplay to Vampire in Brooklyn to roles in Black Hollywood iconography like Harlem Nights, CB4, and The Players' Club. And he stayed busy following Chappelle's Show too, from appearing in standup specials to voicing characters on The Boondocks and Black Dynamite. Still, it was during his stint on Chappelle's Show that he became a star; during that run in February, he carved out a lane for himself that no one could touch.
There was something about Charlie, where you just wanted him to win. He was so honest, mixing machismo, flickers of aggression, and pure self-deprecation to tell anecdotes like you'd never heard. In both the story about Rick James and Prince, he spends a significant amount of time losing in an embarrassing fashion. He told us about James punching him in the face, leaving a unity stamp on his forehead, and then slapping him at a bar. Then a week later, as if to defy the very parameters of storytelling itself, he unfurls an unbelievably wonderful anecdote about Prince crossing him up, while Prince's band, The Revolution, destroyed he and his friends in basketball.
These stories captured your imagination, because initially you had no idea if they were true or not. But because it was Charlie, you believed them (and wanted to believe him); he didn't seem like the type of person to lie about such life-altering moments. And the more you learned about him, and the more he talked about his life, you knew both stories were based in reality. You knew he was as real as they came.
Even beyond the antics and the jokes, the most endearing quality of Charlie Murphy was that he was fiercely loyal, the friend we all dream of. As he noted his story in "That's My Brother," saved for the Chappelle's Show Season 2 DVD outtakes, he almost loved his brother too much.
Charlie, again with only a green screen behind him, tells a story about an ex-NFL player, paralyzed from a vicious hit, who was so jealous of Eddie that, one night at a restaurant, he started loudly calling him names. Charlie, sitting with his brother and hearing the one-man peanut gallery, didn't take too kindly to this, because Eddie was his brother.
"I was gonna flip that motherfucker's chair over and stomp his mouth."


"I'm going back over to my table. If I hear one more peep out of you, when I come back over here, I'm gonna fuck you up. Now shut the fuck up."
As was habitually the case, Eddie thought Charlie stepped over the line. But Charlie didn't think so, because as he said, "That's my brother."
"You hear him saying anything wrong about you anymore? You hear anymore 'Eddie Murphy's a bitch, fuck Beverly Hills Cop?' The nigga's silent, that's how it's supposed to be."
As he later noted, Eddie had to remove him from working security at his shows because Charlie wanted to fight anyone that booed his brother's jokes. While a complete liability in some ways, you still crave a Charlie Murphy in your life. And in these stories, that's what you got at the end — fun and foolishness, in the name of friendship.