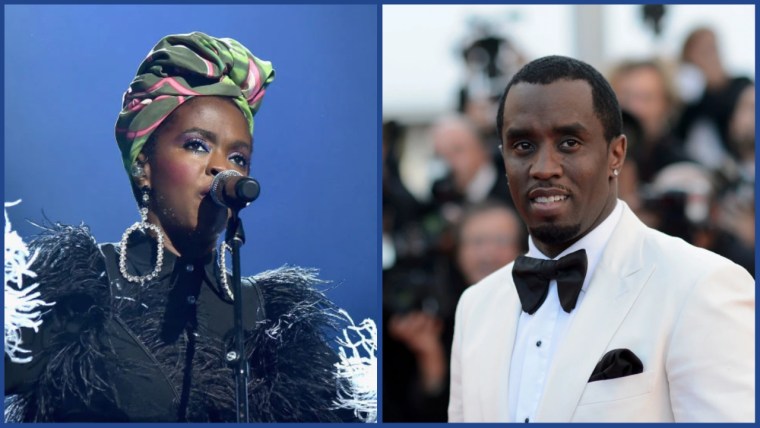 The Roots have announced the lineup for the 15th annual Roots Picnic, scheduled for the weekend of June 2 at The Mann Center in Philadelphia's Fairmount Park. Topping the bill are Ms. Lauryn Hill, Diddy (backed by The Roots), Lil Uzi Vert, and Dave Chappelle, who'll perform outside the park at the Wells Fargo Center (also backed by The Roots) on the first night of the festival. Ms. Hill will be celebrating the 25th anniversary of her first and only solo studio LP, The Miseducation of Lauryn Hill.
Aside from its marquee acts, the Roots Picnic lineup sports a slew of FADER favorites, such as Syd, City Girls, GloRilla, Ari Lennox, Saucy Santana, Spinall, and several of the Soulquarians, performing with the Isley Brothers and Roy Ayers. Roots frontman Black Thought will record a live mixtape with DJ J.Period, featuring Eve and Busta Rhymes. And the iconic Philly rap group State Property — Beanie Sigel, Freeway, Peedie Crakk, and the duos Young Gunz (Young Chris and Neef Buck) and Oschino & Sparks (Oschino Vasquez and Omillio Sparks) — will perform a special reunion set.
A separate podcast stage will feature talks from prominent hip-hop personalities such as Charlamagne Tha God, DJ Akademiks, and Angela Yee, as well as controversial rapper Talib Kweli and The Roots' Questlove.
Late last summer, The Roots headlined Afropunk 2022 alongside Burna Boy. Lauryn Hill performed with The Fugees for the first time in 15 years in the fall of 2021. Diddy dropped a joint track with PARTYNEXTDOOR in December titled "Sex In The Porsche," from the Bad Boy mogul's forthcoming R&B album (release date and title still TBA). And Lil Uzi Vert unleashed a clubby single called "I Just Wanna Rock" in October, sharing its music video a month later. Dave Chappelle has faced criticism over the past few years for repeatedly espousing anti-trans talking points during his specials, leading to the cancelation of several of his shows by venues standing in solidarity with the LGBT community.
View Roots Picnic 2023's full lineup below.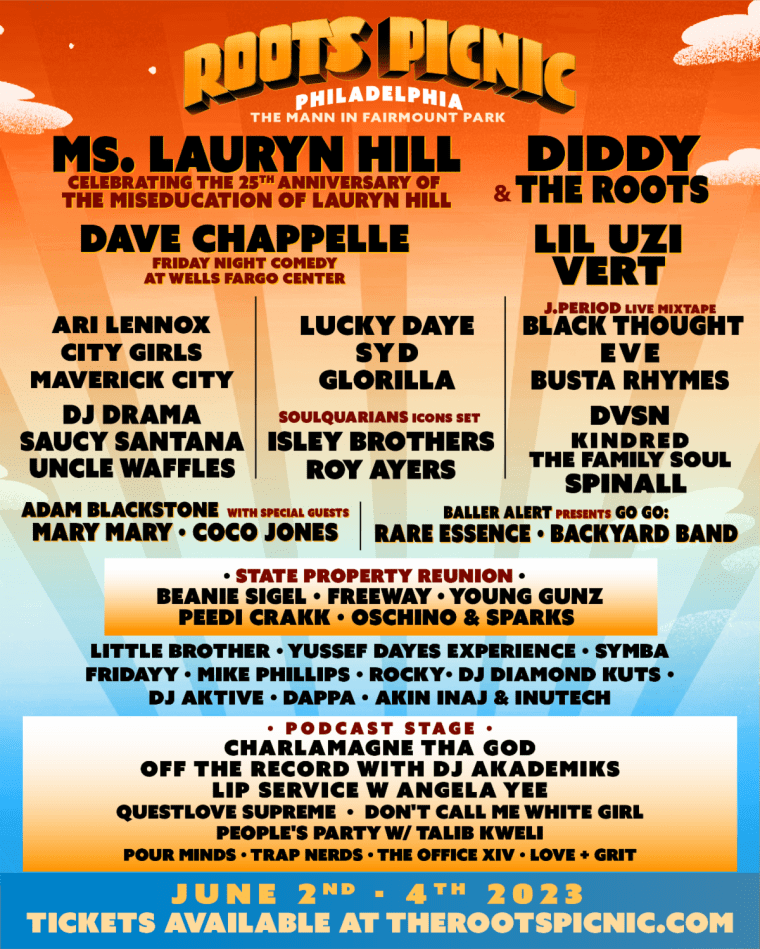 Roots Picnic 2023 full lineup
Music Stage
Diddy w/ The Roots
Ms. Lauryn Hill
Lil Uzi Vert
Dave Chappelle w/ The Roots
Soulquarians Set featuring Roy Ayers & The Isley Bros
Black Thought Live Mixtape featuring Busta Rhymes & Eve
Ari Lennox
Lucky Daye
City Girls
Maverick City
Syd
Glorilla
DJ Drama
Uncle Waffles
Saucy Santana
DVSN
Kindred The Family Soul
Spinall
State Property Reunion (Freeway, Beanie Siegel, Young Gunz, Peedi Crakk, Oschino & Sparks)
Little Brother
Yussef Dayes Experience
Adam Blackstone w/ Coco Jones & Mary Mary
Baller Alert Presents Go Go: Backyard Band vs Rare Essence
Symba
Fridayy
Mike Phillips
Rocky
Dappa
Akin Inaj & Inutech
Podcast Stage
Charlamagne Tha God
Off The Record with DJ Akademiks
Don't Call Me White Girl
Lip Service with Angela Yee
Questlove Supreme
People's Party with Talib Kweli
Pour Minds
Trap Nerds
The Office XIV
Love + Grit