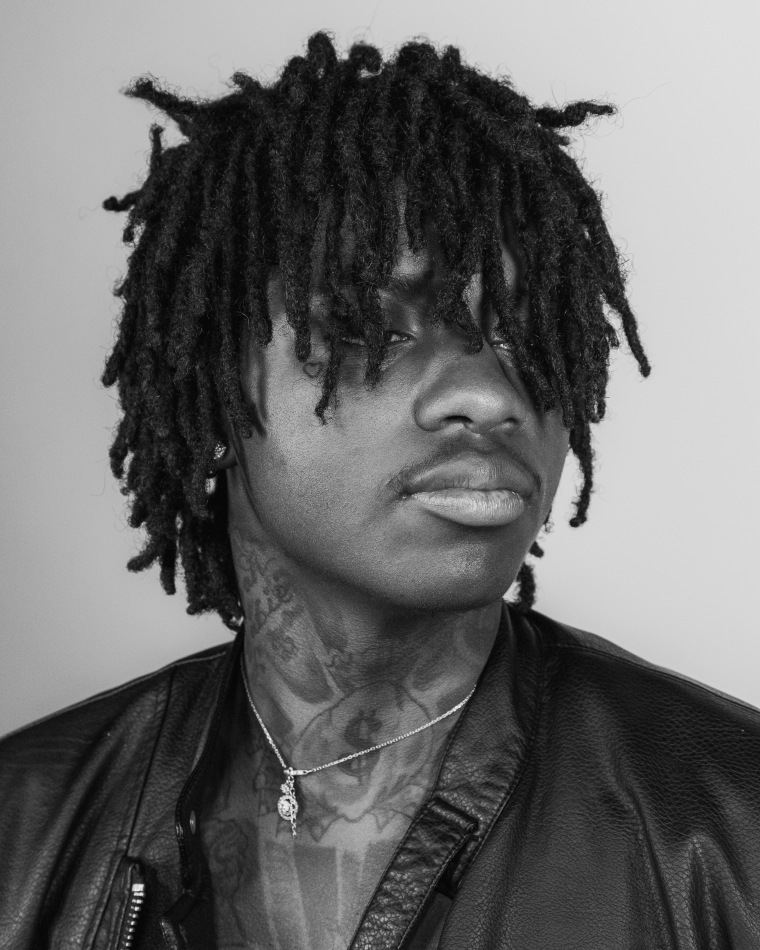 "I just like it to sound light, like it's in heaven or some place not dark," Saaheem Valdery said of his music during a recent visit to The FADER's New York offices. The 20-year-old rapper known as SahBabii has slowly captivated ears in the farthest regions of the internet with SANDAS, his self-released mixtape from last October. The project's standout track, "Pull Up Wit Ah Stick," has almost 12 million views on YouTube. In just a matter of months he's gotten the attention of Young Thug and Drake, found an adoring fan in Zack Fox, and signed a major label deal with Warner Brothers.
Born in Chicago and raised on the Southside of Atlanta, SahBabii relocated to the south in 2005 at the behest of his father, who was heavily invested in helping his older brother, T3, pursue his music career. "He was doing music since he was 12, all day, all the time, that's what he really wanted to do before me, before I even thought about doing music," he tells me. It was during this time that SahBabii watched and learned, honing a self-proclaimed "melodic" sound with SANDAS, his soothing, sing-song style of rap that floats over star-lit, near-intergalactic production.
During our conversation, SahBabii talked about the sudden success of his most recent project and why he decided to sign with a label, upcoming projects, and what he hopes to accomplish this year. The on-the-rise rapper also shed light on his interest in history and its connection to Unknownism — a belief system he created that has a devoutly small, but growing, following.
---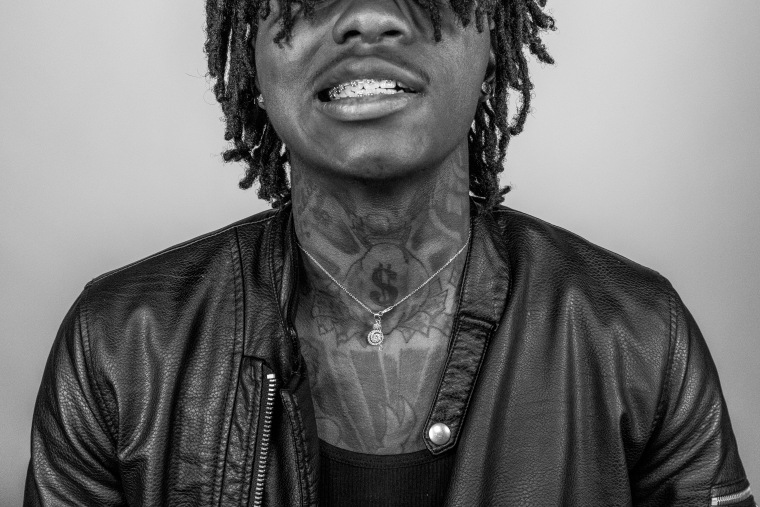 What got you into making music?
[My brother] T3. I just seen him doing music all day, I just wanted to try it out. Everybody in Atlanta was doing music too so I just wanted to try it out, see if I can do it. He most definitely encouraged me to do music. "Rodeo" was my first song I ever created. It wasn't my first song, but the first song I did by myself. I was 13 years old, that video was filmed right where I stayed at the time, on that porch.
When did the idea for SANDAS come about?
I created a song called "SANDAS" in 2014, that stands for "suck a nigga dick ah something." I just loved that song, so I based the whole mixtape off of it because it was so hot to me. I finished 70 percent of the mixtape in one day. I just put a classic together. I recorded that whole mixtape out of my brother's bedroom with a broken microphone. I'd record myself and he'd just come in and clean it up. When I record I kick everybody out the room. I knew I was going for that different melodic sound. I just like it to sound light, like it's in heaven or some place not dark.
Does that sound speak to your personality?
Most definitely, because I love nature stuff: I like butterflies, seeing stuff like nice flowers, all that. I like Japan a lot. I like all the lights, I love the culture, anime — I love all that type of stuff.
Is that why your cover is animated?
Yeah, believe it. I chose pink. I knew pink was gonna stand out. It's a nice color, before I even created the tape, I said, "Man I'm having my cover be pink." I used cartoons, I always wanted a cartoon of myself. Every time somebody drew me it kind of sucked, I wanted a real cartoon of myself, and Pops thought of the Emoji idea because of the teens. I added the "rated R" and T3 put the whole cover together, so my big brother T3 designed this actually.
All in the family.
Yeah, everything in the family, from recording to the graphics.
Since it's all in the family for you, what was it like deciding on a record deal? Why did go the label route when being independent is more of an option now a days?
I felt like the label could help me push my music more, like it could help put it on a bigger scale and push it faster. The independent route, I don't really understand that. If you have no money, you can't do anything, you can't make anything work, because everybody needs money. So most of those guys probably have money behind them, but, like I said, we recorded SANDAS in my brother's bedroom with a broken mic. We really had no budget or money to stay independent. You gotta pay for travel and all this other stuff, so the label helps put it on a bigger scale.
I know you were taking meetings with quite a few different labels. What about Warner Brothers stood out to you?
Eesean [Bolden], he's a very cool person. They told me I could be the Michael Jordan over there. After every meeting, I just had Warner [Brothers] on my mind. You know, I'd seen all the cartoons with the WB growing up as a kid. It just felt like home because I do the melodic, catchy cartoon stuff. It was just me, and I didn't have to sit behind no other big artist.
"Pull Up Wit Ah Stick" wasn't going to make the tape, right? What made you change your mind?
Well the song was old — I recorded it in March 2016 — so I kinda just grew tired of it. Before it even dropped, it was already some months old, so I just got kinda tired of it. I just thought it was a little basic. I felt like I could've went harder on that. But I'd just seen it going viral on Instagram, all over the explore page, with a lot of comments on it. I [made it a snippet] again and it just went crazy, so I just added it to the tape. It's street and it's melodic and catchy. People can dance to it, but at the same time it's some hardcore bars on there.
You've gotten a lot of hometown support from underground and mainstream personalities and artists.
I mess with that nigga Bootymath man, that's my nigga. That nigga be showing a lot of love. We've tweeted each other a couple times. That's the same guy that was listening to "SANDAS" and he zoomed in on his face — he kind of made a little trend with that. A lot of people were doing that. I'm actually making some music with Ceej. He sent me some fye beats so I'm getting that in motion. And Reese and Key!, we're definitely going to do something too.
"I knew I was going for that different melodic sound. I just like it to sound light, like it's in heaven or some place not dark." —SahBabii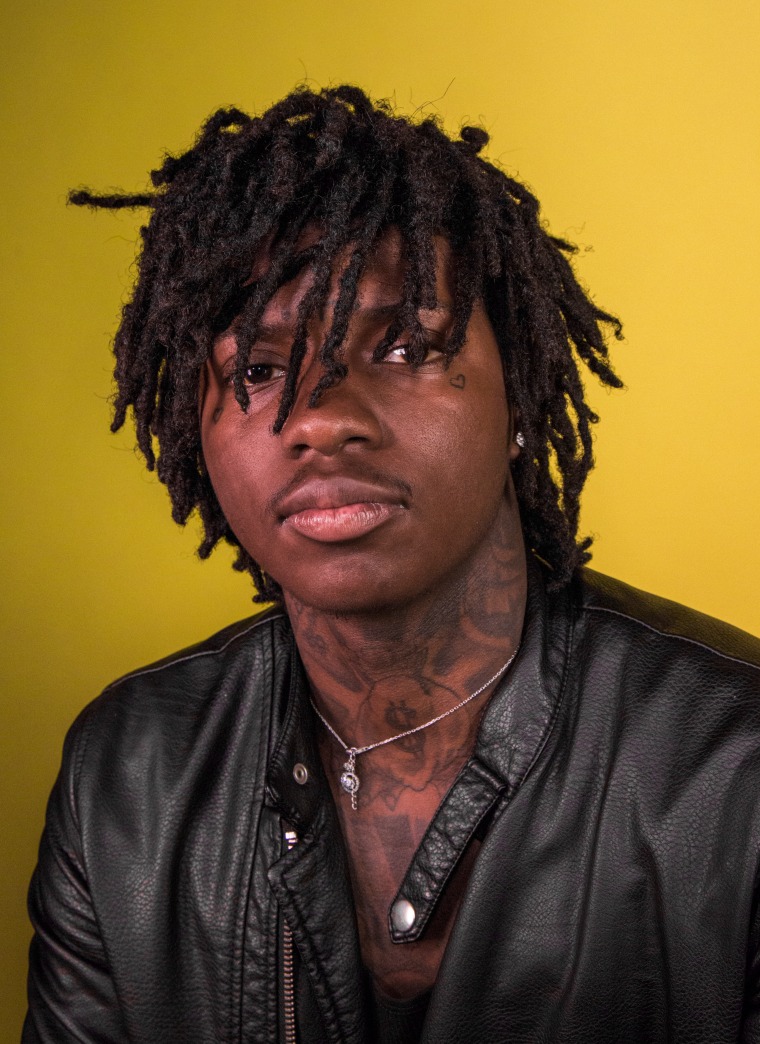 What was it like meeting with Young Thug in London?
Young Thug's manager had gotten in contact with Pops. Me and Young Thug, we FaceTimed. They said they were gonna fly me out to London, so I flew out there with Young Thug. I was out there for like four days. It was great, it was a different experience — how you see other people driving on the other side of the car, the architecture. It was a nice sight-seeing, because, you know I like seeing nature and outside, so it was great to be there. We did three songs; they're going to be coming soon. It was just the vibe, we were just chilling. He had his people in there, he laid down his verse. He does the melodic things.
Is that Drake remix going to come out?
I'm not sure, man, Drake. He told me he was though, but it's all good, I know he's busy.
You've mentioned before that you were really into school growing up.
I had straight A's, no B's, in the high school I just graduated from. I won a lot of certificates, so school's very important. I was invited to the White House when I was younger, too, for good grades. The main thing was that I just didn't want to feel dumb in there. I don't like feeling like that. I just did my work, that's all really.
I like history, social studies and science — learning about things that happened in the past. That's where I was getting 99 percent on tests. I had a high Lexile score in reading. But I like history the most, that was my favorite class. My principal, she would straight push me to succeed. I rock with Dr. Woodley; she always believed me. Ms. Hill too though, that's one of my art teachers.
Do you wanna get back into school at some point?
Most definitely. I wanna get that college experience. I'm gonna do that because that college scene be turnt up. I want to do something with computers: computer engineering, video game engineering — and art, cartoons.
I've seen that you're a pretty big fan of anime. What about it do you like so much?
It just puts you in a whole other world, with the spirits and things like that. My favorite cartoon is Bleach, Naruto and Boondocks — I wanna put some voices on there. I love Boondocks. They're funny. It just felt like it was relating to us the most, because they were two black kids just acting a fool. I first used to see it on Adult Swim. The show covers, when you're scrolling through Netflix, I just think they look fye. I have a cousin named Nicholas, he watches a lot of stuff like Dragon Ball Z, so I been seeing it.

Are you reading anything that's interesting to you right now?
Me and my team are about to start on this book called The Pale Horse when we touch back in Atlanta. We're going to collectively read that.
You've accomplished a lot in past few months. What do you want to accomplish in this coming year?
I want to read a couple more books, I want to travel. I want to remaster SANDAS and have the whole world listening to it. I want to get more knowledge on things — that's why we're going to read some books. Also, I want to lose a little weight, and start making healthier choices. I also want to do a summer tour off of SANDAS.
Are you working on any new projects right now?

Yeah, I'm working on like five projects. One is after my favorite superhero, Wolverine. One is named after Michael Jackson. I've got a project with Retro Future.
When can we expect something new from you?
I'm going to put some bonus tracks on SANDAS for when we drop that as an album.
Do you consider yourself a spiritual person? You talk a lot about Unknownism.
Yeah, I consider myself spiritual. I definitely move by a lot of energy and spirits. Unknownism is a religion I created. Me and my team, we all go by it. It's a religion I created on seeking the truth about [black] history, so we can really find out about ourselves because a lot of this stuff is unknown. You put a book in my face and just tell me how life went? I just didn't believe that. I inspired myself. I was always an out-of-the-box thinker, like with 666, they said that's the mark of the beast but I found out it was the chemical makeup of melanin. I just wanted to know more.