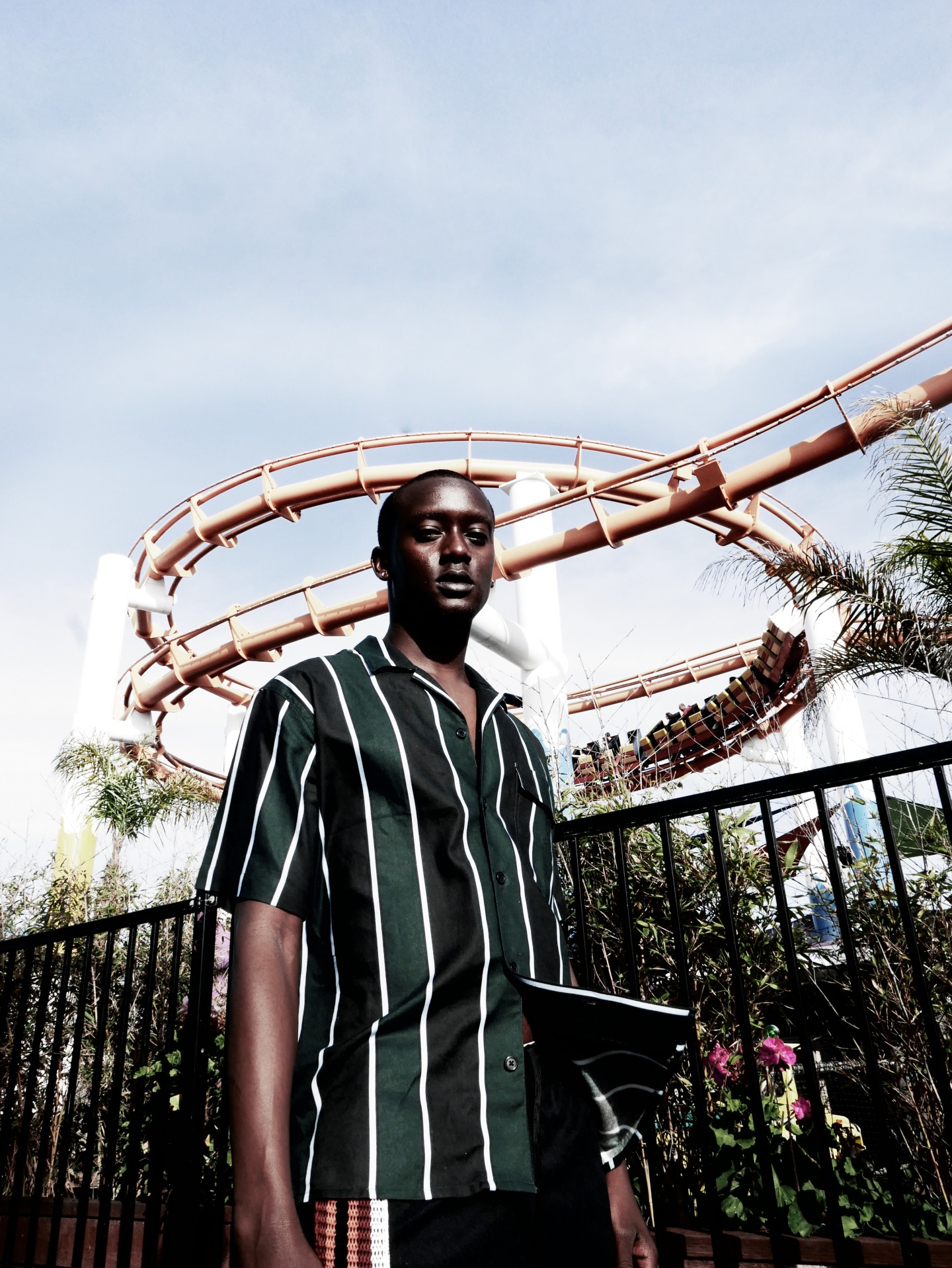 When A-list artists come knocking on your door, it's a testament to the kind of talent you must be exuding. In Buddy's case, it was his teenage ability to bounce between rapping raw, hard bars and singing soul tunes in an innovative and unstructured manner that first caught the ear of Pharrell back in the late '00s. In 2014, he hit the ground running with a feature-heavy debut mixtape, Idle Time, that included guest spots from Kendrick Lamar, Miley Cyrus, and Pharrell himself.
Yet three years on, the Compton rapper and singer, born Simmie Sims, is already reinventing himself. Now 23, he's striking a chord with a new sound and a new collaborator: Kaytranada. In May, he released Ocean & Montana, a five-track EP produced entirely by the Montreal producer. With penmanship as sharp as they come, the EP has a summery, soulful vibe and a focus on blurring the grey area between rapping and singing. "World of Wonders" is a clear standout: a groovy dancehall-influenced rhythm, trancey drums, and mellow flute whistles.
The record's title is a reference to the intersection he lived at in Santa Monica while recording it. Such an environment doesn't only mean palm trees and pools, but also new experiences and problems like any situation in life. It forced him to dig deeper — and the result is Buddy at his most introspective. On the psychedelic "Find Me," he raps, "Lost and alone/ Come find me/ I just wanna feel loved."
Over the phone on a gloomy June day, Buddy tells me he wants his music to be open. He points to OG rapper Suga Free's 1997 Street Gospel and more recent work like this year's Ctrl by SZA as examples of what he aspires to do: "All the music I like is really just hella honest."
In the interview below, Buddy talks about smoking his first backwood with Schoolboy Q, cripwalking in Africa, working with Pharrell and Kendrick Lamar, and what it was like making Ocean & Montana.
What was the inspiration behind Ocean & Montana?
The title is [named after] the cross street of the apartment complex I moved in when I first moved out of my parents' house in Compton. It gave me a whole new perspective on life from waking up in Compton everyday; it was just a whole new beach vibe. I met Kaytranada around that time and started working together. He sent me a bunch of beats and I started writing a bunch of raps and got Ocean & Montana the EP out of it.
This EP sounds a lot more introspective. Would you say you've been on a different kind of journey through this one?
Yeah, I definitely had a different approach to this project than Idle Time. I was so young and anxious to let people hear [Idle Time], I was in a personal rush to get the music out rather than thinking of how to get the most out of a project. [With Ocean & Montana, I took] some time to really just mature my way of thinking and put a project together that means a lot to me. [It's] a lot shorter too — Idle Time was like 10-12 songs and this is 5.
Idle Time had a lot of features, too.
I had hella features on Idle Time — it was too many features I feel like. Took a lot away from myself as an artist 'cause everybody was damn focused on who I was working with, being [as I was] so unknown earlier on. Now with this EP people get more of me rather than all these other people.
How has your life changed since the last EP, and how has that shaped your writing?
I'm just older, I don't really stay with my parents anymore so it gives me an opportunity to wake up by myself, figure it out myself. I started doing yoga over here, I be running to the beach tryna just like get some cardio crackin', perspire a bit, shake some demons. I call it "shaking the demons" when I go exercise. I wake up with hella demons and I just be having to shake 'em off like we're super sinners. I be isolating myself over here sometimes, I'll just sit by myself and resonate with my thoughts, write some shit down, ya know read a book. I started a book club over here in Santa Monica. It's a fire time. [It's called] "Planet Book, Rocket Reader" and we just tryna inspire the youth to open a book and read it. We starting a little book collection over here. It's hella tight. I feel like I'm in a whole new mindset, a whole new outlook on life and still breathing.
"I call it 'shaking the demons' when I go exercise. I wake up with hella demons and I just be having to shake 'em off. I feel like I'm in a whole new mindset."
How did the collaboration with Kaytranada come about? Did you guys have good musical chemistry?
Nah, honestly it was organic. I went to a Kaytranada music video shoot — the homegirl invited me. She wanted me to cast some girls and I was hanging out. Kaytranada pulled up and I'm like, "Damn, you got some tight ass beats," and he's like, "Damn, you got some tight ass raps." Then he sent me a folder so I wrote to the beats and the rest is history. He's always hella cool, he comes through with the beats and the [energy], and I come through with the raps and the weed.
Do you feel a responsibility to your fans to keep peeling back layers of yourself as you progress with your music?
Hell yeah, Buddy the Onion. Tryna make people cry [laughs].
"World of Wonders" is a standout track for me — it seemed like a very intimate ode to women everywhere. Is that important to you to highlight? Was it specific to some woman in your life?
I love women, that shit is crazy. When I first starting making that record, it was not my favorite. Kaytranada was playing the beat — it was like our first time in the studio ever — he played that beat, I'm just on the mic freestyling or whatever, and we got to the hook part and I just did the little melody. I initially called the song "Wonder Woman" 'cause I said that shit the most [in the song] and then when it came time to get it all ready to be released Wonder Woman was copyrighted because of the movie/comic book. So last minute I had changed the title to "World of Wonders," which is still an awesome song title because when you abbreviate it, it spells out "WOW."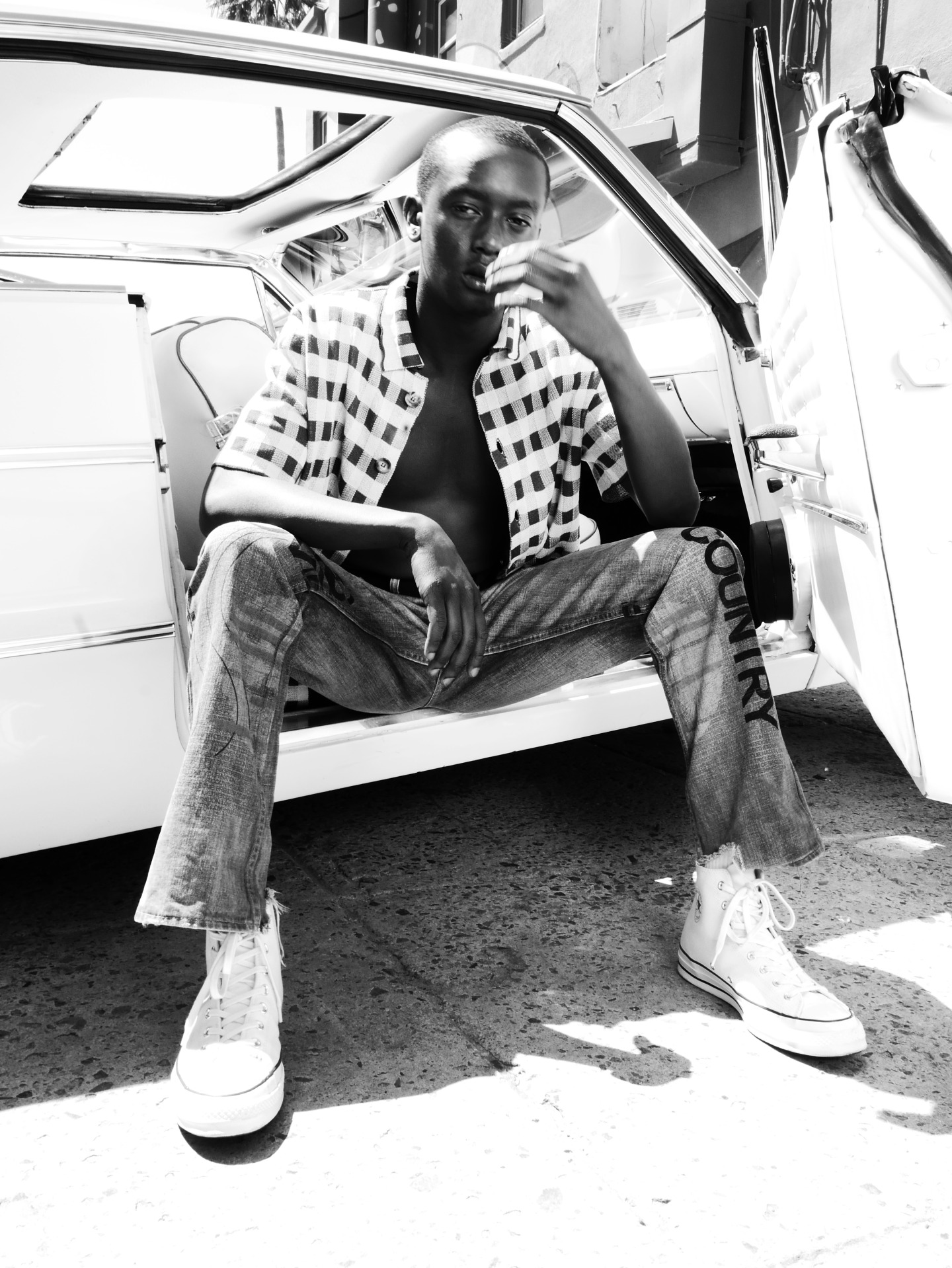 "I feel like every moment is just so precious 'cause it could all be over so quickly. That passion just drives niggas that grow up in Compton and go through hella bullshit all the time — to stay positive and get the most out of life."
What was it like for you growing up in Compton?
It was tight growing up in Compton. It was fun because my parents were fully aware of the city and what it had to offer. When I was young my parents kept me out of the city a lot so I was in a lot of programs and I was in this conservatory in Los Angeles called Amazing Grace Conservatory where Wendy Raquel Robinson would teach a bunch of inner city kids how to act, sing, and dance. We put on real theatre productions like Dreamgirls, The Wiz, Oliver with a Twist, and shit like that. So I wasn't hanging out in the city too much — I kinda just slept there, showered, and changed clothes. I went to school in Long Beach and I went to my theatre class after school in L.A. I was doing more positive, creative things outside of the city when I was young thanks to my parents.
What kind of music did your parents play when you were growing up?
Man, all types! My dad directed the church choir so I would listen to church music sometimes, the oldies. My parents would listen to the regular L.A./Compton shit that was always on the radio, too. I used to listen to Lil Wayne a lot, Dr. Dre, Sugar Free, Snoop Dogg, Biggie Smalls, Method Man. Method Man is my favorite rapper, I also fuck with Wu Tang, it's so many. I just like Method Man as a human being on Earth, he's just like the coolest dude. Method Man is hella tight.
Why do you think so many amazing artists make it out of Compton? What sparks the talent, hunger and creativity we find there?
I feel like every moment is just so precious 'cause it could all be over so quickly. Everything is so important because it could all be gone in a flash. That passion just drives niggas that grow up in [Compton] and go through hella bullshit all the time — to stay positive and get the most out of life. Through all adversity, it really pushes you to give it your all and be your best every time because it might be over [at any moment].
That's real. I actually wanna talk about that video on your Instagram that went viral of you cripwalking, can you walk me through that moment?
I was at the homegirl wedding in Africa — we was in Marrakech, Morocco and we was about to go take a tour of the YSL house somewhere in Marrakech and I was just hella excited. I was running a little late, the shuttle was about to leave, and I'm getting those texts like, "We 'bout to leave in 5 minutes, we gone leave you." I'm like "Hell nah!" So I'm running through the hotel [and] finally I made it, and then there was somebody else they was waiting on, the homie Roofeeo, and I made it before him. I wasn't the last person so everybody was happy to see me and then all the smiles and energy I was getting from my first time over the water, my first stamp in my passport, and just being out the States, I had to just... it was instinct. It was pure instinct at that point.
Had to put on for the city real quick?
Hell yeah, cripwalking was pure instinct. It just happened. Like my feet just start moving, I was like "okay cool, let's do this."
What was it like having someone like Kendrick, who is also from Compton, on a track?
It was hella tight. I'm a big Kendrick fan and that shit happened so damn early in my career and even in Kendrick's career. He wasn't the Kendrick he is today when I got the feature, but I was still fully aware of the talent so I was super gung-ho. I was in the studio with Pharrell and Kendrick and the whole [of] TDE just walked in. I met Schoolboy Q — I was kinda more excited to meet Schoolboy Q 'cause he had the weed. Then Ab-Soul was there and Jay Rock and it was all their first times meeting Pharrell basically. Me and Pharrell was working on music, we had that "Staircases" song already and then Kendrick hopped on it. Pharrell was like, "Oh yeah, what you think about this?" and Kendrick just hopped on it real quick, he didn't even hesitate — just hopped in the booth and started rapping.
Then I got to smoke weed with Schoolboy Q. Schoolboy Q is the dude that put me on Backwoods. I'm like, "What is that, what the hell you rollin' up?" He said, "Them Backwoods." He gave me like three fat nugs of weed and a Backwood and told me to figure it out. I figured out my first Backwood and I got a Kendrick feature. It was like a combo.
So you figured out that Backwood straight off the bat?
Hell nah, my first Backwood was horrendous. But I'm rollin' the best Backwoods on this side of the Mississippi nowadays. Don't nobody roll better blunts than me. I'll give Schoolboy a run for his money now. [Laughs.]
What is the creative process like working with Pharrell?
Man, it's so tight 'cause he always already has an idea, something to bounce off of. Every time I walk in the studio he's either playing a beat he just finished or like starting a whole new beat and adding some ideas to it. He's just so different than everybody else, you know what I mean? It really unlocks parts of my brain where I'm just trying to figure this nigga's shit 'cause it's new shit all the time. I'm like, How the hell? I'm listening to the beat like really trying to figure how he came up with the shit and then after catching it, trying to figure out what the fuck I even wanna talk about on some never-before-heard Pharrell swag. Super challenging but hella fun every time.
Do you still work closely with Pharrell?
I haven't made any music with Pharrell as of late, but we text all the time. He be watching my Instagram stories. [Laughs.]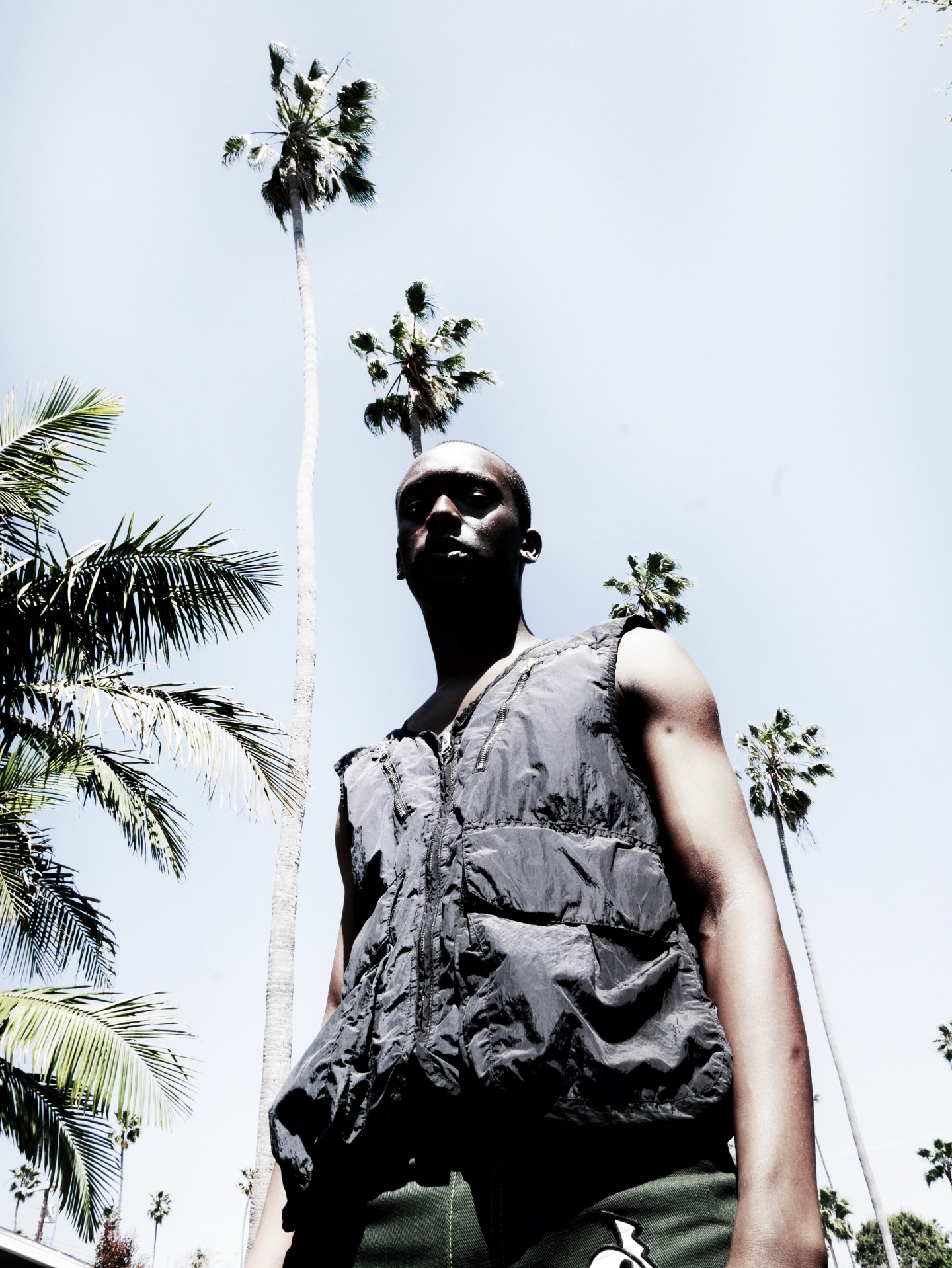 "Schoolboy Q is the dude that put me on Backwoods. I'm rollin' the best Backwoods on this side of the Mississippi nowadays. I'll give Schoolboy a run for his money now."
How would you describe your creative process today?
The last couple times I been in the studio, I'm literally asking for a handheld mic and the producers are making the beat right in front of me. I'm just kinda saying whatever on the mic as they produce and recording hella mumbles and freestyles. Once the beat comes to a decent place, I sift through and pick the best parts. I'm tryna figure out, Which cadence and which melody sounds like a hook? Alright, what're we talking about? What's the topic of this song? How am I feeling? What have I been through the last three months of my life? How could this resonate with the world? And then we start putting lyrics down to the cadences, like Oh wow, this is what I really meant to say, and Oh, that's the hook. Oh, we got a verse. Oh the song is done. This shit sound tight, play that shit again.
How does the political climate affect your creativity? This Donald Trump era, does it factor into the way you make music at all?
For sure, I mean it has an effect. I don't feel like I base my whole music or project about the current events of the world, but [they] definitely influence me as a human on earth because I feel just like how everybody else feels — it is trash right now. It's some fucked up shit going on in the world and I feel like it's up to people like me to not so much take people's minds off the fucked up problems, but just like paint their perspective on how to deal with the problems that's going on in the world, you know. Because shit could be worse, like I'm living in an apartment by the beach right now. But fuck Donald Trump, like I'm 'bout to go run to the beach. People just dwell so much sometimes on like how shit is fucked up, but they just complain and that don't change shit so I try to make the most out of life and change some shit at the same time.
So what's next for you? Is there an album in the works?
Hell yeah, I just busted open album-style, we 'bout to start making hella new records and putting an album together for y'all and I'm about to drop a whole new EP come August with my producers Mike and Keys, got another five songs that are fire. We gon' do some more videos and put that shit out and that shit gon' be just as tight, if not better.
Buddy's Ocean & Montana is out now.