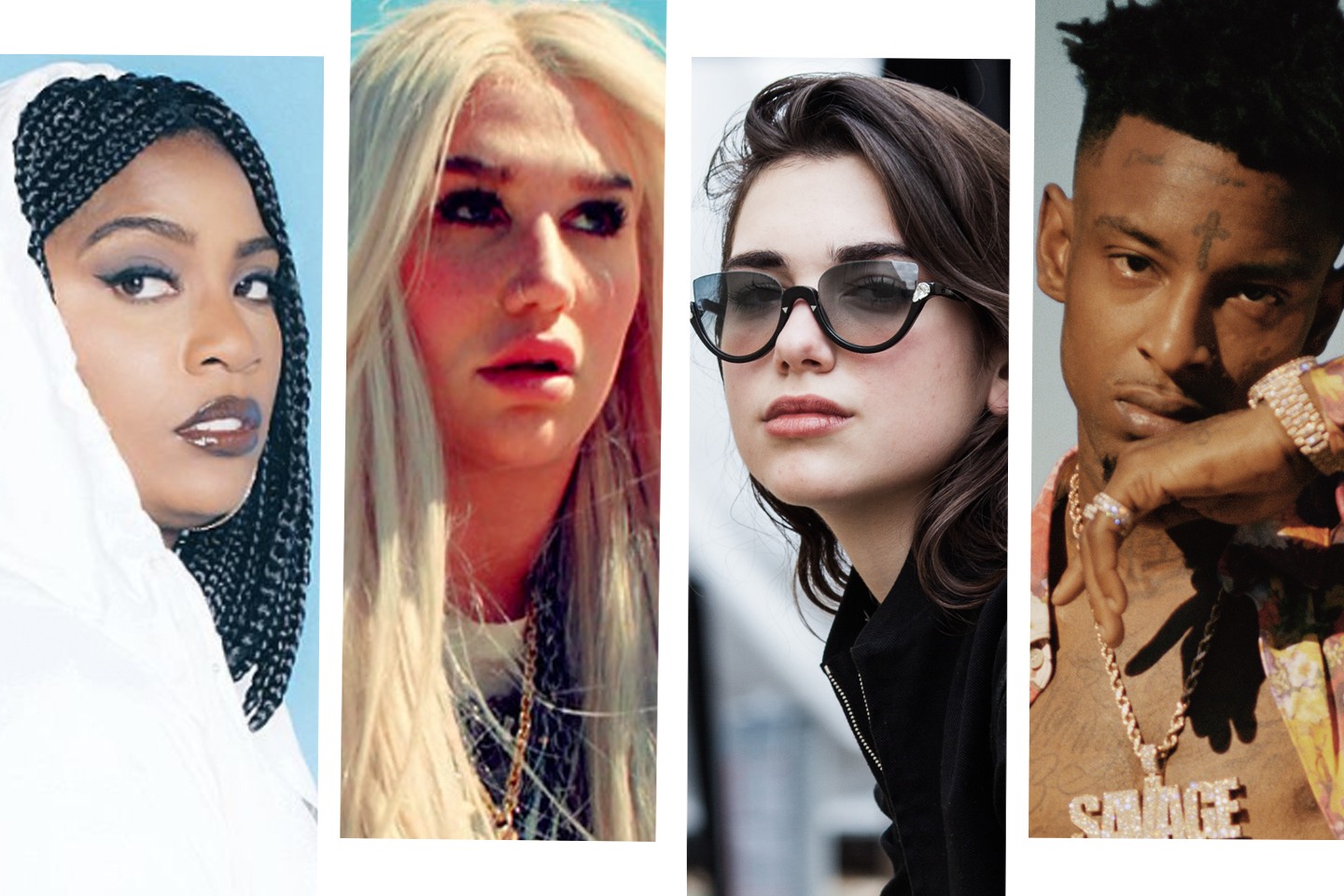 1. "I got 1-2-3-4-5-6-7-8 M's in my bank account," 21 Savage boasts over a twinkly beat on "Bank Account," our favorite off Issa Album.
2. Ty Dolla $ign + Lil Wayne + The-Dream + DJ Mustard = 😍. Not just a dream collab, "Love U Better" is a timeless-sounding dump-him-for-me track.
3. In a yellow tracksuit and a big grin, Kamaiyah fucks it up over a sample of "Feels Good" in the video for her album's '00s-channeling, bouncy lead single, "Build You Up."
4. Of all the Fleetwood Mac-influenced tracks on HAIM's sophomore album, "Ready For You" is the most fun, thanks to its off-kilter structure and kooky percussion.
5. All bright solids and hypnotic choreography, Dua Lipa's "New Rules" video is a girl-powered accompaniment to the kiss-off track.
6. With Dr. Evil Luke out of the way, Kesha can finally continue to thrive. "I'm proud of who I am/ No more monsters, I can breathe again" she sings on her spiritual, long-awaited comeback ballad, "Praying." It sounds like freedom.
7. Soca legends and one-time rivals Machel Montano and Bunji Garlin teamed up for the massive-sounding, Calinda-themed "Buss Head," their first-ever collab.
8. Featuring Abra's out-of-this-world vocals, producer Josh Pan's "Give It To Ya" gives off some serious early-'00s vibes (think glossy tracks like "Toxic").
9. Ka5sh's "I'm Depressed" — which Frank spun on Blonded Radio in May and got a super sharp, tongue-in-cheek video last week — has been OD stuck in our heads, especially as its vivid sound feels so real.
10. Norwegians are really good at minimalism. On "Oh my my," Smerz pairs understated vocals (including spoken-word lines about "basic bitch problems") with steady, deep bass. The effect is enchanting.
11. Asmara's entire Let Ting Go EP rules. If we had to choose a favorite it'd be the title track, on which the GHE20G0TH1K-affiliated DJ stirs and smashes cross-cultural sounds.
12. "Road Head," by Japanese Breakfast, is a lush and groovy pop-rock song; in its video, Michelle Zauner goes on a romantic journey with a giant cloaked skeleton rat creature. It's like Donnie Darko meets The Doom Generation.
13. "Miss me with the bullshit," raps the masked Leikeli47 on her new one, the funky "Miss Me." "Swag sauce on full drip."
14. We want to twirl all night to Ozuna and fellow Puerto Rican singer Anuel AA's "Bebe," which sounds heavenly.
15. Tina Halliday looks like an occult queen in the video for her band Sheer Mag's "Suffer Me," a country-blues track that declares Tina's not going anywhere — deal with it.
16. SKAM's Penetrator-Chris co-stars in the video for Astrid S's dubstep-undertoned "Such A Boy," a true pop jam that renounces outdated relationship structures.
17. "Needs Fulfilling," a bonus track on Richmond, VA artist Ohbliv's new tape, Passion, is a pitched-up, gorgeously produced tearjerker. Prepare to hit repeat.