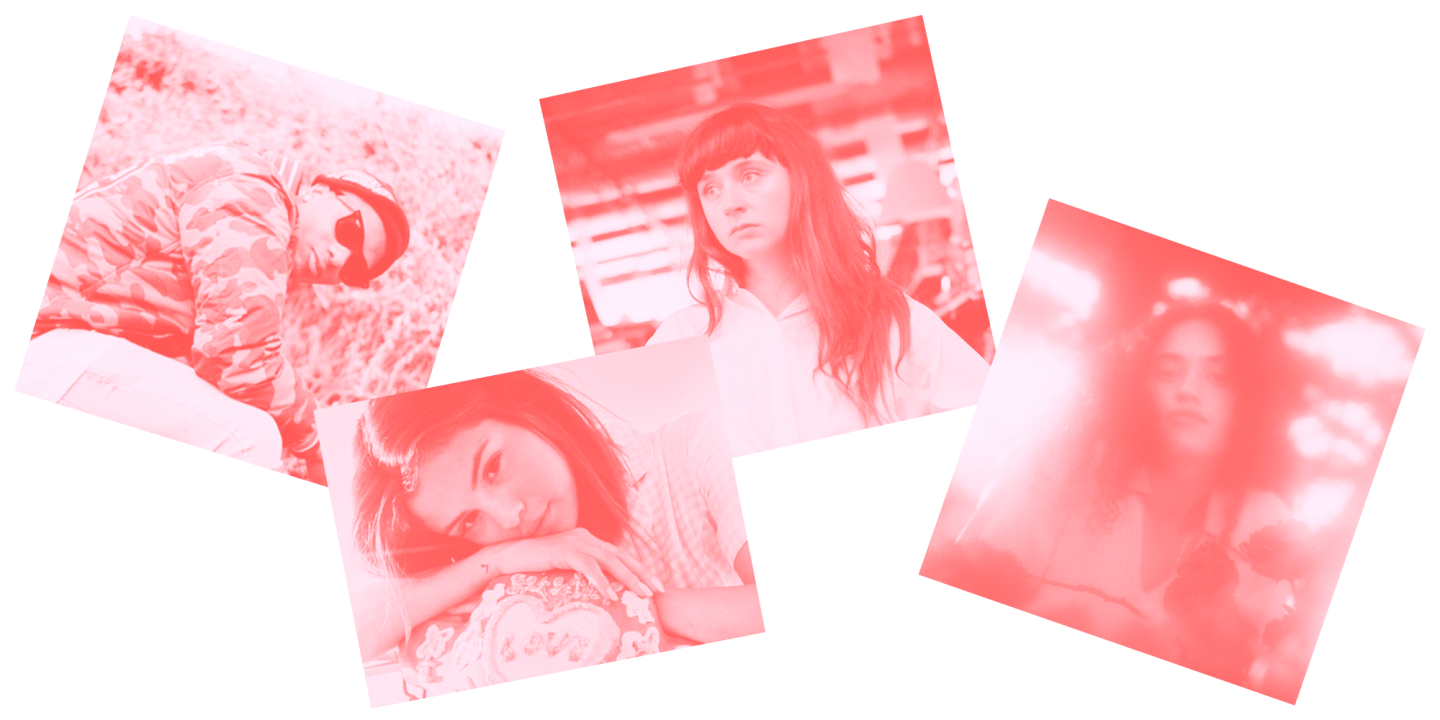 1. Folksy pop singers Anna of the North, Corinne Bailey Rae, and Rex Orange County are all featured on Tyler, The Creator's "Boredom," surrounding his reflections with a beautiful reminder to "find some time."
2. "Fetish" is another understated step in Selena Gomez's broadening aesthetic. Featuring a verse from Gucci Mane, it's a glossy Swede-produced gem that boasts of irresistibility.
3. Lana Del Rey says she's got a whole crate of songs with A$AP Rocky, but it seems like we're only getting two of their duets this time around. One of which is the kind of unsettling but ultimately infectious "Groupie Love."
4. Right now we're really into Wizkid's "Sexy," an ode to his lover backed up with soulful voices. His new album Sounds From The Other Side is packed with perfect summer jams.
5. Inspired by a hurtful event she can now laugh about, Empress Of's "Go To Hell" is breezy but impassioned. It's exactly what we needed to hear right now.
6. A Boogie wit da Hoodie sounds sweet on his verse for Loso Loaded's "Woe Woe Woe," which is about being immune to haters — "What you think you doing?/ Bitch you can't finesse me."
7. With a lil' bit of a Travie McCoy lilt, young Queens artist Deem Spencer raps and sings over some dreamy floaty instrumentals about existential ideas on "Eve's Titties."
8. "Woman," Kesha's new bluesy country track featuring backup from the late Sharon Jones's band The Dap-Kings, is really "motherfucking" good, and its message is classic Kesha: I am who I am.
9. Leave it to Yaeji to make a therapeutic techno track about mental health. On "Therapy," she works through her creative process, and it sounds amazing.
10. "No more running," croons Elley Duhé, a singer out of Alabama's Dauphin Island, on "Fly," a groovy, Natasha Bedingfield-style track about freedom from pain.
11. Violinist and producer Sudan Archives threads West African sounds with R&B and techno to make incredible songs like the groovy "Come Meh Way," whose looped strings are transcendent.
12. New York producer Branchez made an electronic country song with a dude named Big Wet, called "Turn Up On The Weekend." It's weird, and pretty damn catchy.
13. "Take me to the water/ I am not free but I am sorry, I am scorned," sings Zola Jesus on "Soak," a beautiful and dark pop song; very here for melodic Zola.
14. Waxahatchee's new album is out of this world. Our fave is "Brass Beam," which is full of poetry, major Alanis vibes, and killer chord changes.
15. "Interstate Vision," by Texas band Lomelda, is a really sweet and melancholy rock song with lines about sitting in parking lots that make you happy to have feelings, even if they're sad feelings.