G Perico Studied Rap's Legends. Now He's Ready To Become One.
Meet the rising L.A. rapper whose G-funk-soaked street stories are ringing in a new golden age of West Coast hip-hop.
At a long picnic table in the backyard of a Bed-Stuy bar, on what feels like the first semi-warm evening of summer, I meet Jeremy Nash, better known as rapper G Perico. The South Central, Los Angeles artist arrives with a small crew in tow, his signature jheri curl topped with a dark blue fitted. Having just finished up a few packed days of press runs and late-night hangs, G is a little tired and a little more hungry, but his demeanor is warm and tuned in. He picks a seat across from me, his eyes sparkling as he looks around, taking in our surroundings as he asks me about the neighborhood.
It's this inherently observational nature that fuels the near-cinematic storytelling G is known for, best heard on his latest mixtape All Blue, which has cemented his place as one of the most promising rappers in Los Angeles. (The tape's title is a not-so-subtle nod to his loyalty to the Broadway Gangster crips, an allegiance others have reported on, and that is referenced in his music.) Released in April, the project is a tightly-packed, 35-minute on-the-ground depiction of what life is really like in his Los Angeles. Over dark and glossy, G-funk-soaked production, he slides the listener in the passenger seat as he tells vivid tales from his neighborhood and delivers heart-hitting anthems of perseverance, loyalty, and romance. "There's so much depressing shit you gotta deal with when you wake up and you go outside," G tells me. "I'm not gonna act like it don't [exist]. But at the same time, that's not my objective to present [that] to people's faces. My thing is to push for the win and the brighter side of things."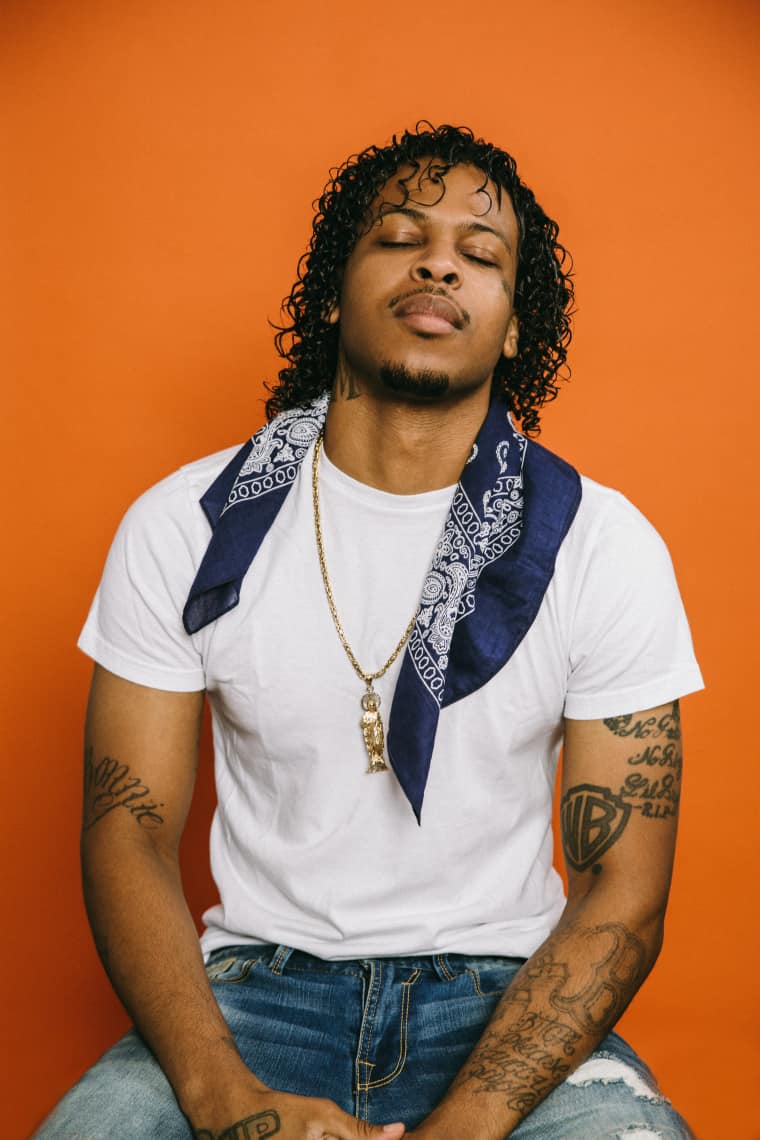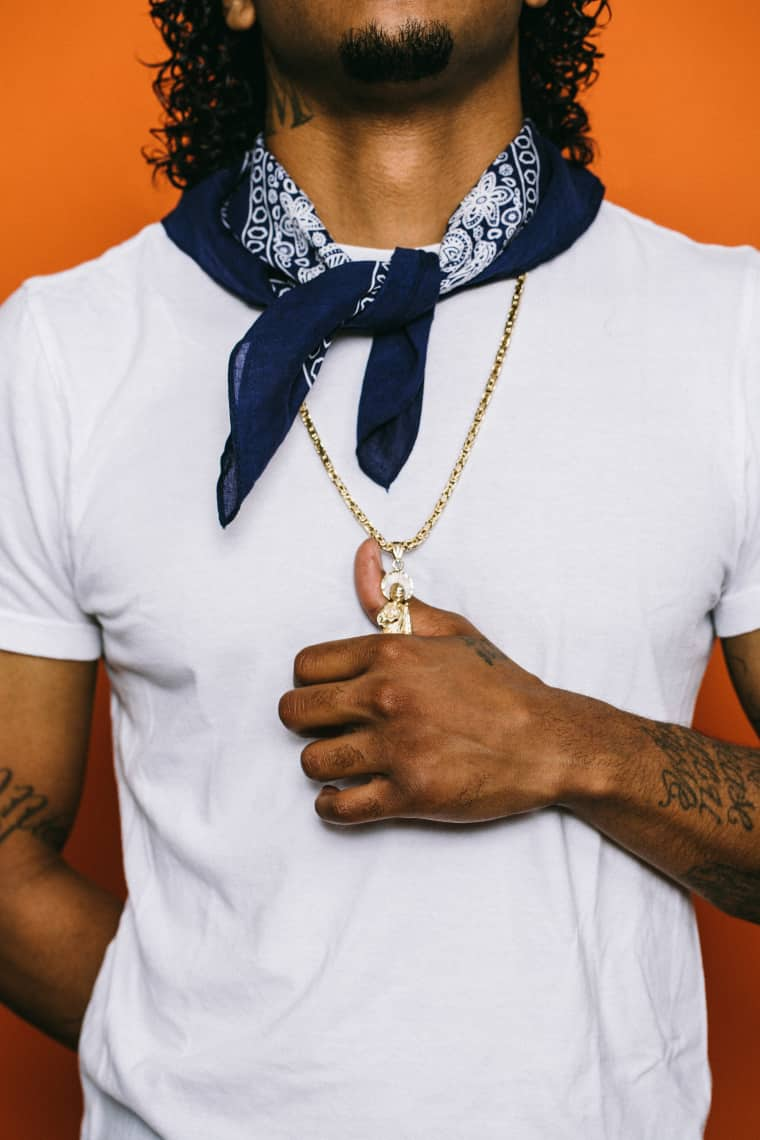 And that's exactly what he's been doing since a wake-up call in 2010 shifted his life's focus. During a troubled cycle of being in and out of jail, his grandmother, who had looked out for him throughout his life, passed away. Shortly after, his first daughter was born. "I couldn't not give a fuck no more," G remembers. "It's like, Damn, I'm really on my own and I got a daughter. I didn't know what else to do. I know I wasn't getting no fucking job ever because me and authority just don't really mix well at all. So I started doing music."
Channeling a longtime knack for writing and poetry, and studying the famed street storytellers he'd always been a fan of (Jay-Z, Lil Wayne, and Ice Cube), G got down to work. With the help of Tarzan, a local musical mentor (better known as Rare Beats) who also worked with Nipsey Hussle, he honed his sound over two early tapes released during a 2012-14 gun-related jail term. It was around this time, too, that he caught the ear of A$AP Yams. (Both would later appear on LNDN DRGS cut "Uza Trikk," giving G some of his first exposure to audiences beyond L.A.)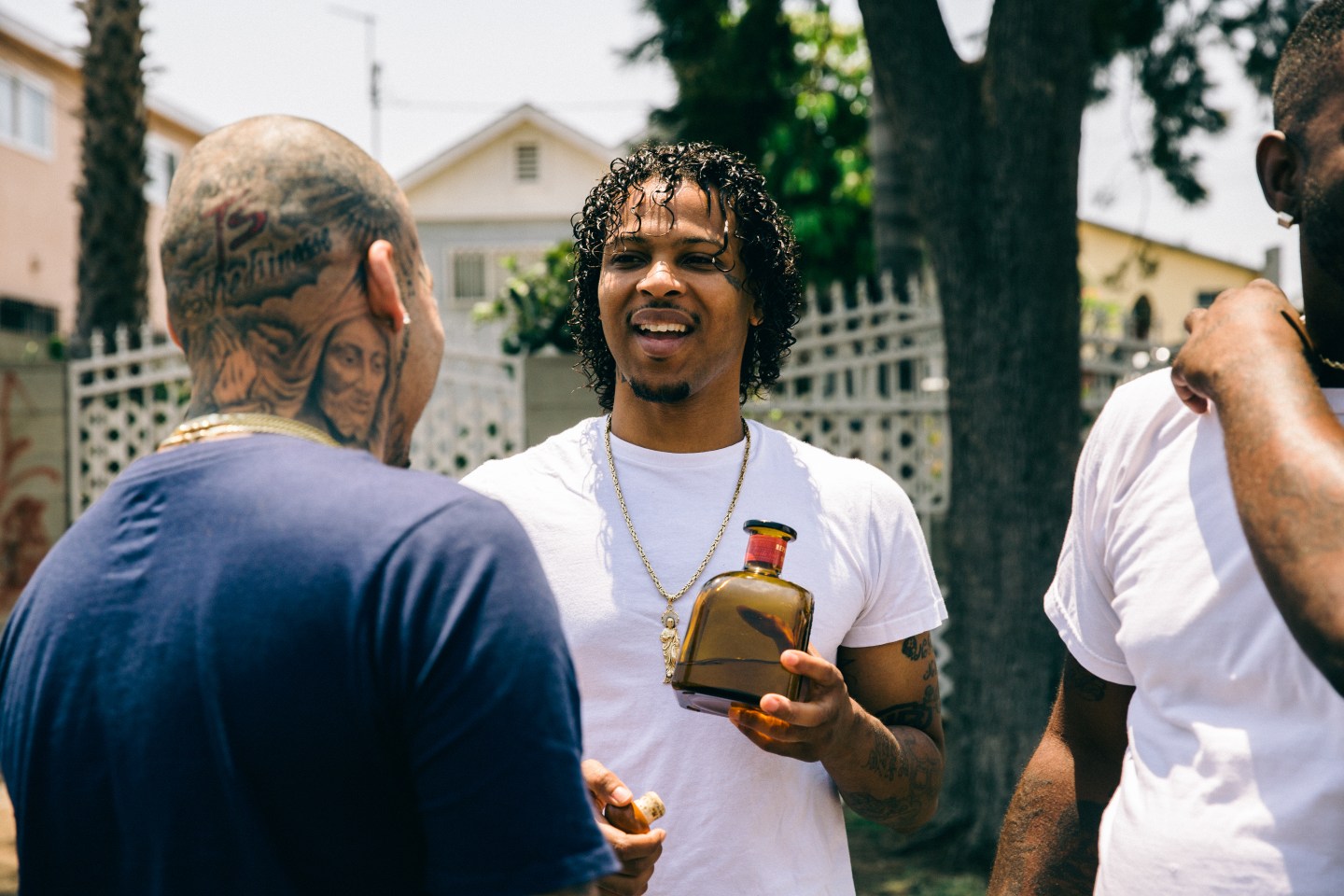 "The world isn't about just one person. While I'm representing my area, I gotta also be a part of the world as a whole."
It was 2015's Tha Innerprize 2, and his 2016 breakout tape Shit Don't Stop that marked a turning point. "That's where shit changed," he emphasizes. "My approach [became] Damn, you got all this life experience and stories that's entertaining, that people wanna hear. You got film crews that come from overseas and exploit this shit and I'm the first-hand book. I'm seeing this shit from my own eyes." He reached out to Nipsey Hussle for a bit of professional guidance: "He gave me a list of shit I need to get together. I did that, I got with [his manager] Pun, and we just been going up."
From that point on, G's made it his mission to be the one to capture the true nature of Los Angeles, and to put on for his city just like the legends he's always admired. "I'm just a reporter of what's going on — somebody who's documenting the current life," he says. I ask him about balancing staying true to the streets while appealing to the mainstream. "The world isn't about just one person," he tells me. "While I'm representing my area, I gotta also be a part of the world as a whole. All the greats do it. Drake doing a great job. YG did it for L.A., Migos [for Atlanta]. They all representing their section, but they also resonate to the world."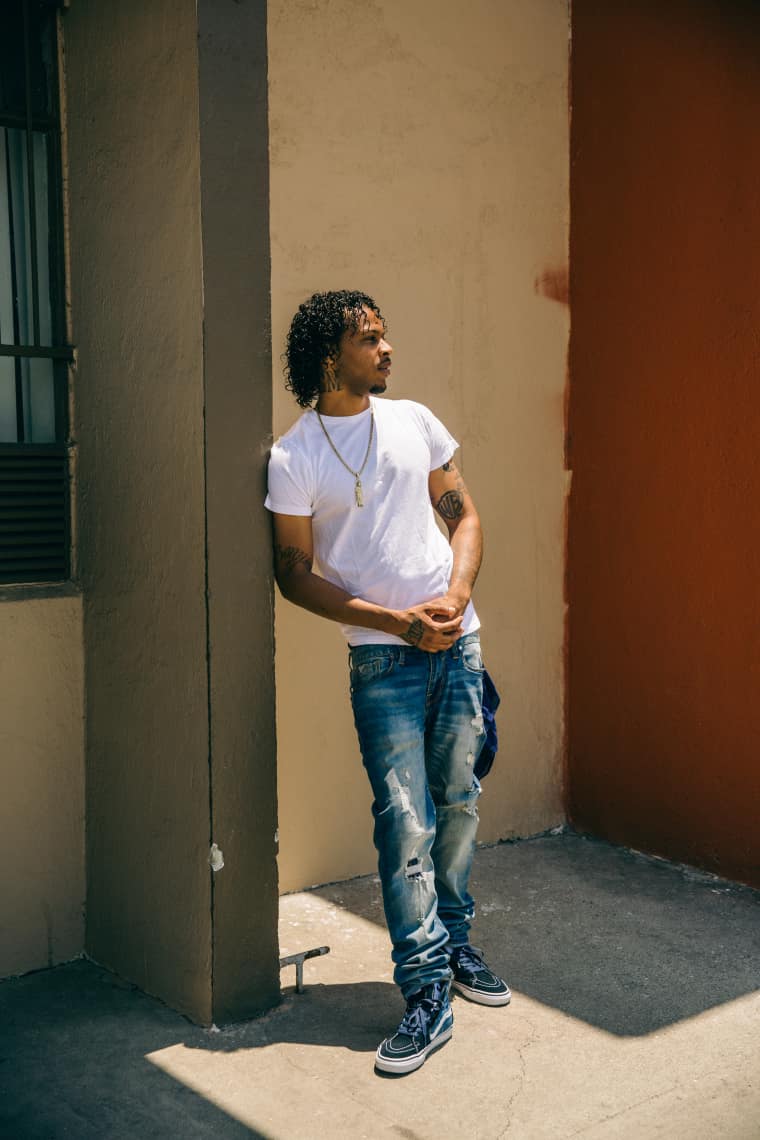 Along the way, G hopes to be a positive example for others in South Central. "Look at me, I'm 29. I'm just now getting it together," he explains. "I used to go to jail like it was nothing — and that's not natural. It's my duty to show there's other routes. Even if it's not [music], but just to get legit."
Right now, he's busy working to keep his momentum rolling — he's "75 percent" done with his next project, preferring to keep a few features he's excited about under wraps until its release. As the CEO of his independent record label So Way Out, and owner of a South Central merch shop of the same name, he's working on developing his business into "more of a powerhouse like No Limit, Cash Money, Rocafella, Death Row, TDE." Above all, it's evident he's in this for the long haul: "I plan to be on some Frank Sinatra shit of rap."
As the sun begins to set over us at our now-empty table, we end our conversation with talk of a book that recently had a strong impact on him, about sampling and referencing in music. "When I get good books like that, that enhance my thinking, I pass them along," he tells me. "I don't keep them."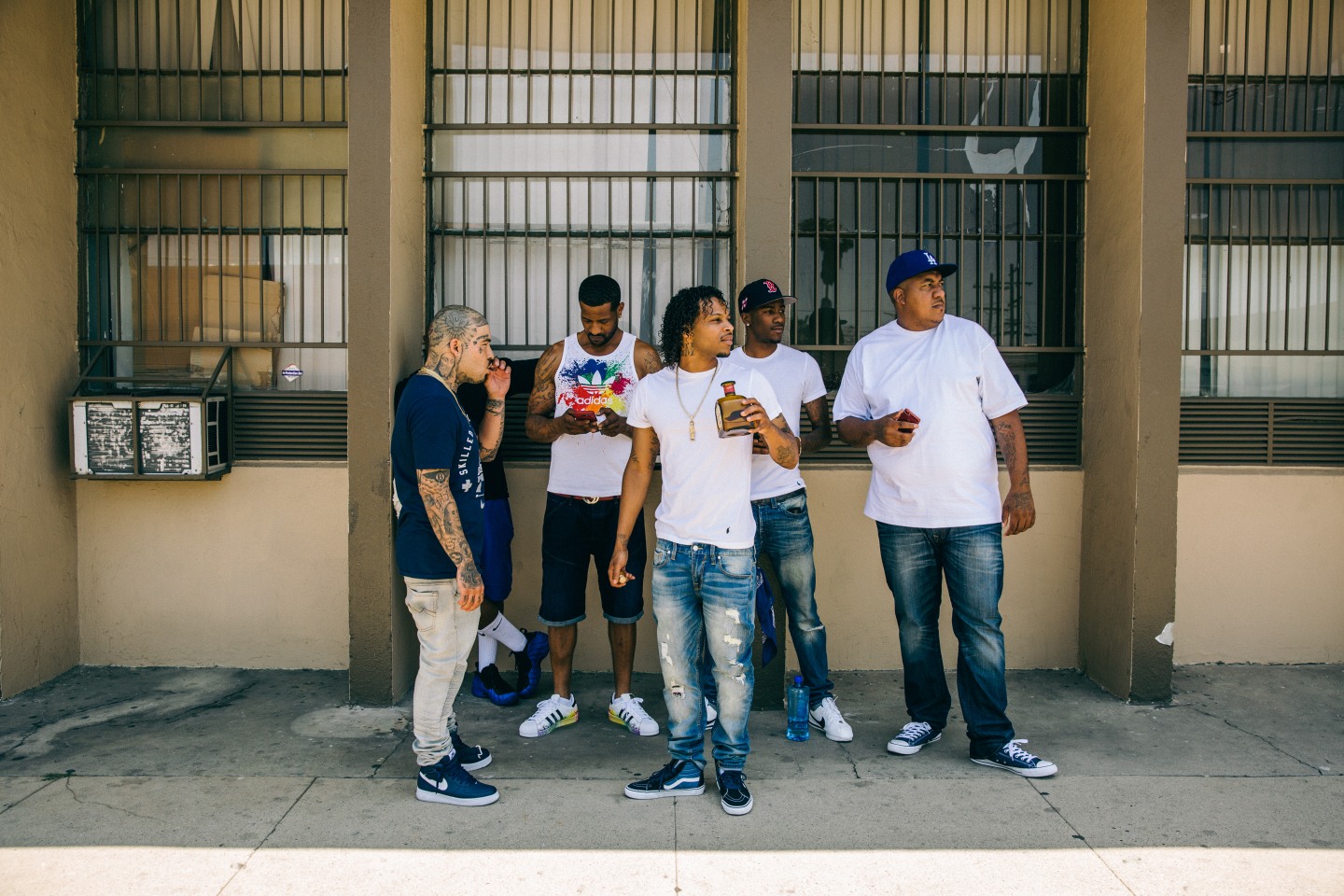 From The Collection:
GEN F