Why it's harder than ever for women to break the pop charts
2017 was a record low for women in the upper echelon of pop. Industry experts, journalists, and artist managers explain what's going on.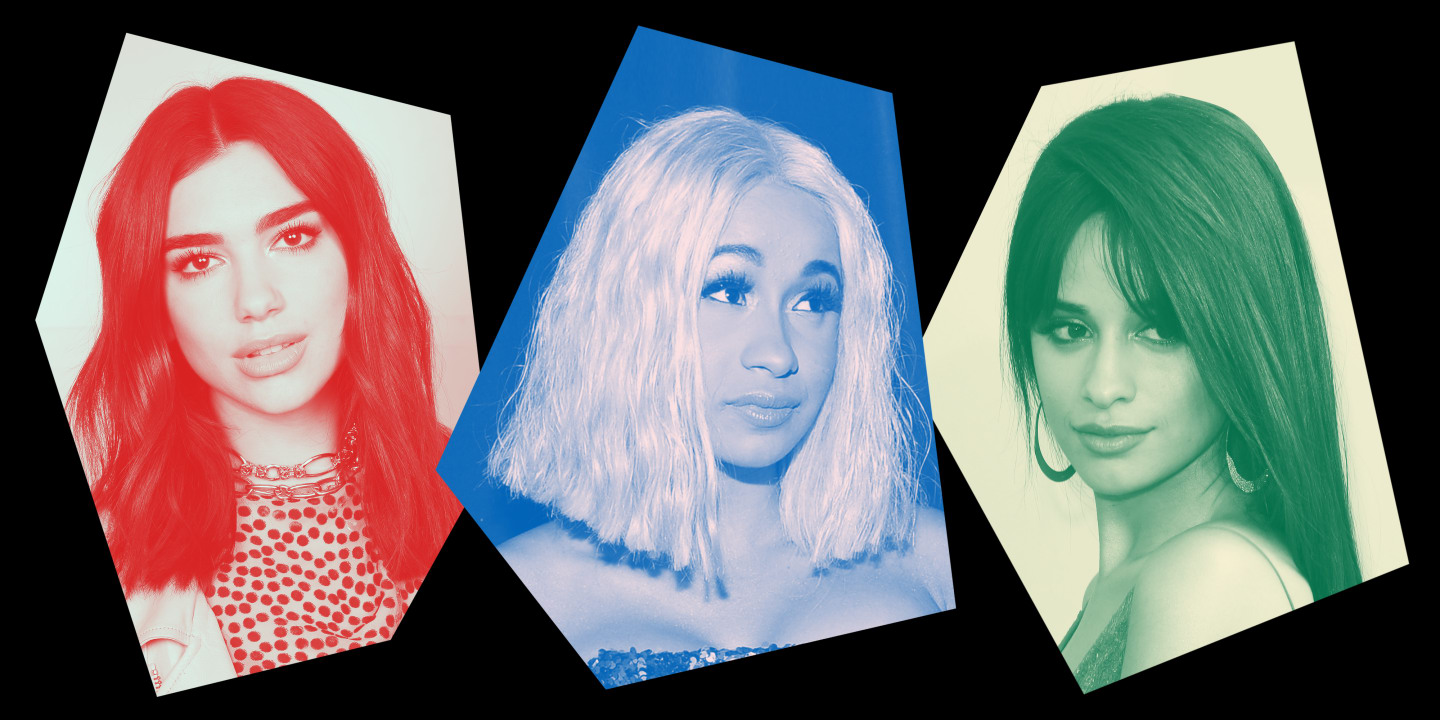 From September 3, 2016, to September 16, 2017, no solo women scored a No. 1 single in the U.S. Almost coinciding with the beginnings of the Trump era, this was the longest stretch of No. 1 singles without a solo lead woman artist in decades. In September, Taylor Swift and Cardi B swooped in to break the streak — but overall this year, the charts have been a very male place.
Analysis by Billboard in September found that women accounted for just 14% of U.S. Top 10 hits in the first eight months of 2017, marking an all-time-low. In the U.K., things haven't been much better: when Dua Lipa scored a No. 1 with "New Rules" in August, she was the first solo woman to do so since Adele in 2015.
It hasn't always been this way: solo women have long enjoyed dominance on the pop charts. Since rock fell out of chart favor in the '80s, legends like Mariah, Whitney, and Beyoncé have reigned supreme. From the '90s onwards, women in pop have scored at least 40% of No. 1 hits each decade. So the disparity in 2017 is a noticeable, and a notable one. The FADER spoke to some experts to figure out what's going on — whether this is a result of streaming stats, industry discrimination, or just a statistical blip.
Some of pop's biggest hitters have been taking a break this year.
In 2017, some of pop's most surefire No. 1 artists — Beyoncé, Adele, Rihanna — have been out of cycle. (Taylor Swift is just coming back around with Reputation.) But this can't be the full explanation for the drought, given that 2017 has featured releases from other big names. Katy Perry is one of most dependable chart artists of the 2010s, and yet the singles of her June album Witness made a much smaller dent in the Hot 100 than she has ever made before. Other solo albums from generally bankable stars this year, like Miley Cyrus, Demi Lovato, Lorde, Halsey, and Kesha, enjoyed critical acclaim and relative commercial success — but no No. 1 singles. The five women mentioned above collectively had only two Top 10 singles this year (the highest was No. 6, for Lovato's "Sorry Not Sorry").
Each of these artists' reinventions had different reasons for not resonating widely enough to hit the top of the singles chart. "Lorde's album lacked a strong single on the scale of 'Royals,' for example," mused critic Mosi Reeves. "But why aren't more women artists commanding stronger loyalty from fans?"
There seems to be a lack of new women artists breaking through with chart-topping power.
While our established stars are either resting or failing to match their sales of the past, the stage is set for fresh faces to take the spotlight. And yet, that doesn't seem to be happening. Aside from the runaway success stories of Cardi B and Dua Lipa, newer artists like Zara Larsson, SZA, and Kehlani are making little impact on the upper tier of the charts, despite massive online followings and streaming numbers. In July, the Guardian's Harriet Gibsone hypothesized that this may be down to an influx of new women stars competing against each other, and hitting a glass ceiling.
Ben Mawson, from Dua Lipa's management team at Tap Management, told The FADER that it's simply harder to launch a new artist right now, when streaming means you have to appeal to a global audience straight away. But he also agreed with Gibsone's general assessment: "Maybe the solo female market is more congested with competition so it is that bit harder to break through...I would say that I don't think solo guys are judged against their global contemporaries in the same way [as solo women], and the pressure on how you look (as well as sound) is more intense."
For women of color, it's even harder to break through.
Journalist Mosi Reeves, who recently wrote about this subject for NPR, explained the key reasons why it's harder for acts like Kehlani and SZA to get traction in the mainstream. "Black women voices are automatically categorized as being part of R&B, and therefore get marked as outdated and irrelevant, even though many of them eschew traditional contemporary R&B. Labels don't know how to maximize these artists' value to all audiences, not just listeners who enjoy urban radio." Also in rap, while Cardi B has made gains, Reeves also noted that Kamaiyah's struggle to break through, despite being signed to Universal, "demonstrates how women in rap have a much higher bar to prove their commercial viability."
When black women artists embrace a multi-faceted sound they get unfairly held back. Their labels are unsure how to market them, and major pop radio stations turn their backs. Meanwhile, white-passing artists get higher returns for doing less creative work. "Why does Kehlani continue to be ignored for supposedly not releasing strong singles — the same claim that has been made against Tinashe — while Demi Lovato gets kudos for 'Sorry Not Sorry'?" asked Reeves. (Lovato's single, and album Tell Me You Love Me, embrace R&B and soul.) "It appears to be a double standard. As a [Latinx] performer, Lovato gets credit for branching beyond her typical monochromatic pop sound. But we expect Kehlani to make quality R&B because she's black. So even while she introduces several innovations within that genre, pop radio (and its audience) disregards her as just another black R&B singer."
Meanwhile, the rise of streaming has moved the goalposts for scoring a hit.
The inclusion of streaming data in the charts means that the songs on the playlists we create — and those created for us by algorithms — are being reflected in the charts. This change has brought hip-hop and EDM to the fore. Spencer Kornhaber over at The Atlantic theorized that big stars like Cyrus and Lovato have a bombastic style that's simply at odds with the whispery, tropical house trend in mainstream music right now. The Ringer outright declared that we are entering the end of "poptimism": pop, as a genre, is no longer our most popular or critically acclaimed sound. Data journalist Emily Blake, who tracks music industry trends for the analytics and insights company Next Big Sound, recently told The FADER: "2017 marked the first time that hip-hop was the most dominant genre since 1991, overtaking rock. The genres that are growing the fastest are ones that have historically been male-dominated."
British data journalist Mark Mulligan (author of Music Industry Blog) explained that streaming is dominated by under-25s, but drops off among teens — which is where most pop fans are. At the time of our conversation in November, Mulligan noted that of the top 20 tracks on Spotify, only four are by women, and all of those are pop acts. "Until we get more female artists breaking through at scale in hip-hop," he writes, "and for as long as hip-hop is the dominant genre outside of pop, large portions of streaming charts will effectively remain no-go areas for female artists."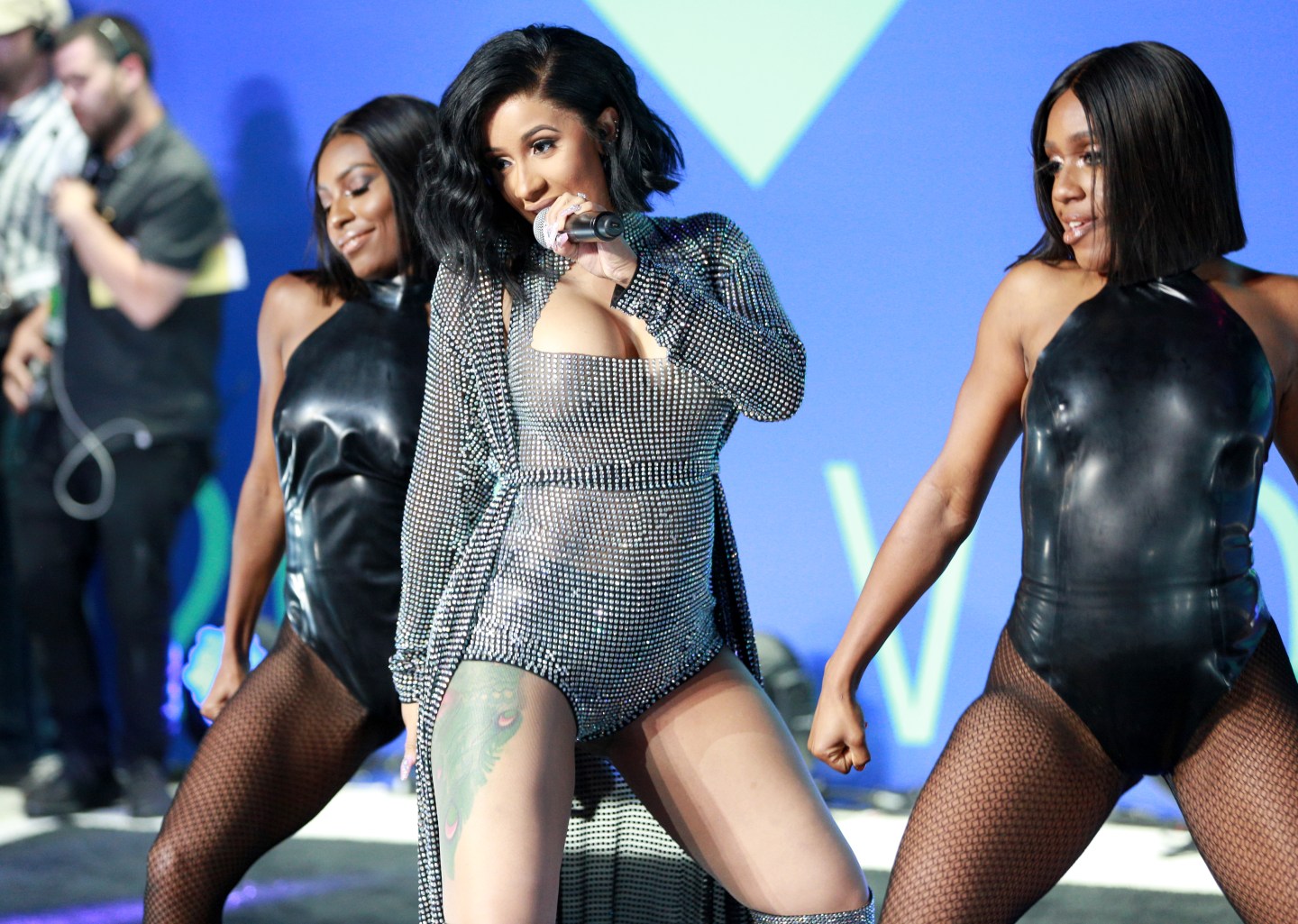 "Until we get more female artists breaking through at scale in hip-hop, large portions of streaming charts will effectively remain no-go areas for female artists." —Mark Mulligan, Music Industry Blog
Artists' priorities have moved away from the charts.
The charts are, increasingly, less relevant as a way of denoting success. Artists can now measure their clout through a ton of different metrics, including Spotify listeners, YouTube subscribers, and Instagram followers. Aiming to hit a No. 1 feels almost quaint. Mulligan summarized: "Record labels and artists still rely upon [the charts] to gauge overall music interest — but streaming playlists charts are fast becoming the core currency."
Billboard associate chart manager Trevor Anderson also believes that top-tier pop acts have little interest in scoring one-off hits any more — they've shifted to creating "more holistic album experiences rather than necessarily crafting a series of hits. Beyoncé is probably the best example – after having 13 Top 10 hits on the Billboard Hot 100 in the 2000s, her total is at four for the current decade. Her 2013 surprise self-titled album and Lemonade both came with extensive visuals, suggesting she wanted her fans to take in the album from start to finish as one whole body of work."
Beyoncé and Lemonade moved the bar for what a hit release actually is in the 2010s. Neither followed the traditional model of releasing a handful of hits ahead of the full work. But Beyoncé's diminishing dominance on the singles chart means little: with Lemonade, she became the first artist in history to hit No. 1 on the albums chart with her first six releases. She's also just been named the richest woman in music. Both albums were huge critical and commercial successes, and they'll likely be remembered as among the most important musical moments of the decade.
But the charts go through cycles — and there's hope this will pass.
The music business is largely unpredictable. Cardi B faced all the odds stacked against her, as a woman in hip-hop, a woman of color in a hostile industry, and a new artist in a fierce market. But she still got to No. 1 in September. She proved that exceptions are possible, and that this current gender disparity could be nothing more than a coincidence. "It will take a couple years until we know if this is just a phase, or whether this reflects a greater shift that's reflective of digital music taste," Blake concluded. "I think there are many possible explanations and time will tell."
Blake noted that Next Big Sound's Predictions chart (which monitors artists' traction on Pandora and social media) has seen an influx of women in 2017, who could make a play for the Billboard Hot 100 in the near future. "R&B singer Jorja Smith has been #1 the Predictions Chart for weeks. Other women on that chart include U.K. rapper Stefflon Don, R&B singers Ella Eyre and Mahalia, and pop singer-songwriter Charlotte Cardin."
Gary Trust, Billboard's co-director of charts, agreed: "The current state is likely just a short-term situation. About three years ago, Taylor Swift, Meghan Trainor, Iggy Azalea, and Ariana Grande were consistently holding for several weeks in the Top 10. [Back] then, the question became, 'Where are all the men these days?' So, it feels like it is very cyclical." He also noted that Alessia Cara and Camila Cabello are showing signs that they could be coming for the top spot in the near future. (Cabello is currently No. 1 in the U.K. and No. 2 in the U.S. with "Havana.")
A lot of trends have come to a head in 2017, changing the shape of our charts: firstly, there's seemingly a gap between the Rihannas of the world, and the up-and-coming Jorja Smiths. Women in pop who once ruled the Top 10 are either out of cycle or no longer interested in playing that game, and nobody else is yet filling their shoes. Meanwhile, streaming is skewing everything towards EDM and hip-hop, which both have their own gender representation problems. But if the industry puts its support behind those burgeoning women stars, and allows them to flourish without being pigeonholed, we might see more shock successes like "Bodak Yellow" and "New Rules" — hopefully, we'll see them so much they no longer feel like a shock.
On November 22, this post was edited to reflect Demi Lovato's Latinx heritage.