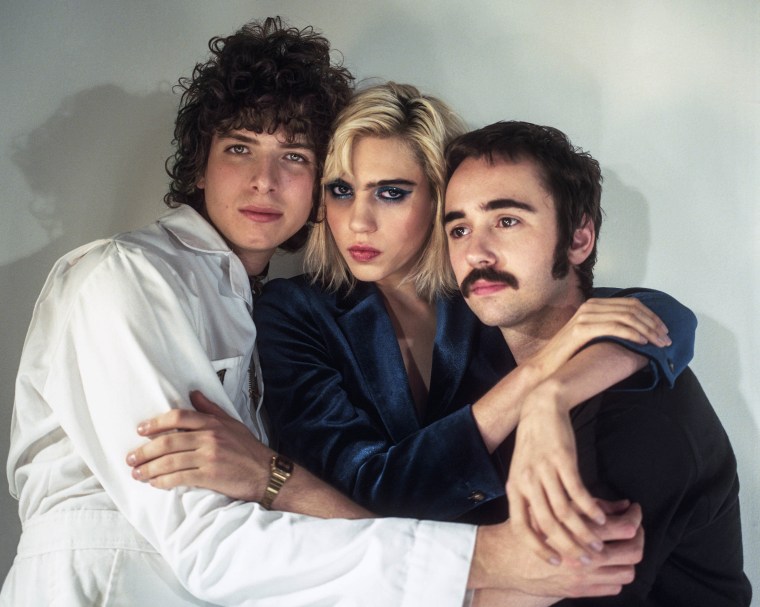 New York-based trio Sunflower Bean has released "Crisis Fest," the second single off their sophomore album Twentytwo in Blue. According to a press release, the forthcoming record will shower a softer side to the rock band. "I think one word that always comes to mind when I think about this record is lovable," said Cumming. "We want the songs to be something that someone can get attached to, and have be a part of them. Because that's what I look for in songs myself, and that's the kind of experience we want to give to others."
Twentytwo in Blue was also birthed out of the current political climate in America following the Trump administration's rise to power in 2017. "Crisis Fest" in particular is about "the power of us, the young people in this country." As the band further explains, "We felt a strong kinship with the audiences that came to see us all over the country, and we wanted to write a song for them - something to capture the anxieties of an uncertain future."
Stream the single in full below.
Catch the band on tour throughout the season with Sleigh Bells and Jessie Ware:
January 26 - Philadelphia, PA @ Everybody Hits
January 31 - Chicago, IL @ Metro ^
February 1 - Nashville, TN @ The Basement East ^
February 3 - Austin, TX @ Mohawk ^
February 5 - San Antonio, TX @ Paper Tiger ^
February 6 - Dallas, TX @ Granada ^
February 7 - Houston, TX @ White Oak Music Hall (Inside Downstairs) ^
February 9 - New Orleans, LA @ Republic New Orleans ^
February 10 - Athens, GA @ 40 Watt ^
February 11 - Raleigh, NC @ Lincoln Theatre ^
February 13 - Brooklyn, NY @ Brooklyn Steel ^
February 14 - Washington, DC @ 9:30 Club ^
February 22 - London, UK @ The Jazz Cafe @
March 1 - Los Angeles, CA @ Moroccan Lounge
March 2 - San Francisco, CA @ Rickshaw Stop
March 24 - Nottingham, UK @ Rescue Rooms
March 26 - Norwich, UK @ Open Norwich
March 27 - Birmingham, UK @ Hare and Hounds
March 28 - Newcastle upon Tyne, UK @ Riverside
March 29 - Leeds, UK @ Wardrobe
March 30 - Manchester, UK @ Gorilla
March 31 - Liverpool, UK @ The Magnet
April 1 - Glasgow, UK @ Stereo
April 3 - Bristol, UK @ Thekla
April 5 - Brighton, UK @ Concorde 2
April 6 - London, UK @ Koko
April 9 - Paris, FR @ Point Ephemere
April 10 - Antwerp, Belgium @ TRIX VZW
April 11 - Amsterdam, Netherlands @ Paradiso
April 12 - Hamburg, Germany @ Molotow
April 13 - Copenhagen, Denmark @ Loppen
April 14 - Berlin, Germany @ Rosis
April 15 - Vienna, Austria @ Chelsea Club
April 17 - Lausanne, Switzerland @ Le Romandie
April 18 - Zurich, Switzerland @ Bogen F
April 19 - Cologne, Germany @ Blue Shell
May 20 - Gulf Shores, AL @ The Hangout Music Festival
^ - w/ Sleigh Bells
@ - supporting Jessie Ware