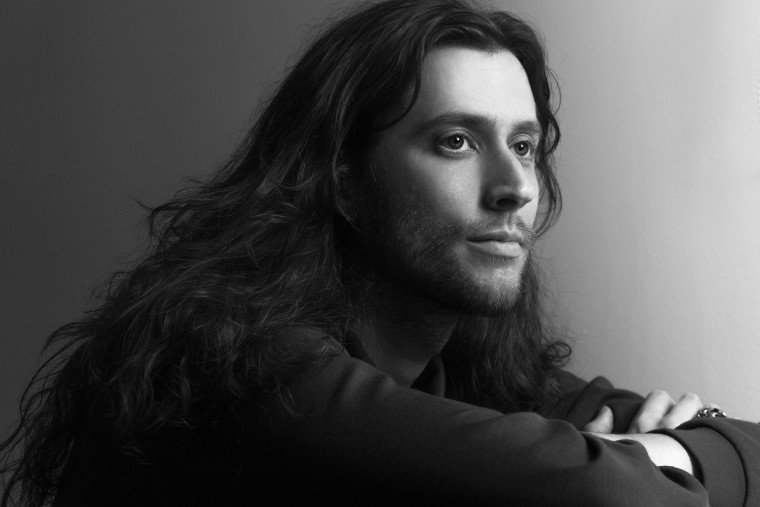 When Donald Glover first approached producer and composer Ludwig Göransson about his side project, Childish Gambino, the two were working on the set of Community. Together, they conceived of a heady sound for Gambino and, since 2010, they've collaborated on seven different projects. Over time, Gambino's sound has shifted and evolved like each of their respective careers.
With 2016's Awaken My Love!, Glover and Göransson, inspired by Parliament Funkadelic and the black power music of the '70s, set out in a new direction with Göransson again serving as a producer and writer for every song on the album. In November, they earned four Grammy nominations for their work, including Album of the Year and Record of the Year for "Redbone." Ahead of the awards ceremony, Ludwig Göransson spoke to The FADER about his work with Glover and the upcoming score he composed for Black Panther.

---
You and Donald Glover met while you were composing on Community. What was it like transitioning from composing to producing songs for a rapper?
When we first met, I had only produced for myself and written for myself at that point. The collaborative part of it was really fun. When I'm by myself — composing or writing film scores — it's very lonely. I'm just sitting by myself in the studio. When you're with an artist it's kind of like hanging out with a friend. You shoot ideas back and forth and inspire each other. And you can trigger better work from yourself and from them.
Awaken My Love! was a big stylistic departure from the work y'all had done in the past. How did Donald Glover approach you about his vision for that record?
It is a departure but I would say if you've been to one of our live shows, we've always had a huge live band. So I think that's always been the sound of our live shows. There's been performances with big string sections and stuff like that so we'd been working a lot with musicians, even though our first two albums were more produced in the studio. Before every show, we go out there at soundcheck and play with each other for two hours — just jamming.
It started out as an experiment. We got our band together in the studio and spent the studio trying out different sound ideas and jamming. We didn't really know where it was going to go. We probably did 15 songs in the studio and a lot of it was really out there. One of the song ideas that we felt was really special and that we always circled back to after listening back was "Me and Your Mama." Prior to these jam sessions, Donald and I had been playing around with different riffs. We were playing around with the riff for that song, changing the time signatures — the song starts in 4/4 and switches to 6/8 — and making it more unique.
Donald Glover was very vocal about the Parliament-Funkadelic influence on the album. Were you already familiar with their catalog going in?
No, I wasn't that familiar with it at all. Growing up, I was listening to a lot of Metallica, a lot of instrumental guitar music because I started out as a guitar player. Joe Satriani was a big inspiration for me, and then I got into jazz early on before high school.
Donald grew up with it — his father was a big Funkadelic fan. When he played me old Funkadelic albums it was like, Oh shit, I completely missed out on this. It was really fun to start learning about that and discover — going back and watching the videos of their live shows. I remember immediately loving "Hit It And Quit It" when Donald played it for me. It was like, Wow, this is such an amazing composition.
How did you and Donald go about paying homage to that influence without making an exact replica?
I think it doesn't really matter what kind of music you do when it comes to that question. If you make modern rap music, how do you write without ripping off anyone else? It's just about having a distinct voice in your songs. What Donald is so great at is bringing his own unique spin to everything he does.
Something else that I was thinking about as a producer is how do we make funk music in a way that it couldn't have been made in the '70s. It's not fun if people listen to it and it's like, "This sounds like someone could have made this 40 years ago." Bringing in recording techniques and studio elements that didn't exist back then, and bringing together a mix of genres that weren't being combined back then. If you listen to "Stand Tall" for example, how it transition to that synth part at the end. "Me and Your Mama" — the 808s in the beginning and the processing of the vocals. Small little things like that made it feel new and modern but still nostalgic.
You mentioned that "Me and Your Mama" really stood out to y'all during the recording process. Did "Redbone" give you the same sort of feeling from the jump?
"Redbone" was the last song we did. That song was a different idea at first that was already mixed and done for the album. Towards the end of the process of finishing the record, we decided to tweak the song — Donald wanted to change the chorus.
I don't think any of us knew it was going to be that kind of a hit. It was very strange the way that song's momentum built. I guess you could say it went the "modern way" of getting big with the memes and maybe I'm too old but I don't get how that really started.
Tell me a little bit about how you got involved in scoring Black Panther
It's incredible. I've been working with Ryan Coogler for about eight years now — I scored Fruitvale Station and Creed. He's an incredible artist and this movie is completely a beast of its own. I haven't really ever seen a big budget Hollywood film with African music. Most of the time it's just Hollywood's perception of what African music is.
What's been your biggest challenge with that project so far?
It's very difficult to put an orchestra and all of these cinematic elements that are used in film scores on traditional African music and still make it sound traditional. What I've been working with, and really trying to be aware of, is how you take traditional music from these different countries and put electronics and big orchestra on top of that while keeping the same sounds. It's been really challenging. I went to west Africa and South Africa for a month to do research and record a bunch of different musicians for the score. I brought that back to my studio and, for the past year, I've been figuring out ways to preserve the essence of that music and try to make it cinematic to fit this superhero universe.