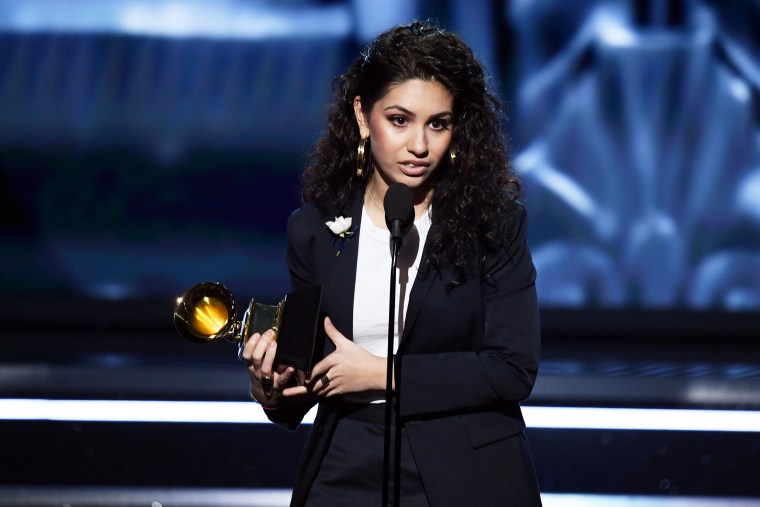 The lack of representation at the Grammys this year was impossible to ignore. Best New Artist winner Alessia Cara was the only woman artist to receive an award during the live broadcast, and SZA, the most-nominated woman on the night, walked away empty handed. Overall just 11 of the 84 total awards went to women.
These numbers were put to Recording Academy president Neil Portnow after the show along with inquiries about the lack of a performance from Album of the Year nominee Lorde.
Speaking to the press backstage at Madison Square Garden, Portnow is quoted by Variety as saying that women "need to step up" and that the industry needs to welcome them when they do.
"It has to begin with… women who have the creativity in their hearts and souls, who want to be musicians, who want to be engineers, producers, and want to be part of the industry on the executive level," Portnow said. "[They need] to step up because I think they would be welcome. I don't have personal experience of those kinds of brick walls that you face but I think it's upon us — us as an industry — to make the welcome mat very obvious, breeding opportunities for all people who want to be creative and paying it forward and creating that next generation of artists."
Meanhwhile, sked whether it was a mistake to not give Lorde a live performance of her own, Grammys executive producer Ken Ehrlich answered: "I don't know if it was a mistake. These shows are a matter of choices. We have a box and it gets full. She had a great album. There's no way we can really deal with everybody."
There was one woman that Ehrlich did feel was missing from the night: Taylor Swift. "It wasn't her year. She was kind of off cycle. Hopefully we'll see her next year."
Catch up on all the most important moments from the 2018 Grammys and the red carpet looks you need to see. A full winners list can be seen here.