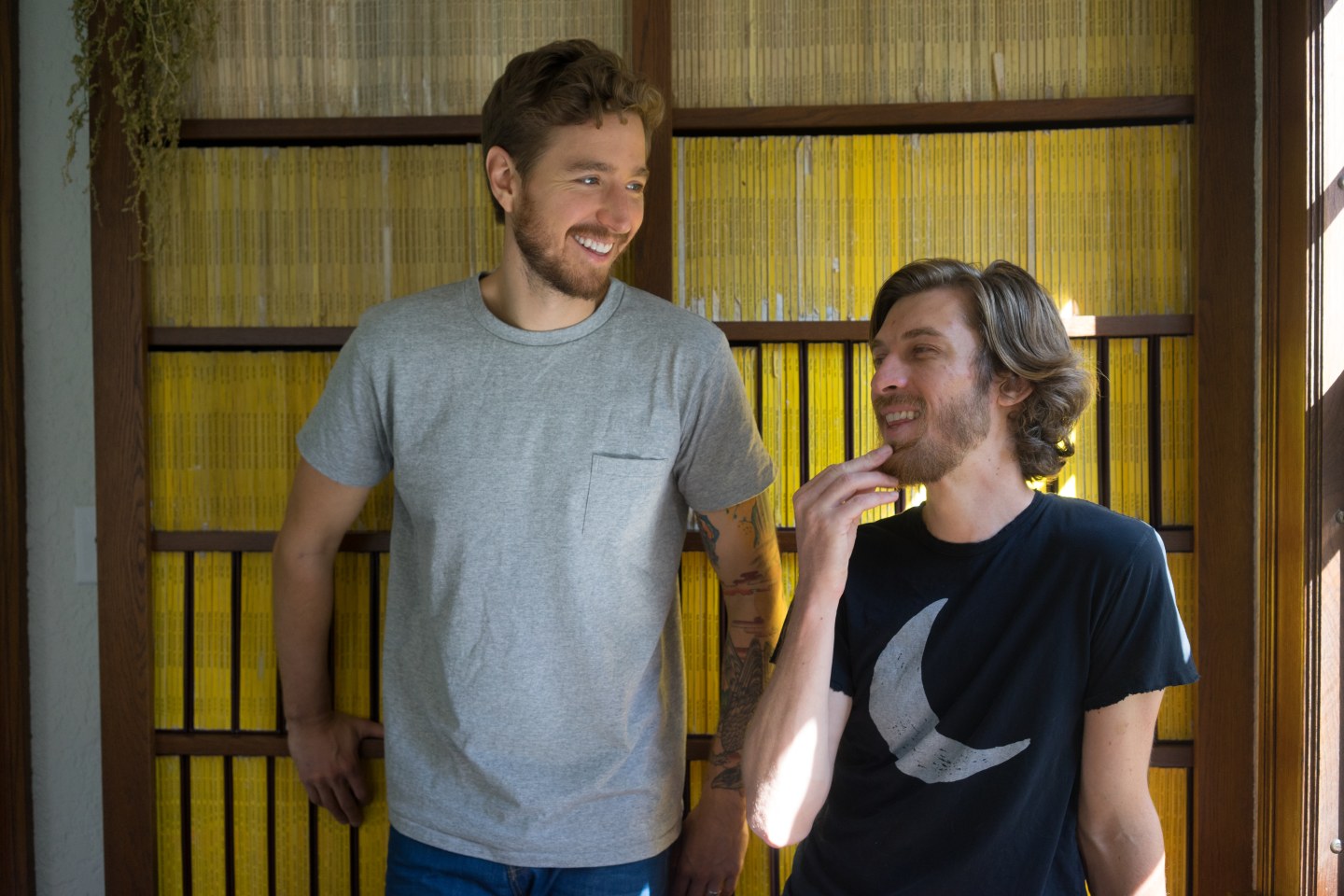 I'm hoping you know about Stadiums & Shrines, the soft-sounds tastemakers who've elevated music blogging to a higher art form more than anyone I can think of. The site started 10 years ago, and since 2011 they've been running a series called "Dreams," in which a musician, visual artist (Nathaniel Whitcomb), and writer (Dave Sutton and Matthew Sage) all make work inspired by the same place.
It's a beautiful collection, and soon to be released as a two-LP set and 20-page book in collaboration with Cascine. Participating artists include: Kaitlyn Aurelia Smith, Julie Byrne, Bing & Ruth, Emily Reo + Cuddle Formation, Maria Usbeck, Mutual Benefit, Ricky Eat Acid — all faves of listeners who enjoy a certain lush, homemade-feeling aesthetic. Yumi Zouma's contribution — a lovely, France-inspired slow song — is debuting below, alongside a conversation with Dave Sutton about the project's origins and their unique, collaborative process.
In advance of S&S Presents: Dreams, the project's creators, plus Kaitlyn Aurelia Smith and Emily Sprague, are hosting a talk about "the value of dreaming in the present, interdisciplinary collaboration across mediums, engaging the surreal, and escaping into the ambient beyond." That goes down Saturday, May 19, at Moogfest.

Where did the "Dreams" concept come from?
It came from a few separate ideas that we eventually realized were parts of a bigger one. 2011 was a bit of a crossroads for S&S. I was feeling some fatigue and pressure to keep up with the speed of music blogs at the time. I decided to recede and focus on the aspects that were most fun: the aesthetic S&S had developed and the collaborations. Nathaniel and I were Gchatting every day. He had an art site called Think or Smile where he shared his experiments with motion collage. He told me about this beautiful book Atlas of Remote Islands and how it had inspired a new series of collages he was working on, sourced from a 1950s tourism book called Around The World In 1,000 Pictures. His idea was to pair them with writing. He asked if I'd try riffing with one of the collages. My first instinct was to find a song to soundtrack the session. From there we figured out that this project could open up to audio, and that we should invite musicians to take part, and that it was time to redefine S&S as a place to present it.
During this stretch Dustin Wong launched a project to promote his album, Dreams Say, View, Create, Shadow Leads, where he sonically interpreted people's dreams. I sent him a recurring one about skateboarding. He ended up using it. That process got us thinking about this kind of creative dialogue and the subconscious. Dustin was the first person we asked to dream with us.

Are you still using the same copy of that travel book to source all the collages?
Yes, everything is pulled from one copy of the book. About 30 pages are remaining of the nearly 450. The format gave us parameters and restrictions. We're limited by what's in the book, and also the way the world was laid out when the book was published. The premise of Around The World is to take readers on voyages to select countries; each gets a handful of pages. Nathaniel followed a simple rule: each collage is comprised only of images from that country. The dreaming then allows us to bend and blur and imagine new norms within each place, to jam outside the boundaries of reality and history.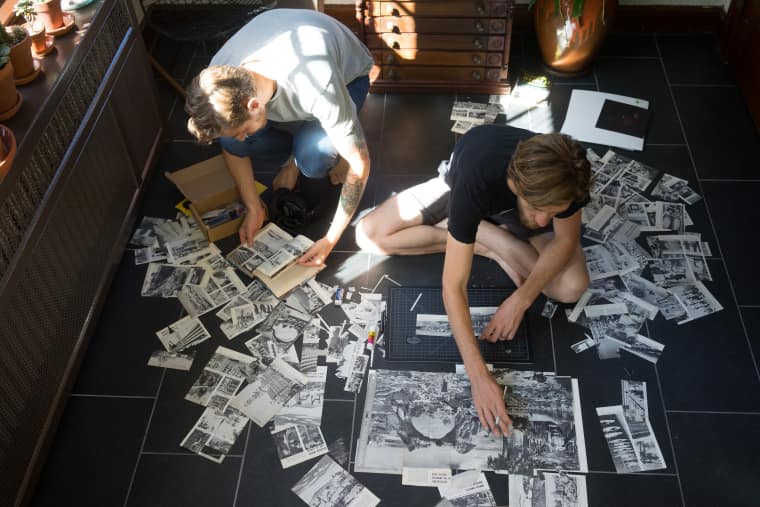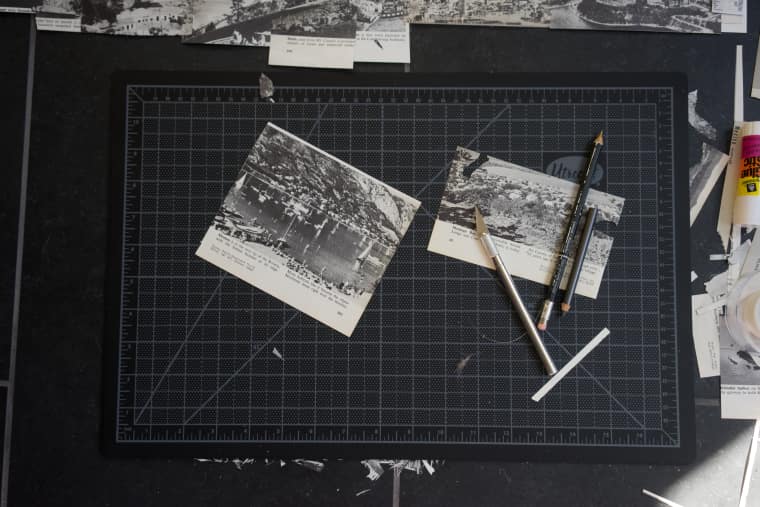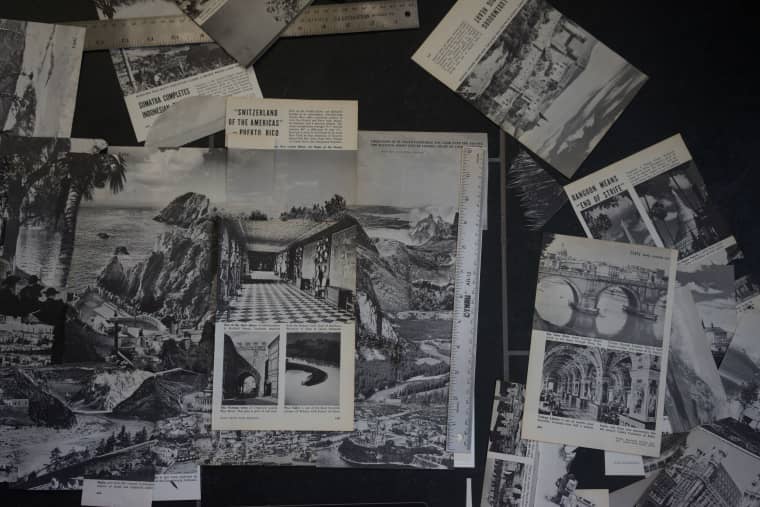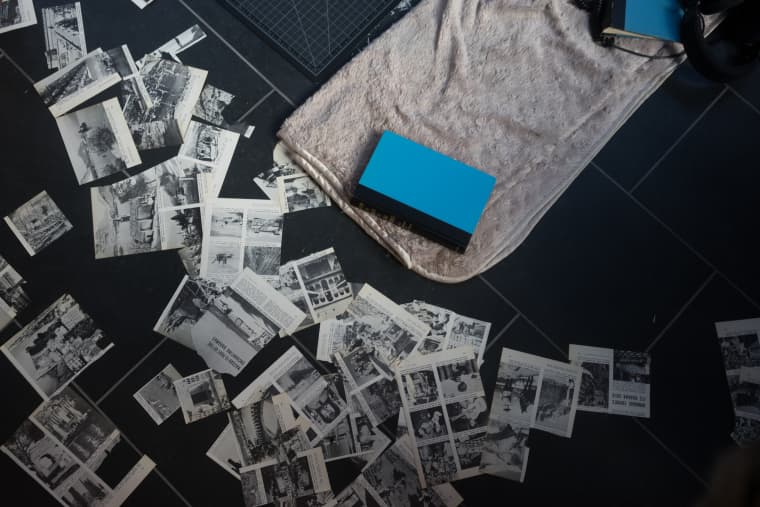 What's the process like? How much do you try to guide the emotion and narrative?
First, we send a few collages to the artist and ask them to select the one that pulls them the most. They then compose music inspired by that collage. They send the track back to us, and we shape the text working with both the image and the sound. We leave the writing last to let the narrative reveal itself. Matthew Sage and I bring it all into a Google doc and write and edit together in real-time. The words look for connections, sometimes subtle and abstract, like the short phrases for Yumi Zouma's piece, meant to compliment their lyrics. Sometimes it's more linear. Megafortress and Noah Wall named their track "Scorpio," which led us into a fever dream about a character in the collage named Scorpio. Emily Reo and Cuddle Formation made a playful and buoyant song for Bermuda. We had fun following their tone, coming up with silly lines like "giggle at the new found flubber jiggle" as these kids in a swimming hole age rapidly into elderly reptiles.
We consider it a conversation between dreams, kind of co-dreaming, a collaborative dream. The chain of production is direct, but by the time a piece if finished, the logic is interconnected in strange ways. An uncanny world is assembled by bridging across these mediums. It's like trying to figure out which side of a top is the front once it's spinning.
Any favorite approaches musicians have taken? There's so many ways to go about it.
Julie Byrne and Eric Littmann were emailing us from Coruña, Spain. Julie said they "chased the curiosity and wonder of watching an Octopus dance against the giant blue canvas" of an aquarium there. Karen and Ryan of Sound of Ceres recorded "Austria (Solar Shaded)" just before leaving to backpack the Austrian Alps. I think it captures that feeling of anticipation.
While it's not about an approach, one exchange that stands out personally was receiving Sea Oleena's track right before my wedding. It was the middle of the night. I couldn't sleep and was looking at my phone. In came an email from Charlotte with a very sweet congrats note and very soothing piece of music.