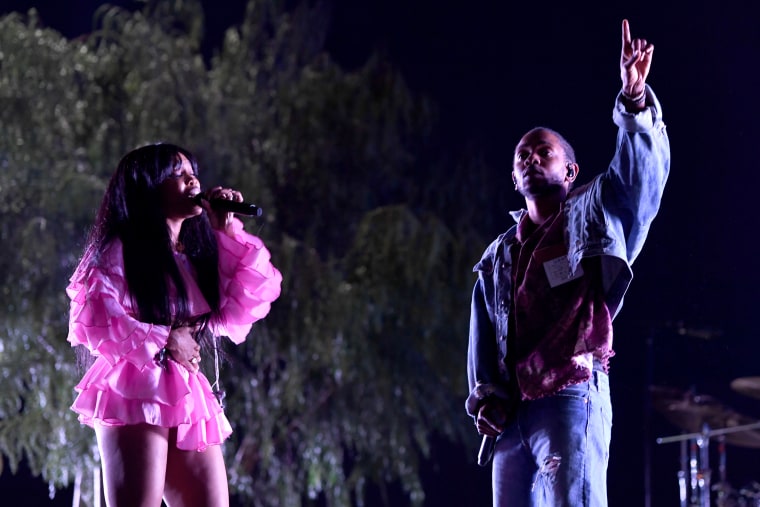 Coachella 2018 kicked off last night in the steaming Indio desert valley, and boy did the heavy hitters show up. The West Coast was in full force during the evening as Kendrick Lamar popped up for a guest performance not once, but twice. First, during Vince Staples' set on the Coachella main stage — which Staples cheekily referred to as the "white people stage" — and finally, alongside his TDE mate SZA's set as well.
Staples arrived on stage with a fiery energy from the jump, at one point saying, "I know y'all don't know who I am cause none of y'all look like me, but I don't give a ..." The Long Beach rapper then surprised fans, bringing out Kendrick to help him close out with "Yeah Right" off of Big Fish Theory.
SZA's set came later during the evening as things cooled down. The Grammy-nominated singer was in a whimsical mood during her performance, bouncing about on a trampoline, and projecting images of a cartoon cat on the screen behind her. She brought out a list of guests, including longtime collaborator Isaiah Rashad and even Trippie Redd. Kendrick arrived again to help perform their Black Panther Soundtrack collab "All The Stars" as well "Doves in the Wind" from CTRL.
Stay tuned for more festival coverage and watch the Coachella 2018 livestream here.