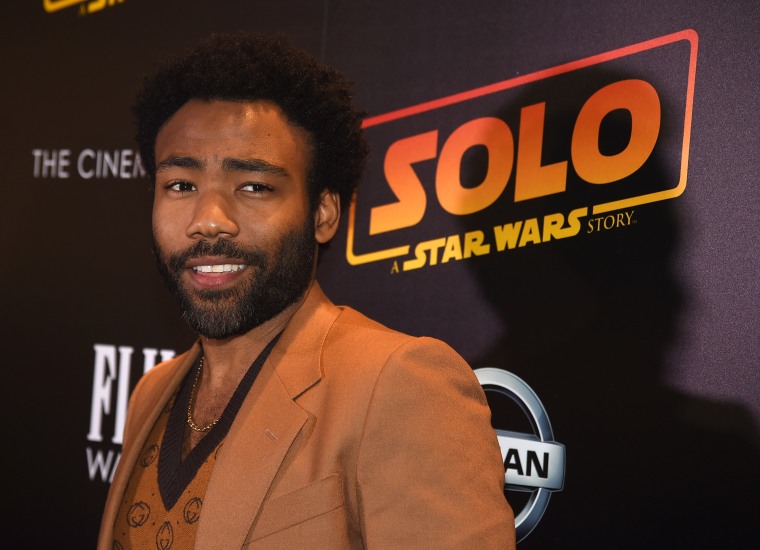 Donald Glover makes his Star Wars debut as Lando Calrissian in Solo: A Star Wars Story, which is out this week. Talk has already turned to a potential spin-off for young Lando though, and Glover has some ideas for the treatment.
"It would be cool to see, like, Frasier in Space— like, a high-end guy in space," the Atlanta creator told Entertainment Weekly Radio. "All of these characters are very specific and they have very specific points of view, so it's always going to be fun to see them traveling around to a planet that is the opposite of what they're used to…. And all of that seems like it would be fun to write, for sure."
Either way, Glover is keen to revisit the Star Wars universe. "It would always be fun to be Lando again," he added. "I would love to do it again. It's really fun. The movie, I feel like, is wide open. This part of the universe without the… I feel like with the Skywalkers, it's hard, because it's almost like the Bible. There's a story that you have to tell, and the lineage of that family. I feel like out here its like, yeah, we're just like husters and gamblers and space pirates, essentially, so you can do a lot more and have a lot more fun."
Glover, it's worth stating, has a lot on his plate right now. He recently finished work on season 2 of Atlanta and will shortly head on tour under his Childish Gambino moniker. His last venture into the world of blockbuster I.P. also didn't have a happy ending. Solo: A Star Wars Story hits theaters on May 25.