Ella Mai's slow burn
"Boo'd Up" became a surprise hit a year after its release, but the R&B dynamo is just getting started.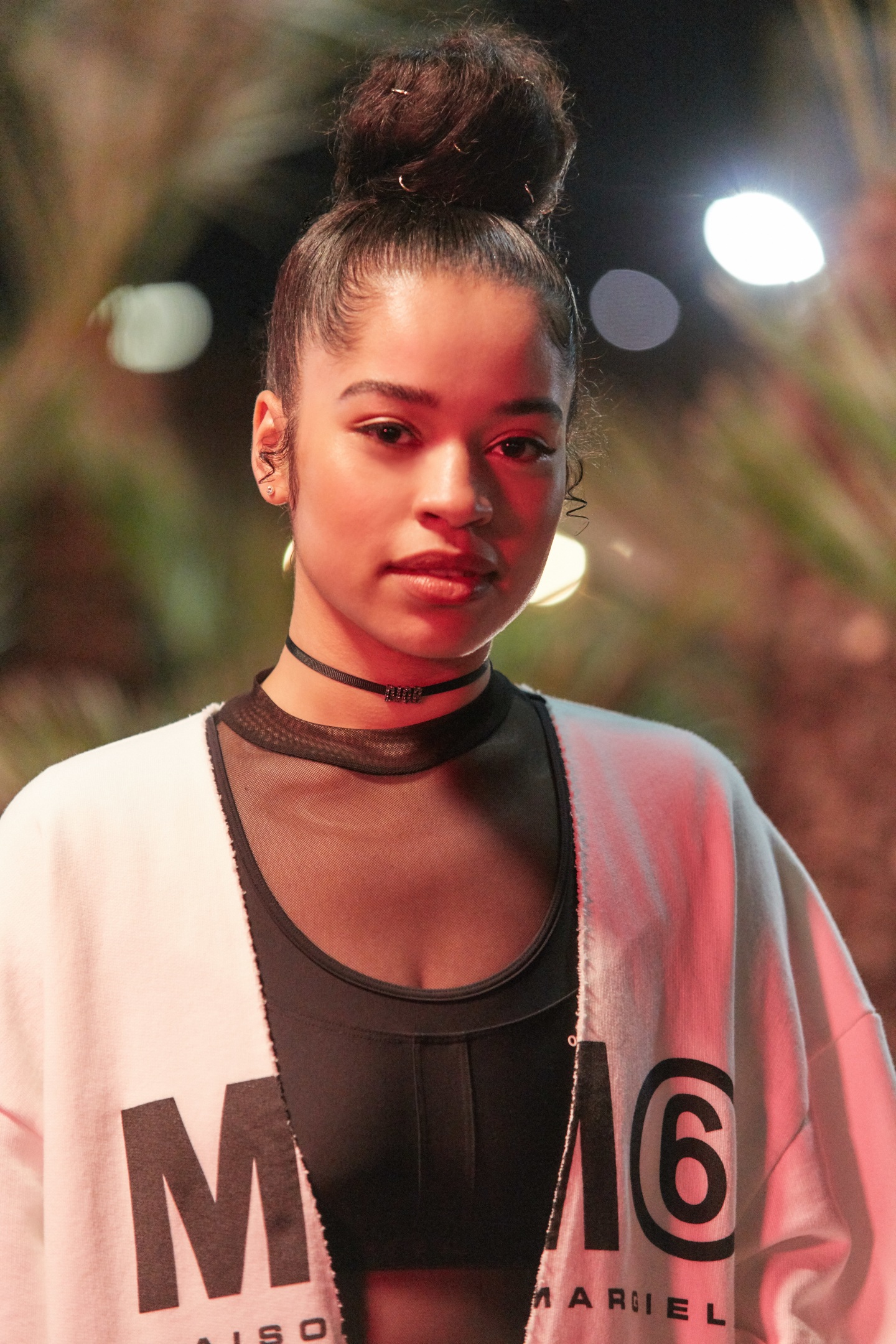 Ella Mai was back in New York, and she wanted a bagel. Specifically, she wanted one from a spot somewhere near Times Square, which, on a sweltering, humid afternoon, was the absolute last place I wanted to be. But her next press stop was located somewhere in Midtown anyway, so I got in the air-conditioned SUV for the ride. Ella, who was born and raised in South London and lived in New York from ages 12 to 17, was in high demand. She had a sold-out show at SOB's later that night, and her unexpected breakout song, the infectious puppy-love ode "Boo'd Up," had just reached No. 17 on the Billboard chart.
Its emergence was unanticipated: the song came out over a year ago on Ella's third EP, Ready, and its rise this spring was fueled by a domino effect of radio and club DJs and social media posts. Ella was discovered on Instagram by Mustard after she posted a cover of 2Pac's "Keep Ya Head Up" as a student in 2015. Now 23, her story is a modern-day fairytale. With the help of Mustard, who signed her to his 10 Summers imprint, Ella released three EPs — Time, Change, and Ready — over the course of 12 months in 2016 and 2017.
Armed with a versatile, piercingly pure voice and mixing Mustard's signature club-ready beats with slower, more traditional R&B grooves, Ella imbues her music with detailed storytelling and gut-wrenching emotion that captures the ups and downs of falling in love. But Ella also has a bite to her, which is what first drew me to her music; for every hint of heartbreak, she doubles down on self-love, self-empowerment, and perfecting the art of being unbothered. As she sings on "She Don't," the Ty Dolla $ign-featuring Time single that was her biggest hit before "Boo'd Up": "99 problems but a nigga ain't one." These are songs that lend themselves to being shouted out loud, to being memorized, to being replayed for months on end. In other words, they are anthems.
Dressed in baggy Carhartt pants, checkered Vans, and pink shades, Ella's thick British accent was warm, giggly, and endearing. Somehow, despite the heat, she was perfectly dewey, her baby hairs laid, her skin glowing. During the 45-minute journey to Midtown, over the noise of honks and sirens, Ella and I chopped it up about the unexpected success of "Boo'd Up," her forthcoming debut album (which drops later this summer), and the lessons her mother taught her.

When I saw you at the Mercury Lounge in December, I couldn't believe how the audience knew every single word of your songs. And they were singing like their life depended on it. What about your music do you think inspires this level of devotion?
A lot of my music is about love. And that of course is super relatable. But a lot of my fans are around the same age as me and you, so we're going through the same things at the same time. And then also I started on Instagram, and I feel like that's relatable. People have watched my journey and how organic it's been, and they just connected with me as a person as well as the music.
I really feel like almost every song on the three EPs could've blown up, yet it was "Boo'd Up," a year after it came out. How did that happen? Why do you think this was the one to take off?
Out of all the songs, I think it was "Boo'd Up" because it has quite a nostalgic feel to it, and it's about love as well. It's a clean song, there's no cursing, it's super innocent, and everyone's been through that puppy-love sort of thing.
The resurgence happened because it was getting requested in clubs. It started in San Francisco, with [the DJ] Big Von, and someone requested him to play it. He said that he didn't even know what the song was. But the person who requested it comes to the club every week, so he trusted him. And he said he played it, and everyone was singing the words. From there it just started catching on. It's been really cool to watch the process of how it came about. We didn't know that this was going to be the song.
It's been a year since you put out a new project, and I know the album is coming. How has "Boo'd Up" blowing up affected how you feel about the album?
The success of "Boo'd Up" has made me super excited. My day one fans, the ones who've been on the whole journey with me, are mad now, like "this song ['Boo'd Up'] is so old! Now everyone wants to be on the bandwagon!" But then there's people that've only heard "Boo'd Up." So it's exciting to know that there's people who've been listening to me and will now hear the growth, and people who've only heard "Boo'd Up" but now will get to hear this new collection of music that I think they'll love as well.
The three EPs all have deliberate, simple titles — Time, Change, Ready. What's the meaning behind them?
I like to leave things open to interpretation. But I also like to make a point. There's two meanings behind each EP title. With Time, that was "time to move on," you know, you've been in a bad situation, this is enough. But it was also time, in my life, for introducing myself, my first project I was putting out with Mustard. A new exciting time.
Then the second EP, Change, was right after I moved to L.A., and everything was changing in my life. I'd signed my deal, it was a completely different environment; I was new in the industry. That's why we called it Change. But also content wise, it was during a new relationship and it was [about] what you didn't have before and the changes that you now see, after going from a bad situation to a good one.
And then Ready was just because that was the last EP we put out/ I'd just started to tour with Kehlani, I was ready to go, ready to face it full-on. Time was very black and white, as in, "forget you, I'm movin on." Change is quite the same: "this is a new love." Ready has a bit more bounce to it and is more about the grey area in between, where you can go up and you can go down. It's [also] about being ready for whatever comes your way: you can go from being in love to being like I hate this person!
Totally. So were the first two EPs charting what was going on in your life at that time?
It wasn't real time as in it was happening right then. But my first EP was actually about a friend of mine who went through a really, really bad situation. It wasn't about me but as girls we tell each other everything and because I'm so close to her, it almost felt like I was in a relationship myself. So it made it that much easier for me to write about. I basically went through it with her. Change was more about what was happening in my life at that time.
"People have watched my journey and how organic it's been, and they just connected with me as a person as well as the music." —Ella Mai
What was going on for you?
It was when I first moved to L.A. and I was in a long-distance relationship. The EP was about having the foundation of knowing that person will always be there. It's very much like, we're super in love, and moving and being in a long distance relationship isn't easy but we had the foundation. I just wanted to write exactly how I felt about that. Because I knew that even if we weren't in the same place, the feelings were the same.
So wild you say that. I just got out of a long-distance relationship.
It's very hard!
Are you still in yours?
I'm… not. But it's complicated.
Did that change the feel of the upcoming album?
Working on the album, it's been a weird situation because I was in [the relationship] for most of the album process. Listening back to the some of the songs now… it's weird. It's complicated. But there's no love lost. Things happen sometimes. Those songs still mean what they meant to me when I made them.
You released a very different sounding song, "Naked," in November 2017. It's an acoustic guitar ballad and it's really personal, talking about looking for someone to love every part of you, flaws and all. How did it come about?
I started my album process once I got off tour with Kehlani, and I was doing sessions for the album. It was the most random thing. [Mustard and I] started with just the chords, and it was so different than everything else, but I was like, I really like these chords. They were like nothing we'd ever really put out.
With social media especially, there's a lot of image issues that everyone faces, because there's so much pressure on us. And I feel like the message doesn't get spoken about enough. And that's just the way I was feeling that day: I might wake up, and have an attitude. I literally was just speaking about myself. At the end of the day, that's all anyone wants. Once the song was done, we just wanted to put it out, we didn't want to wait. We all loved it so much.
I feel like one of the reasons people love your music is because of how it demands, and exalts, self-love. It's empowering. Who taught you to prioritize being treated well and loving yourself?
It was very much so my Mom. My Mom never really had any other relationship when I was growing up other than with my Dad. She and my Dad split up when I was very young. So I only ever saw my mom really by herself. But it was never a thing where I could feel (her struggling). She always made sure that me and my brother were good, regardless. And she never, ever stopped going. She had me and my brother before she went to school. She went back to school after. And she just now, last year, graduated with her masters. She's just a very determined woman, and I think that is what shaped me to be who I am. She was a teacher, and she's very strict, but she is also very open. I always felt like I could go to my mom and speak to her about anything. We have a great relationship.
That is so important.
Definitely. She's just always taught me that, relationships wise, anything can happen, but it's ultimately you who decides how you pick yourself up, and how you learn from it. And that shows a lot in my music. Because that's just the type of person I am.