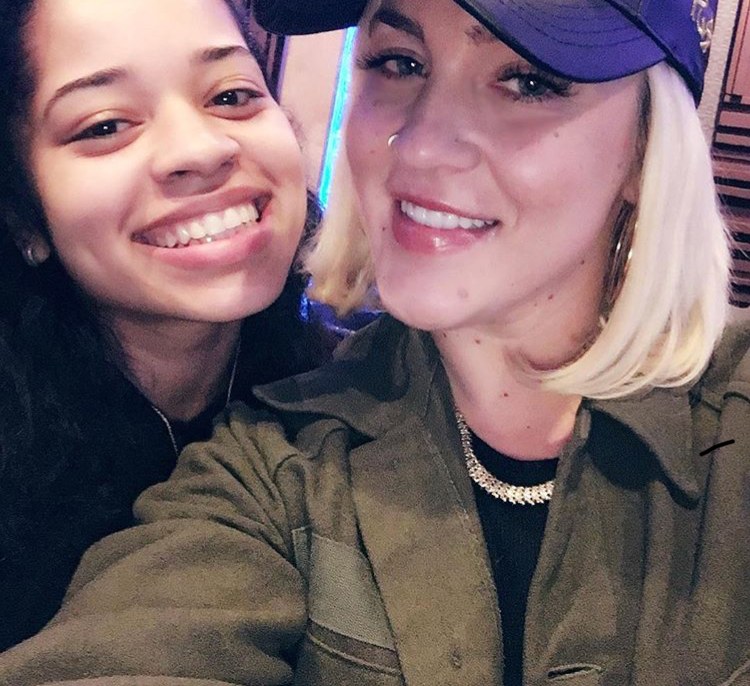 London R&B singer Ella Mai's is finally having her breakthrough U.S. moment courtesy of the longtail popularity of her sultry single "Boo'd Up." Originally released as part of her February 2017 EP READY, the song is a streaming success story and is poised to enter the top 10 of the Hot 100 soon. But its miraculous rise starts with its songwriter Joelle James.
A graduate from Berklee College of Music, James' musical talent was initially discovered by Chris Brown who signed her to his Interscope imprint, CBE (Culture Beyond Experience), in 2012 after he spotted her on YouTube. She worked hard on her own music including the original version of "Boo'd Up," which according to her longtime manager, Bobby Francis, took James about 15 minutes to write. Interscope struggled to market James as a "white soul singer" and wound up dropping her in 2015 before she parted ways with Brown the following year.
As she began her career as a songwriter, demos of "Boo'd Up" traveled to a bunch of other labels, artists, and studios. James faced more dead ends due to contract complications before eventually entering a publishing deal with Roc Nation. Following the many obstacles that stood in her way, she now has a top 20 hit, maintains full control of her solo career as an independent artist, and even established her own label called Vanilla Factory. For the first time ever, James told The FADER the full story behind the song.
JOELLE JAMES: From what I remember, I was having terrible anxiety that day. I had a little bit of studio time booked out by an exec named Shawn Barron and he gave me the opportunity to go work. I had a really short amount of time and I was just nervous from that and having anxiety from a situation that was going on in my life at the time. It was my favorite way to write, it was just me and the engineer. I was going through beats and my life was all over the place. This one beat really stuck out to me. The original track that I wrote "Boo'd Up" to had a sample of Johnny Gill on it, so it was really that classic R&B sound. It was the record from the Boomerang soundtrack, "There U Go." It was just R&B magic! [laughs]
All I knew was that I was in a situation where I wanted to tell this boy how I felt about him and I really couldn't. The only way I could was through music and a song. I wrote it and it literally almost wrote itself. I started off the first line, "Feelings, so deep in my feelings," and the whole thing kind of wrote itself from a real raw, authentic place that I was feeling at the moment. Even the hook, that was so unexpected because like I said, I had a short amount of time so I just wanted to get something good done and make it worth it. The "boo'd up" thing was just me scatting. I'm a real musical person, I went to Berklee College of Music so that's really in my roots so I was just scatting on that and a jazzy type vibe. I didn't even realize I said "boo'd up" until I was done. I felt like I needed to add lyrics and I listened to it a couple of times...then I was just like, I think I just want to leave it, I kind of like how it says boo'd up. That's how I wanted to get across to the dude that I was interested in at the time so I just kept it. I knew from that moment leaving that it was a really special song.
2014 was really the first year that I really tried to write. When I was in that stage, I was so hungry to be in the studio and try to do it myself. Anita Baker was literally who was in the booth with me when I did "Boo'd Up." My version is a little bit more sultry and sexy because I was really trying to lure this boy. I wanted him to hear this song so bad [laughs] and understand how I felt… That second verse, I was really like Ugh, what more do I have to do to get you to understand?! I'm a lady so I don't do things untitled and such so I was really in a fantasy world when I wrote the song.
[After I recorded it,] I didn't even have the files for it because it was at an Atlantic studio, and they don't give the writers the files. It's their property at that point. I loved this song, I knew it was something special, and I had a lot of love and belief in it. Six months after it was written, I had a meeting with the executives at Atlantic and [Michael Caren] loved the record. Wale loved that record and he said it reminded him of Ashanti [and Ja Rule]'s "Always On Time." They had me come to this studio for like two weeks and just write, and write, and write after that. [They] played me what Wale had done to the record and it was super fire, it was dope, but then it just kind of disappeared. The whole dealing with Atlantic didn't go through and then the record was just another record in my catalogue. I always played it and I had a few other artists that were interested in cutting it, but I just had such high standards for it that I was really looking for the best artist for the song. If it wasn't going to be me, it needed to be someone special.
"Pain brings power and if you are able to express it in a loving way then people will really connect to it" — Joelle James
So it just sat in my catalogue after those dealings went quiet and I was still in the contract [with Chris Brown]. Then DJ Mustard started working with Ella Mai, and I almost feel like I willed this whole thing into existence. When he first had me come write with her, I mentioned the song to him. I was like, "You guys should give her "Boo'd Up."" I really thought that the synergy of it would be perfect for her, but they didn't really move on it so I just left it alone. I feel like every time I saw Mustard's team, I would always bring it up because I really felt like this song needed to be heard and it would do what it's doing. I really wanted to break a new artist. I wanted this song to be something special.
I feel like all my songs are like my children and I always fight for them and they will live the longest life ever. That's what I see for my music. Last summer, I was working with her again and they had me write with her in the room and she said "Oh my god, I can't believe how many people like 'Boo'd Up.'' I was like, 'What are you talking about girl? You need to shoot and video and push that record!' I really, really believed in it. I've always been rooting for this song because I knew what it would do and I love where it's going and I feel so happy that it's in the universe.
My journey has been long and I cannot even lie to say that I haven't been heartbroken and frustrated because that's absolutely the truth, but I think that's where the pain in my voice and storytelling comes from. If I didn't have that pain inside of the rejection and heartbreak then I wouldn't be able to convey that. Even with "Boo'd Up," I was lowkey in a heartbreaking situation because I felt a certain way and the guy didn't and that's why I was having the anxiety. I feel like pain brings power and if you are able to express it in a loving way then people will really connect to it because we all feel that way.
What I will say is, once you do find something new, the line "I'll never get over you until I find someone new," it is really awesome and amazing. I really thought I would die without this dude, but let me tell you, life goes on. [laughs] I feel like music is the only healer… I want to break that barrier and be that person that can really unite us all through the music, that's all I've ever known.