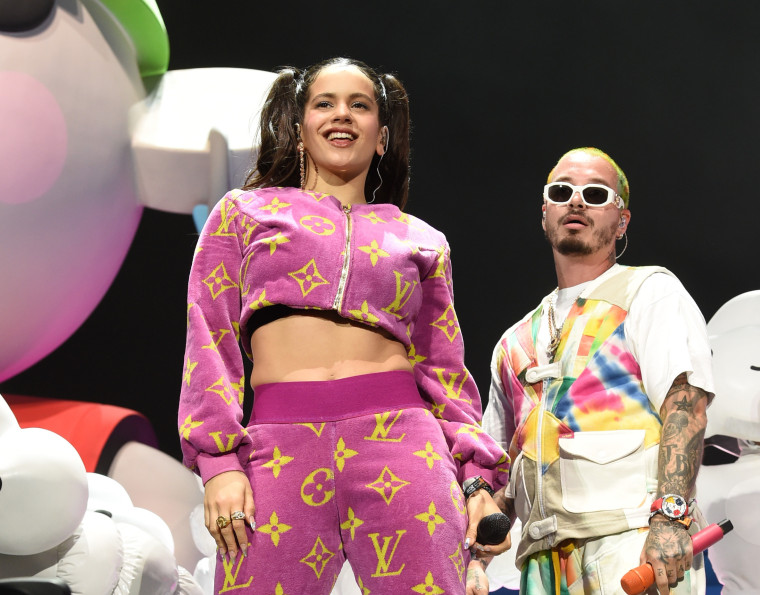 We need to talk about the song of the summer. Actually, I do. And this has nothing to do with radio airplay, or virality, or Tinder anthems, or Spotify playlists. I'm talking pure chutzpah. Authentic dynamo. Unadulterated altitude. With all due respect to Lil Nas X, Billie Eilish, and Lizzo, they never stood a chance: this summer belongs to the mile high club. I'm talking Rosalía, J. Balvin, and El Guincho. I'm talking "Con Altura."
When "Con Altura" dropped at the end of March, it was far from summer: the sun was merely in the contemplative stages of its relentless reign. Aries season was well underway. Not even five months had passed since Rosalía had unleashed her ambitious sophomore album El mal querer — her foot wasn't even off our necks, yet. Nobody could have anticipated "Con Altura" when it fell from the sky. Four months later, and it still hits hard as that very first day.
The heat of "Con Altura" is transatlantic. Instantly you get the crisp and classic reggaeton beat that smacks you across the face like a riptide. That precise moment is punctuated by Mariachi Budda grunting out "esto vamo' a arrancarlo con altura," a sample pulled from the Dominican talk show Sabado Extraordinario. When Rosalía makes her grand entrance, with a hook that's equal parts flamenco and Frank Dukes, it's one that only a superstar could pull off.
Upon liftoff, "Con Altura" doesn't simply hover — it bounces, twists, and ricochets. Rosalía and J. Balvin don't even bother to engage with the tropospheric nonsense below them. It's echoed in the song's brilliant video, which calls back to the glossy renaissance of Hype Williams and TRL. The Director X clip depicts a tightly choreographed flight on a CGI-rendered plane to... well, who knows? Their only destination appears to be far beyond your bullshit. Pan Am could never.
Speaking from a purely aesthetic standpoint, it's the most instantly iconic clip of the year thus far. People who still watch music videos agree: at nearly 638 million, "Con Altura" has raked in more views on YouTube than any other female artist's video this year. That MTV only nominated it for the best choreography and "best Latin" VMAs instead of any of the major categories is an egregious (but unsurprising) oversight.
But that almost doesn't matter. When the VMAs happen, in Bumblefuck, New Jersey or whatever, "Con Altura" will still be flying so far above it. It isn't just an exercise in braggadocio — it's a promise to push beyond that. Over the past few months, I've frequently felt like the sun is encroaching closer than ever, a heat that seems to suggest we're all hurtling toward some great reckoning. I'm not saying the apocalypse is directly outlined in "Con Altura," but when Rosalía and J. Balvin's private jet begins to sputter out toward the end of the video, they set it back on track by dancing their asses off. That's the kind of energy we need this summer.