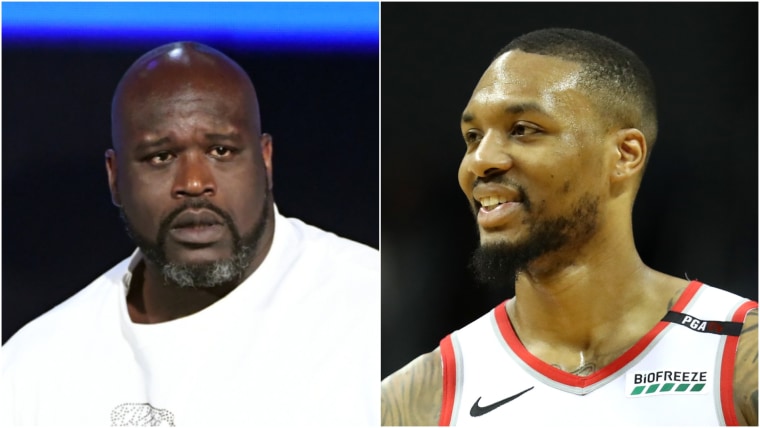 There are three whole weeks until the NBA season gets underway. The only preseason game that's taken place so far involved the Houston Rockets and the Shanghai Sharks. The only basketball news of note — except for the USA crashing out of the FIBA World Cup last month — had James Harden and Russell Westbrook dancing together at a Drake concert. But does any of this matter to All-NBA Portland Trail Blazers guard Damian Lillard or very large former All-Star and current TNT pundit Shaquille O'Neal? Friends: it does not. They're already trading diss tracks.
It started full month ago, when Lillard was a guest on the Joe Budden Podcast. He was asked to compare his own rap career to O'Neal's back in the '90s, and he was honest about it. "I think I rap better than Shaq," he said. "I've heard Shaq's stuff... I think he was viewed as Shaq. People was like, this [is] Shaq. It wasn't like, Shaq and Biggie. People weren't looking like this a real rapper. It was like, 'That's Shaq rapping.' So, of course, it was a big deal."
This didn't seem like a particularly mean thing to say, but, when he's not doing stultifying brand endorsements, Shaq seems to have a lot of free time in the offseason. So, of course, he replied to Lillard with a three-minute track, referring to Lillard as "one of these undisciplined children." Returning to his old rap monicker Diesel, Shaq tried to flash his credentials: "How you say that you better than Dies / When you ain't got more cheddar than Dies / What you talkin' bout? / Legendary I'm a hip hop scholar / I'm tryin' to get a billion who gives a f*ck about a D.O.L.L.A."
It's all sort of fair enough. O'Neal went platinum in 1993 with Shaq Diesel and, as Andrew Barber pointed out on Twitter this morning, once put Nas and JAY-Z on the same song. He once had a real rap career, he has four rings, and he's in the Hall of Fame. But Damian Lillard is a legitimate MVP threat who just released his third album and, according to this ESPN article, "enjoys a good Reisling." So he responded in kind, telling Shaq that Kobe won him his rings, accusing the former center of jealousy, and telling him to "pass the torch." Also, a good basketball burn: "All the money in the world / But they traded you for Penny."
Who won this round of DAME D.O.L.L.A vs. Deisel beef? The answer is obvious: Dame did, and the Blazers are going 82-0.