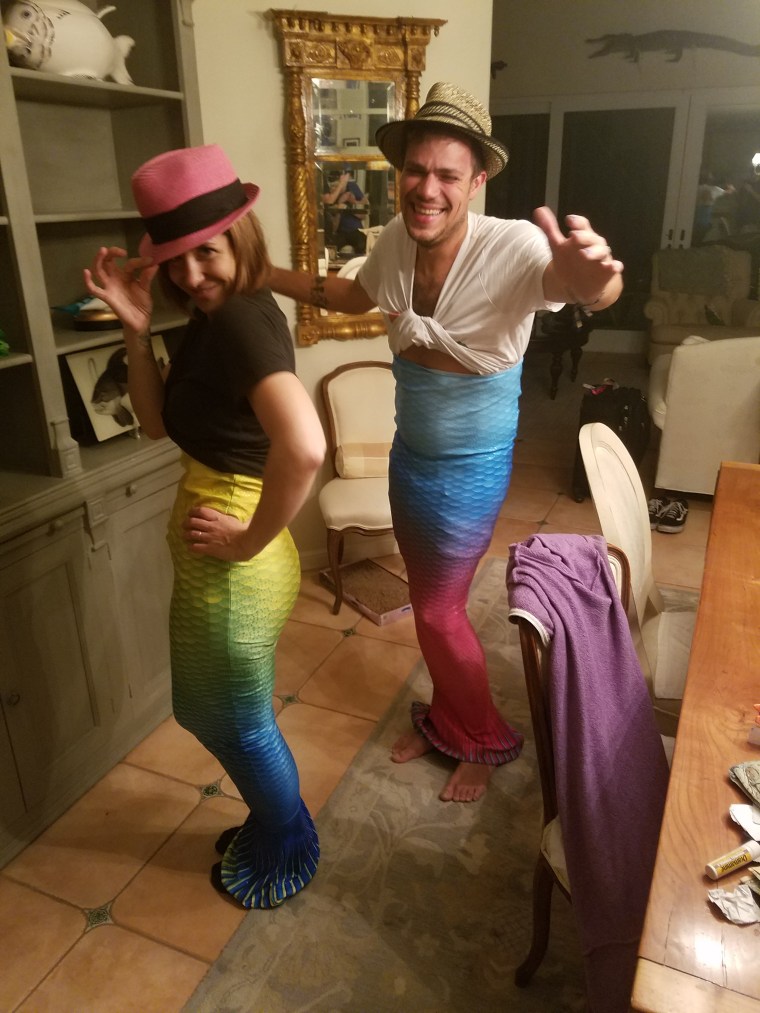 Laura Stevenson grew up with a Neil Young obsessive for a father, but her friend and former Bomb The Music Industry! bandmate Jeff Rosenstock didn't really get it for the first three decades of his life. There were things that Rosenstock liked about Young's legend — "He didn't give a shit," he states over a phone conversation — but it took years of Stevenson grinding Rosenstock down for him to finally engage with the elusive legend's back catalog. Shortly after realizing he liked Young's music, Rosenstock went out on a solo tour, where a friend had a copy of Young's 1970 classic After the Gold Rush. "A lot of stuff just clicked for me," he remembers about listening to the album on that tour. "It was one of those records I listened to non-stop and started diving into from there."
Eight years later, Stevenson and Rosenstock are celebrating Young's 74th birthday with a four-track EP, Still Young, on which they cover some of his standout '70s tracks. For the most part, they're pretty faithful reproductions, though with the exception of "Through My Sails" they're all more frazzled than the originals. "Harvest Moon" has a constant hum of distortion at its back; "After The Gold Rush" sounds almost euphoric, while "Ambulance Blues" gets a shock of electricity. It's a reflection of Stevenson and Rosenstock's divergent styles in the wake of Bomb The Music Industry!, with the former writing brittle and brutally beautiful solo songs and Rosenstock blowing angst out into punk operettas.
Combining those two things is easy enough for two artists who know each others' work so well; they didn't spend much time in the studio, they were just having fun, and that's immediately apparent when we speak on the phone. Neither Rosenstock nor Stevenson could stop giggling from the moment they joined the conference call — first because they were amused by the concept of a conference call, and then because they were finding their own jokes beneath every answer they gave. They heavily implied that they've already got versions of "Peace of Mind" and "Birds" ready to go, but they seemed just as interested in getting into the stranger edges of Young's catalog in time.
For now, listen to Still Young below, read The FADER's interview with Stevenson and Rosenstock after the jump, and try to get the EP into Neil Young's hands. Laura Stevenson's dad would love that.
What's the common ground that both of you have with Neil Young's music over the years?

Laura Stevenson: Jeff and I are both songwriters who can write folky songs, and we also write really loud, bashy songs. Neil Young does that too, but it's all in the same voice. Songwriters who come from punk rock seem to hold onto the energy or the intention of punk rock. I'm not saying that Neil's punk, but I guess he is — punker than us.
Jeff Rosenstock: He's 74, right? What's not punk about that? What I always liked about him before I got into the music that much, that he didn't give a shit. I have a friend who's a really big Neil Young fan who went to see him play in Jones Beach, and he played his new record about the electric car [2009's Fork In The Road] and no hits. Everyone in the audience was like, "What the fuck?" I really like a guy who can do something like that. Musically speaking, he's a freak — he writes these melodies that hit you and stab you in the heart. So much emotion comes across, and no matter how he's doing it, you can always feel it. That's something intangible and impossible to fake about good musicians. It's tough to not be inspired by a record like "Tonight's the Night" or "Comes a Time," which is really open and nice. We both mix a lot of darkness with light in our songs, so that's something I definitely gravitated towards. I also just dig the tunes, man.
Whenever I talk to people about Neil Young, I always end up thinking about the '80s, when he was making deeply odd records and antagonizing his label. At what point did both of you hit, say, Trans, and how did you reconcile it with the rest of his career?
Stevenson: What record is "Piece of Crap" on? I thought it was all funny — even the stuff that was intentionally bad.
Rosenstock: Trans is amazing, because he made this really challenging, weird record that he believed in a lot, and then his record label was like, "I don't think so" — so he gave them four shitty records. That's great. Fuck yeah.
Why did you pick these four songs?
Rosenstock: Both of us had a list of songs. We've been talking about doing this for a long time, and in that conversation we've brought up a billion songs — but these are the ones. I don't feel like these are our four favorite Neil Young songs or anything. We didn't do anything off Comes a Time, which is Laura's favorite record.
When did it actually start coming together?
Stevenson: You sent me an email a month after I came down to your apartment. I was on tour in Europe still.
Rosenstock: Oh, brag about it.
Stevenson: I've been there a couple of times.
Rosenstock: There wasn't any practicing — we just knew we were going to do it. Laura would come over, we talked about what was going to happen, Laura would play some shit. We'd be checking each other, making sure we were doing a cool thing, or telling each other to try things. I thought we were listening to each other — hopefully I was listening to you, Laura. It happens fast when it's like that. We both did our singing back in our little houses, then we put it together. It's just that we're friends and wanted to hang. This was a good excuse.
Stevenson: It was really easy. We've worked together in so many other capacities for so many years, I know your taste and you know my taste.
Rosenstock: There's a lot of trust between us. We're not going to let this be something that either of us don't like, which is harder than you'd think when you're making a record sometimes. But if you like it, you owe me five dollars.
What's your goal when making a cover?
Rosenstock: I'm never trying to make the version that sounds like theirs, because they already made the good version that sounds like that. Songs rattle around in your head and you want to play them, and you want to do it in a way that seems like it would be fun. That was behind the stuff I was thinking on this. I don't pick up a guitar and sing a lot, so I'm never like, I know it would sound good if I sang this beautiful song with my shitty voice playing power chords. I'm just trying to be creative. What do you think, Laura? I think you could cover anything and it would sound really nice.
Stevenson: Thanks, Jeff. Some songs that are big and loud, I like to try to reveal how good it is stripped down. I've stripped things down just to reveal how good the songwriting itself is in covers, but Neil Young doesn't really need that. We've brought in a little bit of both of our interpretations of how we interpret songs. Sometimes I'll just strip them down and be like, "Listen to how beautiful this is." And then Jeff makes things fun.
Rosenstock: Usually I'll blow it out with a lot of shit, and you'll usually make it kind of bare. I didn't think about that while we were working on this, but maybe that's why I like it. Laura, I like this record!
Stevenson: Me too, I do too. Let's listen to it right now, all three of us. [Pause]. I'm serious.
If you could do four more covers for Neil Young's next birthday, what would you want to do?
Rosenstock: Well I have a feeling we'll do "Peace of Mind" and "Birds."
Stevenson: I have a feeling that those two are happening.
Rosenstock: Maybe "Piece of Crap." The next one is just four different versions of "Piece of Crap."
Stevenson: I'll make a pretty one, you make a fun one, then we'll do two that are middle of the road.
Rosenstock: Two clunkers and two that we'll like. We talked about doing "Razor Love," and I wanted to do a version of "On The Beach." But "Peace of Mind" and "Birds" are strong contenders.
If Neil were to hear this, what would you want his reaction to be?

Rosenstock: He's going to say, "This was recorded in 24/48, so I'm not into it."
Stevenson: Yeah, I don't know if the audio is going to be up to snuff.
Rosenstock: If he heard it and liked it...
Stevenson: I would probably shit.
Rosenstock: We'd both just shit. You can't put out anything assuming anyone's going to hear it.
Stevenson: I wouldn't put it out if I thought anyone was going to hear it.
If you could ask Neil Young one question, what would it be?

Rosenstock: He's an open book. I don't think he's the kind of person where you'd want to be like, "Hey, where'd you get that guitar, man?" I'd just let him talk.
Stevenson: But if I didn't ask him, "How you doing?," my dad would probably disown me. That was the one thing that he said to Neil Young once. My dad's the biggest Neil Young fan in the world. He hangs out on the message boards all day long and buys bootlegs and stuff.
Rosenstock: The FBI's coming to your dad's house right now.
Stevenson: They're going into his houseboat.
Has your dad heard this record?
Stevenson: I haven't thought to play it to him, probably because I'm afraid to. But maybe I will!
Still Young is out now via Polyvinyl. Jeff Rosenstock will play a donation-based charity residency at Trans-Pecos in Brooklyn this December. Find out more about that at his website.Stevenson will head out on a tour of her own this December, and you can find those dates below.
December 3 - Baltimore, MD @ Ottobar
December 4 - Carrboro, NC @ Cat's Cradle
December 5 - Athens, GA @ Caledonia
December 6 - Tampa, FL @ Nooch & The hive
December 7 - Atlanta, GA @ The Earl
December 9 - Nashville, TN @ The High Watt
December 10 - Fayettteville, AR @ George's Magestic Lounge
December 11 - St. Louis, MO @ Blueberry Hill Duck Room
December 12 - Bloomington, IN @ Bishop
December 13 - Columbus, OH @ Big Room Bar
December 14 - Lancaster, PA @ Chameleon Club
December 15 - Jersey City, NJ @ Monty Hall