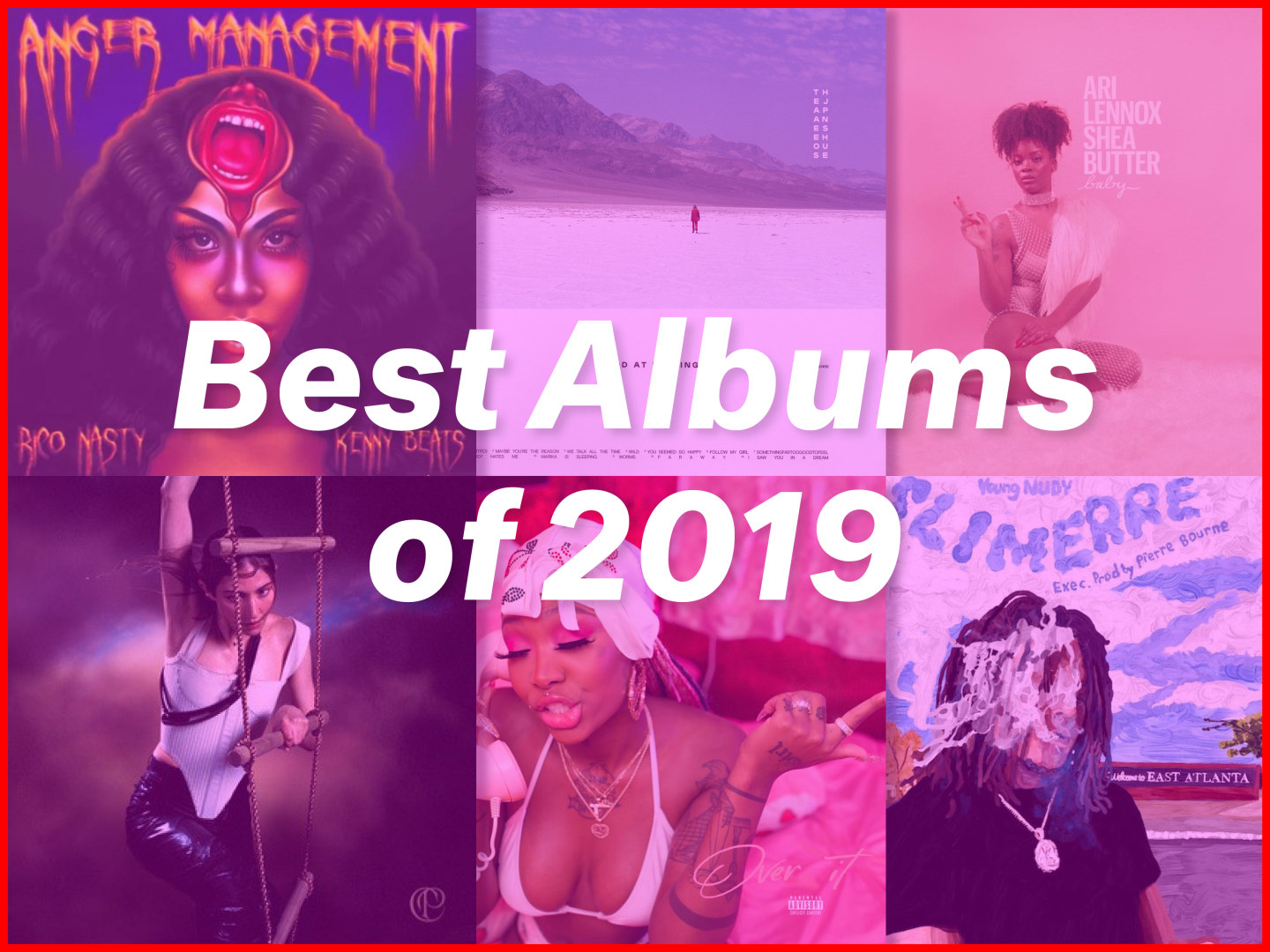 2019! What a year, huh. Lotta beginnings, lotta endings, lotta unfinished business. Seems like at the end of every year this decade we've increasingly asked ourselves, "Is there really anything worth celebrating right now?" 2019 was, in many ways, no exception. But the bottom line is that art can be an important and momentary distraction from the things that trouble us and the people around us, so think of this less as a "best of the year" list (we went unranked this year, just because) and more a musical star chart of the works that we found solace and pleasure in throughout this year. That's always worth celebrating. -- Larry Fitzmaurice, Executive Editor
Orville Peck, Pony
A country singer with a tasseled highwayman's mask, a clutch of torch songs about queer love on the range, and an intentionally obscured background in hardcore punk seemed like a longshot for a breakout year — but Orville Peck nonetheless ended 2019 by stealing the spotlight from Bella Hadid and David Beckham at a Dior show in Miami. His careful aesthetic and obscured backstory played their part, but his Sub Pop debut Pony would've been a masterpiece regardless. His baritone is stunning in person and just as affecting on record, alternating between the stampeding eroticism of "Buffalo Run" and the loneliness of "Big Sky," borrowing from the standards on "Roses Are Falling," rising and falling to twist genre tropes on "Turn To Hate." If the kitsch and choreography draw you in, that facade has crumbled to sand by the time Peck reaches "Nothing Fades Like The Light," a largely acoustic song about depression turning perhaps fatally to numbness. He's not the first outsider to use country's hardscrabble legacy to tackle his own sense of alienation, and he won't be the last, but on this form he's the most compelling. -- Alex Robert Ross, Associate Editor
Sharon Van Etten, Remind Me Tomorrow
Sharon Van Etten didn't have to follow the trend of approximately 95% of the last five years of indie by adding synths to her sound, but she did anyway and it still bangs. Proof that one of North America's best singer-songwriters can do whatever she wants, whenever it wants — and it all comes out glorious anyway. -- LF
Lady Donli, Enjoy Your Life
The contemporary music that most people associate with Nigeria is the often-misleading afrobeats classification, which factors in elements of pop, dancehall, R&B, and hip-hop through a West African lens. What most people are describing when they refer to music in this way is pop aspirations, but there's also an abundance of Nigerian music making waves that doesn't follow this formula. Unlike the pop music coming from her home country, Lady Donli's Enjoy Your Life doesn't feel anchored by any particular time period, with flashes of high life, rock & roll, neo-soul, and jazz throughout. The album's main objective is storytelling — stories about migration, love, and accepting one's self, and listening to Enjoy Your Life at times resembles watching an open-mic performance at a local bookstore, with a real sense of community and the intent to make you feel good regardless of outside forces. -- Lawrence Burney, Senior Editor
Girlpool, What Chaos Is Imaginary
In which this duo get expansive while continuing to cut close to the bone emotionally. Girlpool's third album is a little bit There's Nothing Wrong With Love-era Built to Spill, a little bit of Elliott Smith's Figure 8, but more than anything else a giant leap forward for a band that continues to establish themselves as one of indie rock's heaviest hitters of the past few years. -- LF
Young Nudy & Pi'erre Bourne, Sli'merre
Pi'erre Bourne does a lot with a little. The beats that took him to SoundCloud rap omnipresence are often euphoric and occasionally psychedelic, but always relatively minimal — which makes Young Nudy, a fast-rising Atlanta rapper with a flow so languid that he seeps into beats like blood into red carpets, the perfect collaborator for a full-length project. Nudy as an auxiliary instrument on most of Sli'merre, an ambient presence whose position in the background is only reinforced by appearances from spotlight-grabbing guests Megan Thee Stallion, DaBaby, 21 Savage, and Lil Uzi Vert. The best moments here come from Bourne and Nudy alone, though — the glitchy "Call Dat Bitch Homicide" and blissful "Sunflower Seeds." Sometimes the best players just dish out assists. -- ARR
The Japanese House, Good at Falling

Amber Bain's music is all soft hues and bruises, the kind of stuff that teenagers die for and that adults who still relate to teenage emotions chase like dreams. Of course this shimmering, achingly gorgeous debut album was co-produced by the 1975's co-musical mastermind George Daniel — after hearing it, how could it not? I can't wait to hear what she's going to do next. LF
Billie Eilish, WHEN WE ALL FALL ASLEEP, WHERE DO WE GO?

If one were to sum up the youth of 2019 in an album, it would sound and look a lot like Billie Eilish. The 18-year-old experimented with a wide range of styles on her debut album, mirroring the recent move toward a "genre-agnostic" pop sound that artists like Ariana Grande and Taylor Swift continue to draw from. When promoting the album, Eilish even noted that her debut would have "something for everyone," alluding to the fact that categorizing WWAFAWDWG as a "pop," "rap," or "rock" record would indicate a distinct audible identity. A promotional cycle that included boogers and plastic bags as hats, as well as her choice to continue to wear oversized and baggy clothes, Eilish is reinventing the image of a teen girl pop star. -- Annalise Domenighini, Social Media Director
Komachi, Meitei
Hiroshima-based producer and ambient musician Meitei started working on Komachi shortly after the death of his 99-year-old grandmother — one of the last people who, he said, could understand and appreciate a "lost Japanese mood" he was trying to locate. The result is an album that foregrounds tranquility and searches for nostalgia, with field recordings of ocean water lapping over looping chimes and dissociative static. But Meitei's field recordings are always placed alongside more modern sounds, digital thuds and computerized synthetics that ground these movements in the present even as he explores the past. It does brilliantly what so much ambient music strives to: imparting a specific feeling to a listener who might be thousands of miles and even centuries away from its source. -- ARR
Caroline Polachek, Pang
Caroline Polachek has occupied many spaces during her decade as a musician. From fronting an indie band making sync-friendly earworms and contributing to Beyoncé albums to stints making experimental music under other aliases, she's proved as malleable as she has been consistent, so the high quality of her debut solo LP Pang is unsurprising. Created alongside producer Danny L Harle, the album leans into the PC Music aesthetic, a sideways take on sugary pop melodies and electronic production. Unlike other artists on that roster, however, Polachek isn't afraid to fully commit to her feelings; written after a painful break-up, Pang covers indecision ("Door"), lust ("So Hot You're Hurting My Feelings"), and self-doubt ("Caroline Shut Up") in heart-swelling fashion. Great albums often act as a key to how an artist moves forward, and Pang is proof that you'd back Polachek to go anywhere. -- David Renshaw, Contributing Writer
Megan Thee Stallion, Fever

Before ever saying "hot girl summer," Houston rapper Megan Thee Stallion's Fever showed up with such a take-no-shit, support-your-girls attitude that everyone from mainstream media publishers to a major label or two found themselves hopping on the bandwagon just to stay relevant. This was an album that gave Megan superstar status, a spotlight that she refused to stay in alone. She furthered the yeehaw agenda, began an honest discussion about women supporting women, and gave tall girls the justice they're due. Drawing on the cultural legacy of Houson, blaxploitation, and the women rappers that came before her, Megan gave listeners a multi-dimensional representation of femininity and female existence within the genre. -- AD
Bad Bunny, X 100pre
Bad Bunny's key skill in the three years leading up to the Christmas Eve release of his debut album was his versatility, as he racked up billions of plays worldwide while skin after skin. So his debut album — a project that most people figured he didn't need to release after all but rendering the album obsolete, at least from a business perspective — was always going to be a challenge. But on X 100PRE, the Puerto Rican pop star did the seemingly impossible, blending pop, reggaeton, radio-ready trap, and (nobody even asked for this one!) pop-punk. As he'd prove later in the year with the more-than-satisfying J Balvin collaboration Oasis, Bad Bunny is often best when he slows himself down, here with the doleful "Solo de Mi" and sleeper hit "Como Antes." I'd also happily listen to a full hour of Bad Bunny riffing on that glorious surprise Ricky Martin appearance in "Caro," but that's too much to ask for this Christmas. -- ARR
Black Dresses, Love and Affection for Stupid Little Bitches
Love and Affection for Stupid Little Bitches opens with a guttural scream and ends with the words "We'll pull through." In this trajectory, Black Dresses reveal how "industrial" is more than a genre for the Toronto duo — it's a way of life, as the routines of daily betrayal, devastation, and collapse are coded into a system constantly eating our livers. Over the course of nine songs serrated as old scabs, the Toronto duo plot a pyrrhic victory and examine each of their wounds with a capacity for merging noise and pop not heard since Nine Inch Nails. -- Jordan Darville, Contributing Writer
Kelsey Waldon, White Noise/White Lines

Between Sturgill Simpson, Tyler Childers, and Kelsey Waldon, Kentucky is having a huge cultural moment within the country sphere. The first artist in 15 years to sign to John Prine's Oh Boy Records, Waldon brings her signature sound to the masses on her debut record. She tackles religious hypocrisy, rural alienation, and how fucking crazy a weed (black patch, specifically) can drive you. Equal parts her own unique sound and sounds that have populated the Appalachians for years (including those from Native Americans), Waldon's contribution to the often-overlooked cultural force that is Kentucky was well-timed. -- AD
100 Gecs, 1000 Gecs
"If PC Music started a hardcore band." "Everything I'm ashamed to like packaged in a way it's somehow cool to tweet about." "The literal sound of a broken brain spending yet another hour online." These are just some of the ways to try to explain what 100 Gecs are doing on their mind-melting debut album — a record I'd simultaneously be embarrassed to play to close friends while also being something I want to blast from a rooftop for the world to hear. Dylan Brady and Laura Les are dividing the crowd one decomposing beat and "piss baby" insult at a time, an approach that has brought them a group of like-minded individuals united under a sound deeply of its time. 100 gecs aren't tasteful; their abrasiveness sends anyone less than a diehard running. But in an era of streaming-led homogeneity, music needs more people prepared to burn bright and fast this way, and that's exactly what makes 1000 Gecs so exciting. -- DR
Karen & The Sorrows, Guaranteed Broken Heart

On her third album, queer country artist and anti-white supremacist activist Karen Pittelman and her band The Sorrows tackle one of country music's age-old demons: What do you do when you build a life with someone only to realize they just aren't as much as you needed? How do you set up boundaries with people who, through years of familiarity, could take it personally when you even suggest the need for it? The record is chock full of sad songs that offer you a shoulder to cry on and a pat on the back, but that refuse to coddle you. -- AD
Nefew, Spray Paint My Name on the Walls
Atlanta's Nefew is so uninterested in the spotlight that it'd be perplexing if the his music started to mirror the dripified bars of his hometown's contemporaries. For the past few years, he's built a reputation for giving an uncut depiction of what life is like in some of Atlanta's darkest corners, and this year's Spray Paint My Name on the Walls — an instruction to his community on how to eulogize him when he dies — is his best missive as a messenger for the underworld. Prepare to adjust the volume frequently due to mixing inconsistencies, but the unvarnished sound also bolsters the purpose this music serves. With his deeply coarse delivery, Nefew covers seeing his mother become addicted to drugs after a steady flow of challenges rocked their family; he talks about the need to be armed in his part of town, and — in a more socially-aware manner than most of his street rap peers — he expresses the joy of selling crack to white clientele because he knows "they made it for the Black man." Spraypaint My Name on the Walls feels like if 2007-era Atlanta got teleported to 2019 — nostalgic and crucially relevant, all at once. -- LB
Rico Nasty and Kenny Beats, Anger Management

Overy 18 power-packed minutes, Rico Nasty's Anger Management gives fans a session of all-out catharsis for the ups and downs of life's wheel of fortune. Between a JAY-Z sample on "Hatin'" and the self-consciousness of "Sell Out," the record gives Rico the necessary space to vent her frustrations, take joy in what she has, contemplate what success means for her now and chart her future course. A sternly empathetic bordering on defensive pep talk, Anger Management is quite literally its title. -- AD
Kano, Hoodies All Summer
Pioneering grime MC Kano triumphed earlier this year with a hometown show at London's Royal Albert Hall, and the album that took him to such a grand venue was Hoodies All Summer. Unlike his 2016 album Made In The Manor, which looked inward at what made him a man, the Top Boy star cast his eye across his city to make an album that was epic in scope yet personal in delivery. "Trouble" deals with London's gang culture and needless loss of life to knife crime, while "SYM" nods its head to the Windrush generation — and that latter song, backed by a gospel choir, took Kano's Royal Albert Hall performance to another level. In a building with a box set aside for the Queen, he delivered a paean to a generation who were left feeling unsettled and at risk in a country they'd legally called home for decades. Kano's delivery has always been packed with power, and now his words do more than ever before, too. DR
Burial, Tunes 2011-2019
How appropriate that, in a young century that felt like a failing simulation, the most important dance producer is a phantom. He revealed his face years ago, but in each of the three photos Burial's released in his fifteen-year career, there's a benevolent blankness, like an angel rendered on a Nintendo 64. The feeling extends to his music, a place where Burial creates universal sanctuaries from his memories of South London's atmospheres, people, and sounds: rave, jungle, techno, and garage. There is no new music on Tunes 2011-2019, a selection of the EPs and singles Burial has released since his last album, 2007's Untrue. But the great success of Tunes is in its recontextualization, connecting songs from across the distant years into a constellation. Burial has been inspired by his past for the duration of his career, but he has never offered nostalgia; from the fossils of yesteryear, Burial creates new guiding lights. "It's easy to fall away and fuck up," he told Mark Fisher in 2012, "and for many people, there's no safety net. Sometimes one tune can mean everything. It's like a talisman." -- JD
Lana Del Rey, Norman Fucking Rockwell!
Lana Del Rey is keen to paint herself as a woman of simple pleasures; earlier this year, she told Billboard that when she's not writing, she's "just at Starbucks, talking shit all day." This may be seen as typical LDR, a diversionary tactic from an artist that wants you to believe she's deeply normal while also being quick to point out that the doomed and nostalgic Hollywood starlet she inhabits on record is in no way a persona. To me, it's less a contradiction and more a continuation of Del Rey's comedic streak — something that's evident throughout the stunning (and often very funny) Norman Fucking Rockwell!. Whether it's livestreaming the apocalypse on "The Greatest," baiting Grammy organizers with songs they'll love but a title they can't broadcast, or literally covering a Sublime song, Del Rey is having a blast on this album. Melodrama is camp and comedic in the extreme, and it doesn't get much more melodramatic than Lana Del Rey singing a song called "Hope Is a Dangerous Thing for a Woman Like Me to Have – but I Have It." Norman Fucking Rockwell!, amid all of its many charms and qualities, is the sound of an artist finding the laugh lines amid the heartbreak and anxiety. -- DR
Ari Lennox, Shea Butter Baby
Ari Lennox's debut album feels like a victory lap. Though Shea Butter Baby is her first official release, the Dreamville songstress has been releasing music for the better part of seven years, priming her for the opportunity to blossom in the very timely way that she did this year. Shea Butter Baby inspires amazement in how Lennox's earnest, buttery harmonies possess a healing quality, and when coupled with the subject matter — tales of unsure love, late-night encounters, and the extremely relatable pleasures of having your first solo apartment — the album resembles being a fly on the wall in a sacred space. Like most great R&B, Shea Butter Baby gets at the things that make everyday people tick, beyond reflecting on the complications. Lennox will sing to you about being annoyed by a boy she hasn't seen since elementary school hitting her up with the same fervor she does about making love. She's the real people's champ that we need right now, unafraid to peel back all of her layers. -- LB
Taylor Swift, Lover
Like any great top-tier, Type-A pop star, Taylor Swift is obsessed with giving people what they want. Her last two records fell prey to the misconception that her best art comes hand-in-hand with her crowd-pleasing tendencies, but Swift made her name with a series of albums that felt like chaotic bricolage. By those metrics, Lover ticks every box; it's referentially dense and, at 61 minutes, hard to truly commit to for a casual fan. There is no stylistic through line, with references ranging from new-school St. Vincent ("Cruel Summer") to Mazzy Star ("Lover") to Blood Orange ("False God") to, er, MIKA ("You Need To Calm Down").
But it's also an album that's easy to fall headfirst for. Lover is genuine fun to listen to, with Swift pushing herself and her craft more than she's ever done in recent years. She tries three or four new vocal cadences on "I Think He Knows" alone, and experiments with new sounds and themes throughout the record. Like her career-defining classic Red, Lover is serious without feeling like a chore, and fun without feeling frivolous. After years of trying to please everybody all the time, Lover finds Swift making music for herself, and considering the results, that should be good enough for the rest of us. -- Shaad D'Souza, Contributing Writer
Prince, Originals
Originals, a collection of previously unreleased Prince demos of songs written for other artists, is a posthumous flex. After first hearing it, I imagined Prince entering a club, whisking the song off the arm of the artist who released it, and strutting out the club. Mine now! Many of the songs were written for Prince-affiliated musicians (The Time, Vanity 6), but the crown jewel is, of course, "Nothing Compares 2 U," a song popularized by Sinead O'Connor which would set the course for Adele and so many others. Listening to Originals over thirty years after they were recorded, it's hard to know if Prince is still underrated, or if we simply don't have the language to capture his magnitude. -- JD
Tyler, the Creator, IGOR
Every great love record deserves an equally great breakup record, and this year Tyler, the Creator delivered a doozy of a sequel to 2017's dreamy, dewy-eyed Flower Boy. Essentially a concept record about a character who's left by his male partner for a woman, IGOR is delightfully perverse and wounded, channelling the adolescent petulance of Tyler's early records to great effect: "You invited me to breakfast, why the fuck your ex here?" Tyler snivels on "A BOY IS A GUN," the dark twin to Flower Boy's "See You Again."
While it retains the cracked choral arrangements and sparkling synthesisers of its predecessor, IGOR is characterised by a camp, horror movie-style darkness: minor-key synth chords underscore squeals and screams, and echoing alarms cut right through the centres of would-be radio hits. Tyler is closer than ever to his vision of becoming this generation's N.E.R.D. on this album: these are pop songs made of sugar syrup and extra-taurine Red Bull. Rihanna may have passed on the opportunity to sing on early highlight "EARFQUAKE,' but the fact that the finished product doesn't sound too far from a potential Rihanna single says a lot about how close Tyler is to his idol's knack for writing pop hits.
More often than not on IGOR, Tyler sounds like rap music's Bridget Jones — a hapless romantic constantly falling into the wrong situation to equally comical and depressing effect. "What do you need," he asks desperately on "PUPPET," "Do you need bread? Do you need this? Do you need to be alone?" Tyler has sounded like a lot of things across his catalogue — provocative, romantic, upset, elated — but he's never sounded so desperate. He's never sounded this great, either. -- SD

James Blake, Assume Form
There's something about James Blake's music that feels like it must have existed forever and only just made its way to you. His latest album Assume Form is a foray into versatility and emotion that explores the many forms vulnerability can take, as well as what that sounds like. There's gentle melodies like "Don't Miss It," as well as bass-focused, borderline-slow-twerkable cuts like "Mile High" and "Where's the Catch." The heartbeat that runs through Assume Form is an upbeat energy that Blake's never carried through his previous work, and the exploration of vulnerability on Assume Form delivers moments of pure, sensitive poetry like "Are You in Love" and "Barefoot in the Park." This is an album that's dreamy, pleasant, and even fun in it's tenderness. If "Let's go home and talk shit about everyone" isn't a love language, then what is? -- Nalae White, Social Media Editor
Akua, Them Spirits
"Soul" is as beautiful a word ascribed to a genre of music, yet it's frustratingly vague. What music doesn't have soul? Toronto musician Akua fulfills both the arbitrary criteria dictated by canon and the spirit of the word: interior, elusive, only to be fully glimpsed in the darkest moments. Written in the aftermath of the death of Akua's father, Them Spirits is full of visceral emotion and transcendent instrumentation that evokes twinkling tear-stained cheeks and the soft embrace of a bed on a sunny afternoon. Unflinching with her own wretched grief, Akua has created a salve for the listener. -- JD
Beyoncé, The Lion King: The Gift
A well curated soundtrack is a legitimate body of work that can turn a film into a cultural moment. Movies like Twilight, 50 Shades of Grey, and Black Panther all featured soundtracks that elevated the films they accompanied, and The Lion King: The Gift actually outshines the film it accompanies. Where the live action rendition of The Lion King lacked the emotional mysticism and whimsy you expect from a Disney film, The Gift delivered. Save for the James Earl Jones interludes and a few choice themes, the album serves as a solid standalone project. It features a collection of Afro beats, R&B, and hip-hop inspired songs by mostly African producers and songwriters that range from dance hits to ballads. Rather than relying on nostalgia for its success, the refreshing crossover compilation has been somewhat of a movement itself.
The sounds of African artists like Salatiel, Tiwa Savage, and Yemi Alade are streaming across all over the world on Disney's dollar. They have collectively been nominated for a Grammy for Best Pop Vocal Album. The #brownskingirl challenge united black girls across the world in a moment of representation. It is unmistakable that the mission of the album is to uplift. Songs like "KEYS TO THE KINGDOM" and "FIND YOUR WAY BACK" are specifically designed to make the listener feel acknowledged, seen and supported. I text a link to "BROWN SKIN GIRL" to my younger sister when I want to remind her she is beautiful. My friends have told me they sometimes can't listen to "BIGGER" in public for fear that they'll cry. The Gift is fun, spiritual, emotional, wild, unapologetic, and just good. The spirit of this album is exactly the spirit I seek to embody as a black woman navigating this world daily. To be able to channel that energy through the music of artists from Nigeria, Ghana, and other African countries has had a cleansing and necessary impact. -- NW
Solange, When I Get Home
Early on in her fourth full length When I Get Home, Solange offers artistic thesis explaining the album's fragmented, kaleidoscopic sound. "I can't be a singular expression of myself," she says matter-of-factly, "There's too many parts, too many spaces, too many manifestations…" True to that idea, When I Get Home is fluid and kinetic, constantly jumping from one idea to the next. Spoken word interludes cut sharply into scenes of drifting R&B, jazz, and New Age synth work, giving the impression of driving down a busy street with the windows down, or walking through a crowded train car. Solange's previous record A Seat at the Table served as a spiritual bloodletting and artistic reinvention all at once, while When I Get Home crackles with the freedom its throat-clearing predecessor provided. So joyous and expansive and willfully oblique, it's finally a chance for Solange to explore her identity on her own terms — all the parts, all the spaces, and all the manifestations of it. -- SD
Lala Lala, The Lamb
The spectre of violence pushed Lillie West towards something life-affirming. Threats loom around every corner on The Lamb, her sophomore record as Lala Lala: burglars, car crashes, one too many drinks. Inspired by the aftermath of a home invasion West experienced as well as her newfound sobriety, The Lamb is a dark, impressionistic vignette of someone trying to find control in a life marred by chaos that traces a bracing emotional arc from fear through to hope. Simultaneously battered and dreamy, The Lamb has one of the more distinct sonic palettes to be found in 2019 indie rock, recalling the cathartic heat of Car Seat Headrest and Molly Nilsson's romantic, twinkling reveries in equal measure. The Lamb's tearstained, post-midnight sheen also recalls Sky Ferreira's Night Time, My Time — another album about reclaiming your life in the wake of alienation. But unlike that album's discomfiting open end, The Lamb closes with West reciting a mantra to live by: "Turn the lights off, keep the bills low / Keep my friends safe, keep my friends close." -- SD
Oli XL, Rogue Intruder, Soul Enhancer
One of my favorite moments on Rogue Intruder, Soul Enhancer comes at the very beginning of "DnL." The sounds of chalk against a chalkboard, perhaps in a school, over a bed of ambient synth pads, while a voice intones "Boring. Lame!" The sounds and space that Stockholm-based producer Oli XL conjures belong neither to the past nor the future, but both. Somewhere in between our foggiest memories of pirate radio and two-step and the wildest dreams of what they could have been (Jai Paul, anyone?), there is Rogue Intruder, Soul Enhancer, existing in a liminal space created by a collision of subgenres. -- JD
Jenny Lewis, On The Line
Jenny Lewis drifts through her fourth solo record like a woman with nothing to lose. On "Heads Gonna Roll," she waxes lyrical about an ex before throwing her cigarette on the kerb and walking away without a second thought. She frets about inheriting her father's addictive tendencies on "Wasted Youth" before brushing said concerns off with a "doo-doo-doo-doo-doo." And on the album's rom-com worthy title track, she calls a lover and begs him not to leave her "for a superfan called Caroline." In this mode — effusive, open-hearted, and ultra-specific — Lewis is hard to beat, and On The Line was one of the year's most reliably pleasurable listens. It's an album that will still sound good years from now, but that timelessness doesn't stop Lewis from sounding as vital as she ever has, as tracks like "Red Bull & Hennessy" and "Rabbit Hole" still bubble over with her trademark hedonism. This time around, though, there's a sharper, more distinct sense of pathos. It's almost like having nothing to lose helped Lewis take stock of everything she stood to gain. -- SD
Summer Walker, Over It
Summer Walker's debut album is a sensual, emotional, and well-constructed series of makeup, breakup, rolling and smoking, (and stripping, if you're into it) cuts. It's a perfect album for all phases of your bedroom during the weekend, from the lazy mornings to the late, late nights. Summer Walker's melodies are diverse and sensuous; her lyrics range from vulnerable and self-assured on "Body" and "Off of You," to seductive on "Anna Mae," to pleading on "I'll Kill You." Walker is a gifted songwriter — but what should otherwise be an exciting time for her has been marred by the effect of her social anxiety on her public appearances. She has been criticized often for interviews and performances where her anxiety appears to get the best of her. She's expressed a disdain for performing, despite delivering vocal perfection most nights, and canceled much of her recent tour due to the pressures of her anxiety. Her fans want to believe that she's exactly the person Over It would have them believe she is—a fighter, unapologetic about how far she is willing to go to love, and unafraid to show it. But because Summer Walker is a human being, she is afraid to be vulnerable in front of the entire world. Maybe that's why the music is actually so good: because it feels human. -- NW