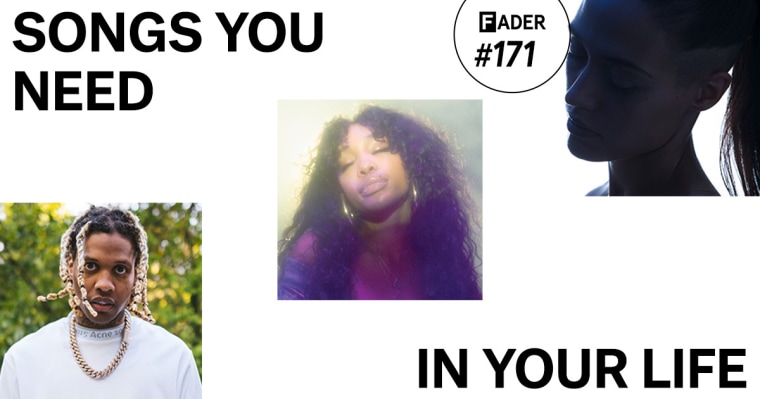 Each week, The FADER staff rounds up the songs we can't get enough of. Here they are, in no particular order.
BUMPER, "Red Brick"
Michelle Zauner a.k.a. Japanese Breakfast and Crying's Ryan Galloway shared a surprise collaborative EP last week, and "Red Brick" is a 32-bit city pop highlight.
Karlaplan, "Off The Meds"
Balearic Kraftwerk vibes abound on the effortlessly cool lead single from the Stockholm group's upcoming album. Read our interview here.
Jacquees, "Both Sides"
Baby-making music that ratchets up the sexual tension thanks to a beat that takes me back to early 2010s Drake.
Good Sad Happy Bad, "Shades"
The comeback song from the band formerly known as Micachu & The Shapes is an irony-charged alt-pop tune about optimism at the end of the world.
Evian Christ, "Ultra"
"Ultra" is the first new Evian Christ song in six years, and the Yeezus co-producer matches the stakes of his return. Synths strobe with the intensity of a pulsar across this perpetually building track of disintegrating rave.
Lil Durk, "The Voice"
Durk's victory lap after nearly topping the charts with a feature on Drake's "Laugh Now Cry Later" is far from another play at pop stardom. Instead, Durk has shared a street ballad about the people you love still doubting and all the flaws that fame and power can't fix.
SZA feat Ty Dolla $ign, "Hit Different"
SZA returns to her best-known bag for her comeback solo single: smooth, lovesick R&B. Straightforward pop never really suited her.
Zora Jones, "Melancholy Princess"
A standout on Jones's recent debut album Ten Billion Angels thanks to its combination of early day grime synths and distorted hyperballad vocals.
Nicki Nicole, "Mala Vida"
Judging from the strength of her new song and mob movie-inspired video, the 20-year-old Argentinian rapper is a Godfather in the making.
Lomelda, "Tommy Dread"
Hannah Read takes flight on the cathartic almost-conclusion to Lomelda's powerful new album Hannah. The lyrics may be despairing, but the overall delivery of "Tommy Dread" is one of hope and courage.