Octo Octa finds hope in the water on "River"
The track is taken from Eris Drew and Octo Octa's forthcoming fabric presents mix.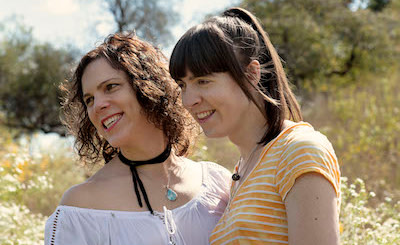 Next week musical partners Octo Octa and Eris Drew will deliver an all-vinyl fabric presents mix, recorded during quarantine from the idyllic locale of their cabin in the forest of New Hampshire. The 70-minute mix is a deep-dive into the crates of both DJs and producers, touching on everything from U.K. hardcore and bassline to trance all of which draw on themes of witchcraft and shaman healing.
This much-needed salve in a trying period also boasts new productions from both artists. Premiering below is Octa Octa's entry. "River" is an acid-drenched breakbeat workout that steadily builds pace until a choir of angels joins the mix and really sends things stratospheric.
Speaking to The FADER via email, Octo Octa said: "'River is about many things. It's about my connection with Eris and a special place we visit often. It's about water and it's ever-changing and shifting nature. It's about my goddaughter, River, who was dancing in the backyard while I played with my x0xb0x synthesizer for the first time. I saw her youth and excitement and thought about the future and all the healing to come. I wanted to bring all of that movement into the song."
Earlier this year, Eris Drew released the solo EP Fluids Of Emotion on Interdimensional Transmissions while Octo Octa shared the Love Hypnosis Vol. 1 mixtape on T4T LUV NRG. The fabric presents mix is available from November 27.