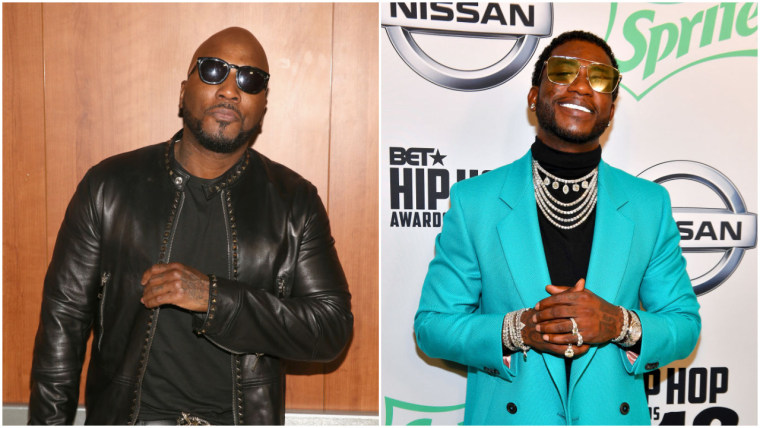 Jeezy and Gucci Mane took part in the latest Verzuz battle on Thursday night, putting aside a beef that has lasted over a decade to go head to head (and song to song) for the IG Live series. Recorded at Atlanta's Magic City, the contest was COVID-19 safe, with tests held before entrance to the building was allowed. Travis Scott was so hype for the face-off that he dropped a range of merch, including early 2000s-style oversized T-shirts. Swizz Beatz and Timbaland's event also featured a political angle, with Stacey Abrams appearing via video link to encourage people to vote in the Senate runoff election in Georgia.
However, for those in the building and the huge audience watching at home (1.8m, a new Verzuz record) Jeezy vs Gucci Mane was all about the music. Gucci kicked things off in suitably antagonistic style with Jeezy diss track "Round 1," sitting back and listening to himself rap "You a thug impostor/You deserve an Oscar/Album ain't hot, Def Jam finna drop ya" and setting the mood going forward.
Jeezy telling stories before the track

Gucci: my next song is called "fuck you jeezy"

— Young Realness (@Tha_Kota) November 20, 2020
Gucci began round two with another diss track, "Benchwarmers," but Jeezy dived into his back catalog and pulled for Thug Motivation 101's "Trap or Die" and generally utilized his older hits to great effect in the early rounds. Gucci didn't appreciate Jeezy playing "that old ass shit" but it was undeniably effective in comparison to the newer material offered up by his rival.
Later on Gucci countered, mixing things up with both deep cuts ("I'm a Dog") and pop hits (Bruno Mars collab "Wake Up in the Sky") to show off a range that Jeezy struggled to match. He also found time to pay tribute to his drip, bragging that "I want y'all to praise my outfit. It cost 10 bands. Look at my opponent!"
This particular Verzuz battle was originally meant to be a contest between Jeezy and T.I. however, Gucci Mane was parachuted in at the last minute after Tip pulled out. Jeezy used his time on stage to explain why he offered the olive branch to his longtime rival. "I tell you what though—when I called you and extended this invite, I did it as a real man," Jeezy said. "It's been 20 motherfuckin' years." Gucci interrupted to state that it's actually only been 15. "OK, well however many," Jeezy hit back, "you're still talkin' the same shit."
Whewwww this moment tho 😕😰#Verzuz#JeezyvsGucciMane

pic.twitter.com/1WZvhEIdPL

— HOT 97 (@HOT97) November 20, 2020
18 rounds into the contest, before dropping "Get Ya Mind Right," Jeezy used his platform to acknowledge those the rap community has lost over the years. "All these kids out here doing what the fuck they do 'cause they saw what went on with us. This shit ain't about me, it ain't about you. This shit about King Von, this shit about Doe B, this shit about Nipsey Hussle, this shit about motherfucking Pop Smoke, Mo3."
Jeezy and Gucci then called time on their Verzuz, and possibly the cold war that their beef has been in recent years, with a joint performance of 2005's "Icy." "We appreciate y'all tuning in," Gucci said before addressing Jeezy directly. "Ay, man, listen. I respect, I appreciate you for throwing out the olive branch. I accept that. No disrespect, it's all love."
Check out the full Verzuz running order below:
Round 1:
Gucci Mane: "Round 1"
Jeezy: "Intro"
Round 2:
Gucci Mane: "Bench Warmers"
Jeezy: Trap or Die ft. "Bun B"
Round 3:
Gucci Mane: "I Think I Love Her" ft. Ester Dean
Jeezy: "Standing Ovation"
Round 4:
Gucci Mane: "Plain Jane" ft. Rocko
Jeezy: "Gangsta Music"
Round 5:
Gucci Mane: "I'm a Dog"
Jeezy: "Bottom of the Map"
Round 6:
Gucci Mane: "Vette Ride Past" ft. OJ Da Juiceman
Jeezy: "Jeezy the Snowman"
Round 7:
Gucci Mane, Bruno Mars, Kodak Black: "Wake Up in the Sky"
Boyz in Da Hood: "Dem Boyz" ft. Diddy
Round 8:
Gucci Mane: "That's My Hood"
Jeezy: "Let's Get It/Sky's the Limit"
You know, you dont realize how many songs Gucci rapped about killing Jeezys boy in until you hear them in order like this

— Trill Withers (@TylerIAm) November 20, 2020
Round 9:
Gucci Mane: Both" ft. Drake
Jeezy: "Go Crazy"
Round 10:
Gucci Mane: "Bricks" ft. Yung Ralph & Yo Gotti
Jeezy: "All There" ft. Bankroll Fresh
Round 11:
OJ Da Juiceman: "Make tha Trap Say Aye" ft. Gucci Mane
Jeezy: "Who Dat"
Round 12:
Lil Wayne: "Steady Mobbin" ft. Gucci Mane
Shawty Lo: "Dey Know (Remix)" ft. Plies, Ludacris, Jeezy & Lil Wayne
Round 13:
Gucci Mane: "Heavy"
Jeezy: "Lost My Mind" ft. Plies
Round 14:
Gucci Mane: "Street Niggaz"
Jeezy: "Way Too Gone" ft. Future
Round 15:
Gucci Mane: "First Day Out"
Jeezy: "Air Forces"
Round 16:
Gucci Mane: "Photoshoot"
Jeezy: "Everythang"
This brandy and Monica with guns

— ♥ Joi (@GoochHamLaFlair) November 20, 2020
Round 17:
Gucci Mane: "Wasted" ft. Plies
Jeezy: "Trap Star"
Round 18:
Gucci Mane: "Truth"
Jeezy: "Get Ya Mind Right"
Round 19:
Gucci Mane: "745"
Jeezy: "Put On" ft. Kanye West
Round 20:
Gucci Mane: "Trap House"
Jeezy: "Seen It All" ft. JAY-Z
Round 21:
Gucci Mane: "I Get the Bag" ft. Migos
Jeezy: "Thug Motivation 101"
Round 22:
Gucci Mane: "Pillz"
Jeezy: "Soul Survivor"
Round 23:
Gucci Mane: "Gone Hate"
Jeezy: "J.E.E.Z.Y."
Round 24:
Gucci Mane: "Lemonade
Jeezy: "Welcome Back"
Round 25:
Gucci Mane: "Icy" ft. Jeezy