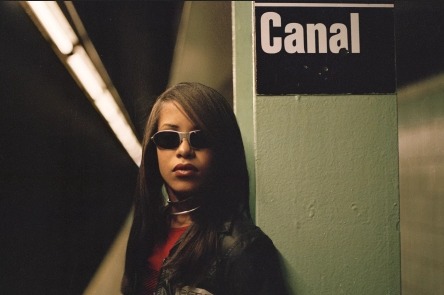 Aaliyah's One In A Million has arrived on all major streaming platforms, marking the first time the album has been available in the streaming era. The arrival follows a deal by the late singer's label, Blackground 2.0. Further works, including the 2001 album Aaliyah and the soundtrack for Romeo Must Die, to which Aaliyah contributed, will follow in the coming weeks.
One In A Million was produced by Timbaland and Missy Elliott and includes the singles "If Your Girl Only Knew," "Hot Like Fire," and "The One I Gave My Heart To." The album was Aaliyah's second studio release and sold three million copies in the United States and over eight million copies worldwide.
The arrival of Aaliyah's back catalog to streaming has been a long-discussed affair and today's news is not without its own controversy. Blackground 2.0, run by Aaliyah's uncle and former manager Barry Hankerson, has been criticized by Aaliyah's estate for a "gross lack of transparency" and the accusation that he did not alert the estate to his plans to put the music online.
"Aaliyah's Estate has always been ready to share Aaliyah's musical legacy but has been met with contention and a gross lack of transparency," Paul LiCalsi, an attorney for the estate, said in a recent statement. "For almost 20 years, Blackground has failed to account to the Estate with any regularity in accordance with her recording contracts. In addition, the Estate was not made aware of the impending release of the catalog until after the deal was complete and plans were in place. The Estate has demanded that Blackground provide a full account of its past earnings, and full disclosure of the terms of its new deal to distribute Aaliyah's long embargoed music."
Blackground offered a response to Billboard, stating that payments have been made to the estate as recently as this year. "The estate will receive everything that it is entitled to receive pursuant to the terms of our agreement. Blackground has shared our rollout plans with representatives for the estate and provided them with the opportunity to participate and provide input and the estate elected not to do so."
Barring any last-minute changes or legal challenges, Aaliyah's albums and collections will all arrive on streaming before the end of the year. The projects span the soundtrack for the 2000 film Romeo Must Die (out on September 3), her self-titled album (out on September 10), and the compilations I Care 4 U and Ultimate Aaliyah (October 8).