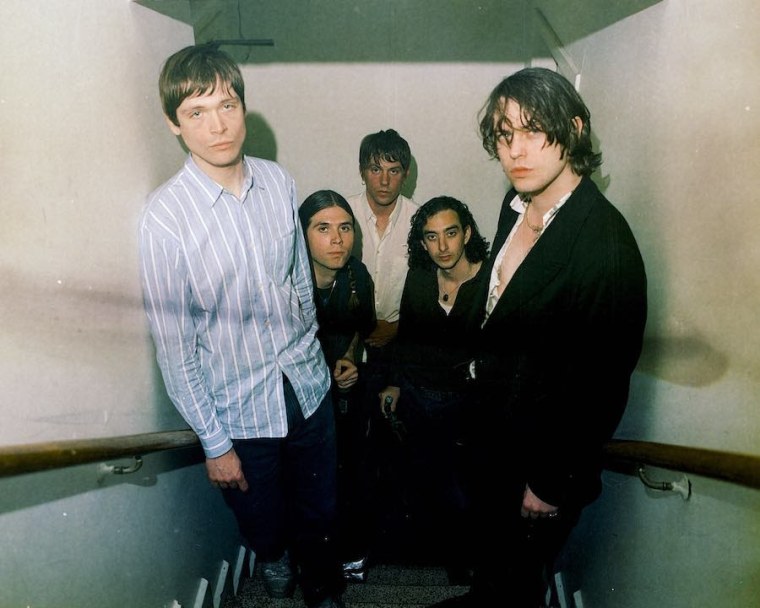 Iceage have shared a new song and revealed 19 fall 2022 co-headlining U.S. tour dates with Earth. "All Junk on the Outskirts" follows a February cover of Abra's 2016 track "Pull Up" as the band's second standalone single since the May 2021 release of their fifth studio album, Seek Shelter.
The new track sticks to the lush, Madchester-adjacent aesthetic the band introduced with 2018's Beyondless and doubled down on with their most recent record. Still, it retains the cynical, drunken energy of their earlier, punker releases, a torch frontman Elias Bender Rønnenfelt's jaded croon carries with it wherever it goes.
Listen to "All Junk On The Outskirts" and view Iceage's upcoming tour dates — including their previously announced spring/summer leg — below.
Iceage 2022 tour
May 5 - Bordeaux, FR - Sideral Psych Fest
May 18 - Asbury Park, NJ - House of Independents ^
May 19 - Buffalo, NY - Rec Room ^
May 20 - Toronto, ON - Lee's Palace ^
May 21 - Ottawa, ON - Club SAW ^
May 22 - Montreal, QC - Ausgang ^
May 24 - Burlington, VT - Higher Ground - Showcase Lounge ^
May 25 - Portland, ME - Space ^
May 26 - Portsmouth, NH - The Press Room ^
May 27 - North Adams, MA - Solid Sound Festival
May 28 - Cleveland, OH - Grog Shop
May 29 - Chicago, IL - The Empty Bottle
May 30 - Milwaukee, WI - Cactus Club
June 3 - Saint-Brieuc, FR - Art'Rock Festival
June 5 - Barcelona, ES - Sala Apolo Primavera Festival
June 10 - Hilvarenbeek, NL - Best Kept Secret Festival
June 11 - Napoli, IT - Festina Iente
June 16 - Helsinki, FI - Sideways Festival
July 1 - Gdynia, PL - Open'er Festival
July 2 - Roskilde, DK - Roskilde Festival
July 16 - Chicago, IL - Pitchfork Music Festival
July 29 - Prague, CR - Fluff Festival
August 5 - Svindinge, DK - To Øl Festival
Aug. 15 - Budapest, HU - Sziget Festival
September 9 - Siena, IT - Live Rock Festival
September 21 - Brooklyn, NY - The Brooklyn Monarch *
September 22 - Jersey City, NJ - White Eagle Hall *
September 23 - Washington, DC - Black Cat *
September. 24 - Pittsburgh, PA - Spirit Hall *
September 25 - Columbus, OH - Skully's Music Diner *
September 26 - Detroit, MI - El Club *
September 29 - Minneapolis, MN - Fine Line *
September 30 - Omaha, NE - Slowdown *
October 1 - Lawrence, KS - Record Bar *
October 3 - Denver, CO - Marquis Theatre *
October 4 - Boulder, CO - Fox Theatre *
October 5 - Albuquerque, NM - Launchpad *
October 6 - Tucson, AZ - Club Congress *
October 9 - Los Angeles, CA - The Regent Theater *
October 10 - Santa Cruz, CA - The Catalyst Atrium *
October 11 - San Francisco, CA - Great American Music Hall *
October 13 - Portland, OR - Aladdin Theater *
October 14 - Tacoma, WA - Alma Mater *
October 15 - Seattle, WA - Substation *

^ = with Wiki
* = co-headline dates with Earth