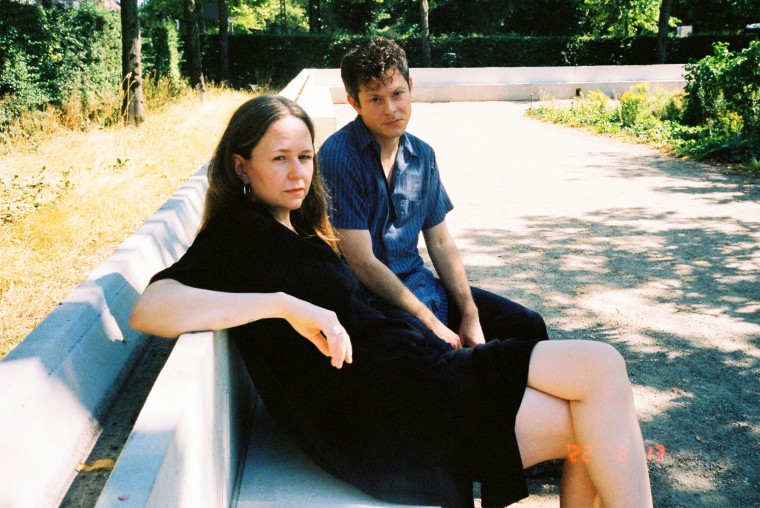 Swedish singer-songwriter Alice Boman and Perfume Genius's Mika Hadreas share an uncanny abilty to express a profound despair in their music. Putting them both together, their voices aching in sync with one another, makes so much sense you could be forgiven for wondering why it hasn't happened sooner. Luckily, what was a purely Instagram DM-based friendship has crossed over into musical territory with the languid and hauntingly romantic "Feels Like A Dream."
The song, which will appear on upcoming album The Space Between (due October 21), flips the script on Boman's typically heartbroken missives while retaining all of the vulnerability that has defined 2020 debut album Dream On. Hadreas sings of taking a partner in his arms, pulling them in close and letting reality pass by like clouds on a sunny day. That fantasy-like state is reflected in the music, with producer Patrick Berger creating a soft and welcoming backdrop for the duo to melt into.
"In the past I've written a lot of songs about disappointments, heartbreaks and the longing for love," Boman says in a statement. "Being in love, I thought it would be so hard to write songs about that. Not wanting to sound too cheesy. But love can be cheesy. This song is about how it sometimes feels like a dream to be with that someone. Especially when you've been wondering if you'd ever find love."
"Me and Mike have been writing to each other on Instagram here and there. Once we talked about maybe doing a cover of a mutual favorite song, Fleetwood Mac's 'Storms.' I think 'Feels Like A Dream' works beautifully as a duet, us singing from the two sides of a relationship. I'm thrilled that he wanted to be a part of this."
Hadreas, meanwhile, added: "I have been listening to Alice for a long time and her music has been a particular comfort to me over the last couple of years. There is sadness and longing in her songs but always in tandem with a singular warmth and generosity."
This November Boman will embark on a headline tour of Europe and the U.K. See below for dates and venue details.
Alice Boman Euro tour dates:
11/23 - Uppsala, SE - Katalin
11/24 - Göteborg, SE - Pustervik
11/25 - Oslo, NO - Krøsset
11/26 - Södra Teatern, Stockholm
12/07 - London, UK - The Lexington
12/08 - Manchester, UK - Gullivers
12/10 - Glasgow, UK - Hug & Pint
12/11 - Bristol, UK - Crofters Rights
02/11 - Copenhagen, DK - Lille Vega
02/12 - Hamburg, DE - Nachtasyl
02/13 - Berlin, DE - Kantine am Berghain
02/16 - Düdingen, CH - Bad Bonn
02/18 - Antwerp, BE - Trix
02/19 - Amsterdam, NL - Paradiso