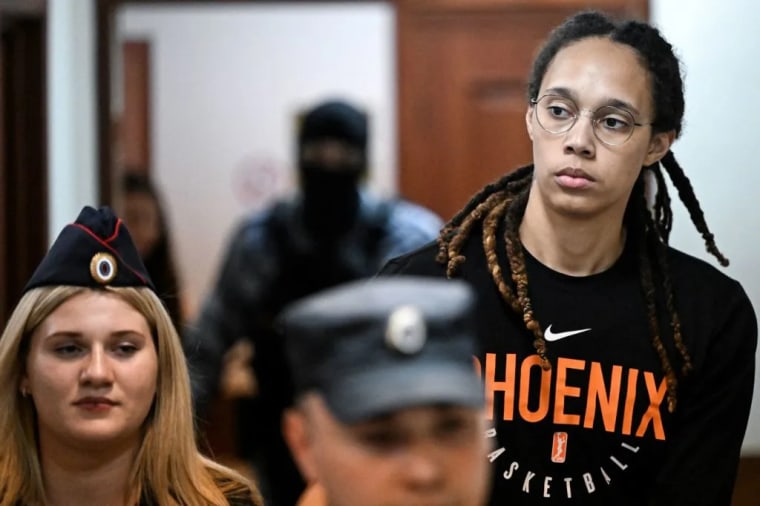 A Russian court has denied the appeal of Brittney Griner, the women's basketball star who was convicted of drug possession and smuggling charges and sentenced to nine years in prison. BBC reports that she will serve her sentence in a penal colony, though it is unclear when that will begin, or if she has any remaining legal recourse to challenge the verdict.
Griner was arrested as she boarded a flight from Russia back to the United States in February. An officer at Sheremetyevo Airport in Moscow discovered less than a gram of cannabis oil cartridges in her luggage; Griner and her defense team have maintained that she brought them into Russia by mistake, and during her trial, American doctors signed affidavits testifying that Griner had been prescribed the oils for pain medication.
Her arrest and trial have attracted considerable global attention, with many observers and advocates condemning Griner's treatment. In response to the appeal's denial, White House National Security Advisor Jake Sullivan called it a "sham judicial proceeding." The U.S. government has pursued a prisoner swap with Russia, offering a Russian arms dealer named Viktor Bout in exchange for Griner and Paul Whelan, a U.S. marine convicted in Russia of espionage and serving 16 years.
The Biden Administration, Sullivan said, "has continued to engage with Russia through every available channel and make every effort to bring home Brittney as well as to support and advocate for other Americans detained in Russia, including fellow wrongful detainee Paul Whelan."
During her appeal hearing, Griner apologized again for her "honest mistake." "I really hope that the court will adjust this sentence because it has been very very stressful and very traumatic," Griner told the court via video link.
in a statement obtained by Yahoo! News, Griner's attorneys Maria Blagovolina and Alexander Boykov maintained hope for a prisoner exchange while stressing the toll that the entire trial has had on her. "Brittney is very mentally strong and has a champion's character," they said. "However, she of course has her highs and lows as she is under an increasing amount of stress and has been separated from her loved ones."