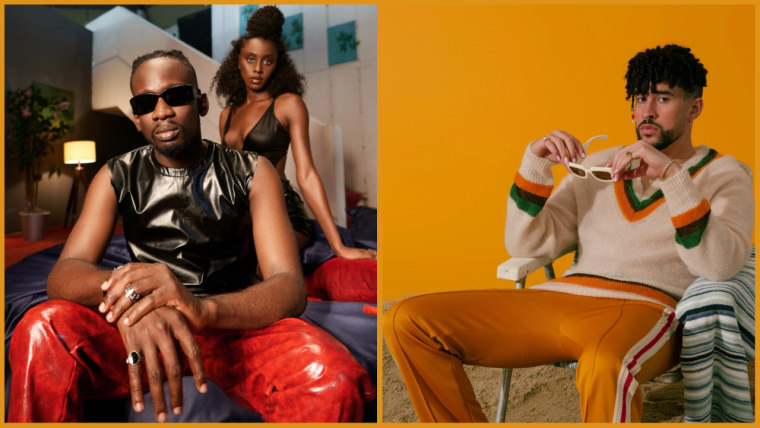 On Monday (February 6), Nigerian Afrobeats artist and music exec Mr Eazi called out Bad Bunny on Twitter, claiming the Puerto Rican emcee ripped off a track by two artists on Eazi's label, emPawa Africa. "Yo [Bad Bunny] you need to tell your lawyers to stop messing around and clear that Joeboy rip off on your album," he wrote. He later posting YouTube links to two tracks — Joeboy's "Empty My Pocket" (produced by Dëra) and Bad Bunny's Un Verano Sin Ti track "Enséñame a Bailar," clarifying, "incase you are not sure what song I'm talking about [sic]" in the same tweet. "Ain't no way you produced and sang an Afrobeat record lol," he concluded.
Today (February 8), Eazi has doubled down on his accusation, with emPawa sending out an official statement demanding that Bad Bunny's label, Rimas Music, give Joeboy publishing, songwriting and feature credits on "Enséñame a Bailar," and that Dëra be credited as the track's co-producer. Per emPawa's release, "Enséñame a Bailar" (released in May 2022) interpolates the melody of "Empty My Pocket" (dropped nearly a year earlier), uses Dëra's composition throughout the song, and directly samples Joeboy's vocals in its coda. emPawa has not yet filed a lawsuit against Bad Bunny and Rimas — "We're hoping to avoid that," a spokesperson for the label clarified to The FADER — but they've now placed the publishing rights to "Enséñame a Bailar" in dispute, meaning all payments on publishing revenue from the song will be frozen until the issue is resolved.
"The team at emPawa Africa have attempted to sort this issue amicably since May of last year with our mutual legal teams," Eazi writes. "But the intent of Rimas Music is clearly to blatantly appropriate young African creators' work for their gain without attribution."
"Our asks have been the same since the beginning," Ikenna Nwagboso, emPawa's co-founder adds. "Give Joeboy his credit, publishing and royalties on the song, and give Dëra a producer credit alongside those already given to Bad Bunny's producers."
In conclusion, Eazi says, Rimas' cooperation reflects a culture of disrespect toward Afrobeats artists from the industry at large. "Unfortunately this is part of a broader pattern we see in how the wider music industry approaches the intellectual property of African artists," he writes, citing Michael Jackson's interpretation of Cameroonian artist Manu Dibango's "Soul Makossa" on "Wanna Be Startin' Somethin'." (Dibango sued Jackson in 2009, just months before his death, as well as Rihanna, who used "Soul Makossa" similarly on "Don't Stop the Music.") "Afrobeats has become a global phenomenon, and everybody wants to sample a piece of it.
Compare "Enséñame a Bailar" and "Empty My Pocket" below.
A representative of Bad Bunny responded to The FADER's request for comment with a prepared statement from Rimas Entertainment. Read it below.
San Juan, PR (February 9, 2023) - Rimas Entertainment formally denies the accusations of any wrongdoing in the release of the song "Enséñame a Bailar" and provides the following statement:
"We are deeply concerned by the copyright infringement accusations made by Oluwatosin Oluwole Ajibade (Mr Eazi), the founder of emPawa Africa, on the track "Enséñame a Bailar." We want to make it clear that at all times, Rimas Entertainment has acted properly and has followed standard industry protocols."
Before releasing the aforementioned song, Rimas purchased the master track from record producer Lakizo Entertainment, listed as the track's creator and owner in numerous public sources. After the song's release last year, emPawa contacted us, claiming ownership over the master. Our lawyers have had many communications with emPawa in an effort to resolve the ownership dispute between emPawa and Lakizo, but emPawa has so far failed to provide proof of ownership. Instead, emPawa has chosen only to send us a heavily redacted contract that did not confirm their claims and only served to raise more questions about the validity of their claims. Our numerous efforts to obtain the unredacted version of the agreement from emPawa have not been successful. It is entirely untrue that we have been unresponsive. Regarding the song's composition, emPawa has also failed to forward documents to prove that they are authorized to act on the writer's behalf.
We look forward to resolving this matter cordially and are waiting for emPawa to provide us with the necessary documents that validate their claims.
Bad Bunny has worked with Mr Eazi in the past. Eazi was featured alongside J Balvin on "COMO UN BEBÉ," the closing track of his 2019 album OASIS.
Un Verano Sin Ti was awarded Best Música Urbana album at the 65th annual Grammy Awards Sunday night.
UPDATE [February 9, 7:54 p.m.] Bad Bunny's representative responded to The FADER's request for comment after this article's publication. This post has been updated to reflect their resopnse.