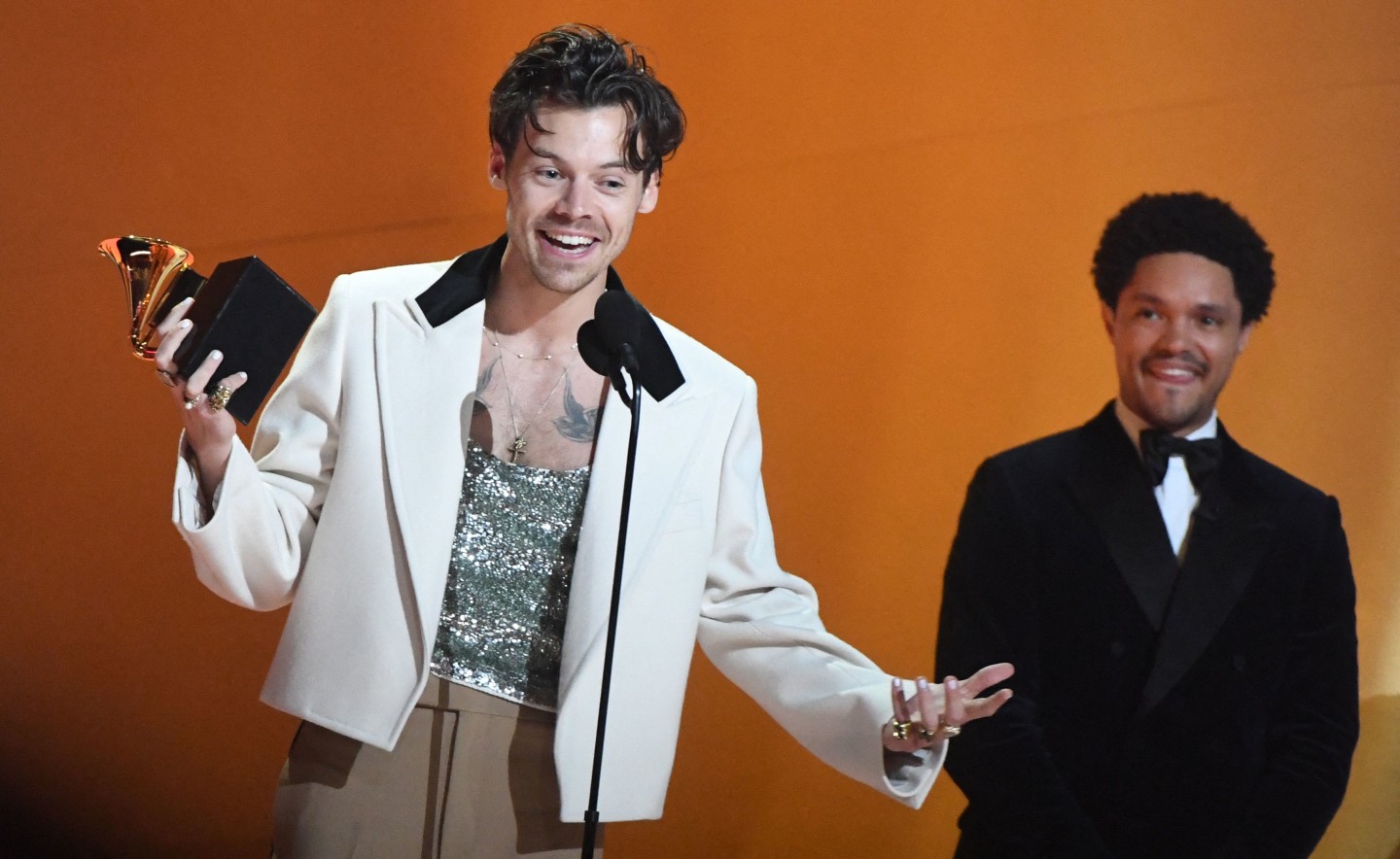 It was a big night for pastiche. Last night, toward the end of the 65th annual Grammy Awards at Crypto.com Arena in downtown Los Angeles — a few minutes after Lizzo was awarded Record of the Year for "About Damn Time," a warmed-over bit of funk revival — Harry Styles took home the real prize, Album of the Year, for a record so indebted to superior artists (Bowie and the Beatles, Prince and the Stones, contemporaries too cool for Jack Antonoff to touch) that it scans at first as a computer-generated playlist made for department stores or fast-casual restaurants. Harry's House is not the worst Album of the Year winner from this decade, but it is certainly the most anonymous, an ode to celebrity lifestyle voyeurism and unimagination.
The Styles win was not the night's headline, though, at least not per se. In the instant that he was announced, another one crystallized: Beyoncé lost. This is, perhaps predictably, a bit of an exaggeration: With her four wins, Beyoncé not only tied the gospel collective Maverick City Music as the most decorated act of the night but also became the most-awarded artist in the history of the Grammys. And Renaissance, her dance-inspired seventh album, was not the only nominated LP more deserving than Harry's House. (See especially: Bad Bunny's effervescent Un Verano Sin Ti or Mr. Morale & the Big Steppers, Kendrick Lamar's unabashedly messy treatise on sex addiction and smartphones.) Still, it's unavoidable that the all-time Grammy leader has come up short in the marquee category each of the four times she's been nominated.
Beyoncé, it cannot be stressed enough, will be fine. She is one of the most critically and popularly adored artists on the planet; while apparent snubs in a couple awards categories might signal something ugly about the body handing them out, she is being recognized in every other meaningful way, in real time. But it raises fundamental questions about what the Recording Academy is trying to do with their annual show, questions that nearly every programming decision seems to further confuse or obscure: Are the Grammys hoping to recognize the best music that connects with mass audiences? Are they looking to cast music as an agent of social change? Most importantly, are we supposed to care about who actually wins these things?
Listen: I used to work at the Grammys. Not for the Academy or a television network, but for the arena when it used to be called the Staples Center. Every winter, the Lakers, Clippers, and Kings would go on extended road trips and other concerts would be blacked out as the weeks-long construction and rehearsal processes went on. Our staff was full of rabid fans of music and sports; we used to (MY FORMER BOSSES: DO NOT READ FURTHER) bet irresponsible portions of our paychecks on not only the outcomes of games or Blake Griffin over/unders but also on proposals during Bruno Mars shows and Jack Nicholson's lucidity. Yet I can't recall a single discussion about the results of any categories at the Grammys, the event that dominated a month of our lives. I was there when Macklemore and Ryan Lewis beat Kendrick for the Best Rap Album trophy in 2014. We laughed about the text message, sure. But I can promise you no one had laid money on the race.
As far as viewers can tell, the Grammys seem to be fine with that ambivalence. They broadcast an embarrassingly small percentage of the awards, shunting virtually all of them into pre-ceremonies whose results are meted out awkwardly on Twitter and in conversation during the endless red carpet coverage. While it is in some ways unfair to compare the Grammys to the Oscars — the Grammys are understandably going to center their show around live performances — one of the genuine joys the other Academy offers is the chance for editors, makeup artists, and production designers to be honored in the same venue as the stars and auteurs whose work is more commonly recognized. The live acts at the Grammys exhibit plenty of musical virtuosity, so why is it so seldom discussed or directly rewarded during the show itself? The most charming moment of this year's edition was when Chic co-founder Nile Rodgers, accepting the Best R&B Song trophy for Beyoncé's "Cuff It," said that his contribution to the record was "one take — I promise!"
Instead, the broadcast was dotted with hollow paeans to music's power and interstitial scenes where a roundtable comprising the Album of the Year nominees' superfans discussed the merits of their favorite artists. The former was incredibly trite (from two different speakers: "In a world where so much seems to divide us, music unites us," and "So much divides us, but music unites us through our differences") and the latter vaguely humiliating for the participants. When Jill Biden showed up to present the new Best Song for Social Change award to Shervin Hajipour, she cheapened the whole thing by touting the number of views "Baraye" has received on Instagram.
A similar fealty to social media was a mild drag on the end of the otherwise excellent, half-century-spanning hip-hop medley that served as the show's centerpiece. While that sequence skimped on hip-hop's fourth decade, skipping rather unceremoniously from Too $hort's "Blow the Whistle" (2006) to Lil Baby's "Freestyle" (2017), it was remarkably well executed, making room for Rakim's steely verse on "Eric B. Is President" and Chuck D and Flavor Flav's animated "Rebel Without a Pause," Queen Latifah's cocksure "U.N.I.T.Y." and Missy Elliott's precisely choreographed "Lose Control." So when LL Cool J bragged about the genre moving "from the Bronx to TikTok," it was mostly a footnote. (A better rap footnote: the outfit Kendrick Lamar wore as he accepted Best Rap Album, which made him look like a side character Kool Keith might have invented for Sex Style.)
The performances themselves were, on the whole, very good: Stevie Wonder's tribute to Smokey Robinson, Bad Bunny's show-opening suite, Steve Lacy's Thundercat-assisted rendition of his massive "Bad Habit." Many of the best moments came as part of the sprawling in memoriam segment, which included Sheryl Crow, Bonnie Raitt, and Mick Fleetwood's dedication of "Songbird" to Christine McVie, and Kacey Musgraves's evocative take on Loretta Lynn's "Coal Miner's Daughter." But the most moving part of this segment, and the show as a whole, was when the Migos's Quavo, rapping with a mask over half his face, performed "Without You," a song he wrote for his nephew and groupmate, Takeoff, who was murdered in November.
It verges on nitpicking to complain about exclusions from memorial segments, as dozens of notable artists in any field will die in a given year. But on a night meant to celebrate hip-hop's 50th anniversary — and from an awards body with a track record of underrecognizing Black artists and genres — it was frustrating that the montage made no mention of Gangsta Boo, the pioneering Three 6 Mafia member who died on New Year's Day. If anything, the omission underlines what we've always known: that no matter the gravity the Grammys try to project, they can never capture the totality of what makes music, or the people who make it, compelling.