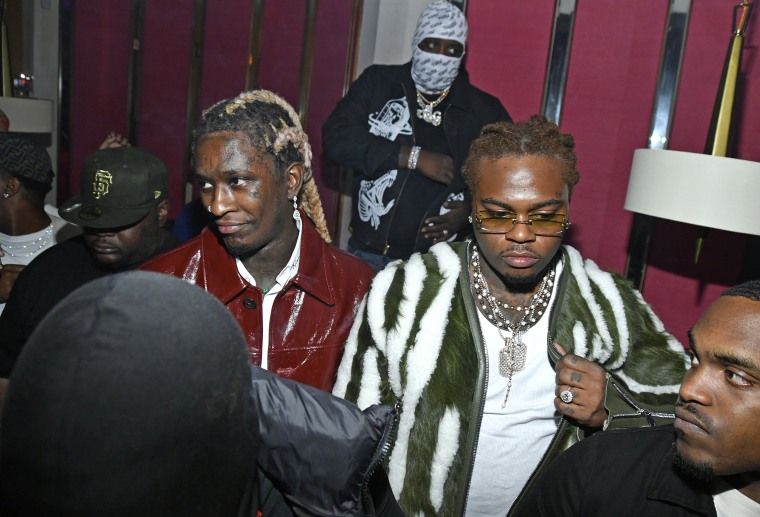 ABC News Studios have released a trailer for a forthcoming documentary called Rap Trap: Hip-Hop on Trial. Premiering February 23 on Hulu, the film will focus on the trials of Young Thug and Gunna within the broader indictment targeting their YSL crew. More specifically, the trailer indicates that the new doc will contextualize one of Fulton County, Georgia District Attorney Fanni T. Willis' contentions — that song lyrics and music videos made by the two Atlanta rappers over the course of years constitute overt acts in furtherance of a conspiracy to violate the state's Racketeer Influenced and Corrupt Organizations Act — within the storied history of rap on trial.
For perspective, Rap Trap will look back at the case of McKinley Phipps Jr. (aka Lil Mac), the New Orleans emcee whose lyrics were used against him in a manslaughter case and factored into a conviction for a crime he didn't commit. He served two decades of a 30-year sentence before he was finally granted clemency by the state of Louisiana in 2021. Phipps and his family will be featured in the doc alongside a range of rappers and industry heads who will weigh in on the YSL case and on the legal system's criminalization of Black art at large. The trailer teases commentary from Fat Joe, Killer Mike, Will.i.am, Jerrika Karlae, 300 Entertainment CEO Kevin Liles, civil rights historian Michael Eric Dyson, and Rap on Trial co-author Erik Nielson, among others.
Watch the clip below.