Inside The FADER's SXSW return at Porsche X
Big Boi, Kelela, and Madison McFerrin headlined three nights of legends — old and new — with a large inflatable swan presiding.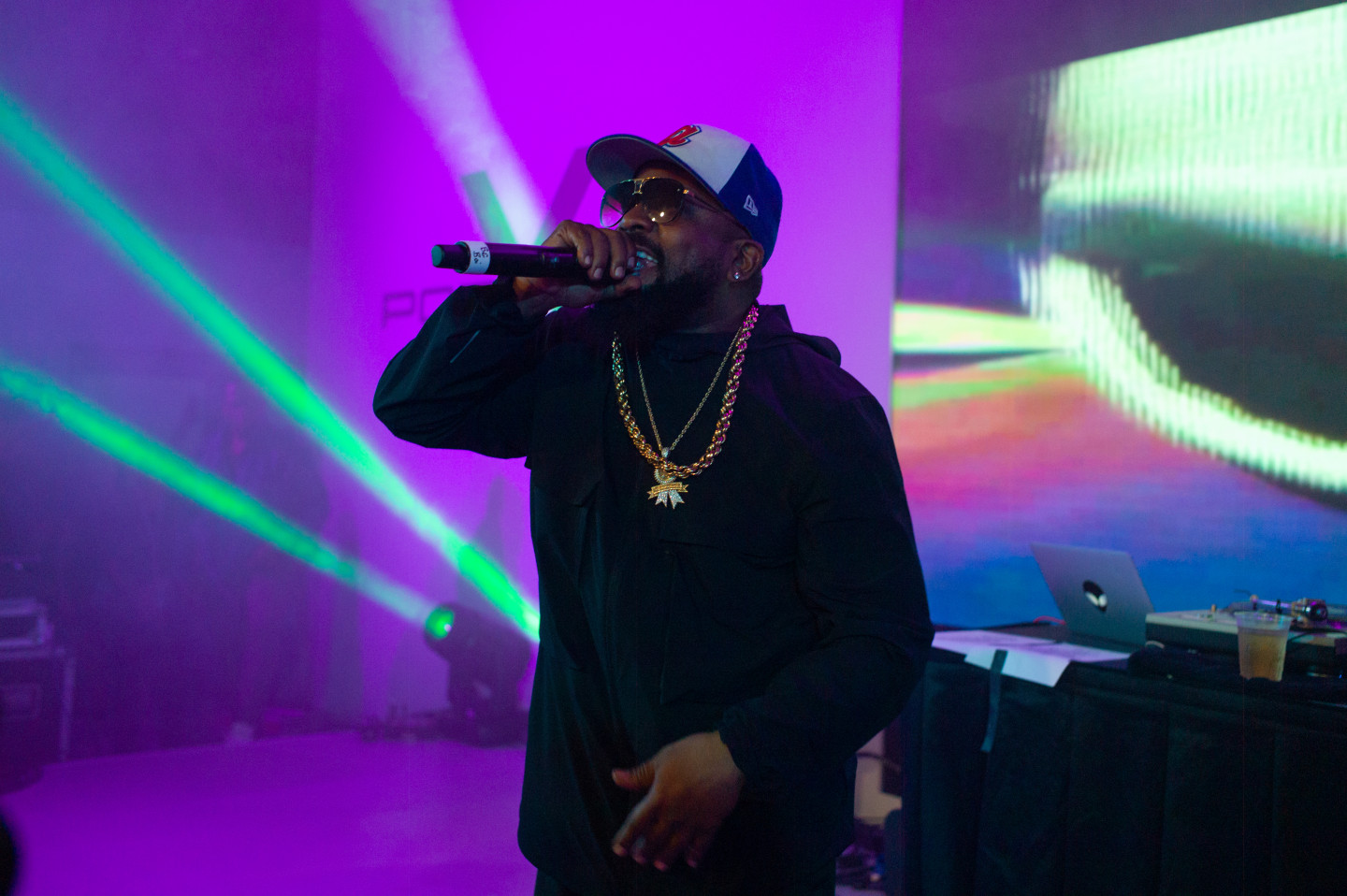 Though last spring marked South by Southwest's cautious return following the Texas festival's two-year pandemic hibernation, this year feels a bit more like old times. The FADER, in partnership with Porsche, was back in Austin this weekend after three years away, melding hot cars–striking reinterpretations of classic Porsches, including a Porsche 996 reimagined as a large swan floatie–with hotter artists. Even the long lines on Friday's opening night seemed like a sign of good health.
In the spirit of pre-pandemic SXSW festivals, where The FADER Fort was a slingshot to the mainstream for emerging artists, those standing in line outside Porsche X before the doors opened were hoping to be introduced to the next Amy Winehouse or Drake. "The most important thing about FADER Fort is all the bands that are just starting out," said FADER co-founder Jon Cohen on Friday, as guests were trickling in. Most immediately took out their phones to take photos of artist Chris Labrooy's Swan Car, regal on a podium built to look like a pool. "It's bands that no one knows. People see this band called The 1975 open FADER Fort, and nobody knows who they are. And then ten years later they're one of the biggest bands in the world."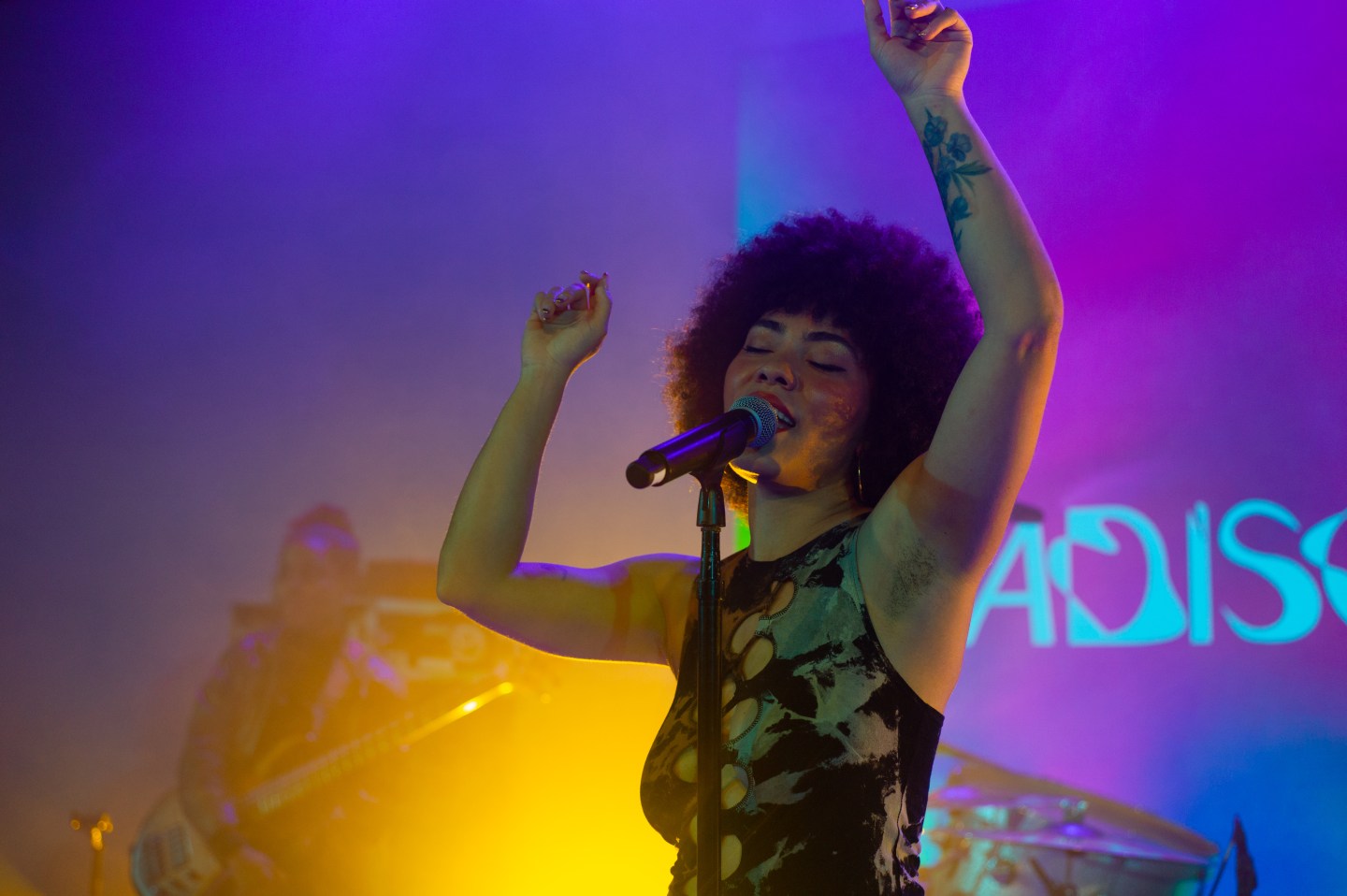 Those outside who weren't yet familiar with that evening's two musicians — Madison McFerrin, whose debut album, I Hope You Can Forgive Me, is out May 12, and MorMor, a serene Canadian singer who released his first album in November–trusted that they were about to see new favorites. "FADER always brings out the finest artists," said a 31-year-old woman named Alexis, in line with two friends. "They work so hard to get into FADER, and then you see them at three other shows during South by, and then that next year, they're hitting top charts."
"And we haven't experienced Porsche at SXSW, so I feel like it's kind of exciting," interjected Phylicia, who was celebrating her 30th birthday that night. "I have experienced Porsche at SXSW," her friend Cedric, a 36-year-old lifelong Austinite, jumped in. "FADER always brings out the best people. Porsche… I mean, we got the Panamera, we got the 911, you know what I'm sayin'?"
Inside, guests were orbiting artist Daniel Arsham's retro-futuristic NEBULA 928, a twilight-pink interpretation of the 1978 Porsche 928, with their phones out. Like taking a photo with a celebrity, most seemed unsure of how to pose with the cars, and sorority-squatted next to them. I learned via my own experimentation that being photographed next to a Porsche does not often yield the dating-app photo one expects: the car will always upstage the poser.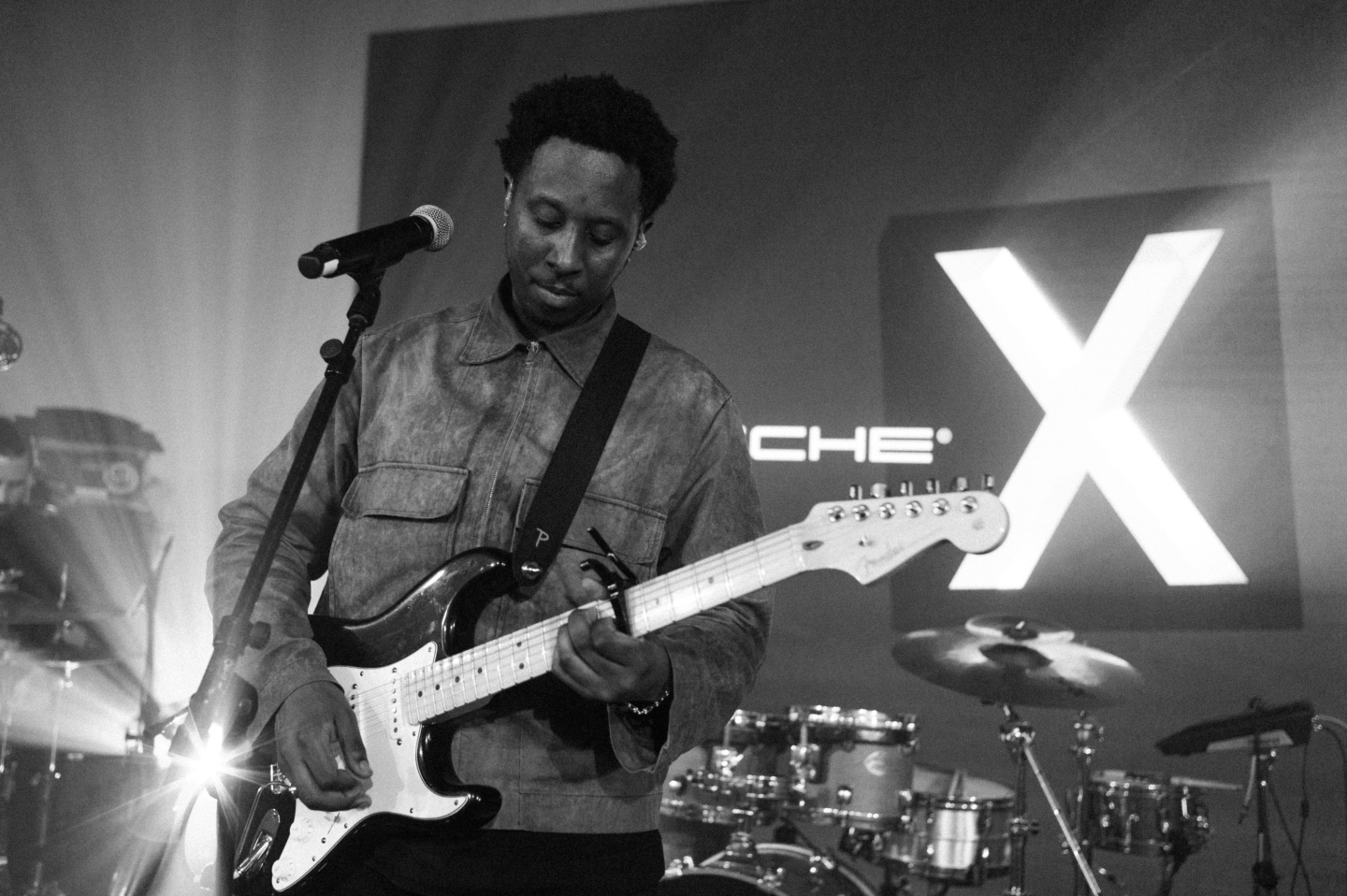 Then Seth Nyquist, who performs as MorMor, took the stage for his first-ever SXSW appearance. The crowd reverse-rippled towards the stage, pulled by the pairing of Nyquist's soft voice and his moody-summer-drive instrumentals. After spending the pandemic making Semblance, the album he released in November, while isolated in a rental home in Toronto, Nyquist said he's shaken off some artistic introversion and is exploring collaborations. "I don't really want to do it alone," he said of his next project, "I think this is a natural progression of what I've done as kind of a solo entity."
When McFerrin started her set, the crowd surged around the stage again. "Anybody here been broken up with?" she said before she started in on a moody ballad called "Hindsight." McFerrin explained that the song is actually not about breakups, but about Bernie Sanders's unsuccessful presidential run.
This was McFerrin's third time at SXSW. She was planning to return in 2020 but the pandemic stymied her. She performed last year, but felt that it was "still not the full South by vibe yet." This year's festival, she added, marks the first time she's playing with a full band. "Which just kind of shows where this is going," she said cryptically, hopefully referring to her upcoming album.
If Friday night was about introducing new artists, Saturday was a mingling of the new and the legendary. By 8 p.m., the sidewalks around 400 Congress Ave. were clogged with the badged and the badgeless, drawn by Sudan Archives, who released her second album, Natural Brown Prom Queen, in September, and Big Boi.
Earlier that day the temperature nearly hit 90 degrees Fahrenheit, and the mood as the audience poured in was feverish, well-matched by the wild strings and beats of Sudan Archives's Brittney Parks. "Oh my GOD," she screamed repeatedly. Some guests spun away from the bar to watch her. Near the stage the crowd swelled, though a protective force field seemed to remain around artist Vexx's hand-painted Porsche Vision GT and a new silver Porsche 357 nearby.
At the end of her set, when even the guests in button-ups and backpacks were shyly dancing, Parks called out, "Y'all ready for Big Boi?" When he appeared, one woman, then more guests, stepped up on the Swan Car's podium to take photos over the crowd. The swan remained serene, but she was the only one. When Big Boi called out, "throw your hands in the air," everyone did–two men dressed as Cupids, apparently on furlough from promoting the FX series Dave, waved their light-up heart scepters high.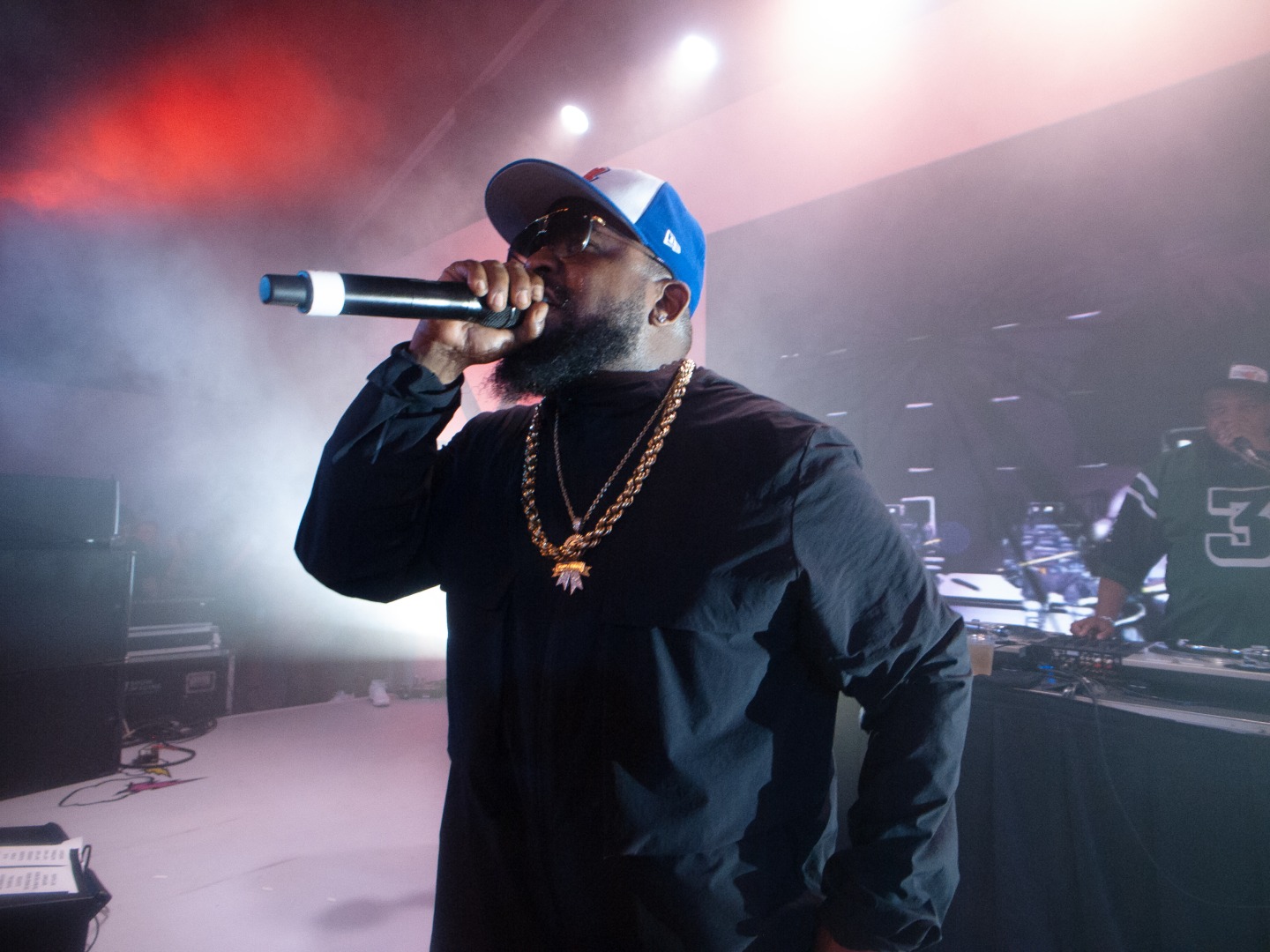 A man typed "OutKast in the building" into an Instagram story, which was half-accurate, as he danced. Big Boi did mobilize the audience with several OutKast favorites, but it was "The Way You Move" that activated a lizard brain reflex, long dormant, to dance like you're wherever you danced in 2013. A man lit a giant joint and looked on contentedly.
On Sunday night a very small woman in a black puffer jacket said she had been first in line the night before, and had spent the show next to the stage. She had traveled from Tokyo just for SXSW, she said. "I had no idea who Big Boi was." "Emerging artist Big Boi," her friend quipped.
Her friend's name was Kevin, and he wore a red floral button-up shirt and had bright red hair. He was well over six feet tall, and his head bobbed around freely in everyone's videos. He was mouthing the words during a performance by Brooklyn producer sadie, who opened the night. "I see some of you singing the lyrics," she called out to the crowd, "that's the first time that's happened to me." This was only the fourth time that she had performed as sadie; Kevin said he had heard and attached to "4am," a breezy ballad, on the SXSW playlist earlier in the week. Closer to the stage, a girl in black cargo pants, with green-tinged hair, danced so enthusiastically with her companion that the security guard at the stage started nodding his head.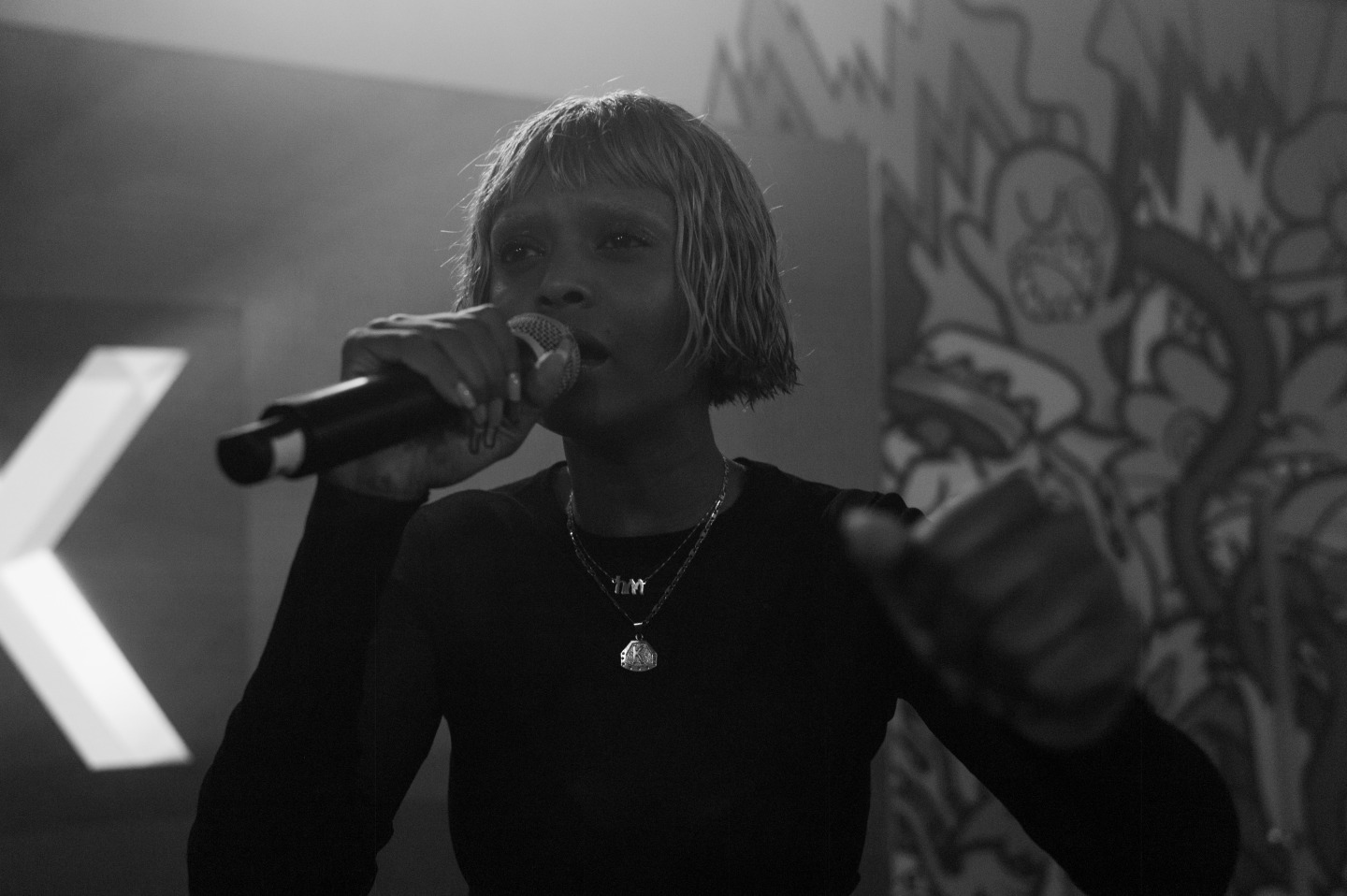 The chill-but-danceable vibes continued with a performance by Kelela, the night's headliner. "I'm enjoying the full-body vibration," one of the backpack bros called out during "Enough for Love," from Raven, the album Kelela released in February. Over the crowd, Kevin's red hair was always visible, bouncing back and forth.
"How many of you have been here since Cut 4 Me?" Kelela shouted, referring to her 2013 mixtape. A quarter of the audience shouted back. "Hallucinogen?" More cheers. "Take Me Apart?" The crowd erupted.
The night was part of a grander return for Kelela, too: after a runaway 2017, she had taken a long hiatus from both releasing new music and, for the most part, engaging with social media. But now she and the FADER were back at SXSW and all was well.
"I will never leave you like that ever ever again," she screamed.