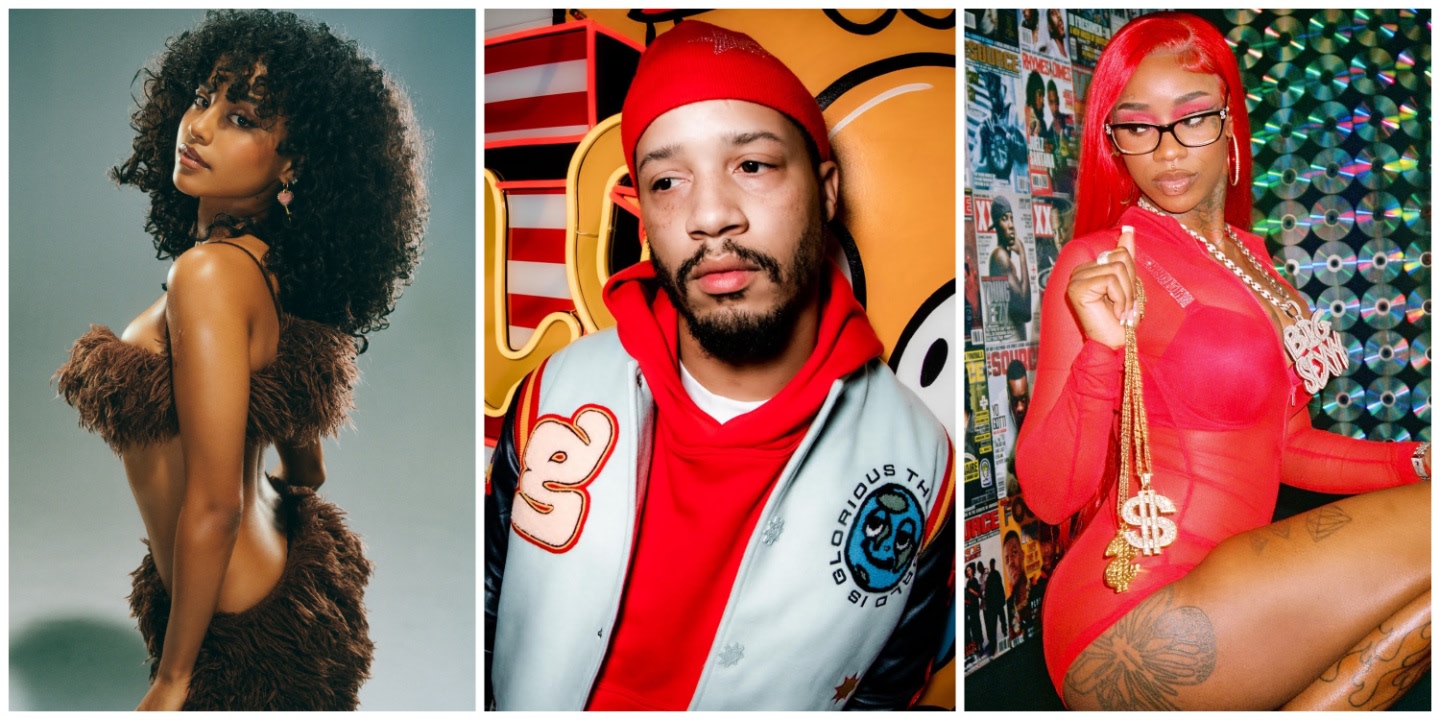 The Rap Report is The FADER's column dedicated to highlights in the rap world, from megastar artists to the deep underground.
Is it even possible for there to be a true song of the summer anymore? Streaming fractured listener bases years ago, and it's never felt easier to live your life without ever hearing a top 10 hit (sorry but not sorry, Morgan Wallen). But even as the signs point toward monoculture being just about dead, the search for a light and breezy song that can get inexhaustible burn at a variety of functions until Labor Day continues. Plus, it's fun to argue about meaningless stuff.
We're about a week away from June, and the candidate field for 2023's Song of the Summer feels wide open. By this time last year, GloRilla and Hitkidd had already made a sizable dent with "F.N.F. (Let's Go)," and Burna Boy's "Last Last" was starting to pick up steam as an early candidate. (I can think of one publication that ended up liking both a lot). Sure, Beyoncé's comeback and "Bad Habit" were still about a month away from dropping — and Steve Lacy a few more months away from going supernova — but sitting around and waiting for stars to make moves gets boring. There's no need to idle in anticipation of some suit pushing the go-button on a generic hit when there's smashes ready for the average temperature to creep up. I have no clue what this year's summer will sound like, but I'm hoping it's a little like this.

The women who are carrying rap's club hits
While male rappers have been focused on how they can get their moody and slow-moving tracks in rotation for bottle service, women have been delivering real-ass club hits able to get people out of the booths and on their feet. Can you imagine last summer without GloRilla? And even though Ice Spice's "Munch" dropped in the middle of August, she immediately added a new word to everyone's vocabulary. There's an undeniable need for party-starting tracks, and women rappers have been making them with a wildly high success rate.
It's already happening again this year, too. Of course, Ice Spice has a few songs waiting to be unleashed at full power (I'm waiting for "Actin' A Smoochie" to catch on) and TiaCorine's "FreakyT" is ready to break its winter hibernation. When Sexyy Red's "Pound Town" dropped at the top of the year, it felt inescapable on Twitter and its only gotten better with warmer weather. The bold, hilarious, and very much unfiltered St. Louis rapper has a mind for explicit, litmus test-esque bars like, "My coochie pink, my bootyhole brown," where the only possible responses are head-scratching confusion and roaring laughter.
With a simple twist of perspective on "Area Codes," Kali disarms Ludacris' womanizing bars with a worthy response. "He said, "Cash App or Zelle? (Ching)/Matter of fact, scratch that, I'ma send you a stack," she raps with a slithery whisper that could convince any man to drain their bank account.
There's also iCandy, whose "Boogie Shoes"-sampling track "Keep Dat Nigga" immediately calls to mind fellow Floridians Trick Daddy and Trina's 2001 hit "Take It To Da House." Like Trina, the Pompano Beach rapper is focused on her own pleasure and fulfillment. This isn't a sappy ballad lamenting a guy who got away; she sounds like she's swaggering through a Soul Train line as she drops all these disses. He had no motion! And he flexes other people's money! It's the cut-him-off anthem the summer needs. Let's just hope there aren't any "No Pigeons"-style remixes being cooked up to ruin the fun.
The club rap songs that give me hope
I wasn't sure where club rap would go after Lil Uzi Vert's "Just Wanna Rock" started to heat up. Would superstars start wave-riding without paying homage to the scenes that started this? Would Bandmanrill's album live up to the hype? Would 2Rare's music stay insanely horny? The answer to all these questions is "yes." (Well, Club Godfather is just alright). While DaBaby's shameless comeback single "Shake Sumn" feels primed to be mixed into "Just Wanna Rock," Philly's still putting out the most fun club rap records.
No matter what anyone says, the Philly Goats remain the blueprint for all-ages fun. There's also the 2Humpy crew — 2Rare, Bril, Brock, Raud, and JMoney — who tap into the fun and free-wheeling essence of '80s rap on "2 Humpy Anthem." They all function as hype men, building a wall of sound over a hair-raising DJ Crazy beat with harmonized adlibs and synchronized chanting — kettle whistles have never sounded this terrifying. Raud's "No Munchies Pt. 2," meanwhile, is a firecracker of a Philly and Jersey link-up. Raud, Bril, and 2Rare get the chance to run wild over a panicky beat from Jersey's SteezTheProducer, who jacks up the tempo. It's a rare laser-focused rap performance from them that's nearly good enough to make me forgive them for the Ice Spice impersonator in the video.
And on the feverish "Na Na Na," Lay Bankz reminds everyone she's a better rapper than just about everyone else hopping on club beats. From the jump, the gas pedal's pressed down: "Sunshine on the beach with my back out/In a two-piece make a nigga go 'wow,'" she zips over string plucks and bubble pops. "Start blickin', make the city go blackout/Walk with a limp hip hurt like "Ow." Thankfully, there's time to learn how to get your hips moving before the summer kicks off.

The ones you need to hear in a room full of people
There might be magic in Lil Yachty's "Strike (Holster)." At a redveil concert about a week ago, it played between artist sets and cast a spell on the room. The crowd's response wasn't rapturous; it was more awe-inspiring, like watching Jokic shoot an off-balance three. I'd turn and see people rapping under their breath, trying to match Yachty's cartoon-like inflections, others slyly rocking to the song's spacey bounce.
I'm keeping my fingers crossed that Byron Messia's brooding and syrupy "Talibans" has the same effect on folks. On that song, the Saint Kitts and Nevis dancehall artist oscillates between sinking into the song's deep groove and spotlighting his resonant vibrato. His vocal control makes me think of how artists like NoCap switch from tough-talking raps to full-blown yelps seemingly without warning.
But the sleeper pick for this category is Veeze's celebratory "GOMD." In the video, Veeze's voice cuts in — multiple times — to shout the lyrics along with the audio track. Who can you count on to gas you up beside yourself? It's like listening to a victory lap where the antics get more ridiculous by the second. "7 Mile Popstar, bitch I'm Justin Timberlake," he raps. It's the kind of boast that gets more believable the louder you shout it.
The beguiling amapiano fusion songs
Amapiano tracks dry down like perfume, unspooling slowly and gradually. A bright sensory rush, and then, a blossoming or contraction that reveals a delicately composed emotional layering. Amapiano rewards a listener's patience with intense highs and contemplative lows, but lively songs that fuse amapiano with fuji and R&B from artists like Asake and the rising South African singer Tyla garner more immediate impressions like inhaling a pungent whiff of concentrated rose oil. These are capital-P pop songs, intense from start to finish. The hook of Asake's radiant "2:30" is as refreshing as the first blast of air-conditioning. And Tyla's Ayra Starr-featuring "Girl Next Door" is a warning shot directed at choosy men that's still smooth enough to two-step to. "You're so busy but don't act like you don't see me now," they softly sing. "Don't be greedy and jump on the next thing you see now." Dancing is in this summer. Seriously.