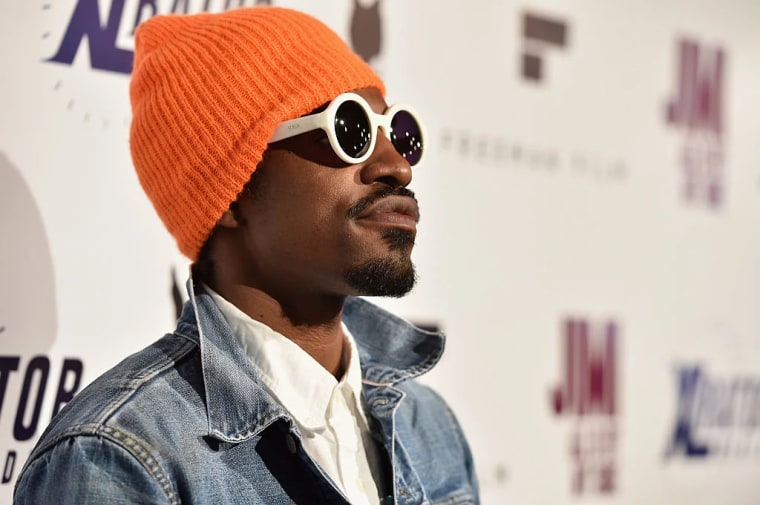 UPDATE: Killer Mike is walking back his announcement of an André 3000 solo album. "I was stoned out of my mind playing, teasing with y'all," Mike said during an interview with Audacy's V-103 on Thursday, the day following his comments. "Y'all done took the joke too seriously." Ha...ha? Our original post is below.
---
André 3000 is at work on a solo album and is even inviting select people to listen to it, fellow Atlanta rapper and Dungeon Family MC Killer Mike revealed today during an interview with Sway In The Morning.
When asked by Sway if the rumors about a solo album from André were true, Mike responded in the affirmative: "I think we fly out in a couple weeks to go listen to it." Watch the exchange below.
A solo album from André 3000 has long been dream for fans of Outkast, but since the group's final album in 2006, André has stuck to delivering the occasional (and always rapturously received) guest verse, the most recent being on Killer Mike's "Scientists & Engineers" from his just-released album MICHAEL. Outside of music, André has found success pursuing careers in acting and fashion.
In 2019, André spoke on Rick Rubin's Broken Record podcast about his issues creating a solo album. "I'd like to, but it's just not coming," he said. "My focus is not there, my confidence is not there." 3000 added that the heightened scrutiny surrounding his music post-Outkast had dampened his enthusiasm, though he didn't shut the door entirely. "I'm trying to find out what makes me feel the best right now," he added What makes me feel the best is when I do these random… instrumental kind of things."
In perhaps related news, André 3000 is a certified flute freak and has been spotted periodically since 2019 playing the instrument in public.