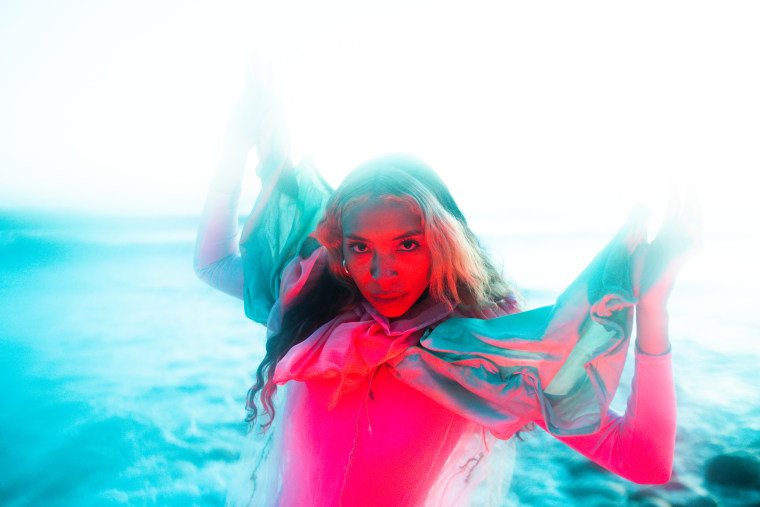 For the tour behind her excellent 2021 album The Turning Wheel, SPELLLING performed alongside a full band called the Mystery School, giving new dimensions to the experimental pop artist's work. If you didn't get a chance to see those shows, SPELLLING will soon bring the experience to a new studio album called SPELLLING & the Mystery School. Out August 25 via Sacred Bones, the album will feature re-recordings of songs from across Chrystia Cabral's discography as SPELLLING.
"With this album," Cabral says in a press statement, "I wanted to capture the ways that these songs have morphed. They're like my children all grown up in a different stage of their lives, and I want to celebrate that. I'm proud to say it's my favorite thing I have created so far, and working on it has really opened up new exciting visions for the future of the SPELLLING sound."
Below, you can hear two tracks from the upcoming project. "Cherry" transforms "Choke Cherry Horse" from 2017's Pantheon of Me into a more polished and spacious place, and "Under The Sun" (originally heard on 2019's Mazy Fly) moves its disco from the bedroom into the parlor, thanks to a lavish string section.
SPELLLING & the Mystery School cover art and tracklist
1. Walk Up To Your House
2. Under the Sun
3. They start the Dance
4. Cherry
5. Haunted Water
6. Hard to Please (Reprise)
7. Phantom Farewell
8. Boys at School
9. Always
10. Revolution
11. Sweet Talk
SPELLLING tour dates
Sep. 16 - Oakland, CA - Children's Fairyland (Through The Looking Glass Festival)
Oct 15 - Philadelphia, PA - Underground Arts
Oct 17 - Brooklyn, NY - Elsewhere Hall
Oct 18 - Baltimore, MD - OttoBar