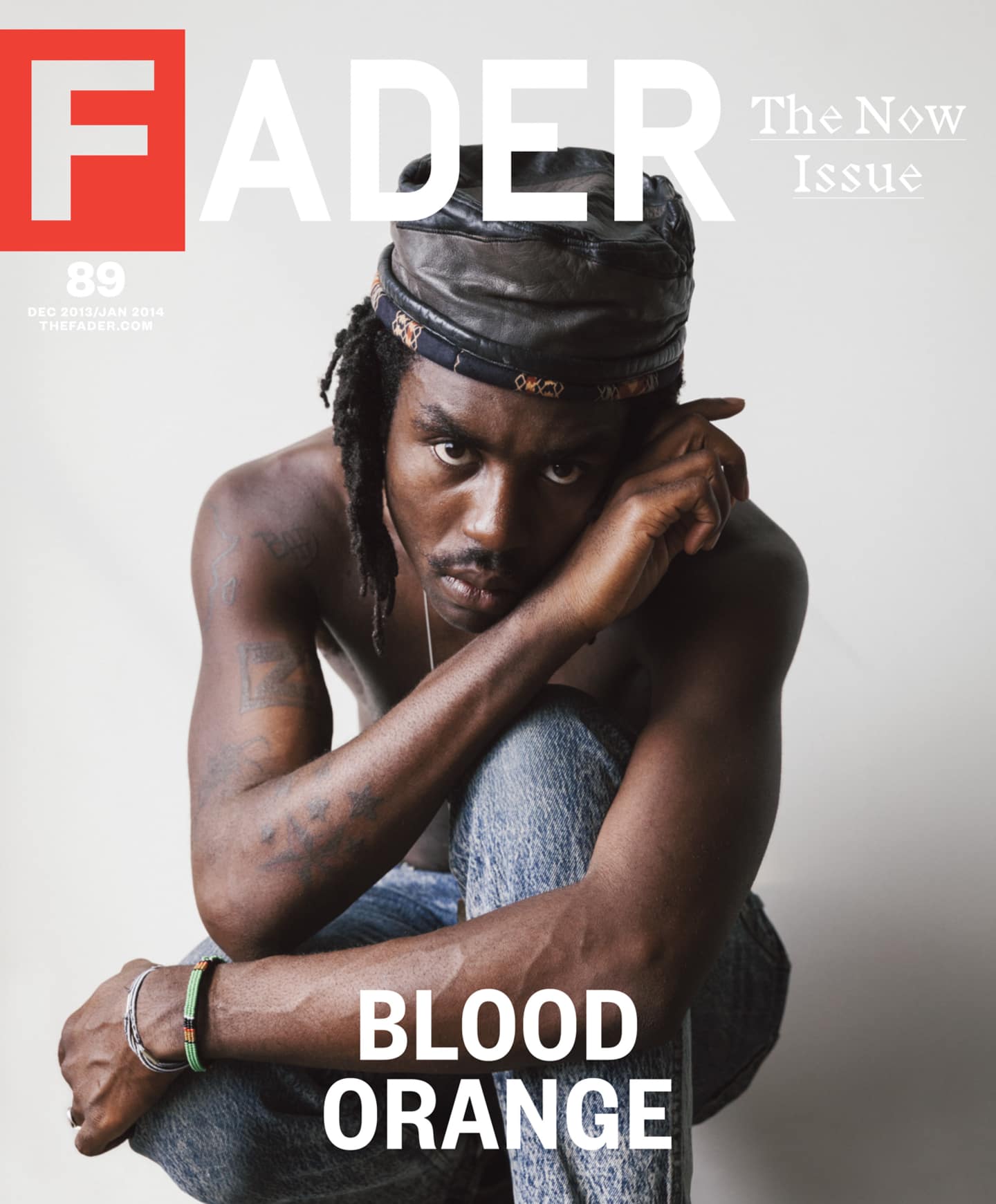 Blood Orange: Hitting the Right Notes
Dev Hynes could be a star. Does he want to be?
From the magazine: ISSUE 89, December 2013/January 2014
Though Dev Hynes has been a New York resident for around seven years, he still loves the city like a tourist. He even looks like a tourist, albeit one from 1982. On an early fall afternoon trip to the top of the Empire State Building, he's wearing a black turtleneck underneath a bright red button-down, pants hiked high on his calf and a white baseball cap from a souvenir shop embroidered with "New York" in black letters. He's tall and skinny with a big white smile that opens like a Steinway, and he's got a stretched-out plastic bag from the MoMA gift shop wrapped around his wrist, stashing inside an old SLR camera, a notepad and a Hershey's Symphony bar that he occasionally pulls out to nibble on. The elevator guy recognizes him from frequent visits. "I'm a regular," Hynes says to me, and laughs. Since his first trip to the top last year, he's paid the $27 admission 10 or so times, often with his girlfriend, singer Samantha Urbani, who's with him today and has packed gluten-free sandwiches for the trip in her backpack. "My favorite view is the northwest," he says. We're so far above Manhattan that you can actually see the end of the city and green beginnings of the suburbs above The Bronx. Sometimes, because of a condition Hynes has called synesthesia, which links the senses of sight and sound in his brain, the city's noisiness can overwhelm him, especially at crowded bars. But he likes the way the Empire State Building sounds. "It's a G major ninth up here," he says, scribbling that fact in a notepad. Before I can ask him how he's worked that out, he's wandering away, ducking between tourists to snap his own picture of the New Jersey coastline.
Hynes first came to the Empire State Building spontaneously last year after playing a show as Blood Orange, his four-year old project of Prince-inspired pop songs. "I was feeling frustrated and annoyed," he says. "It's hard for me to be happy after a live show. I just want it to be perfect and I can't control people's reactions to it." He saw the building's lights beckoning him from the street and followed them up 86 floors. Hynes sees the city and its attractions as a calming force, and he packs his day full. After the Empire State Building, we stop at his Chelsea recording studio, then take the subway far east to Bushwick, Brooklyn for his friend Alan's art opening. Then we reverse back west to Williamsburg for ramen, until he's back on the train to Bushwick on his own, cell phone running out of batteries, trying to track down Urbani. Though he doesn't sleep much, he's never tired or speaks without smiling. The next day, at his East Village apartment, located behind the legendary St. Mark's Church, he beams telling me he lives close to where Allen Ginsberg and Arthur Russell once lived. Rifling through boxes of stuff to find some lost cassette tapes, he talks about his concept of "underrated overrated art"—widely accepted, but its genius taken for granted. "Michael Jackson is the number one," he says. "Everyone loves him, but I don't think anybody stops to listen to why." His apartment glows like a dorm room with blue Christmas lights, and it's packed with old magazines covered by Philip Glass and Jackson, toy keyboards, photos of Hynes and his friends and stacks of books. He opens a book of Jeannette Montgomery Barron's black-and-white photos of East Village legends like Cindy Sherman and Andy Warhol in the '80s, his eyes twinkling as he flips through photos of his heroes.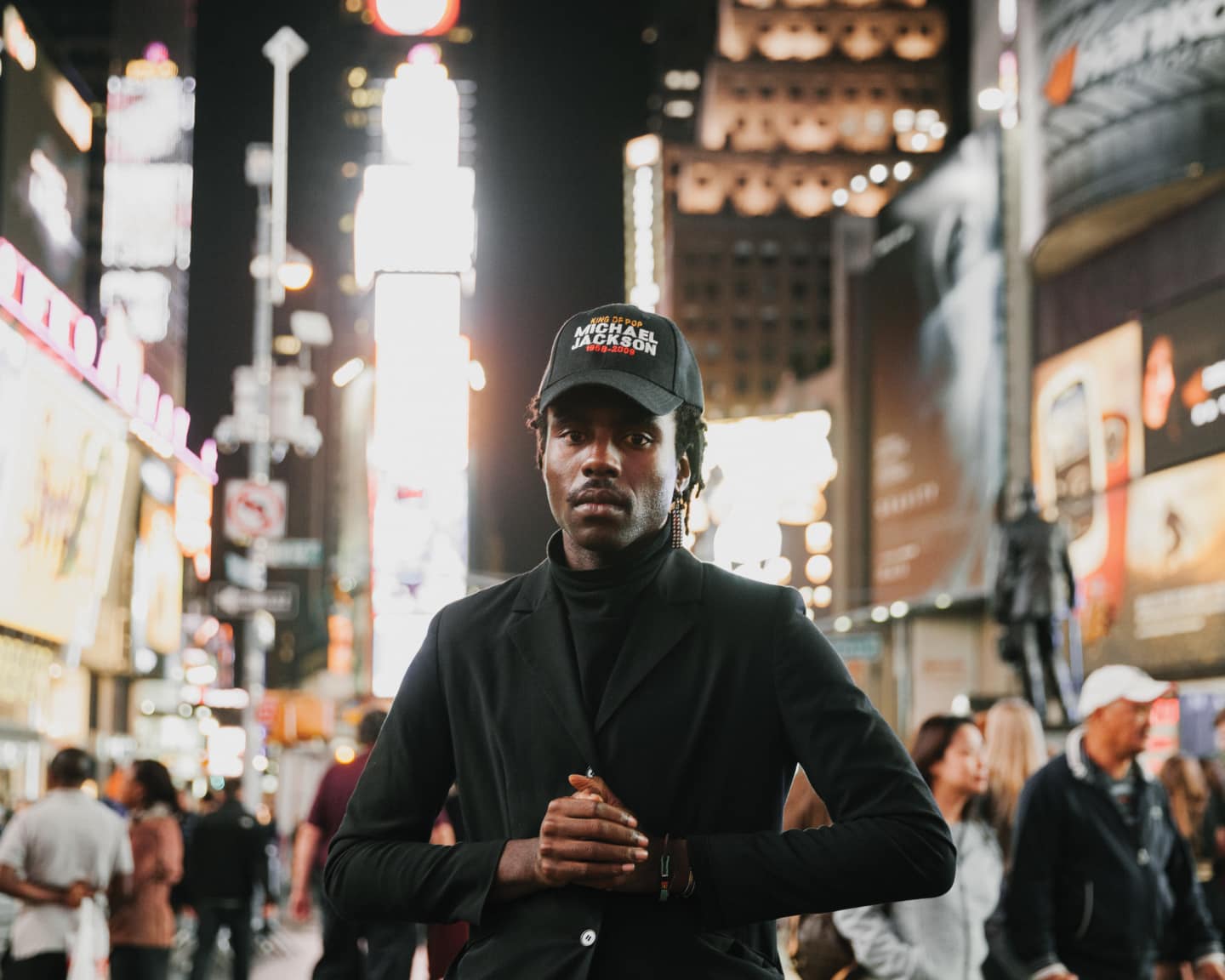 Hynes loves the city the way only people who don't love where they come from do. "I remember reading a headline when I was a kid that my neighborhood was the worst in all of England," he says. His mother is a Guyanese immigrant who immigrated to England to become a nurse; his father is from Sierra Leone and worked as a manager at a Marks & Spencer department store when Hynes was growing up. In high school, Hynes painted his nails, was into metal and hung out with a lot of gay kids. He'd get called "faggot" and beat up. When he turned 18, he started college in London, but quit after two weeks. "I'd skate to school and pass this skate park everyday," he says. "One day, I stopped at the park and just never went to class." It was the beginning of an adulthood marked by experimentation and restlessness. He tried having sex with men in a spirit of queer camaraderie, but found he didn't like it. "I wanted to try," he says. "It wasn't my thing but I was open." He'd join bands and then abruptly quit them, including Test Icicles, which got him signed to Domino Records, the label he's still with today. "We put out a record, went to America to tour," he says. "And I quit within a week." After Test Icicles fell apart in 2006, the 20-year-old Hynes was just hanging around London, working on some odd, meandering folk music that he would release under a different moniker, Lightspeed Champion. With the kind of instinctive impulsiveness that characterizes many of his decisions, he decided on a whim to move to New York. "I had a visa from the Test Icicles tour," he says, "and I just thought: why not?"
"I view the songs as a really quick snapshot of something that's going on in my life."
One day, after a late night of recording, Hynes invites me to MoMA to see a show of Magritte paintings. He writes down the names of every painting he likes in a little notepad, including one called The Pleasure Principle that he hopes inspired the Janet Jackson song of the same name from her 1986 album, Control. He tweets at Jimmy Jam, who produced the album with Terry Lewis and is one of the primary inspirations behind Blood Orange's brand of sparkling pop, asking if the painting named the song. Jam never tweets back. Walking through the gallery, he tells me that when he first got to New York, he couch-surfed and rented in Queens for a bit until he decided to take a trip out west to Los Angeles to bum around and record. A friend from New York, the rapper Theophilus London, asked him to come to the studio to work on a song with him and Beyoncé's younger sister, Solange Knowles. Hynes played them some new music from an album he was working on called Coastal Grooves under the name Blood Orange—powerful pop songs inspired by 1980s musicians like Sade that combined accessible easy listening with moody lyrics about loss and frustration. Solange invited Hynes to join her in Santa Barbara to write and record. "The first thing we talked about was Willow Smith," he says. "We were so in sync. We both sent each other YouTubes of the same S.O.S. Band song on the same day." They became like "brother and sister," he says. It was the first time Hynes had worked so fully behind-the-scenes crafting someone else's project. "I wasn't really producing when I first started," he says. "She just asked me if I wanted to do it all with her, and I just dove right in."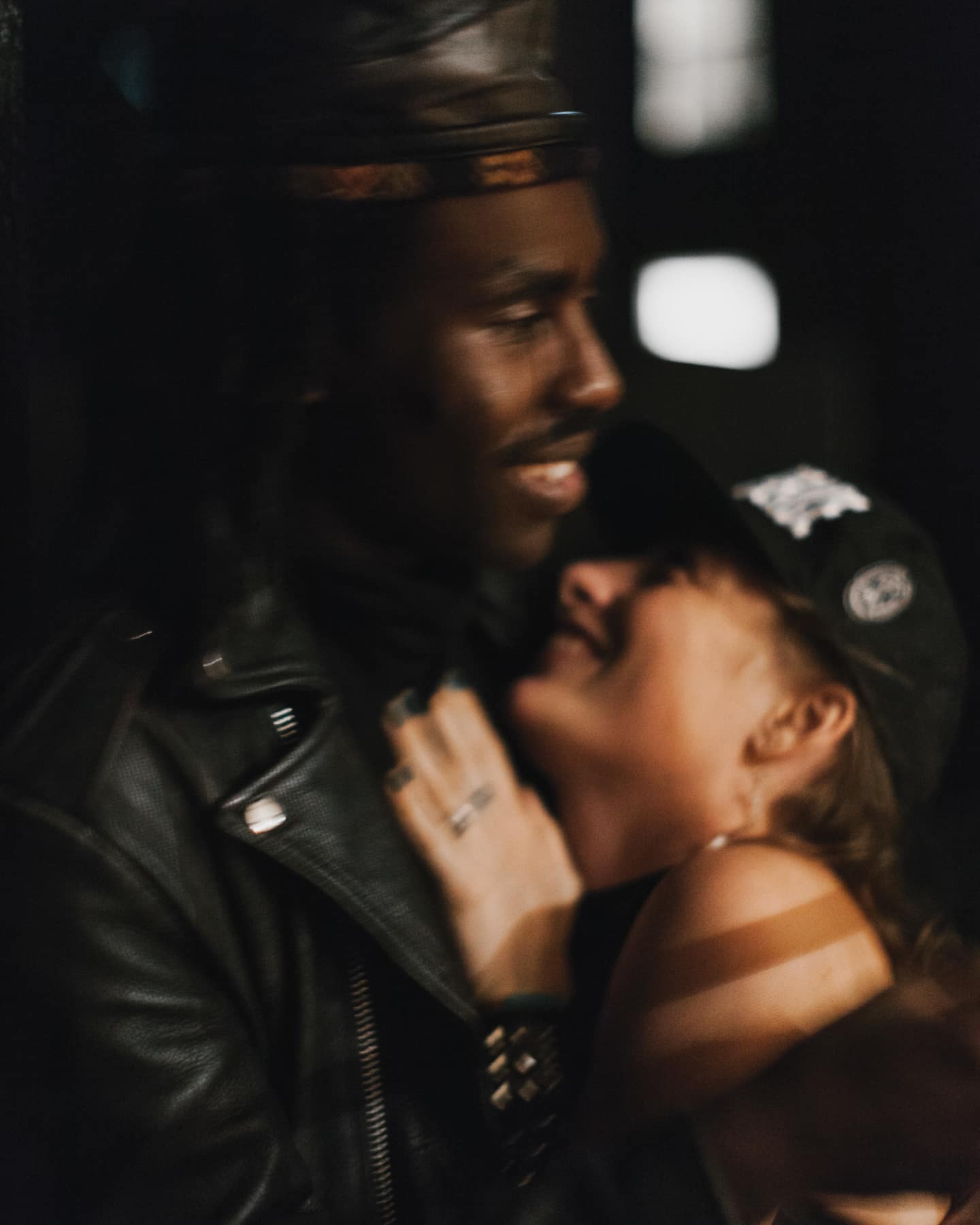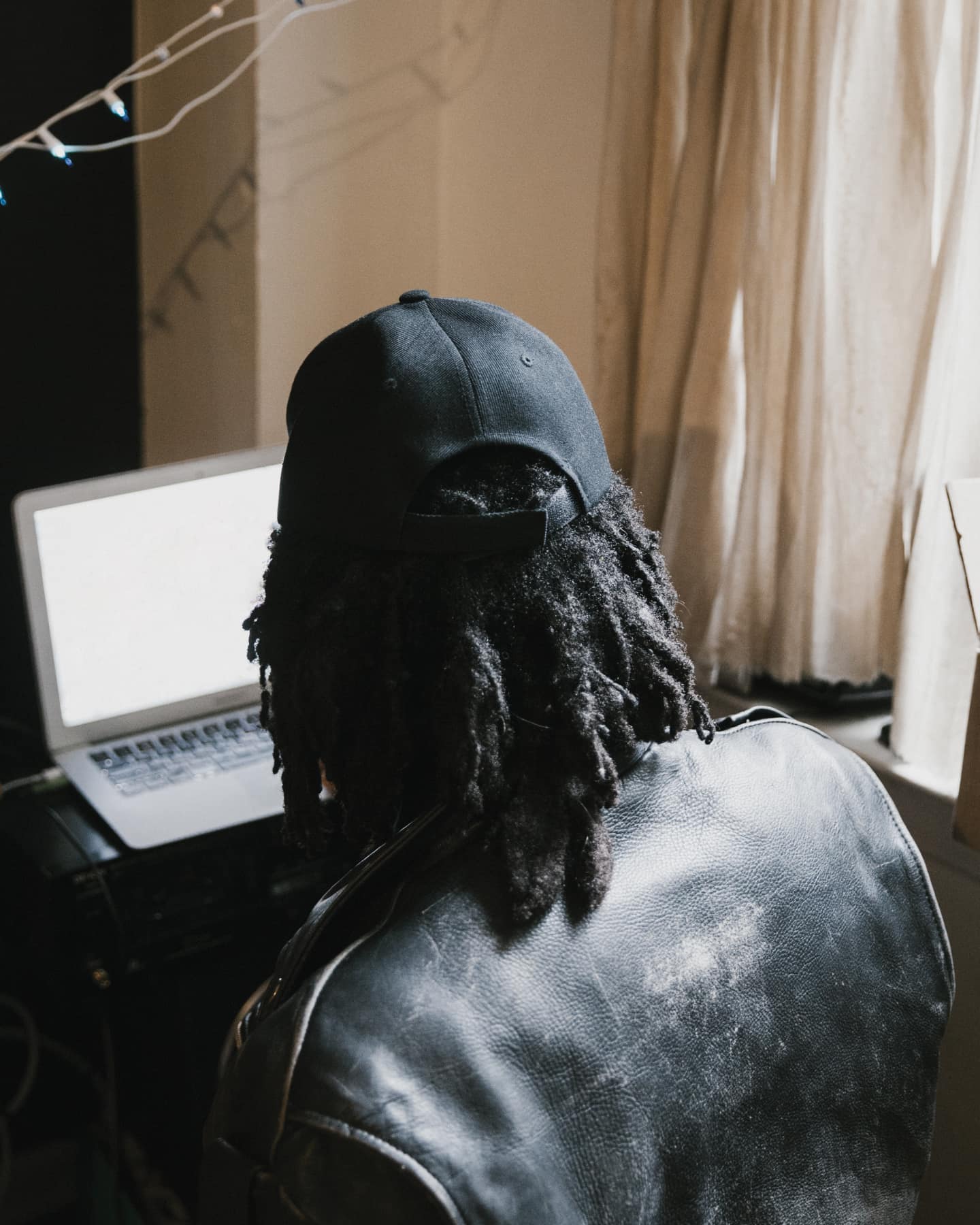 Solange sat on the recordings for a while, and Hynes went back to New York. In 2011, Domino Records released Blood Orange's debut album, Coastal Grooves. It was his first record about New York, specifically the gay ballroom and vogue scene of the 1980s, which he related to from his days of being bullied. "Here were these queer black men figuring out how to express themselves," Hynes says. "They were free." With its pounding drum beats and angelic ad-libs, Coastal Grooves was a hopeful coming-of-age album, and its irresistable poppiness mixed with a sweet, sometimes sad vulnerability became the first public blueprint of a now-signature Blood Orange sound. It felt like the record of someone who could one day be cared about deeply by a big audience, someone who could be a star: the impossibly cool guy in vintage clothes who, underneath the surface, will talk to you about his feelings almost too openly at a bar.
But it wasn't until November of 2012, when Solange released the songs that they'd made together, that things really began to take off for Hynes. True's first single was "Losing You," a song he had written about an ex-girlfriend. Solange is the star of True, but it's impossible not to notice Hynes' careful production and influence on the record. R&B as wistful as it is slinky, True is the elated sound of two people in creative harmony, and both he and Solange soaked up the attention and played off the mutual admiration. They spent the year Instagramming pictures of each other on tour in cool outfits, talking about how great the other one was in interviews, and playing Jimmy Fallon and David Letterman side by side, smiling like a modern day, Brooklyn-based Marvin Gaye and Tammi Terrell.
The momentum continued: soon after "Losing You" came out, "Everything Is Embarrassing," written by Hynes about the same ex, was released by Sky Ferreira, a young pop singer and friend. I've been hating everything, everything that could have been/ Could have been my anything, now everything's embarrassing. It did what "Losing You" did, but better, crystallizing Hynes' charms as a songwriter: instant likability with an undercurrent of vulnerability and honest, meandering emotion, a messy anthem for a generation that sends too many drunk texts. New York magazine called it the best song of 2012. On the heels of the singles' success, the stylistic switch that Hynes had introduced with Coastal Grooves seemed to take hold. Pitchfork christened it a movement when they published a feature on Hynes, Knowles, Ferreira, singer Charli XCX and producer Ariel Rechtshaid called "A Small Pop," praising the young talents for "exposing the cracks between indie and mainstream."
In April, though, some public tension emerged concerning who wrote what on Hynes' most successful collaborations. Solange, seemingly dissatisfied with the way Hynes' role was being described in reviews, sent off a string of tweets about True to her one million followers: "Y'all got it all the way wrong. Ive been writing and producing my own voice since 02, nigga … I find it very disappointing when I am presented as the 'face' of my music, or a 'vocal muse' when I write or co-write every fucking song … Sexism in the industry ain't nothing new." I ask Hynes if he believes her tweets were in response to something he had said. "I didn't say anything," Hynes says. "She reads reviews. I've never read a single Blood Orange review in my life."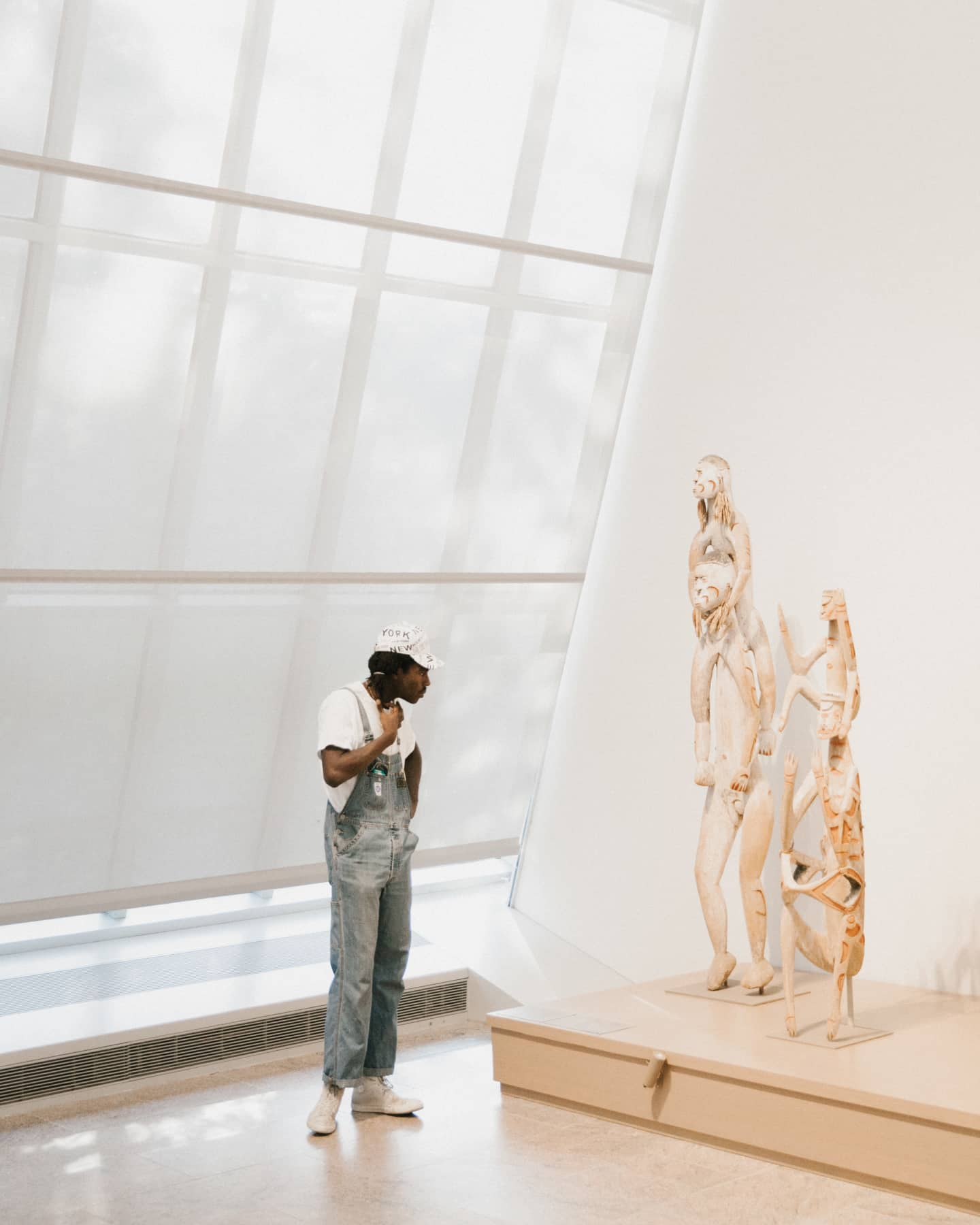 Though Solange declined to comment for this story, her use of "vocal muse" seemed to refer to a Pitchfork review of True that employed the phrase. The exact circumstances surrounding their falling out are unclear—and the two still share a manager. Hynes says they never resolved the issue. "We've spoken but I don't know where it's at," he says. Hynes says he wrote a good portion of the album entirely himself, especially the songs "Losing You" and "Bad Girls," which he wrote and recorded versions of before he even knew Solange, with Solange adding mostly structural and vocal changes throughout. But it's difficult to quantify exactly who contributed what. Within a couple of months, though, Hynes had quit the tour before it was over and returned to New York, and he wasn't asked to work with Solange on her next album.
At a show in a Chinatown boutique in September, an overpacked crowd turns up to see a rare Blood Orange performance with a full band. Hynes, in a long coat and leather kufi, takes off his jacket to perform "Bad Girls," one of the songs he wrote that Solange re-recorded for True. Then, before launching into "Everything Is Embarrassing," Hynes gives a brief monologue, oddly compelled to footnote a song he created: "I've got a lot of shots ready to be fired, and I guess this is the shot. This is a song I wrote for another singer. She said a couple weeks ago that she doesn't like when I say I wrote it—this happens a lot to me, but I'm not an arrogant guy. That said, I've written some songs for people and they haven't given me due credit and it pisses me off." Later, he tells me he was annoyed to learn, from a story in this magazine, that Ferreira was "bothered" by him introducing "Everything Is Embarassing" as a song he'd written for her. Hynes says that Sky made some structural changes in the vocals that made the song even better, but he's proud of the core he wrote and loves to perform it. Still, all this wrangling over ownership seems to cut to the core of a problem Hynes needs to figure out—is he an artist or a songwriter? He's skilled enough to be both, but he's caught between an artist's inclination toward performing and putting out albums, and a behind-the-scenes ambivalence about whether to stay away from the limelight. "Everything Is Embarassing" and "Bad Girls" are some of his best songs, but he willingly gave them to other performers to sing.
The following night, neither Solange nor Ferreira invites Hynes to see them both perform at Brooklyn's Barclays Center. His friends in the headlining group, Vampire Weekend, put him on the guest list, though he stood in the crowd and watched as a member of the audience. "It was pretty emotional," he says. "Then again, this is what I've always wanted. Just to hear my songs on a big stage—not even play them." Onstage, he's so compelling and charismatic—at the Chinatown show, he pulls his coat off like James Brown's cape and steps right up to the microphone to croon from deep down—that he could easily be the one up there at Barclays, but talking to him, you get the impression that he's not even sure if he'd want to be. "I actually hate my voice," he says. "And I'll always prefer Solange and Sky singing my songs over me. After all that happened this year, people ask me when a first Blood Orange record is coming out. It's like, I'm on album number two! But I don't necessarily see me being the face of what people are buying tickets to—if it happens, it happens."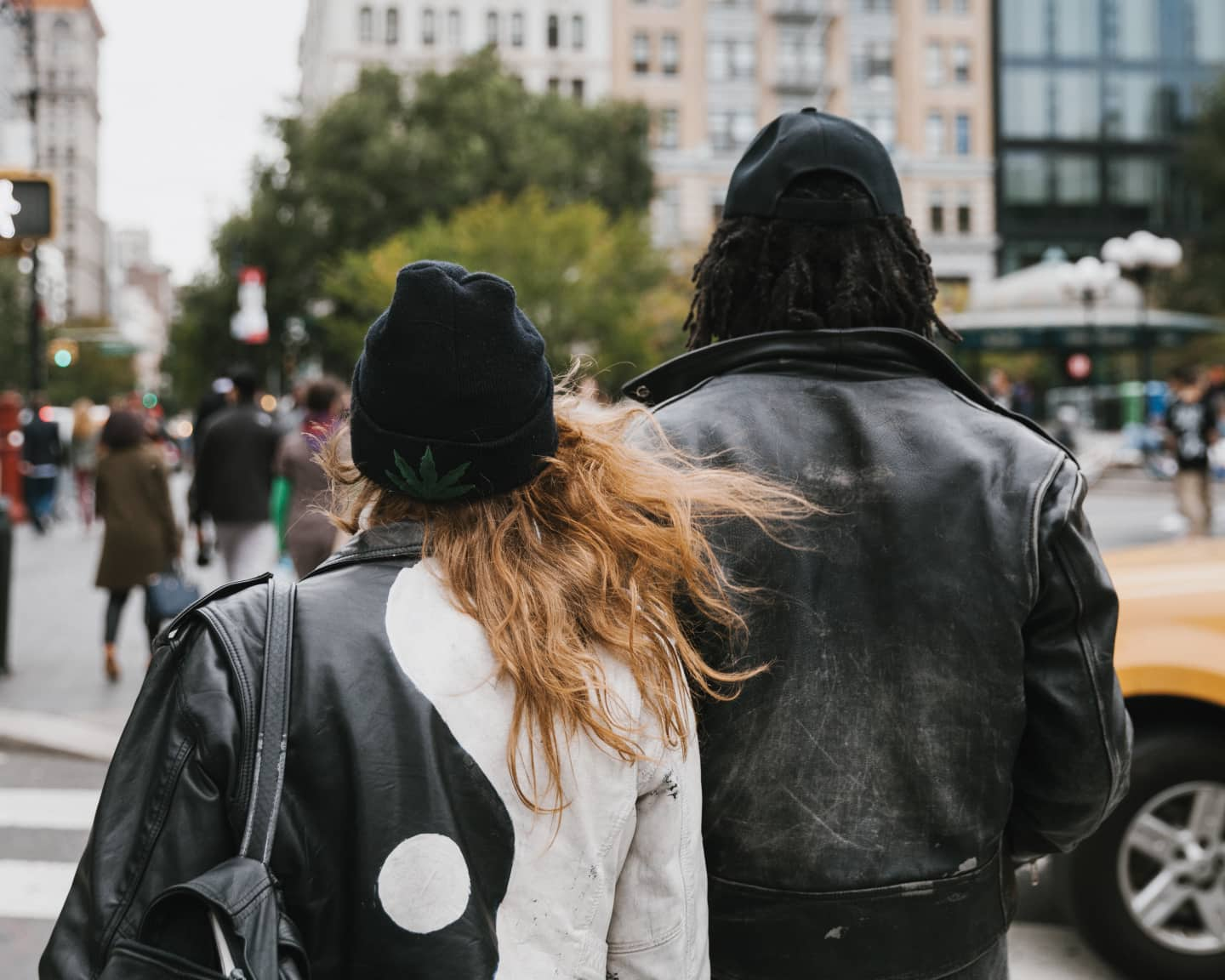 It might. He's got a higher profile than ever, and his sophomore album, Cupid Deluxe, builds on all Coastal Grooves' successes and makes them even more complex and compelling. It's the most fun record he's ever made, filled with disparate missives inspired from a life spent searching. "He's just emphasizing everything he loves." says Adam Bainbridge, aka Kindness, Hynes' old friend and a contributor to Cupid Deluxe. "That's the point you know where an artist is really in full acceptance of who they are musically." On top of a bed of well-structured rhythms, Hynes synthesizes the many sides of his life. He wanders out into plucky marimba inspired in part by his Guyanese heritage and pulls in grime verses from London rapper Skepta, spoken word montages articulated in a sexy French accent and diary-like lyrics that waver between confidence and insecurity. "I view the songs as a really quick snapshot of something that's going on in my life," Hynes says. "It's like a shutter clicking: this moment."
This moment most notably includes Hynes' girlfriend, Urbani, whose voice strikes some of the high notes on Cupid Deluxe that you can picture Solange hitting but with earthier, warmer tones. Hynes says that Urbani's been really good for him, and she says the same thing about him. When Hynes says he knows he could never sing "Bad Girls" and "Everything Is Embarassing" as well as Solange and Sky, Urbani stops him and says his versions made the songs more real. They met after she tweeted that the lyrics to "Everything Is Embarassing" played on old clichés of female vulnerability, and Hynes got in touch with her through a mutual friend to talk it out. "I just write whatever I'm feeling, which usually deals with self-worth, but because I prefer women's voices, I can see why it would come across as very not forward-thinking," he says. "I'm just writing the best melodies I can and the truest words to my own emotions." Songs like "You're Not Good Enough," "No Right Thing" and "I Can Only Disappoint U" are filled with call-and-response conversations between Hynes and a number of co-stars, like Bainbridge and Chairlift's Caroline Polachek, about issues of ambivalence and disappointment, like little inner-monologues sung with other people's voices. It's on "It Is What It Is," a song that Hynes calls Cupid Deluxe's "hidden best," that he lets Urbani articulate the album's thesis: Time will tell if you can figure this and work it out/ No one's waiting for you anyway so don't be stressed now/ Even if it's something that you've had your eye on, it is what it is. "It's the most direct lyrics on the record," says Hynes. "It was post-Solange, post-Sky, and I didn't know where I was going. But I had been trying not to dwell on the negative. I have Samantha, everything's going to be alright. It's my get-out-of-a-panic attack song." Hynes says he's been having panic attacks since he was a child, and they've gotten a lot worse recently. "It feels like a roof lowering," he says. "I'm trying to fix it. Samantha's helping me eat more and sleep more." "It Is What It Is" is a record of this journey: he wrote it after he quit the tour, stopped drinking, started spending more time with Urbani. "Raw is the word I would use," says Bainbridge of Cupid Deluxe. "This is someone's real feeling being channeled pretty directly into the music."
"I actually hate my voice. I'll always prefer Solange and Sky singing my songs."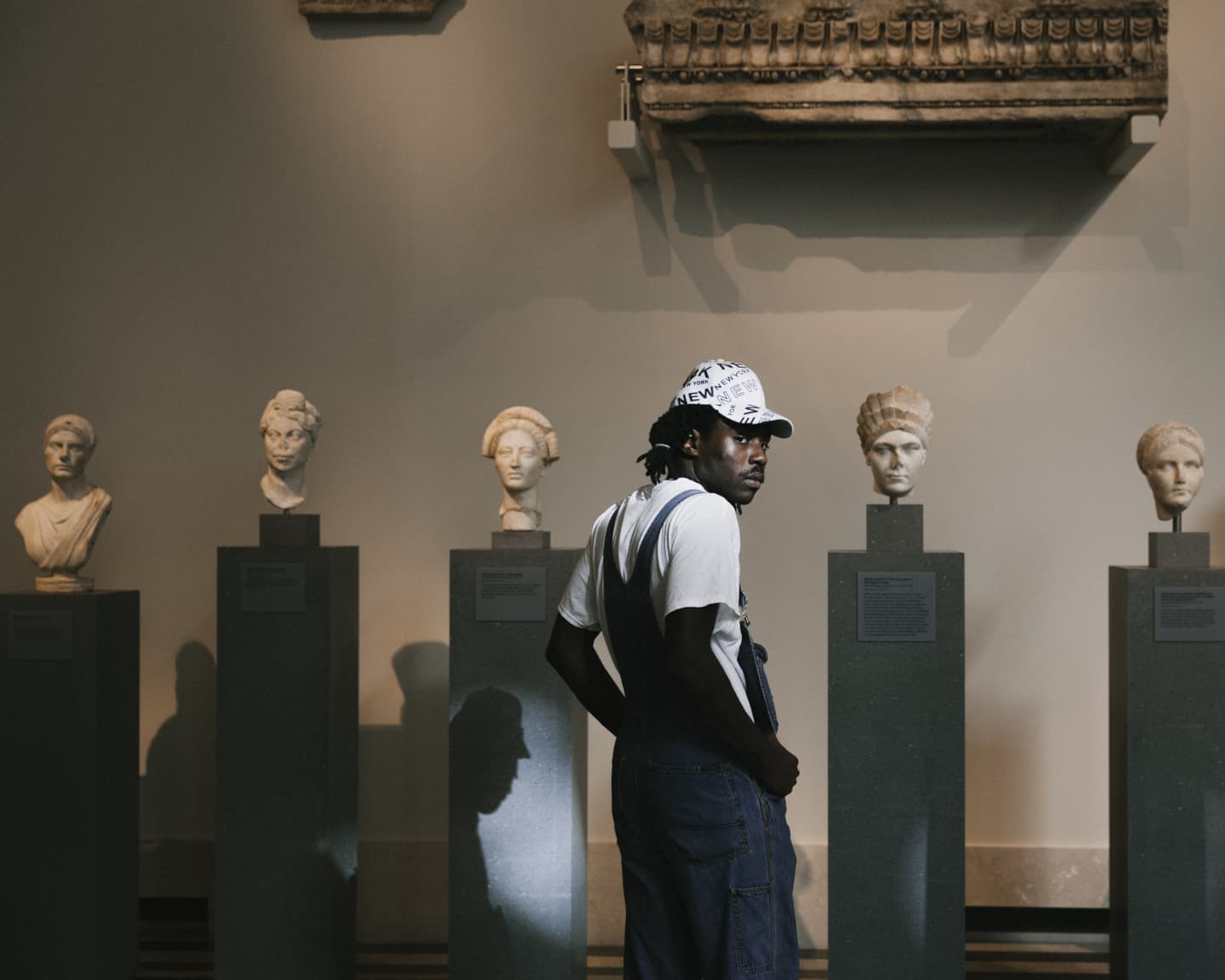 On the album's last song, "Time Will Tell," Hynes reprises the lyrics from "It Is What It Is" in his own pretty falsetto, ensuring that Cupid Deluxe ends on a strangely hopeful note of ambivalence that he sings himself. "The buzz is going to die," he says. "Maybe when people forget about me, I can sneak around and do all the things that I want."
If Hynes' best songs are about trying and failing, they're also about realizing that failure won't ever kill you. "The people I've looked up to my whole life, Philip Glass, Arthur Russell, whoever, maybe they were artists at some point, but they were also just doing lots of shit," he says. "I don't know where I'm going to go, but I feel safe." He just scored a soundtrack for a Gia Coppola movie and is working on an opera, but it's the video for Cupid Deluxe's first single, "Chamakay," for which he and Bainbridge lugged a heavy, 16-millimeter camera down to Guayana to film, that's the best showcase yet for everything Hynes can do. It's an odd song, hard to dance to, with an addictive drum beat pattering against marimba like unruly water lapping at a dock, but in the video Hynes finds a way to move anyway, twisting his arms like some New Age, DIY Michael Jackson in a cheap NYC hat, seeming at the very same time more like a star than ever, and also like a bit of a geek.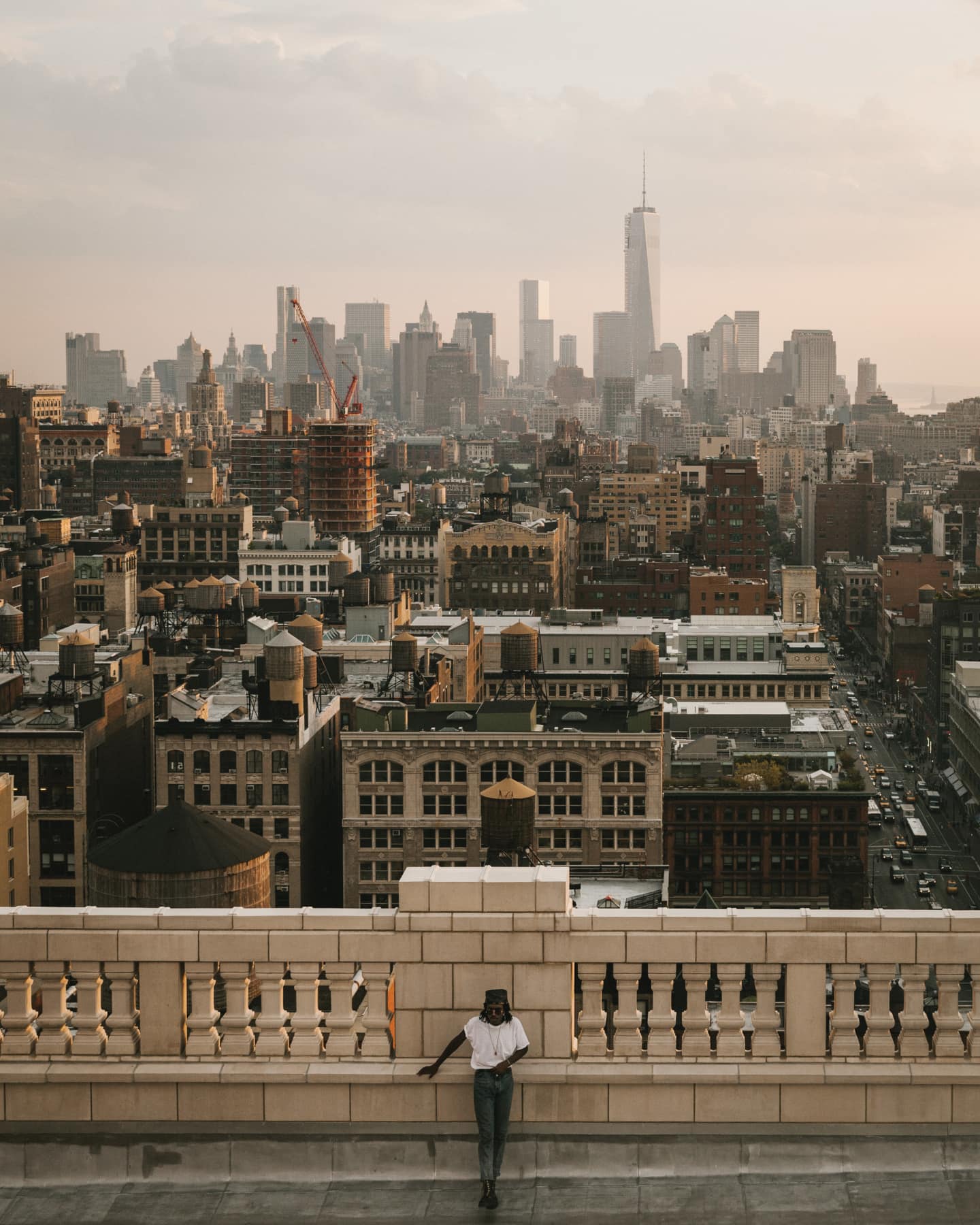 On a chilly Friday, after seeing the rapper Le1f perform, Hynes heads back to the studio to finish a song for Theophilus London's next record before the night is up. The beat has already been made, and London just needs Hynes to provide the vocal melody on top to give the song a soul. Hynes cues up the track and starts sing-song grunting into the microphone; those grunts quickly turn into improvised words, and in less than 20 minutes, Hynes has completed the vocals. I ask him if those lyrics are gibberish, as he finished them so quickly. He says they're actually a message to Urbani asking her to let him in more. "They're really serious," he says, smiling. London shows up to the studio with a friend, herself an aspiring singer, and they stand around taking pictures of each other while Hynes works. Hynes has poured his heart out in the time it takes most people to pick an outfit, but before I even get a chance to hear his lyrics again, he's pulled London's friend in to sing improvised oohs and aahs over the track. "I like ooh better than aah," she says. They work on her coos for a while, and she asks us to leave so she can sing in private. Hynes ends up spending twice the time on her words than he's spent on his own.