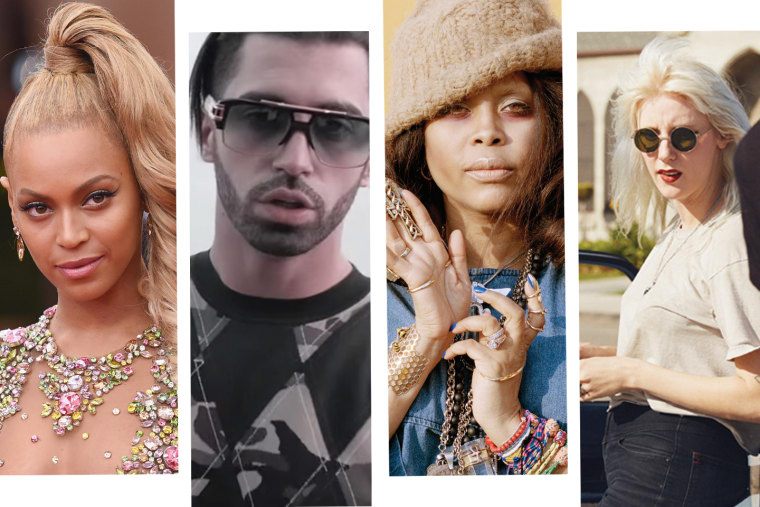 1. Ezra Koenig once said: "Songs become tweets, tweets become songs—it's the way of the world." Okay, so he said it a couple days ago, but the Beyoncé song that inspired the sentiment, "Hold Up," already feels like a classic.
2. Erykah Badu's remix of Wintertime's 2015 gem "Thru It All" shouts-out her current spot on the cover of The FADER's annual producers issue, like a victory lap. Yesterday I'm a hater/ today the cover of The FADER.
3. The new A$AP Ferg album dropped on Friday, and its uplifting, sort-of title track "Strive" features a romantic DJ Mustard and Stelios Phili co-production and a Tina Turner-referencing verse from Missy Elliot.
4. With its clean, chiming guitars and power-pop hook, White Lung's new song "Below" sounds like a long-lost castaway from early-'00s rock radio. We mean that as a compliment.
5. "Honest," the new single by Fade To Mind affiliate D∆WN, is a sexy, slow-ish breakup song. Loving you is like smoking spliffs/ a temporary high laced with side effects, she sings over a polyrhythmic Kingdom beat.
6. NON records head honcho Chino Amobi's seasick, static-covered "YOU WANT DEMOCRACY? YOU WANT FREEDOM?" is both disorienting and barbed; it's an after-hours protest song that might shake you awake.
7. PNL are fated for something. The video for "DA," the nihilist French trap duo's latest, had six million views just six days after it dropped—if that tells you anything.
8. "The Church" is the shimmery debut solo single by Patience, a.k.a Roxanne Clifford, the U.K.-based songwriter who used to play in the great, sadly defunct goth-pop group Veronica Falls.
9. PUP's new album is shaping up to be one of the year's most exciting rock records. "Doubts," the Zane Lowe-premiered third single, is further proof, filled with rough-hewn melodies and edgy proclamations like I'll never get you out of my mind/ it keeps me awake and it keeps me alive.
10. D'Angelo could hardly make it through his sparse, heartfelt rendition of Prince's "Sometimes It Snows In April" on The Tonight Show. He even modified the lyrics: I often dream of heaven, and I know that Prince is there. Goosebumps.