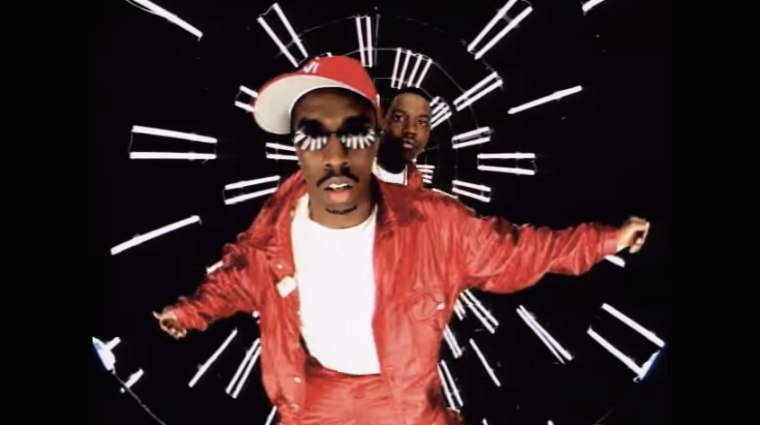 In 1996, Mase, Notorious B.I.G., Puff Daddy, and Kelly Price came together to create one of the most memorable Bad Boy classics, "Mo Money, Mo Problems." Like most of the collective's posse cuts, this one had an out of this world music video full of flamboyant style. Supreme fashion designer and stylist June Ambrose was an intern at Uptown Records where she met the video's director, Hype Williams, who then introduced her to Puff. Ambrose was responsible for the infamous red leather shiny suits and together, they elevated the tradition of innovation that Bad Boy is known for.
On the day of the Bad Boy Reunion celebration for the label's 20th anniversary and Biggie Smalls' 44th Birthday, The FADER spoke to June Ambrose over the phone about how she convinced Puff to wear the bright red outfit, the impact that Bad Boy style had on culture, and the importance of risk-taking.
JUNE AMBROSE: I'm from the Caribbean, so metallics and carnival were my inspiration. Also, the treatment [of the video] inspired it. I saw how Hype was shooting—it was flames and fire. I didn't want to just use a flat, red leather. I wanted to go with something that was a little more futuristic and out of this world. I stayed in the same silhouette because I was doing something so jarring. Putting a rapper in a red shiny suit was probably the biggest faux pas at the time. But I was really big on roleplaying and the history of me as a stylist is to always challenge the stereotypes of the genre. That was one way of me incorporating happiness, spirit, fire, and a jubilation that was so out of this world. I found this metallic leather fabric and I'm like, "This something Shabba Ranks would wear." So, I brought it to Hype and he's like, "This is amazing," and gave me the okay, but I had to convince Puffy to do it. Mase was game for whatever Puffy said.
Puff was like, "Get the fuck outta here." [Laughs] I put my career on it and I was like, "If this doesn't work, never work with me again." He's like, "Do me a favor. Make red leather ones." I'm like, "It's going to be a waste of money but I'll do it. You're going to love the red metallic." I thought about how Hype was going to electrify it. I made the red leather one and then he tried on the red metallic and Hype was like, "Oh my God! You gotta do it!" Hype is hype.
That was it and he went for it. We did plastic covered nylon so the whole video took on a futuristic scene and Hype liked where I was going with it so I just started doing shiny shit again. After that, everything was shiny.
You can't just give that [outfit] to anyone. Puff has such a charismatic, superstar-like quality. I felt like if anyone was going to pull off some flashy shit it was going to be him. He was the epitome of flashy and that's just what he exuded to me. It was baffling at first when the idea didn't immediately connect. I think it was just so against all the rules and not what hip-hop did. But, that's how I envisioned him. He was a superhero producer, he had big ideas, and was naturally flashy to me so I just assumed from a character development perspective—what better muse?
He was the one that could pioneer this movement that I had in mind. I wanted to to make hip-hop less predictable. I wanted to contradict all of the stereotypes, like it's gotta be dark or you're not hardcore. I was like, "No, thug this out. Bring your persona to it." I'm giving you an urban silhouette. We did it in a jean jacket and we did a boiler suit, so it wasn't like I was putting him in a blazer and a pair of trousers. It was still in context of what they were used to. I think the combination of him really feeling magical when he saw the first take and realizing that it was really more about him than it was about the outfit and knowing that he could do it.
My biggest thing about artist development is, it's all about you. It's, "Can you pull this off?" There are moments when I put something on someone and it doesn't look organic and I'll say, "Take it off." If Puffy put on the red leather and didn't respond, we would've went to that flat red leather. We wouldn't have done the metallic because the performance is more important and it being believable was more important than my personal conquest to say, "I told you so." That was never an issue for me. He had to own it, he had to deliver it and take responsibility for it. I was his partner in that but at the end of the day, he was the boss. He took the chance, he took the chance on me and the idea and it worked. That's why I think he's been so successful over the years.

In the 70s, all those guys could pull it off—music is music. When I looked at hip-hop, I looked at it like hip-pop culture. So, my styling career within hip-hop wasn't exactly about giving them exactly what they were used to. It was about creating these aspirational images that would catapult the culture into a stratosphere in which they were going to economically going to be worthy of. They were making the money and touring the world, so why can't we be in high fashion? Why can't we make costumes that are extremely larger than life?
I stand by the idea that what happened during that time was us creating costumes, claiming high-fashion our way, and making the videos our runway. Europe was very influenced by us. We did plastic covered nylon in that video [Mo Money, Mo Problems] and Dolce & Gabbana did it the next season. There were some pretty groundbreaking things happening and then it's like you realize if you put a ceiling on the culture, it wasn't going to cross over. Puffy was made for crossing over to pop music regardless, but it was still very stereotyped in a sense. I figured we had nothing to lose.
Listen, without the risk-taking, there are no trends being born. So, I didn't have a choice. It was my job to forecast what the trends were going to be, not follow them. Did I know that it was going to be such a big hit? Yeah. I knew that it was going to work. Were there people running around in metallic suits? No, but it did exactly what we needed them to do. It made them know that they can be flamboyantly shiny and eccentric and still feel like you're in your own skin.