Whether they want to admit it or not, the majority of under-30 hypebeasts can thank Tyler, The Creator for their Supreme thirst. On "What the Fuck Right Now," Tyler raps Oh you wearin' Vans and Supreme this season? / Stop lyin' to yourself, nigga, me the reason. The streetwear giant has been around since 1994, when Tyler was only 3 years old, but many rightly credit Tyler and his geeky west coast skate-kid look — long socks, vans, shorts, and brightly coloured T-shirts — with elevating the box logo to its current status.
Tyler's influence spans even further when it comes to his own creations. He's had a central role in building both the Odd Future brand, from designing OF-branded socks to starting the yearly Camp Flognaw, and his own Golf Wang line. This weekend, on June 11, Golf Wang will make its runway debut at MADE LA, potentially Los Angeles' first real shot at something resembling a fashion week . Starting at the beginning, here's how a brightly dressed skate rat who claims to "fucking hate fashion" ended up hosting his own runway show.
Since the beginning, Tyler has been instrumental in developing Odd Future's fashion credibility
Practically as soon as Odd Future released their debut mixtape, in 2010, Tyler and the collective set about making themselves masters of merch. In November of 2011, Odd Future opened a month-long, Los Angeles pop-up that ended up becoming a permanent streetwear fixture on Fairfax Avenue. The store hosted garments featuring their signature donuts, dolphins, and cat graphics, all tie-dyed and emblazoned onto streetwear silhouettes. It was also home to Tyler's newly founded line, Golf Wang, which released its first official lookbook, "Holiday 1991" that December. The lookbook featured the OF crew running around a theme park decked out in pastel colors, all over prints, and carrying OFWGKTA skate decks.
The OF Tape Vol. 2 came out the next year and launched a worldwide tour for the collective. With each tour date came a pop-up shop; fans came out in droves in places like London, Berlin, Tokyo, and lined up for hours to try cop a rare piece and get a glimpse of the crew.
In 2011, Tyler launches Golf Wang
When Golf Wang was launched in 2011, many weren't sure of the distinction between it and the Odd Future line. Tyler was involved in both, and they shared so many of the same visual aspects. Things were clarified in October of 2014, when Tyler confirmed on Twitter that he hadn't been involved in Odd Future's designs since 2012.
In his The FADER cover story of the same year he proclaimed his love for having total creative control. "Everyone started designing their own shit, so I started my baby, Golf Wang. Every design, the way the photos are shot, the way the site is….because I'm the boss. I've never said that before. I don't like saying that; I like being regular. But I call the shots. I am my reality. Everything with T is fucking what he wanted."
In 2014, Odd Future loses the lease on 410 Fairfax
After becoming an integral part of the Fairfax scene the Odd Future store shut down in in late 2014, reportedly due to landlord issues. Though plans were made to re-open, as of yet the store has not relocated. In its time, the pop-up became the physical embodiment of the community that Odd Future and Tyler, The Creator built. On the closing Tyler would say, "that shit being closed kills me. There's a whole legion of younger kids like 15 or 16 that would hang around there so we like their big homies or whatever. That was a hangout spot for them, and it was good because it would kind of keep them out of trouble."
In the past few years, Tyler has used collaborations to amplify and develop the Golf Wang aesthetic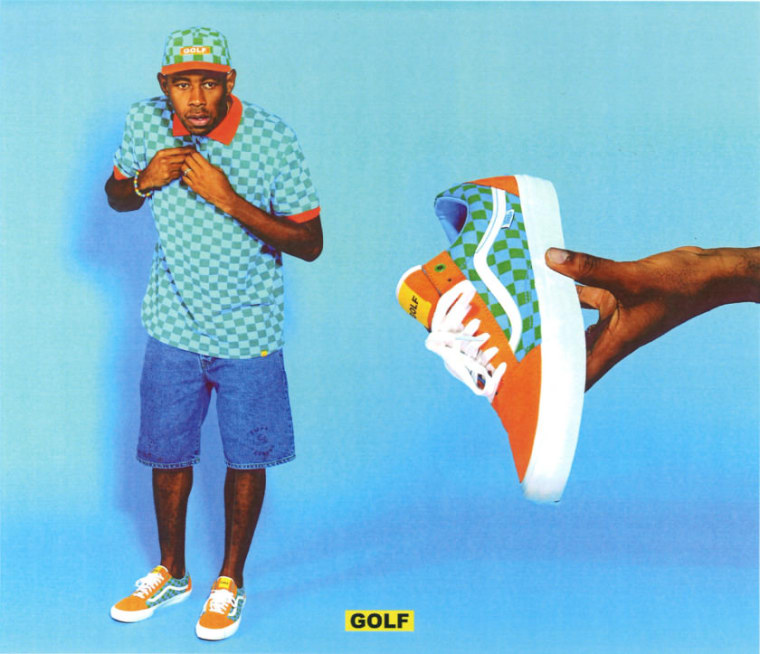 It makes sense that Tyler, The Creator values his creative position so highly when so much of himself goes into his brand. Tyler has always embraced the idea of wearing what you want, and doing you, and his designs are more about pushing his own style to the limits than pandering to current trends. One example is Tyler's collaboration with Vans — which, considering how synonymous Tyler is with Old Skools, is as natural as brand collaborations can get. Having partnered every year since 2013, Golf Wang's Vans and Vans Syndicate collaborations have become progressively more 'Tyler' with each release. As the colors get brighter, the checkerboard patterns become more prominent, and the clashes stronger, it's clear he's a designer becoming more comfortable and confident with every iteration. Speaking recently to Vogue, Tyler explained his process: "I just make whatever clothes I want to wear for the next five months and then run that. I don't really put deep, intricate thought into it — it's more like a feeling." He's putting everything that is quintessentially himself into Golf Wang, his color palettes, his energy and his controversies.
Though that's not to say Golf Wang hasn't had its fair share of controversies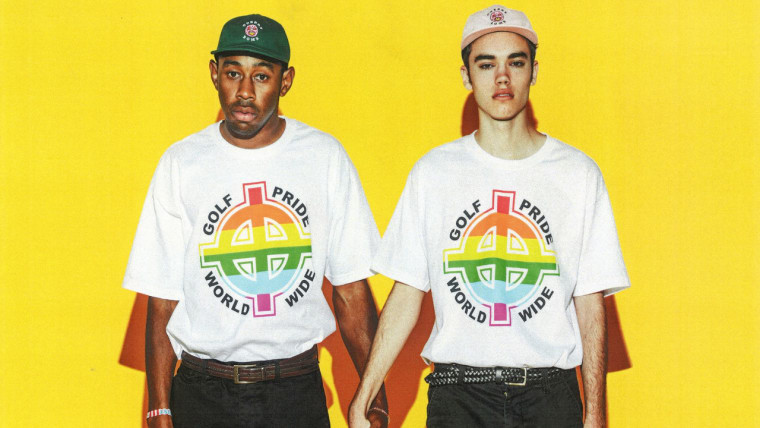 Tyler, The Creator was arrested for inciting riots at SXSW in 2014, and he's been banned from England, New Zealand, and Australia for "posing a threat to public order." His clothes are not immune from controversy either.
One design from Golf Wang's Fall/Winter 2013 lookbook caused tension within Odd Future. The Internet's Syd and Matt Martians took to Twitter to condemn T-shirts and hats featuring an image of a person in blackface. They stressed that many of the people wearing them would be white, and producing a T-shirt like that with no historical context — regardless of who designed it — was irresponsible.
In Golf Wang's Spring/Summer collection last year, Tyler repurposed a Neo-Nazi symbol to make an anti-racism, anti-homophobia graphic, though this time he explained his intentions in detail on his Tumblr post. The original 'White Pride WorldWide' symbol became 'Golf Wang WorldWide' with the addition of a rainbow flag. This was coupled with a promotional picture of Tyler and a model holding hands that Tyler felt "HAS to piss off the guys who takes this logo serious." Accusations of homophobia have plagued Tyler since the beginning of his career because of his prolific use of homophobic slurs in his songs, but, Tyler explained, his re-appropriation of hateful words imagery are attempting to "take the power out of something."
Most recently, Tyler has been showing how he feels about the upcoming presidential election, releasing two election themed T-shirts — one pro-Bernie and the other anti-Trump. With the latter, Tyler slammed the Republican candidate, showing him grinning, with a Hitler mustache, above the dates of the next presidential term and the inscription "we fucked up." Let's just hope Tyler's wrong on that one.
But Tyler wants Golf Wang to be a lifelong venture
Controversies aside, as time has gone on, Tyler's designs have matured. As he's expanded from T-shirts to surprisingly classy velour tracksuits, brightly colored fur, and delicate gold earrings, he's made the aesthetic tighter and more grown-up while still retaining that outsider, skate rat feeling. He says that "the more I travel, the older I get, shit changes. I know I will be making suits in the future. I'll make a pair of boots in the future. I'll be making some old dude stuff in the future."

And now, Golf Wang and Tyler are preparing to take the main stage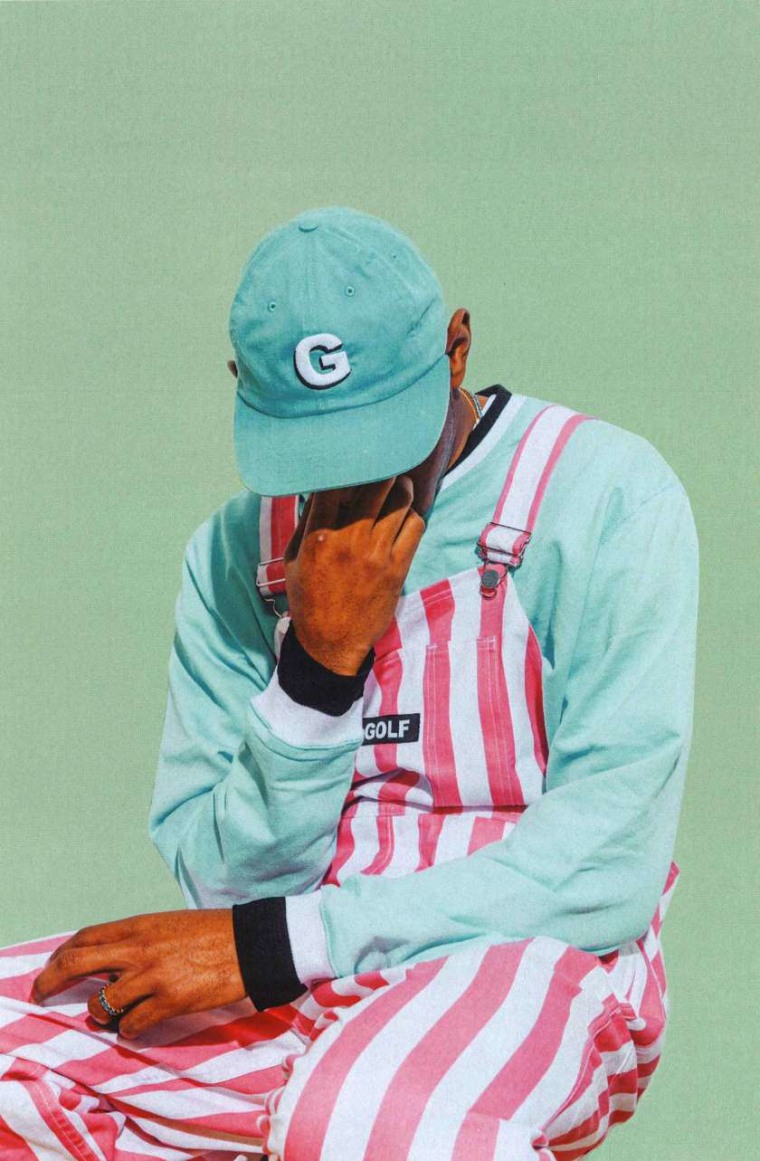 Golf Wang's biggest coup to date will come to fruition at MADE fashion week in L.A., a showcase of fashion, music and creativity that has been a mainstay on the New York fashion week calendar for years. Alongside Moschino, helmed by Jeremy Scott, whom Tyler has admired since he was a kid, will present their first runway show and a virtual reality livestream. That Golf Wang has been positioned as a tentpole on par with a high-fashion veteran running a heritage label is the culmination of Tyler's years-long push to develop and project the Golf Wang aesthetic on the world at large.
From the energy of his live shows, the thirst his pop-up shops induce, and the sheer scale of his summer carnival Camp Flog Gnaw, any time Tyler, The Creator has created experiences, they've always been larger-than-life. So what can we expect from his runway debut? Alligators? Polarizing political graphics? Some sweet new Vans? Or perhaps something radically different. All that's certain is that he'll have something "stupid dumb special for everyone that attends."